Sustainability was a key theme of IFA this year – that is, for home tech brands that aren't LG. While Samsung talked up its energy-saving Ecobubble wash technology and TCL chatted recycling and filled its presentation screen with glaciers, LG went in the opposite direction, premiering wildly unnecessary, luxury home products that tended towards the bizarre.
Take its air-purifier tables, officially called PuriCare Objet Collection Aero Furniture. They're colourful and fun! They purify air! Okay, they don't work particularly well as tables but if you're worrying about that kind of thing, you're in the wrong place.
Emma Rowley / Foundry
The company also unveiled the ShoeCare and ShoeCase, the former of which gives your shoes a steam refresh so you can display them in the latter in all their glory – on a turntable, under coloured lights, no less. As a person who doesn't own the kind of shoes you'd put on display unless as some form of protest art, I scoffed at the idea.
But seeing it in real life was different. As I watched a pair of Nikes rotate in a soft pink glow, I started to lose my bearings in the world.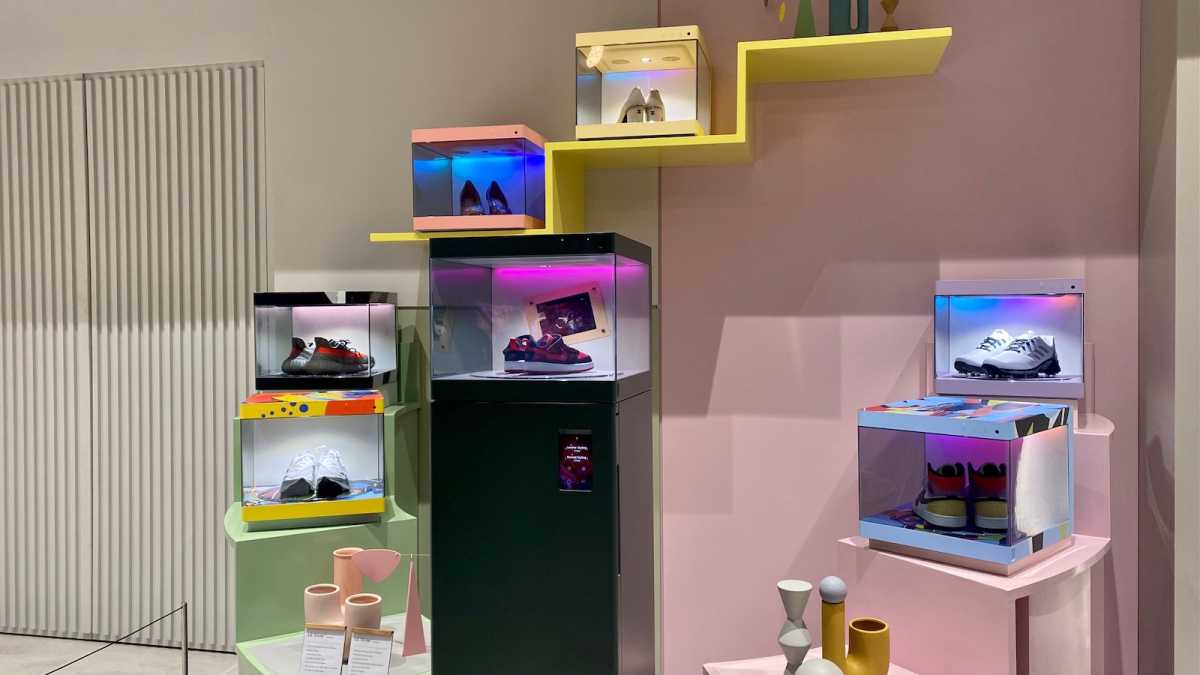 Emma Rowley / Foundry
It was then I saw the MoodUPTM, which made the ShoeCase look about as outré as a wooden bread bin.
The MoodUP, sorry, the MoodUPTM, must be the most ludicrous, over-the-top fridge ever conceived. Its basic gimmick is that it has colour-changing LED panels on its doors. It's a French-door fridge-freezer with a fridge above and a freezer below and four doors that open from the centre.
As with some of LG's existing fridges, the top-right panel is glass, allowing you to peer through and survey your beverages. It too is equipped with a light bar, so it can also get in on the colour-changing action.
In LG's ThinQ app, you can choose from 22 colours for the upper door panels and 19 for the lower.
The possibilities are endless. Imagine this: I'm in the kitchen, making a friend a coffee when she gets some bad news on the phone. Quick as a flash, I jump onto the ThinQ app and seconds later, my fridge now reflects her sombre mood in shades of blue. If I judge that she has been sombre for too long, I can subtly suggest she cheer up by changing the panel colours to pink.
Or, another scenario: some friends announce their engagement (weirdly, they do this in my kitchen). Thanks to the MoodUPTM's inbuilt Bluetooth speaker, I can stream music from my phone and we all dance around in celebration as the door panels flash in time to the tune.
But maybe I don't always want to have to assess my own mood to find the right colour combination, because that sounds exhausting.
In that case, I can just choose from presets with names including Season, Place, Mood and Pop. Mood, apparently "elicits a feeling of wellbeing through the use of soft, soothing colours" – which is strange because while watching the display, I didn't see anything even close to a soothing colour, although I did see roughly 22 garish ones.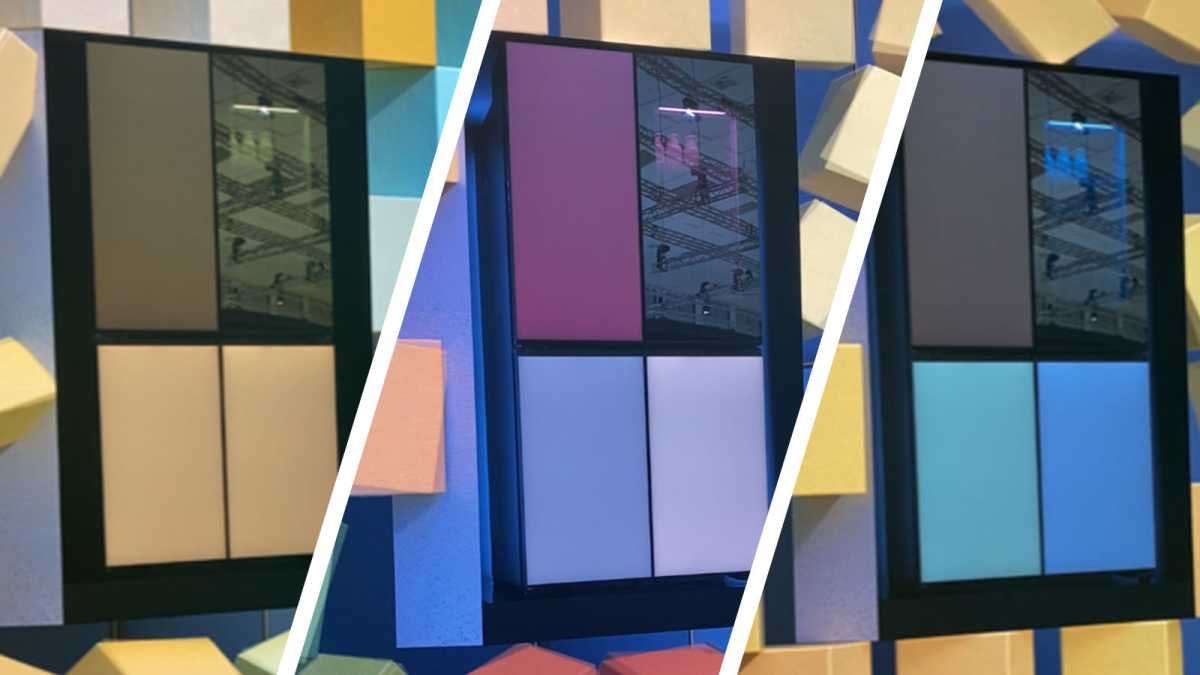 Emma Rowley / Foundry
But there's more to the colour-changing panels than just fun. They're also functional (sort of). When the fridge's sensors detect you coming, the panels will blink. According to LG, this is in welcome, although I don't think that's a widely recognised gesture.
At nighttime, the freezer doors glow brighter so you can locate midnight snacks without turning on the light and alerting everyone in the house to the fact you're about to eat the last piece of cake. And if you accidentally leave a fridge door open, a panel will blink repeatedly to alert you – which is useful if you happen to be standing in front of the fridge and looking in the right direction.
And if you're wondering what the fridge looks like when it's not lit up, it "offers a combination of Lux Gray and Lux White for a more traditional look in the kitchen. The chic, timeless finish harmonises with any décor and evokes the natural, subtle contrast of different coloured stones." So, grey and white, then.
Along with some of its other crazy launches, LG hasn't said anything about a price or release date for the MoodUP, nor has it confirmed where in the world it might be sold.
When my colleague Chris Martin saw the ShoeCare and ShoeCase, they hit the top of his gadgets wish list. Here's why.