Samsung has announced a new, industry-leading 20-year warranty on its Digital Inverter Technologies (DIT) – its patented motors and compressors, which are the key components of its washing machines, tumble dryers and refrigerators. This has doubled the warranty period for these parts, up from ten years.
You might start to see labels on Samsung products advertising it. But does that mean you can buy a Samsung fridge or washing machine and expect it to last for 20 years? The answer, realistically, is no. Here's why.
The smart problem
At the same time that Samsung announced its 20-year DIT warranty, it also pledged that by 2023, 100% of its new appliances will be connected.
So all its new appliances with a 20-year DIT warranty will also have smart features. And that creates a problem.
Smart features mean software updates. And as anyone who has a mobile phone knows, these are limited to a few years. In most cases, Samsung phones will get Android OS updates for three or four years and security updates for four years. After that time, your phone won't get any new features, might lose compatibility with certain apps and it could be vulnerable to security threats like hacking.
It's a similar problem where appliances are concerned. Adding smart features means that its overall lifespan will be shorter than the potential life of its hardware.
Samsung hasn't confirmed exactly how long it'll support its appliances with software updates – for the simple reason that it can't. There's no way to know what the advances in smart technology might be in ten years' time, let alone include everything it would need to support those features in a model manufactured now.
Instead, the brand has released this statement: "Software updates for Samsung Smart Appliances are available to all customers not only for the warranty period, but beyond the aforementioned period as needed."
Now, this doesn't mean the 20-year warranty on its digital inverter technologies. It's the (up to) five-year warranty you'll get when you buy a Samsung smart fridge or other Samsung appliance.
So what does the 20-year warranty mean?
Samsung
What the 20-year warranty really means
This is Samsung placing a huge amount of faith in its hardware. It's saying that if you buy one of its appliances, it'll be reliable and efficient. It won't fail after a couple of years, or slow down, or start making weird noises. You won't need to get someone out to fix it or shell out for replacement parts.
While the company won't replace a 19-year-old fridge if if the ice maker stops working, it will replace a failed motor or compressor after that time.
But most importantly, the long warranty indicates that the appliance will continue to deliver the same energy-efficient performance that it does now.
Samsung's Digital Inverter Technology is the reason why the brand thinks its appliances are so good. Inverter technology means that the motor (in a washing machine or dryer) or a compressor (in a fridge or freezer) has more options than just switching on and off. Instead, it can choose an optimal running point, based, say, on the volume of clothes in the wash or the amount of food you need to keep refrigerated.
That's why newer machines are more energy efficient than older appliances. And the newest machines of all use sensors in combination with AI to determine how much energy they need to use to run most efficiently. For example, Samsung's new Bespoke AI washing machine will weigh your laundry load and use that information to choose the temperature and running time that'll deliver the biggest energy savings.
It's much more efficient than you trying to guess which programme you should use. In fact, Samsung says it can save up to 70% of power used in a normal wash in its AI Energy Mode.
Samsung is going all-in on energy saving initiatives. Sustainability was the watchword of its IFA press conference and in the Samsung worldview, the way to make the homes of the future more sustainable is to make them connected.
But this brings us back around to the smart problem: connected features shorten the life of the appliances. So why has Samsung decided to go all-in for connected appliances, if we can't use them in 20 years (or even less time)?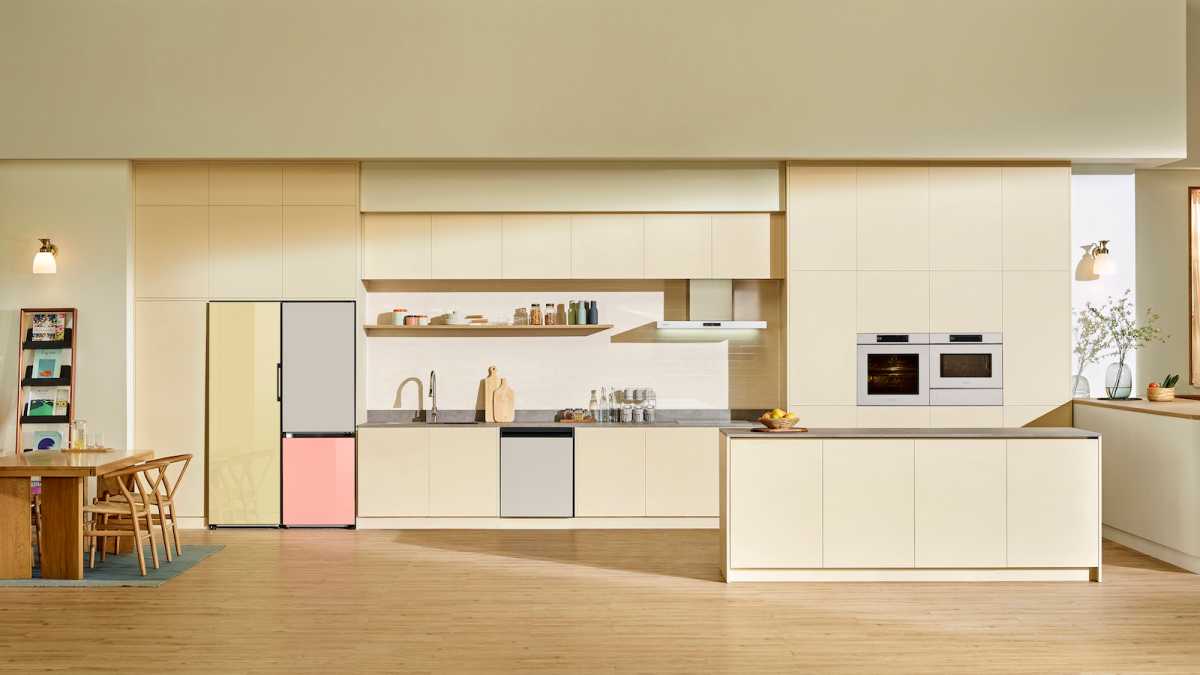 Samsung
How does connected = energy saving?
The appliances we use now are much more energy-efficient than we ones we used ten years ago. And Samsung is betting that the technology will continue to improve. In the meantime, it can use updates to keep the inverter software up to date and running efficiently.
But it's not just about updates. Samsung envisions a sustainable home being a smart home. Appliances will learn the way you use them and adapt to save energy. Appliances and devices talk to one another to minimise power usage and direct that usage very precisely where it's needed.
The Samsung vision comprises many of the same connected features that smart thermostats use to (try to) save people money.
A smart thermostat might use geofencing to switch off the heat when you go out, or alter the temperature in response to a weather forecast. In the same way, Samsung's dryer can talk to the washer to find the best drying programme for the load. And the Bespoke AI Oven knows what food you have left in the fridge so it can suggest recipes to use it up and save on waste.
Samsung isn't alone in its vision of a connected home. Appliances giant Haier, which owns Candy and Hoover, has signalled a similar shift to connected appliances – except that instead of using Samsung SmartThings, all devices will of course be connected via its app, hOn.
But although these companies promise energy savings, which is at the forefront of most people's minds right now, their initiatives don't address the problems of waste and landfill, or the cost of replacing major appliances every five to ten years.
As more brands follow suit, you'll see more connected appliances for sale. But if you buy one now, just don't expect those smart features to be usable in ten years' time.
Related stories