One of Germany's oldest technology shows returned this year, back to its full-on hustle and bustle and we had no less than four of the Tech Advisor team searching high and low for the best products around IFA 2022.
While it was great to be back at big events like this seeing devices in the flesh, not all of the big brands were exhibiting in the same way as before – Sony being the most obvious, despite launching the Xperia 5 IV just two days ago.
Still, there was plenty four our team on the ground to gawp at from bendy TVs to ovens that come to life when you're nearby and everything in between.
These are the most innovative, exciting and often bonkers bits of tech we could find so let's check out what won our best of IFA 2022 awards.
Honor 70
Honor
The Honor 70 impresses beyond its good looks and is set to be a solid mid-range option for 2022.
It's the first phone to use the Sony IMX800 sensor for its 54Mp main camera, and the 50Mp ultra wide isn't too shabby either.
The 120Hz display is very good for the price, which is £479/€549. Now Honor is no longer beholden to Huawei, it is phones like this that will hopefully see the company make more inroads into the European market.
LG OLED Flex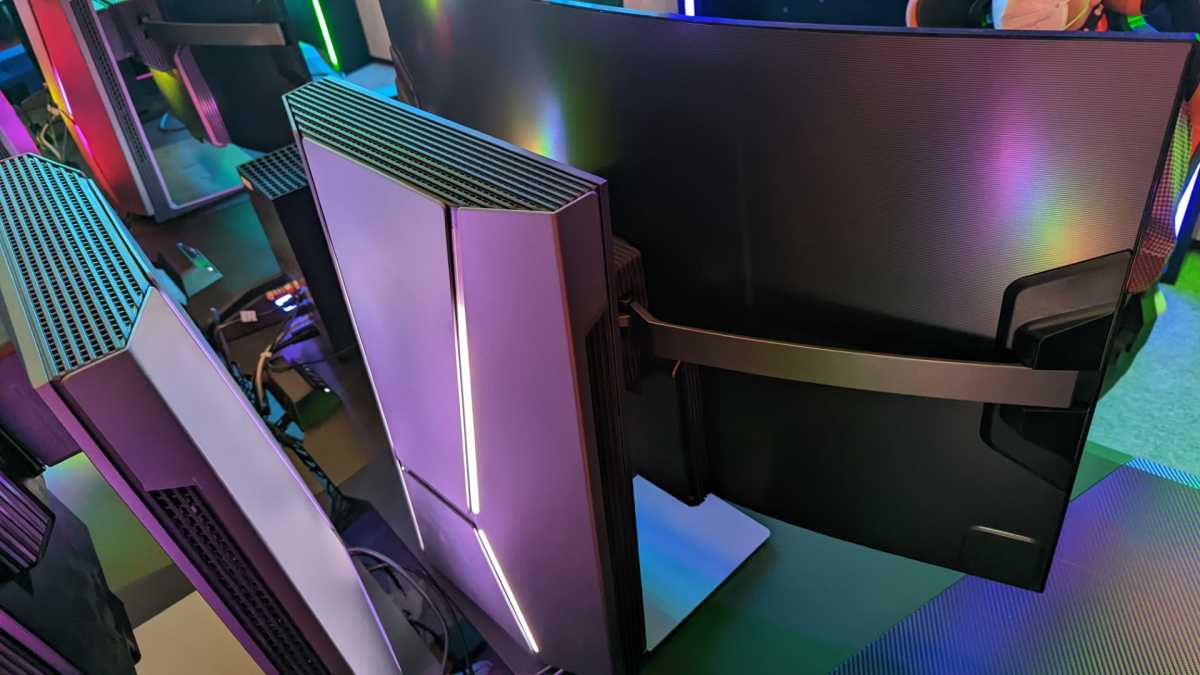 Chris Martin / Foundry
Bendy TV technology is not new but every time we've seen it at a big show, it's just been something for the sake of showing off rather than something with a genuine purpose.
This year LG changed that for good with the OLED Flex (LX3) which is a TV come gaming monitor hybrid that can morph from being flat to curved at the touch of a button. Not only can it bend to an impressively curvy 900R, but you can also choose 20 different levels of curve to your taste.
It can also quickly resize the image from the full 42 into 32- or 27in if you wish. This is essentially the C2 OLED TV so the quality is top-end and the stand is adjustable in various ways meaning it could easily sit in a lounge or on an office desk, plus there's LED lighting and a USB hub built-in too.
LG has really thought this through to create something you can't find anywhere else. Find out more about the OLED Flex in our Reviews Editor's hands-on impressions feature.
Haier Chef@Home Series 6
Haier
IFA is always packed with new appliances as the new Chef@Home Series 6 from Haier is an oven brimming with tech, from the full-size, tablet-style touchscreen on its door that comes to life when it senses your presence, to the camera that provides a view of the oven's interior.
You can also operate the Chef@Home using voice commands.
But all these bells and whistles aren't just tech for tech's sake. It's what it does with them that's impressive. You can just sling some food inside and saunter off and the oven will take over and cook it.
The camera is harnessed by AI to identify what's for dinner and it'll then choose the ideal programme and begin. And while it cooks, it'll keep an eye on the progress of the food, adjusting settings as necessary to ensure your dish is perfectly browned but never blackened.
Huawei MateBook X Pro 2022
Dominik Tomaszewski / Foundry
Huawei's laptops have always proved popular with team Tech Advisor, and the late 2022 update to the MateBook X Pro is no exception.
This is as high-end as a laptop gets, with a 12th-gen Intel i7 chip, 16GB RAM, and 1TB of storage – all wrapped up in a slim and svelte chassis, kept light thanks a new magnesium alloy material.
What we really love is the haptic trackpad, which is packed with extra shortcuts and tricks, whether that's swiping along the side to change the volume, tapping with your knuckles to take a screenshot, or pressing into the corner to minimise windows.
Amazfit GTS & GTR 4
Dominic Preston / Foundry
Amazfit smartwatches have always packed in more features than you'd expect for the price, and the latest GTS 4 and GTR 4 are no exception.
Whether you prefer your smartwatch round (GTR) or square-ish (GTS), you get an AMOLED display, a lightweight design, and a big battery – up to 14 days in the larger GTR 4 – along with heart-rate, blood oxygen, stress, and sleep tracking.
We're more excited by the inclusion of updated fitness modes though, with enhanced GPS tech and smart tracking of weight lifting and strength training exercises – something most smartwatches miss out.
Lenovo ThinkPad X1 Fold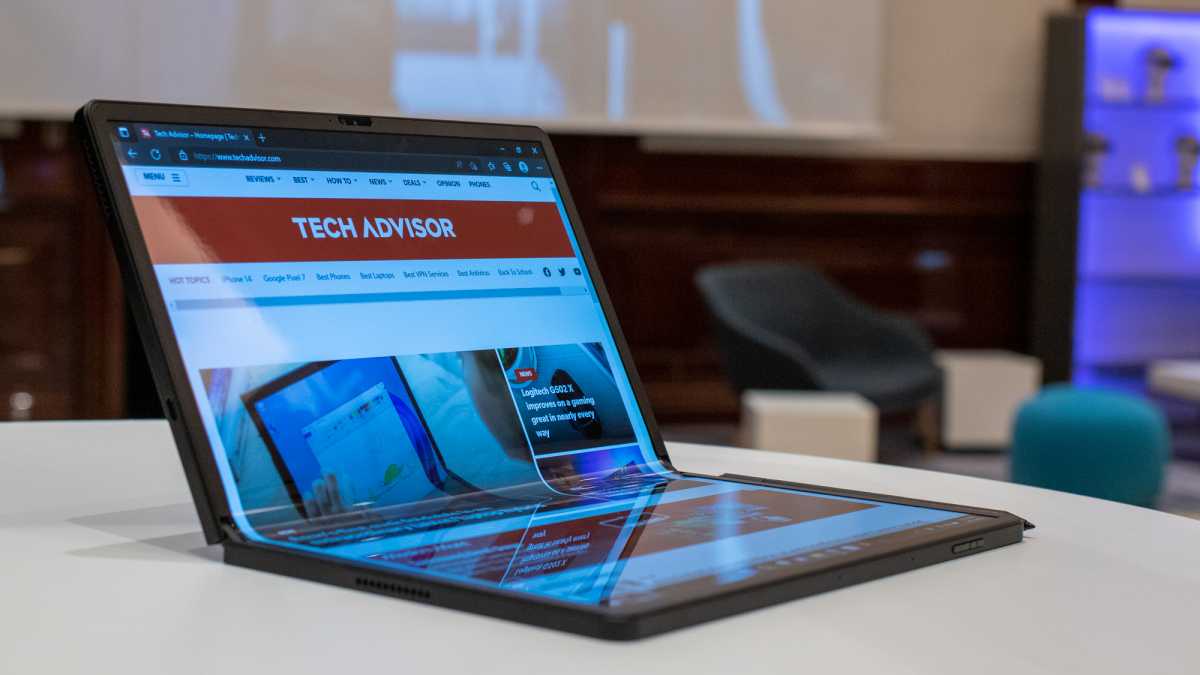 Dominic Preston / Foundry
Foldable phones have been big business for a while now, but we haven't yet seen that tech go mainstream for larger screens.
The second-gen Lenovo ThinkPad X1 Fold is an attempt to make that happen. It's a 16in Windows tablet that folds in half to become a 12in laptop, with a magnetic keyboard you can attach to the lower half of the screen for a traditional portable experience.
It's not cheap at $2,499/€2,999, but it comes in cheaper than the similar Asus ZenBook 17 Fold OLED, also announced at IFA, which gives Lenovo the edge – and the better shot at bringing this tech to the hands of real consumers.
Huawei MatePad Pro 2022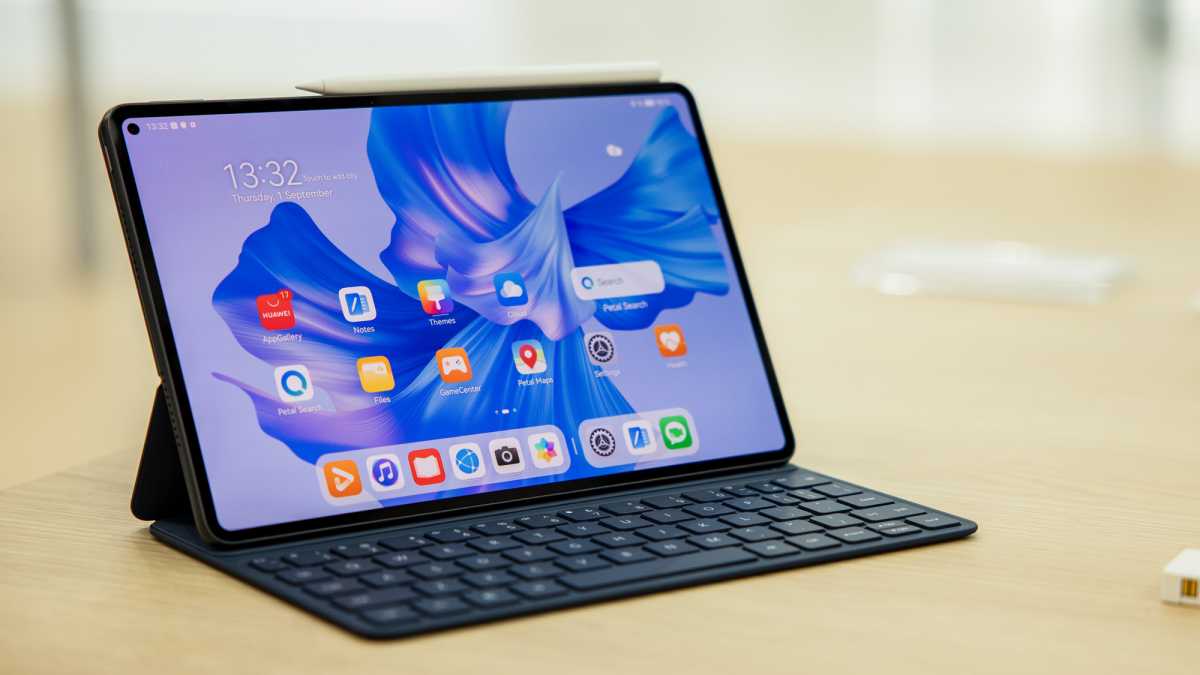 Huawei
Huawei says its 11in MatePad Pro is the world's lightest tablet of its size. It's certainly a svelte piece of tech, but the bright, sharp 120Hz OLED display is more impressive than its scale read-out.
The company may not be able to run Google services or the Play Store, but Huawei's AppGallery is genuinely improving, with full access to Microsoft services meaning this is a very viable machine for work if you add on the keyboard accessory.
The system also lets you side load any app and now supports automatic updates. The Harmony OS 3.0 software, based on Android, looks lovely and the performance is top drawer thanks to the Snapdragon 888 processor.
Add in M-Pencil support for drawing or note taking and this looks like great tablet option, particularly with a starting price of €649.
LG Styler ShoeCare & ShoeCase
Chris Martin / Foundry
One of the more bizzare and unusual appliances at IFA 2022 this year was the Styler ShoeCare and ShoeCase. Essentially a smart shoe storage solution that cleans or displays your collection of kicks.
The larger part is the ShoeCare, a sort of wardrobe for shoes which uses LG's TrueSteam technology to 'refresh' a range of different fabric types thanks to 10 different 'courses' and can also dry them out with an adjust Multiple Nozzle system.
You can fit up to four pairs in, a course takes as little as 37 minutes and it can do so at a very quiet 37dB.
Chris Martin / Foundry
The ShoeCase is the fanciest storage box you've ever seen for your prized collectable sneakers, complete with a built-in light and turntable. It also protects them from UV light and moisture and can be placed on top of the ShoeCare cabinet or four of them stacked together.
The only problem is that they are launching exclusively in Korea for now and LG hasn't revealed prices.
Toshiba QA5D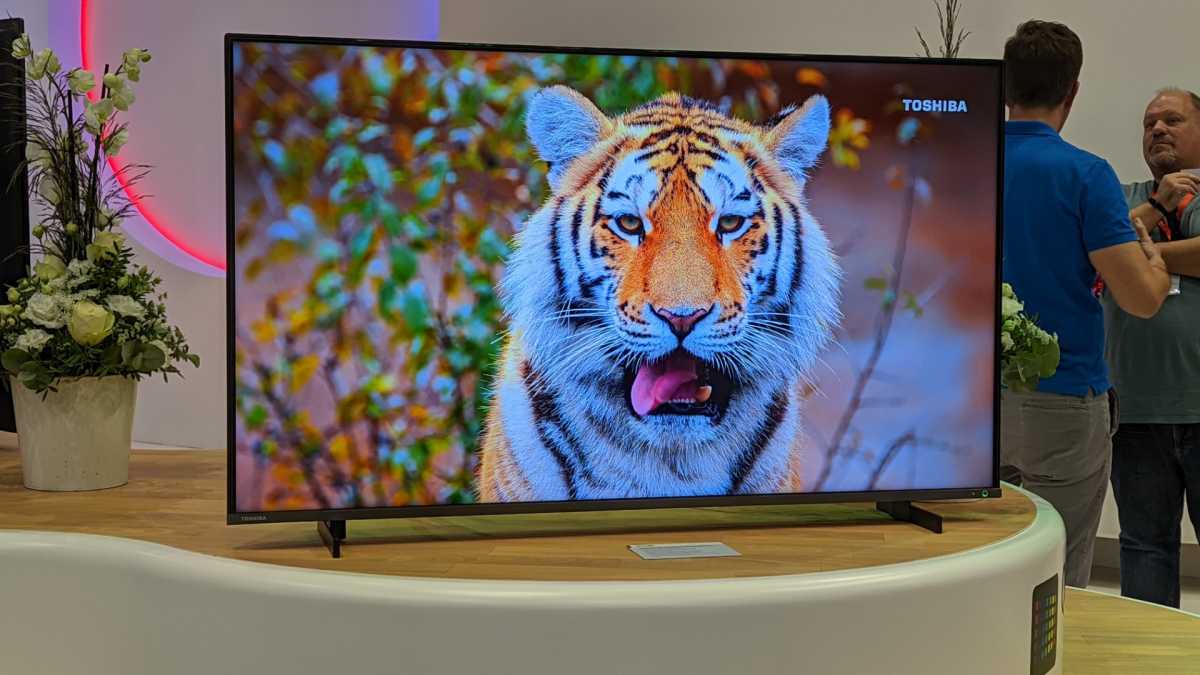 Chris Martin / Foundry
Toshiba announced a range of new budget TVs this year and it was the QA5D that caught our eye the most. Quite literally as this is the firm's first model with Quantum Dot technology.
For anyone looking for decent picture quality but can't afford a high-end model, Toshiba is offering a colourful and vibrant QLED experience for a reasonable asking price.
Just £399 will get you the 43in model and it's got other things going for it too, including Android TV built-in, a stylish design and support for both Dolby Atmos and Dolby Vision.
Kobo Clara 2E
Kobo
Kobo has made its first eco-conscious eReader and it will be the first of many, according to the company. The Kobo Clara 2E is made from 85% recycled plastic, 10% of which was ocean bound.
Priced at $129.99/£129.99/€149.99 to compete directly with the Amazon Kindle Paperwhite, the Clara 2E is the cheapest Kobo to ever be fully waterproof. It also gains the audiobook compatibility previously seen on pricier models.
With 16GB storage, backlight, weeks of battery life, and access to the excellent OverDrive ebook lending system, Kobo looks onto an affordable – and sustainable – winner.