Last month Sony unveiled the DualSense Edge, a premium PlayStation 5 controller. With swappable thumbsticks and customisable controls, it's exactly the sort of high-end gamepad fans have been waiting for from Sony, a long-overdue rival to Microsoft's Xbox Elite – already on its second generation.
But Sony itself might well have felt a bit aggrieved at the clamour for an upgrade to the PS5's default DualSense controller. After all, it's no slouch, and even as an entry-level input it offers something that no Xbox pad does: adaptive triggers and advanced haptics.
This goes far beyond the basic vibrations introduced to gaming by the N64's Rumble Pak add-on in 1997, allowing gamers to feel the tension of a coiled spring or a tightening bowstring. Shooters like Deathloop use it to create a different trigger feel for every gun, or even to simulate the sensation of a weapon jamming as the trigger locks.
Of course, haptics go far beyond gaming. You probably encounter them most in your phone, where ringtones and text alerts have slowly been phased out in favour of the gentle buzz of vibrate mode. This year they've gone one step further as iOS 16 introduces the option to add haptic feedback to the keyboard as you type – a setting Android owners are more familiar with, having turned it off a decade ago for being a bit annoying.
Enter the trackpad
Perhaps Apple was finally inspired to add haptics to the iPhone keyboard after the positive reception to the haptic trackpad that's been found in certain MacBooks since 2015. Dubbed 'Force Touch', these trackpads don't actually move at all – instead the static glass sheets use sensors to detect your input, and buzz the pad to make you feel the 'click'.
What Apple's implementation doesn't do is change anything about how we use our laptops. Enter Aito.
The Amsterdam-based haptics company already supplies haptic trackpads to at least one major Windows laptop OEM, but its ambitions go beyond that: to change laptop trackpads as we know it, and more.
Aito
For manufacturers, one immediate benefit to a haptic trackpad are that it's smaller than a traditional trackpad, allowing them to keep laptops slimmer – or their batteries bigger. Aito's version of the tech is just 2.4mm thick, thinner than a mechanical pad and less than half the depth of Apple's tech.
Aito also claims its haptics are more advanced than Apple's, thanks to using twelve different points for detection and feedback. Using in conjunction these can detect the precise position of your finger, and by driving different intensities of feedback to different points can deliver shockingly realistic sensations at specific points, rather than simply moving the whole trackpad as one.
Even for a basic click, its haptics are capable of tricking your brain into thinking that the trackpad itself is moving, an association that's almost impossible to break. It's only when the laptop's off that you can tell nothing was moving after all.
More than a click
Haptics can go far beyond simply replicating a mechanical click though. More advanced options include different sensations for one, two, or three-finger clicks; simulating the feel of a mouse scroll wheel as you slide down a page; or creating the DualSense's same spring-like tension to indicate how hard you're pressing.
There are practical outcomes here. One demo that CEO Nedko Ivanov showed me created a subtle sliding tension as I pressed down and dragged the cursor to select text – disappearing once I released.
Another possibility is intended for manufacturers at the high-end, who want to incorporate haptic trackpads invisibly into a laptop's body, as Dell has in this year's XPS 13 Plus (Aito would neither confirm nor deny whether its tech is responsible). By eye it's impossible to tell where the trackpad ends and the chassis begins, but an invisible haptic border is all the cue your finger needs.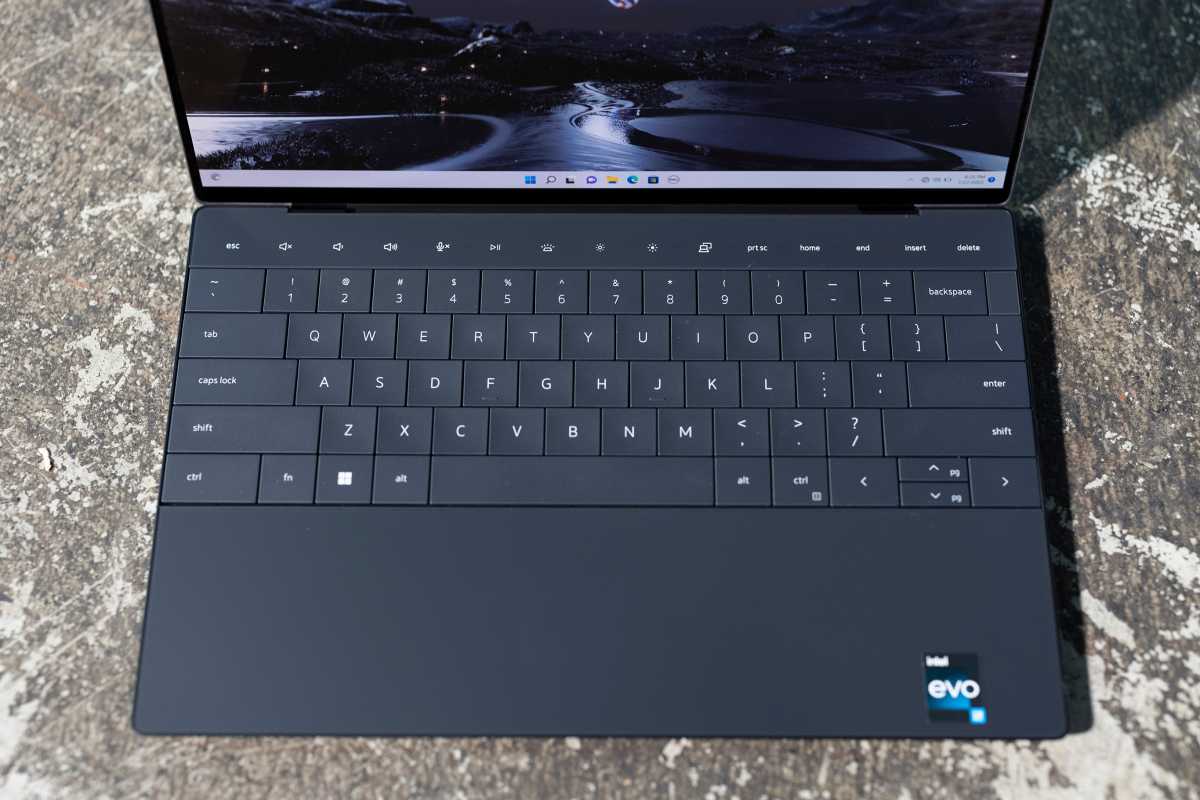 Adam Patrick Murray
The latest generation of Huawei MateBook X Pro has its own haptic trackpad, using it as feedback for new shortcuts like swiping down on the right-hand side to raise or lower volume, or letting you click into the top corners to either minimise or close your current window.
So far this tech has been limited to expensive, premium devices, though Ivanov is confident it has mainstream appeal.
"I'd say within the next two years it's going to be trickling down into the so-called mid-segment," Ivanov told me, predicting that the big paradigm shift will kick in during 2024.
Keys to the future
Aito's ambitions go beyond the trackpad though, and it wants to replace almost every moving part in the modern laptop. After all, if you can simulate a trackpad, why not a keyboard?
We're already seeing manufacturers develop dual-screen devices like the Asus ZenBook Duo range, or laptop-sized foldables such as Lenovo's newly updated ThinkPad X1 Fold, which uses a detachable magnetic keyboard. But if the bottom half of our laptops is truly to become all-screen, then the keyboard will have to go for good – just as it did on our phones not so long ago.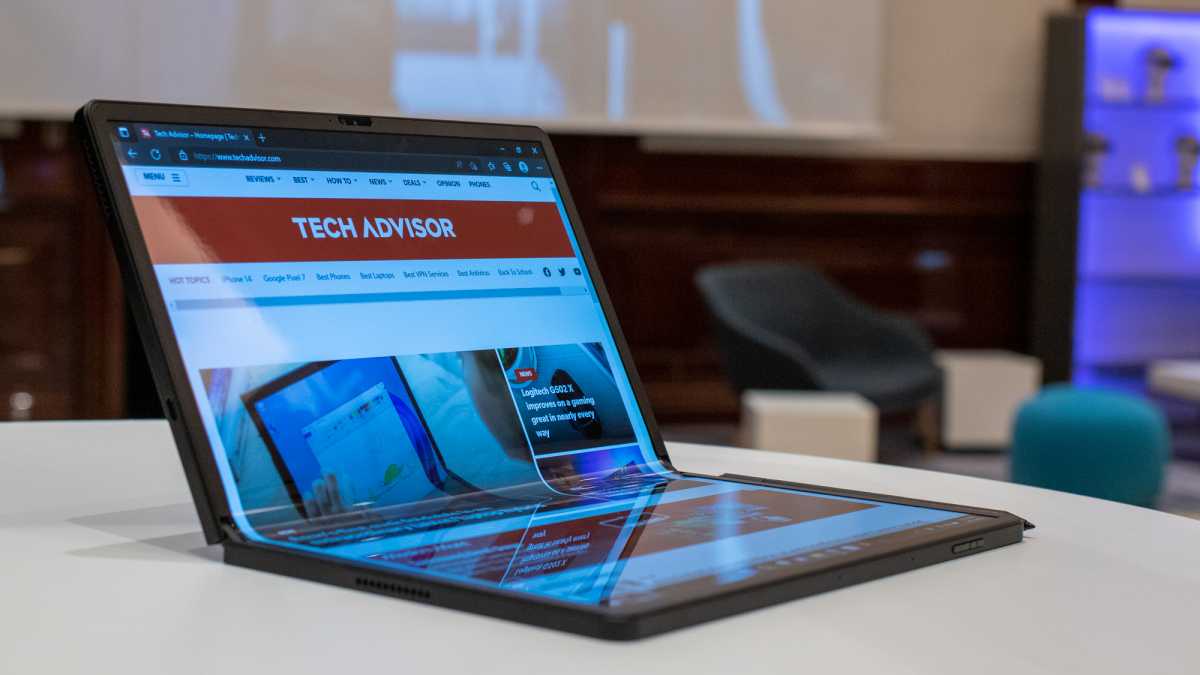 Dominic Preston / Foundry
Typing on a phone is one thing, but a computer keyboard is something else. And as Ivanov puts it, if you're going to persuade consumers to give up the keyboard then "you have to have a lot better experience typing on a display than what you can currently get on an iPad."
Aito's tech comes impressively close to the real thing though, thanks in part to including enough motors to give individualised feedback exactly where you type – rather than buzzing the whole device like your phone does.
Aito's implementation felt surprisingly natural surprisingly quickly – and even enables new options like pressing down harder to capitalise a letter, the sort of customisable tweaks that could hypothetically help some people type faster on here than on a real board.
Will it win over the sort of mechanical keyboard nerds that argue over switch types and travel distances? No, but it doesn't need to – most laptop keyboards already deliver a compromised typing experience, so the bar is comparatively low.
Even so, consumers are unlikely to jump at the chance to give up their 'real' keyboard in favour of a haptic alternative. But manufacturers have plenty of incentive to encourage buyers along, as building a keyboard into a display not only allows for thinner laptops, but could save huge amounts in manufacturing costs in the long-run, freeing companies of the need to build models with different keyboards for every market and language.
Ivanov told me that Aito is already working with a mystery OEM to implement its on-screen keyboard, so we might see it arrive sooner rather than later. A haptic mouse is in the works too, raising the tantalizing prospect of a sleek, seamless peripheral in the vein of Apple's Magic Mouse – no word on where they'll put the charging port though.
Our buzzy future is still a few years off, but the promise of simplifying supply chains while adding fancy new features all but guarantees that haptics are here to stay – and from what I've seen, they're only going to get better.