At a glance
Expert's Rating
Pros
Attractive design
Adjustable handlebars
Reasonable range
Cons
Only three power assist levels
Heavy to carry
Limited warrranty
Our Verdict
The Mycle Cadence is a hybrid e-bike aimed at commuters and leisure cyclists. With an attractive design and reasonable range it will appeal to those looking for a first e-bike, but with a general lack of features and a short warranty it doesn't do enough to beat the competition.

Picking the right electric bike is no easy task. With most options (and certainly those worth having) requiring a significant outlay of cash, the stakes are potentially quite high for new buyers and especially given the sheer scale of the competition.
Enter the Cadence, a new option from British start-up Mycle, that presents itself as a 'hybrid' – in theory a bike that blends in well for the standard commute but which can also let its hair down for a little weekend leisure riding. It sports trendy colour options, a relatively traditional design that can be adjusted to different height requirements and a few quality-of-life features that should, in theory, make it a solid choice for those dipping their toes into the world of e-bikes for the first time.
But with some seriously impressive competition from established manufacturers at a similar price, does the Mycle Cadence do enough to earn a recommendation?
Read on for our full review.
Features & design
As a relatively new product category, there are generally three options to take from a design perspective. The first is to go full out and make a bike for the world of Tron, and the second is to produce something worthy of the protagonist of a Joanne Harris novel set in a quaint French village – traditional perhaps to a fault. As for the third option, that would be an attempt at a middle ground between the two.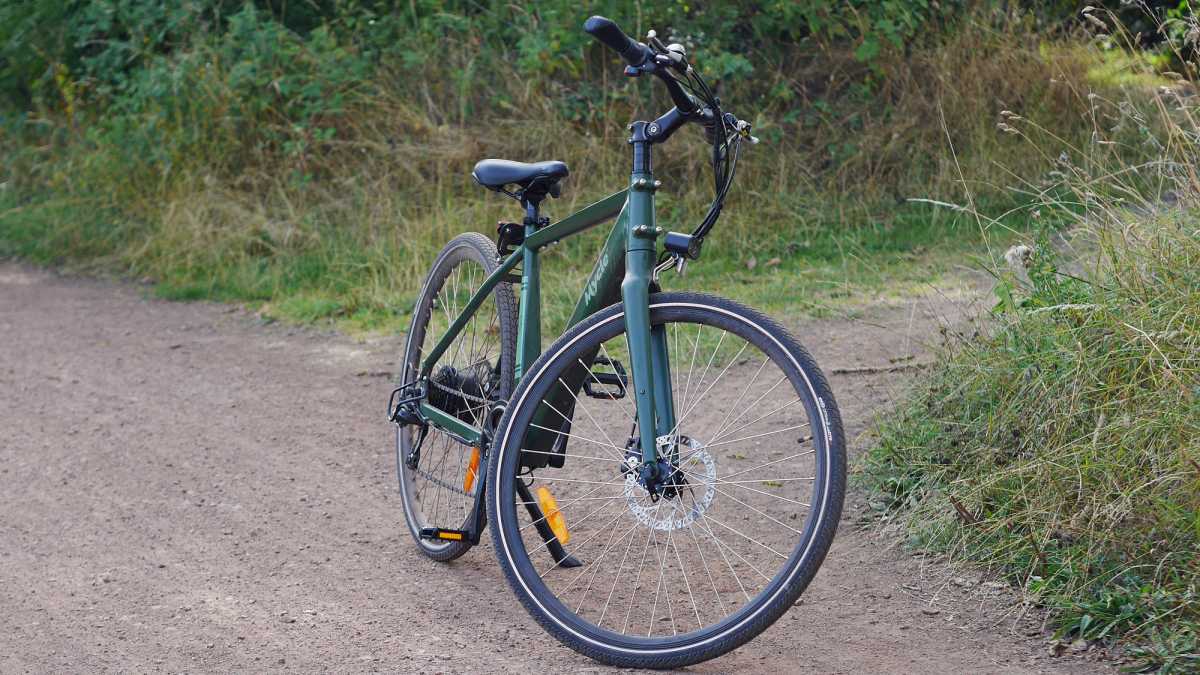 Sean Cameron / Foundry
And it is that latter option that best describes the Cadence. Available in three classic colours (Green, Black and White) and sporting seven rear gears, a little bell and a 'standard' bike profile it will be familiar enough for e-bike newbies to feel at home almost immediately. With a mass of cables protruding from the front however, a hefty battery included in the frame and a control panel on the left side of the handlebars it cannot be mistaken as anything other than an electric bike.
This isn't a bike that will turn heads, but neither will it inspire ire from passers-by on the commute. For most, at a glance, it will appear to be nothing out of the ordinary.
With a large battery comes an unfortunate but inevitable compromise of course, for this is a heavy bike. At 27kg it's one of the heaviest we've tested and those who need to lug their bike up flights of stairs will definitely feel the strain. The weight also makes it somewhat clumsy to move off from a standing start, though there is a built-in throttle to help with this particular issue.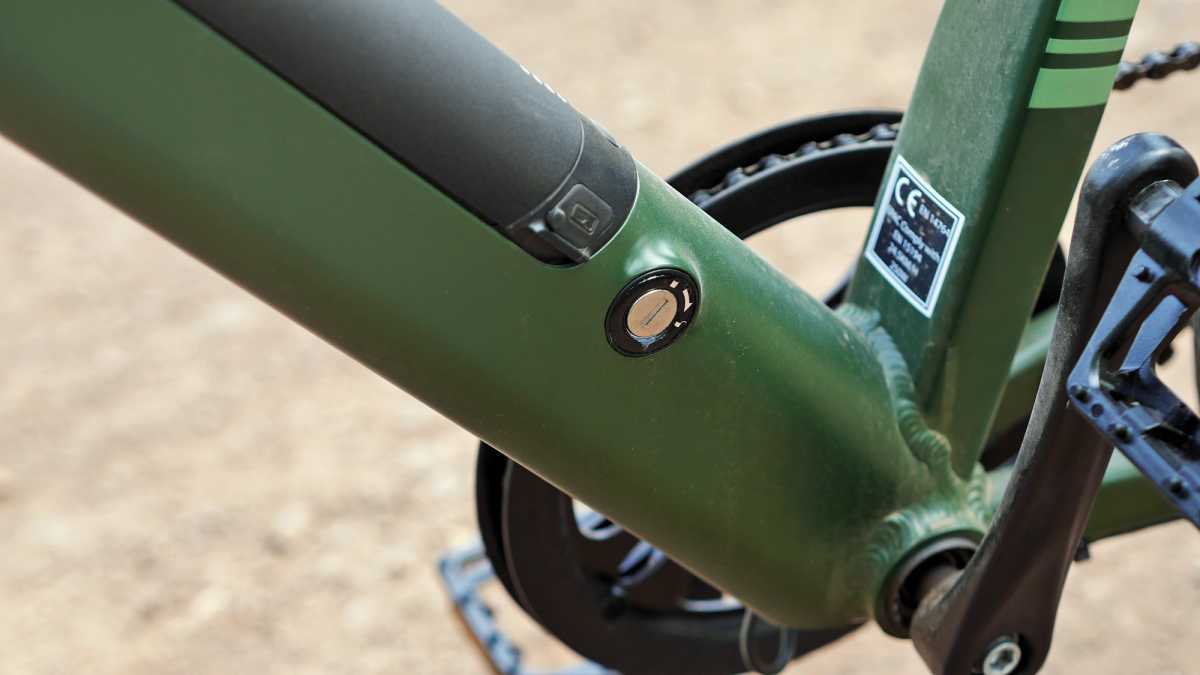 Sean Cameron / Foundry
Thankfully the battery is removable for charging, which means the bike can be left in a stairwell (or wherever you store it) while this happens. The battery by default is locked into the frame and can only be removed with the aid of the included keys, which is a handy security feature.
The Tektro mechanical disc brakes mostly proved to be robust in testing, though sometimes when moving at higher speeds they could feel a little light and unresponsive. Given that the urban commute can occasionally require quick reflexes, this may be something of a concern. It's a shame Mycle couldn't stretch to a hydraulic setup at this price.
Sean Cameron / Foundry
The Cadence is undoubtedly a bike made for the road. There is no suspension to handle any lumps or bumps, and given that the tyres have a thin profile, tarmac will be the surface of choice for any potential riders. Riding on a converted, unpaved railway path confirmed this and isn't recommended.
A beneficial by-product of this road focus are the front and rear LED lights, the latter of which light up when the brakes are engaged. In general use we found these to be bright and powerful, and as such should provide an extra level of visibility when riding in less than ideal lighting conditions.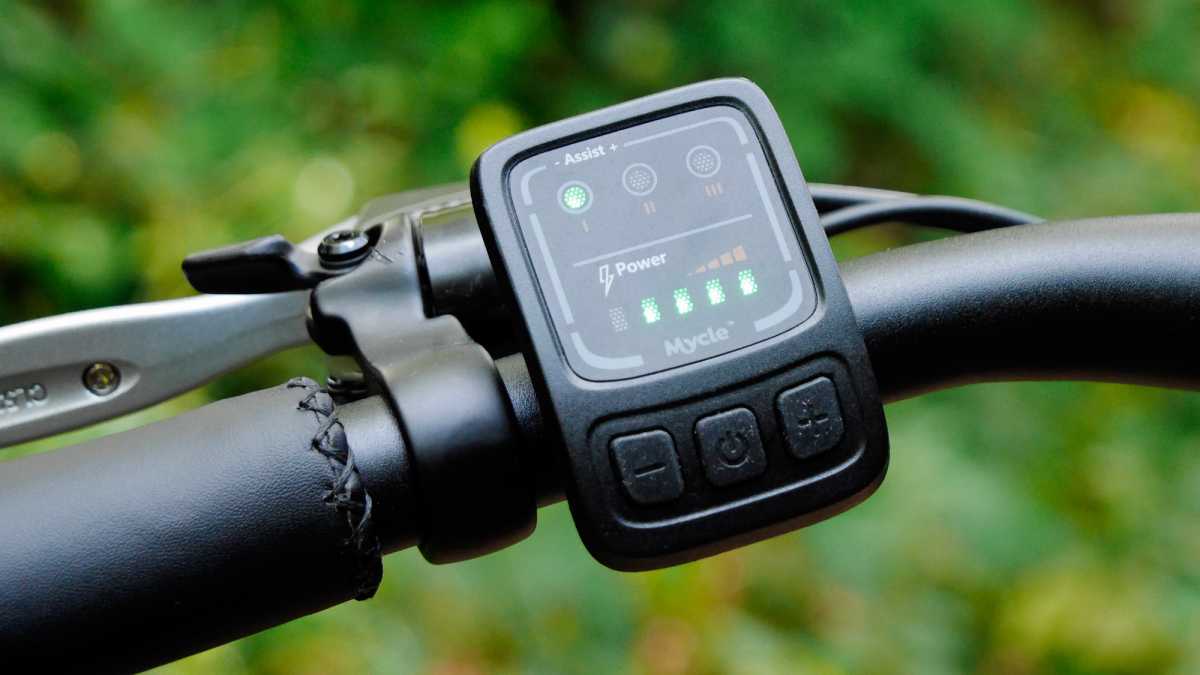 Sean Cameron / Foundry
These can be engaged with the included display. To call it a display is something of an overstatement, the only 'display' is a power level indicator and another to show the current level of power assistance. The emphasis is clearly on 'glanceability' and allowing the rider to change settings without looking down, which is to be commended when considering a complicated urban commute situation.
Other manufacturers opting for simplicity often do away with a handlebar-mounted control, and we'd have preferred the more common display which doubles up as a bike computer to show speed, distance and other handy information.
The Cadence, then, can feel decidedly lo-fi at times. Competitors tend to offer companion apps that communicate via Bluetooth and sometimes there's even built-in GPS so you can keep tabs on the bike's location (like VanMoof's S3 and X3).
Those who intend to use their bike solely as a machine to get from A to B without a thought won't find any issue with this approach, but those looking for extras will be left slightly disappointed.
The Cadence does offer some benefits, though. Everything from the saddle to the handlebar angle can be adjusted, meaning that this is a frame that should suit most shapes and riding styles. There are also mounts on the front and rear for a basket and pannier rack, both of which are available to buy as optional extras.
There's a built-in stand and the quick-release skewer means it's easy to remove the front wheel to make the bike smaller for transport. Not so much the rear wheel. Like many electric bikes, the motor wiring makes this a more complex task.
One thing to note is that, upon initial delivery, it is important to perform a once over to make sure everything is tightened and ready to go before pedalling off – failing to do so can cause stability issues when riding. The handlebars in particular have a propensity to come loose unless tightened to the nth degree.
This may be a consequence of the origins of the bike, which is assembled rather than manufactured in the UK, out of the box a little further assembly is required.

Performance
Of paramount importance for a bike intended primarily as a commuting machine is comfort. Whether riding on bumpy roads or waiting for a light change, having a cushy carriage makes any ride just a bit more pleasant.
With these use cases in mind, the Cadence is a bike that is generally comfortable but perhaps not quite perfect for every situation. The Selle Royal saddle certainly looks the part with plush cushioning and a faux-leather finish, feeling suitably expensive as a consequence.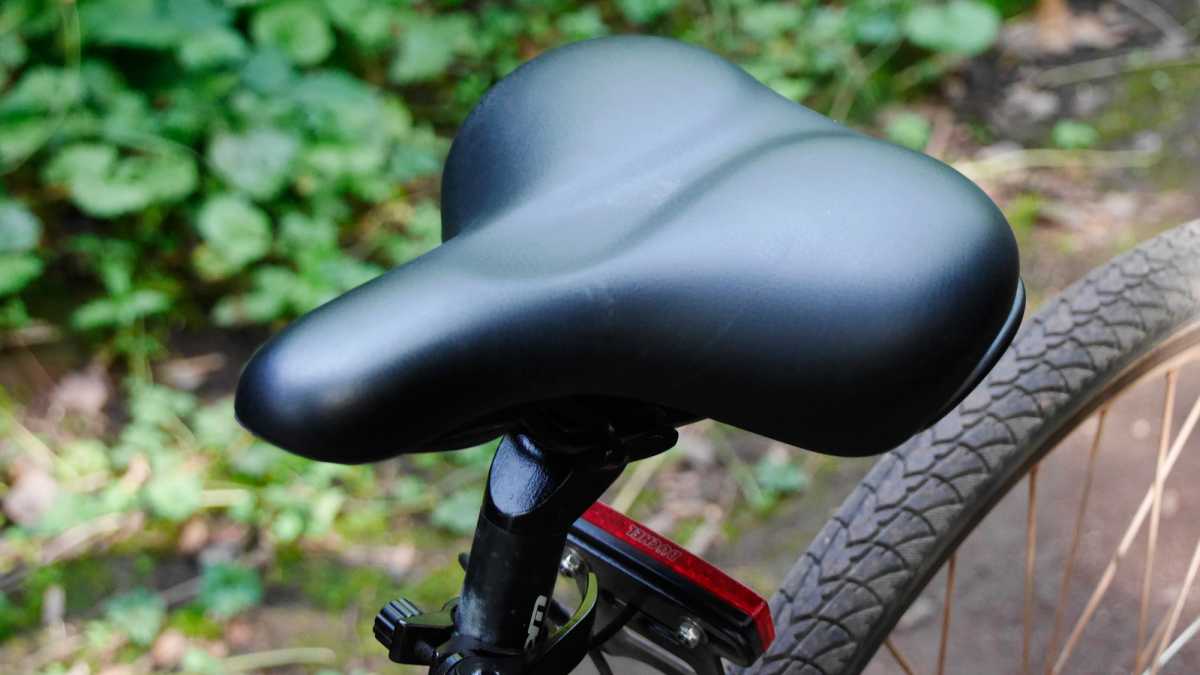 Sean Cameron / Foundry
This feeling doesn't quite translate to complete comfort while on the road however. As the bike doesn't have suspension you will feel every cobblestone and wonky surface, which may deter those living in older cities. The saddle does its best to absorb rumbles and shakes but can't do quite enough to eliminate them. What results is a ride that is comfortable most of the time, but with no ability to adapt should the situation change. At this price, it's unfortunate.
As for the motor, the situation is similarly mixed. Given the name of the bike, it is to be expected that a cadence sensor has been used (and is).
Unlike a torque sensor, this detects only movement of the pedals and engages the motor. It does not respond according to how much pressure the rider is exerting on the pedals and a consequence of this, just as with many other cadence-sensor-equipped bikes, is that the ride can feel a little jerky.
On lower power settings it wasn't too much of an issue, but at higher speeds the bike can be quite abrupt in moving forward and uncomfortable as a result, and introducing uncertainty when in complicated situations such as moving through traffic. The motor also makes a clearly audible whirr at higher speeds, which can be annoying on longer rides.
Sean Cameron / Foundry
Three power settings are offered, and speed can also be managed with the smooth Shimano seven speed gears. While the lowest setting feels barely there while pedalling, the highest setting has a lot of oomph but can feel a bit imprecise to control. In general the brakes worked well to slow the bike, but had some issues when controlling higher speeds, taking a while to bring things to a stop. When manoeuvring on the road it was generally easiest to stick to the middle setting, which was usually a pleasant balance between the two.
In future models, we would like to see more gradations between different power levels, and perhaps a torque sensor plus suspension to leave the ride feeling a little more controllable and a lot more comfortable.
At 45km the quoted range should be enough to cover most commutes, however there was a reasonably significant degree of variance in the real world results that could be achieved. Across a 13km cycle with a high degree of assistance, two bars from the five bar power level indicator were depleted. This would imply that 45km is a best case scenario, with less assistance and flat roads, that might change significantly if hills and other obstacles become involved.
A full charge of the battery takes five hours to complete, and this will be needed several times per week if the bike is used actively. Competitors at a similar price point can be charged at a quicker pace, some in as little as three hours while still sporting a longer range.
Price & Availability
The Mycle Cadence is available now from the company website for £1,599. This includes a rather paltry 12-month warranty which can be extended to 24 months for a further £200. This brings up the price of the bike significantly.
Currently the Cadence is available only in the UK. If you do need to claim under the warranty, parts are shipped out directly. For any bigger jobs where the buyer can't be expected to fit the parts themselves, the bike will need to be sent back directly to Mycle, though the firm covers the courier costs.
Certain competitors offer more generous warranty terms, with the likes of VanMoof offering a three-year warranty as standard (but its bikes are now more expensive), and the usual caveats regarding long-term support from startup companies apply. There is an element of risk regarding future repairs should Mycle cease to exist, and this should be borne in mind.
Compared to the Cadence, the Cowboy 3 at £1,990 offers a companion app, GPS, theft detection and tracking, a range of 70km and a two-year warranty as standard.
For £1,399 the Raleigh Array has arguably superior styling, more frame size options, a 60 mile range, an OLED control panel and widely available repair options.
Lastly, the MiRider One costs the same as the Cadence but offers a two-year warranty as standard along with a folding design, a range of 45 miles, 5 levels of power assist, weighs17.3kg and is potentially more flexible for those with a varied commute (including public transport).
See all our recommendations in our roundup of the best electric bikes.
Verdict
Buying the perfect electric bike is something of a fool's errand: there is no perfect option for everyone. But there are a few that will be better than most for specific types of rider. The Cadence tries to straddle two different categories, looking to appeal to commuters and leisure riders by offering a combination of design and features amenable to both.
For commuters it offers a lockable battery and adjustability, while for leisure riders it boasts reasonable range and an unthreatening design that will especially appeal to those looking for a first e-bike.
But at £1599, it doesn't represent particularly good value considering the short warranty, heavy weight, basic control panel and lack of any real stand-out features. Electric bikes have got more expensive recently, yes, but there are plenty of similarly specified alternatives – including Carrera bikes from Halfords such as the Crossfire E – that cost hundreds less.
There's also other competition including the aforementioned Raleigh Array which offers an equally attractive design, a longer range, more frame size options and comes from a more established manufacturer – all for a lower price. As it stands, the Mycle Cadence is merely average.
Specs
BIKE WEIGHT: 27kg
MAX LOAD: 200kg
DIMENSIONS: L184 x W69 x H98cm
RANGE: 45km
BATTERY: 36V/7.8AH DMEGC Battery 2600MAH Cell
BATTERY WEIGHT: 2.6kg
CHARGING TIME: 4-6 hours
MOTOR: 250W brushless rear hub
MAX TORQUE: 45 Nm
POWER ASSIST LEVELS: 3
MAX SPEED: 25km/hour
CHAIN: KMC Z
PEDALS: Wellgo, Non-slip
SADDLE: Selle Royal (SR-A020D)
FRONT LIGHT: Integrated bright front LED light
REAR LIGHT: Integrated rear brake light
USB PORT: No
DISPLAY: LED Display
CHARGER: Standard UK 3-pin plug
WHEEL DIAMETER: 27.5 inches
TYRES: KENDA 700c x 35c
BRAKE TYPE: Front & rear Tektro disc brake
BRAKE LEVER: Tektro
GEARS: Shimano 7 speed
FRAME

: 6061 Aluminum Alloy
FRAME: 6061 Aluminum Alloy