Withings has announced a brand new smart scale called Body Comp that can measure not only your weight and body fat, but also many other things that can indicate your overall health.
Using a combination of sensors and algorithms, the Body Comp can tell you your weight, muscle mass, fat mass, water %, bone mass, BMI and visceral fat.
The latter is the 'hidden' fat around the organs in your belly.
It will also assess your cardiovascular and nerve health, giving you a fuller picture of your overall health than many rivals.
The Vascular Age reading measures the 'stiffness' of your arteries and can be a good indicator of cardiac health. Given that – according to the WHO – cardiovascular diseases are the number one cause of deaths worldwide, the ability to detect problems early gives you the opportunity to make changes to your diet and exercise regime.
Usually, arteries age more slowly than the rest of the body, but the Body Comp will tell you – in less than 30 seconds – if your Vascular Age is higher than your actual age.
The Body Comp isn't the only Withings scale to measure vascular age, though. The Body Cardio, reviewed, also does this.
The other headline feature is Nerve Health. This is usually assessed in a clinical setting, but with the Body Comp you can do it at home. It measures sweat gland activity in the feet and will give you a score to tell you whether there's any degeneration of the small nerve fibres.
Together, these measurements can give you an idea of the risk of cardiovascular and metabolic diseases such as heart attack, stroke, and diabetes.
The Body Comp costs $209.95 / £199.95 – the most expensive scale from the company yet – and goes on sale 4 October 2022. You'll be able to buy it from Withings' website.
Withings Health+
That price is higher than the Body Cardio primarily because buyers also get 12 month' access to Withings' new Health+ subscription service.
This goes beyond the measurements and basic tracking available in the Withings Health Mate app and adds insights that help you to understand what the numbers mean.
"Knowledge is power, and to affect meaningful change, people need an in-depth understanding of health data, why it matters and how it changes. We have worked with a team of behavior change, fitness, medical and nutritional experts for over 12 months to help interpret market-leading data from Withings devices. Today we are thrilled to unveil Health+ along with Body Comp, the first device to benefit from its advanced health metric assessments and habit-building modules on 4 key pillars —sleep, nutrition, activity, and stress management," said Mathieu Letombe, CEO of Withings. "Providing services is an important strategic step for Withings, and with Body Comp and Health+, we have developed a bundled product that can provide ongoing body health improvement."
Health+ works on the basis that it will motivate you to make long-term changes, but to get the most out of it, you'll also need to log extra information such as all the food you eat, your mood and your sleep (though this can be synced from a variety of smart watches and activity trackers).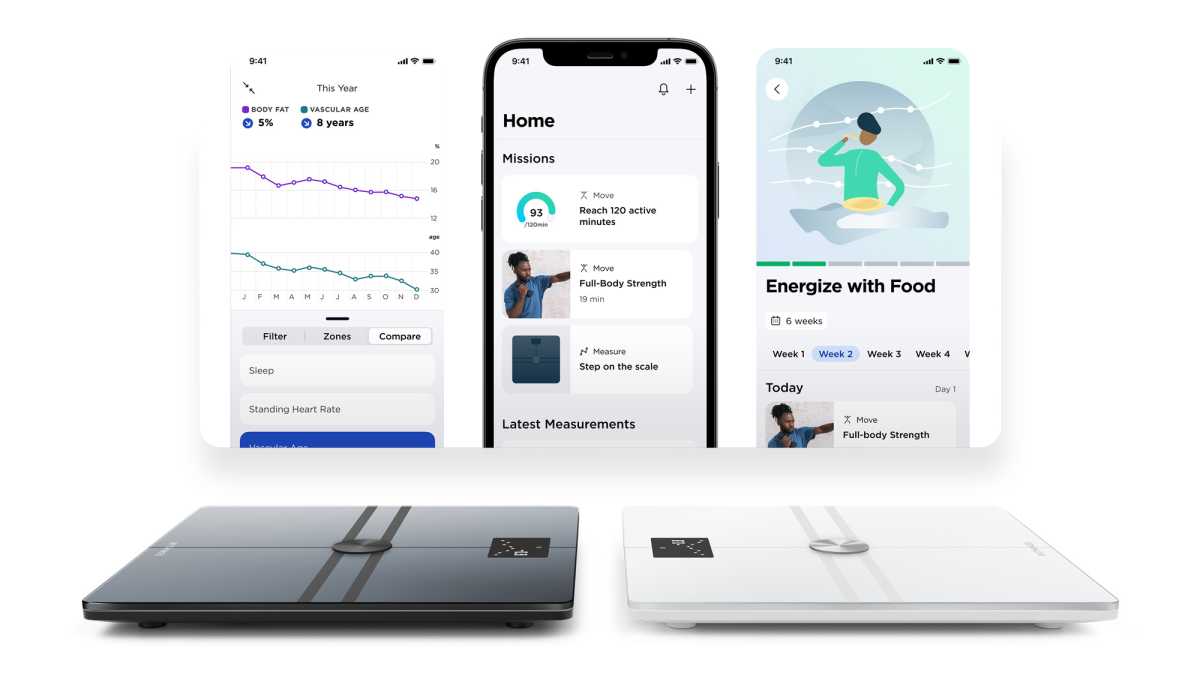 Withings
It includes 'habit-building' modules which run for six weeks and are designed to motivate you to achieve health goals by seeing your progress through the various measurements from the Body Comp scale. This includes daily 'missions' along with recipe suggestions and workout routines (with videos).
You'll also get weekly reports that give a detailed analysis of your progress and a monthly measurement report that's designed to be shared with your doctor.
"Many people know what to do to improve their health. But it's hard to fit healthy behaviors into your life and to know if they are actually improving your health. Health+ helps people understand how their behaviors impact their health, with bite-sized daily tasks that guide them to better results over the short, medium, and long term," said Dr. Shikha Anand, Chief Medical Officer at Withings.
"While changes in fat/muscle mass or nerve activity may take months to evolve, other metrics such as weight, resting heart rate, or vascular age can change within weeks. Body Comp and Health+ show how these metrics improve with healthy behaviors, empowering people to take charge of their health every day."
Withings is keen to point out that the Body Comp is only the first device to work with Health+, and that it will be available to use with the forthcoming Body Scan health station as well as, presumably, all future Withings scales and other health-monitoring devices.
Health+ represents the company's first foray into the world of subscriptions, and Withings confirmed to Tech Advisor that it will cost $79.95 / £79.95 per year once the initial 12 months' access is over.
You'll be able to use the scales if you choose not to continue subscribing, but you'll lose the insights and daily/weekly plans.
We'll be reviewing the service along with the Body Comp in due course. In the meantime, you can have a look at our recommendations of the best smart scales available to buy right now.