Fitness tracking is big business, but if you're not a cardio fiend then it's easy to feel left out – which is why Amazfit has designed its new GTS 4 and GTR 4 smartwatches to track strength training too.
Most fitness tracking fundamentally comes down to tracking your heartrate, counting your steps, and using GPS to see where you've moved. Most of that isn't much use for strength training and weightlifting, where you tend to stay in one place and often don't even elevate your heart rate.
The GTS and GTR 4 have gotten around that problem, and Amazfit says the pair of affordable watches can track your sets, reps, and rest time for 15 different exercises (with a further ten apparently coming soon), along with recording which muscle groups you've hit and helping you target them better.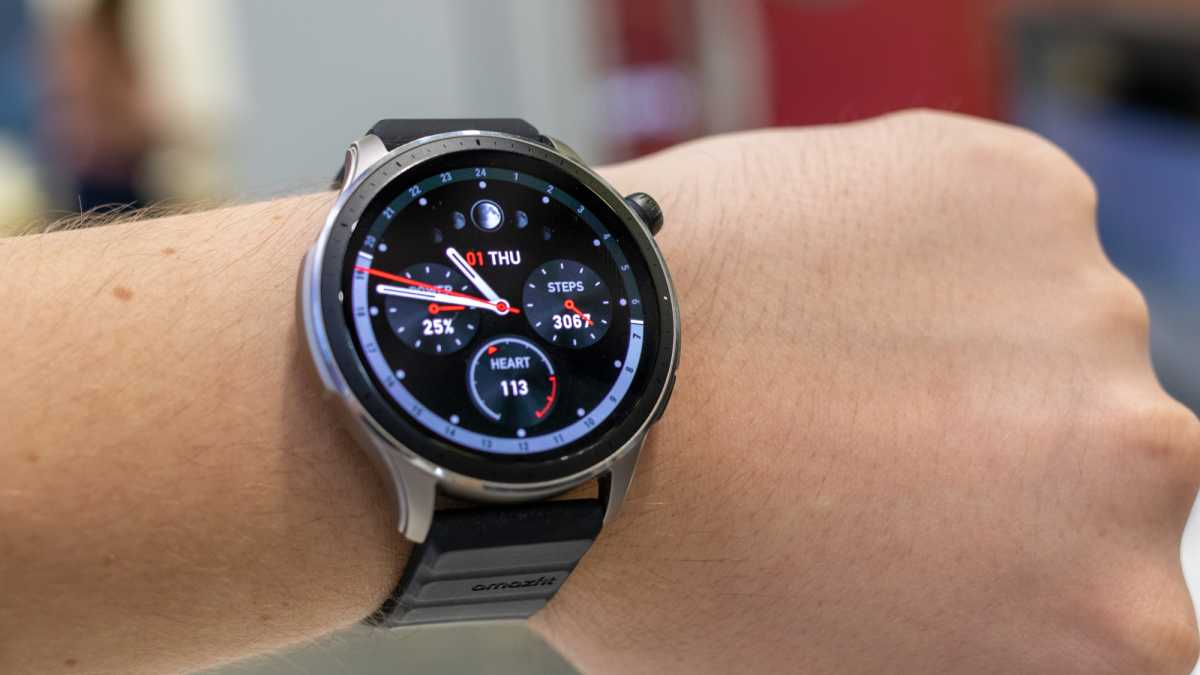 Dominic Preston / Foundry
Runners and cyclists haven't been left out either. Upgraded "dual-band circularly polarized" GPS antennae apparently deliver accurate tracking in more challenging, busy environments, and workout data can be synced to both Strava and Adidas Running.
Both watches include 24/7 tracking for heart rate, blood oxygen levels and stress, enhanced by a new BioTracker 4.0 PPG sensor that Amazfit claims can capture 33% more data than the 3.0 sensor found on the Amazfit GTR 3 and GTR 3 Pro.
With a single tap, you can also get a one-off measurement of all three metrics, plus breathing rate, in just 45 seconds. Sleep tracking is included too, with adjustable sleep schedules to better suit workers on night shifts.
There's also Zepp OS 2.0 to look forward to, with improvements including the ability to choose between two app menu layouts and adjust the overall colour scheme of the OS. Zepp also promises that the update is designed to consume less power, which has a knock-on effect on battery life.
Otherwise, these are familiar watches for Amazfit fans. You get the choice of a round (GTR) or square (GTS) design, both of which pack AMOLED displays, support for over 150 workouts, Alexa support, and impressive battery lives: a week for the GTS 4, and two weeks for the larger GTR 4.
Dominic Preston / Foundry
Both models start from €199, making them comfortably cheaper than almost all their rivals. They arrive first in Germany on 12 September before a rollout in the UK and other European markets later in September and October.
If that's still a little too expensive for your needs and you're not fussed about weight training, Amazfit's new GTS 4 Mini's €99.99 price tag could be a little more tempting.
A successor to the GTS 2 Mini (with no 3 Mini in sight), the wearable boasts a 1.65in AMOLED display with always-on functionality, 15 days of battery from a single charge and a swathe of sensors to track heart rate, blood oxygen, stress, sleep and over 120 types of workout. It's also 5ATM water-resistant, and it boasts built-in GPS for improved performance too.
It's set to go on sale in the coming weeks in Germany, with no word yet on UK or US availability.
If you can't wait that long, take a look at our selection of the best smartwatches and best fitness trackers, all of which are available to buy right now. Also find out what won our Best of IFA 2022 awards.