Lenovo was the first company to market with a folding laptop/tablet back with 2020's ThinkPad X1 Fold. Two-and-a-half years later (and just one day after the arrival of its first real rival) its back in a revamped version that for some reason comes with the exact same name.
The branding may not have changed, but the tech certainly has. This updated X1 Fold is clearly more polished and streamlined than the version I saw at CES 2020, with a larger screen, new use cases, and enhanced tech. But is it ready to go mainstream?
Laptop, tablet, and more
The X1 Fold's 16.3in display can be used at full-size either as a tablet or in landscape or portrait orientation thanks to its matching collapsible kickstand.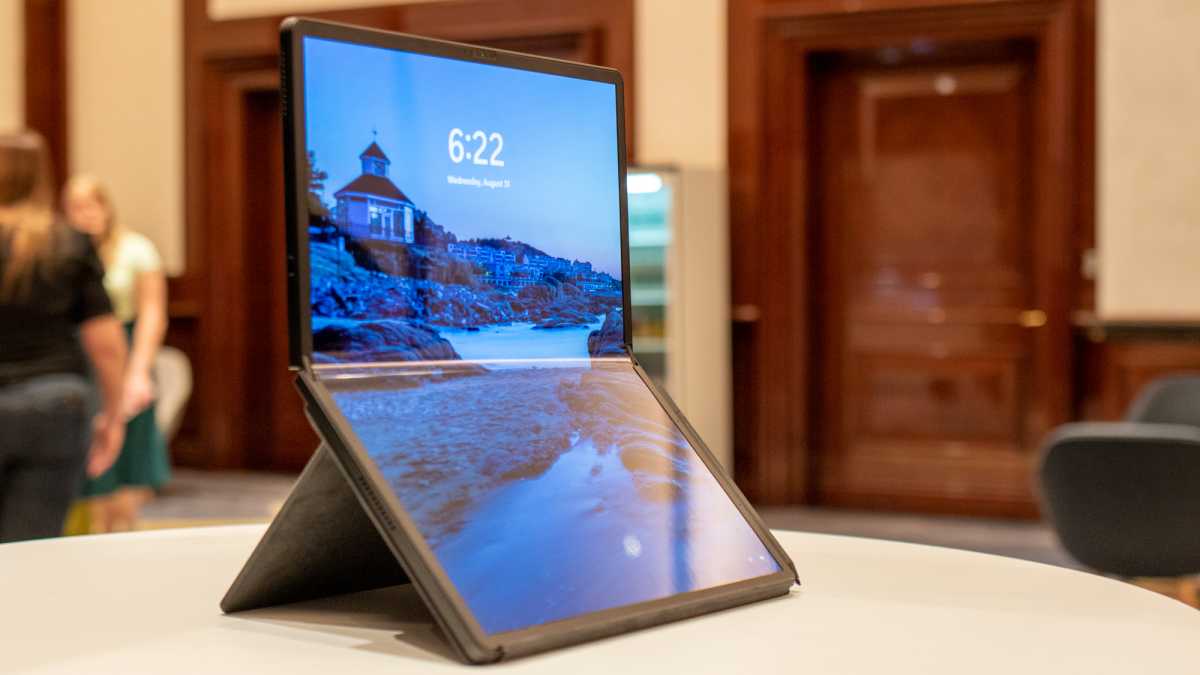 Dominic Preston / Foundry
But it also folds in half, giving you a 12in laptop with two screens – usable either in book form as a makeshift ereader, in laptop form with an on-screen keyboard, or using the optional keyboard (complete with Lenovo's trademark TrackPoint and a haptic touchpad), which can itself be used either detached via Bluetooth, or magnetically attached to the lower screen to create a true traditional laptop setup.
The typing experience is better than you'd expect from a keyboard only held on with magnets. It doesn't feel loose or flexible, with a solidity to the magnetic grasp that makes typing surprisingly satisfying.
That means the ThinkPad X1 Fold can serve as laptop, tablet, and all-in-one desktop PC, making it among the most versatile Windows 11 devices around. That's if you have the compatible keyboard and case of course, which come as standard in Europe but are an optional extra if you're in the US.
It's portable too: the tablet itself weighs just 1.3kg/2.8lbs, rising to 1.9kg/4.2lbs if you include the stand and keyboard – which stack together when folding, for an overall package that has the same footprint as a 12in laptop, albeit a fair bit thicker. It's also fiddlier and slower to pack up than simply closing a laptop lid, but ultimately that feels like a small price.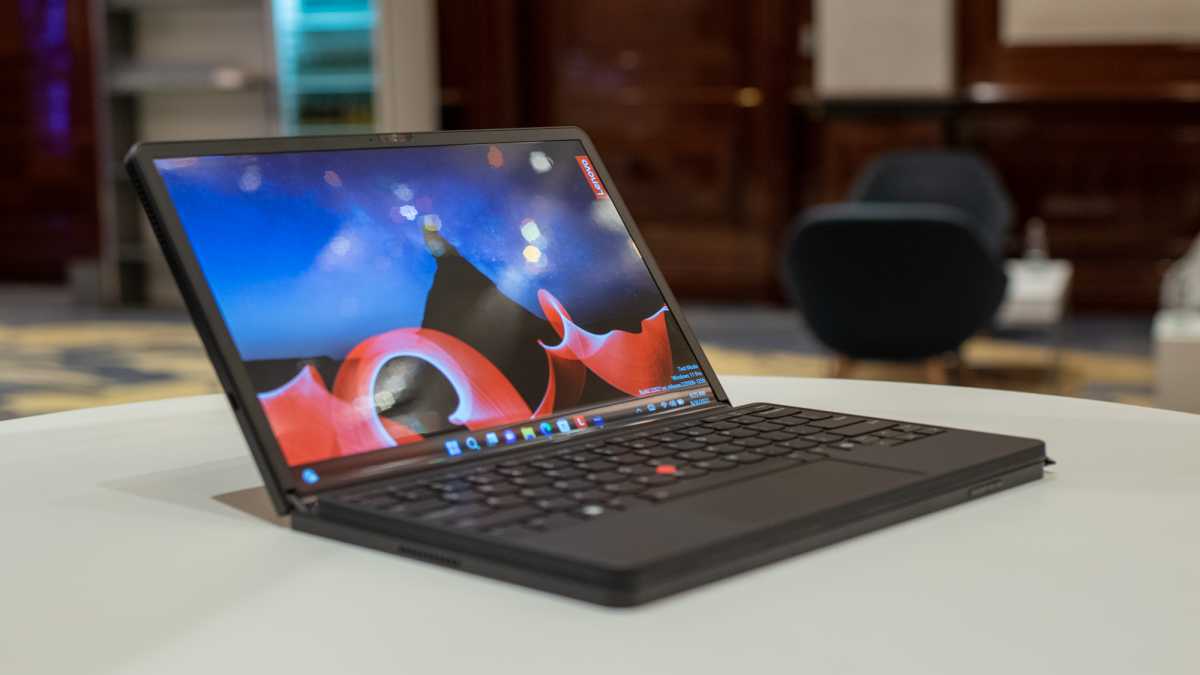 Dominic Preston / Foundry
Lenovo has clearly thought carefully about making the most of each orientation. The X1 Fold is equipped with a surplus of microphones, speakers, and USB-C/Thunderbolt 4 ports, so that in any configuration you'll get stereo sound, dual microphones, and at least two accessible USB-C ports.
It's not short on power either. 12th-gen Intel U-series chips power the laptop/tablet hybrid, with a choice of i5 or i7 silicon. Up to 32GB RAM and 1TB storage add to the sense that, when properly kitted out, this could be a powerful productivity device – though with no discrete GPU option it won't suit creative power users.
Lenovo has opted for an OLED panel, and promises 100% DCI-P3 colour coverage and support for Dolby Vision HDR content. It supports Lenovo's Wacom-powered stylus too, while a thin bezel keeps it looking sharp.
A new bell-shaped hinge has been introduced along with the larger display, and it allows the two sides of the device to remain flush when closed, something Samsung's phones still can't. The crease is subtler too, and hard to spot unless you know where to look .
Fold vs Fold
After a slow start, folding phones are beginning to draw mainstream appeal, led by strong sales for last year's Samsung Galaxy Z Flip 3 and Fold 3, both bolstered this August by updated fourth-gen models.
But it took Samsung three generations to begin to generate interest beyond enthusiasts, and Lenovo is still only on attempt number two. This is a clear progression from the prototype-y first-gen X1 Fold, but is the market really ready for a laptop screen that folds?
Dominic Preston / Foundry
That's not even touching on the question of durability. Many buyers upgrade their phone every two years, if not sooner, but laptops are expected to last a little longer.
Lenovo says the device as a whole meets the military-grade MIL-STD-810H standards for toughness, and that the hinge itself can survive 30,000 folds – enough for five years of use if you fold and unfold 16 times a day, though depending on your usage you might fold it much more often than that.
Samsung's success so far is also in large part down to price cuts last year, and it's the $2,499/€2,999 start price that will likely be the biggest obstacle to success for the X1 Fold when it goes on sale this November.
That's with the lowest specs available, and in the US it doesn't include either the keyboard or stand. Lenovo hasn't yet said how much those will add to the cost, but expect the full kit to be prohibitively expensive.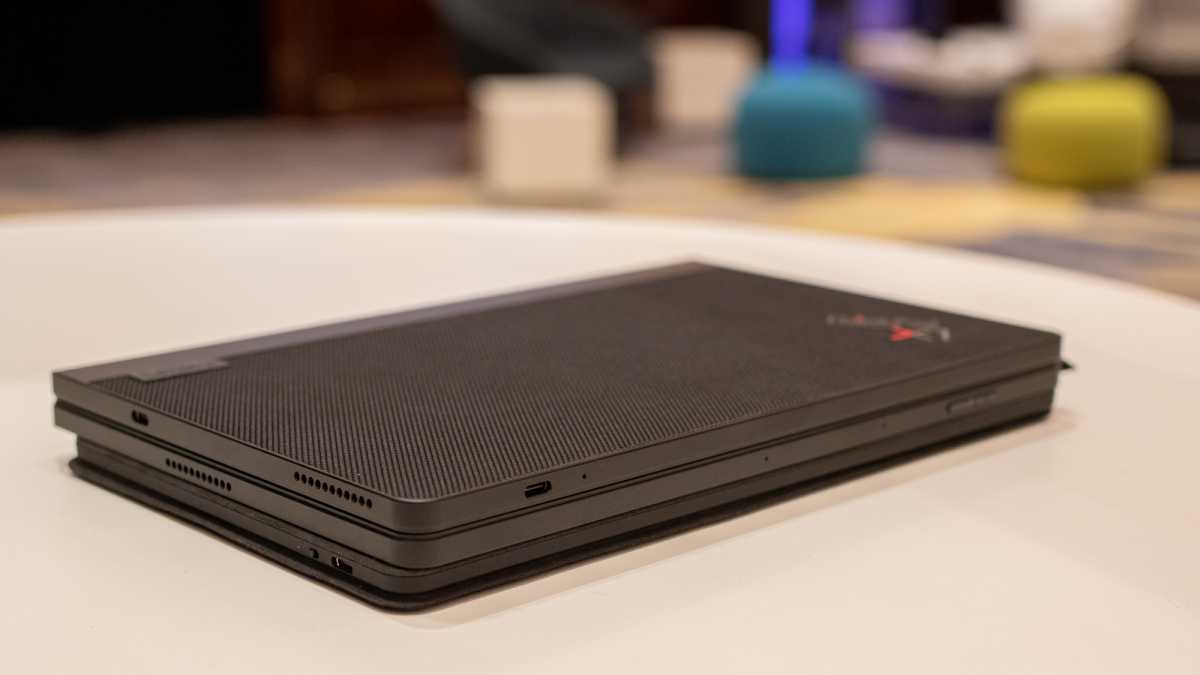 Dominic Preston / Foundry
It might help that Lenovo is no longer the only player in the space. Asus has joined them with its ZenBook 17 Fold OLED – first revealed in January at CES, but just yesterday confirmed to launch in December for a whopping $3,999. Suddenly the ThinkPad X1 Fold looks positively affordable.
Buyers still seem nervous about paying double for a phone that folds, so spending two or even three times as much as a typical laptop may well rankle – especially with doubts about durability.
If you're still a skeptic, Lenovo has also launched a few more traditional products this week at IFA, including the affordable P11 and P11 Pro Android tablets, and the first-ever Chromebook with a 120Hz display.
Also find out what won our Best of IFA 2022 awards.