Lenovo primarily focuses on budget tablets, but the company has used its IFA 2022 press conference to unveil two new premium slates.
The new Tab P11 and P11 Pro aim to provide the best possible multimedia experience, although the latter may also be a good candidate for productivity.
Both devices have 120Hz displays, quad speakers, and run a version of Android 12, but that's about where the similarities end. The Tab P11 Pro costs $150/€200 more than its regular sibling, and that's reflected throughout the device.
Processing power is arguably where this is most apparent. In the Pro you'll find a MediaTek Kompanio 1300T, the company's flagship 5G chipset for tablets, plus 4-, 6-, or 8GB of RAM. By comparison, the regular model is equipped with the mid-range Helio G99 and a maximum of 6GB of RAM. Lenovo sells an optional keyboard cover for both, but it only really makes sense on the Pro.
It's great to see 120Hz on a device that costs just $249.99/€299, but the standard Tab P11 adds it to an 11.5in LCD panel at 2000 x 1200. That's plenty detailed for most people, but a noticeable step down from the 11.2in, 2560 x 1536 OLED panel on the Tab P11 Pro.
Combined with quad speakers (tuned by JBL on the Pro), it's clear these devices will be solid choices for watching video and playing games. Lenovo cites watching a show or movie and listening to a podcast or music as situations where the Tab P11 slates perform well.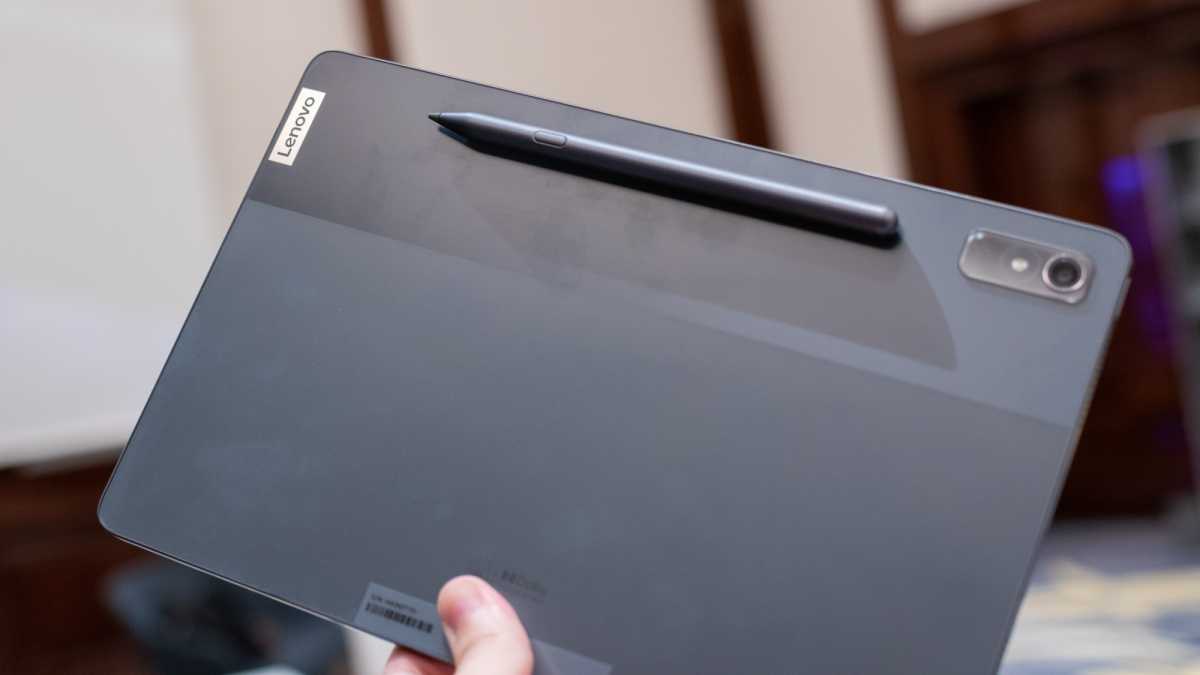 Dominic Preston / Foundry
Despite having a larger display, you'll have to be content with a slightly smaller battery on the regular model 7700mAh vs 8200mAh on the Pro. However, this may be balanced out by the lower advertised brightness of 400 nits (as opposed to 600) – Lenovo doesn't say how long either will last.
Charging is via USB-C, but there are no other ports on the Pro. However, the 3.5mm headphone jack is retained on the regular model.
Interestingly, the standard Tab P11 runs Android 12L out of the box. This is a version of Google's OS that's specifically designed for larger devices, but the P11 Pro runs regular Android 12. Both have a few Lenovo apps pre-installed, including two note-taking services and a tool for sharing content across devices.
The company has also committed to two major OS upgrades, confirming that the Tab P11 and P11 Pro will get Android 14 once it's available – likely in 2023. However, it's not clear when Android 13 will arrive.
As alluded to earlier, there's a significant difference in price between the two tablets. The Tab P11 will start at $249.99/€299 when it goes on sale in November, but you'll pay at least $399.99/€499 for the Tab P11 Pro once it's released later this month.
Both look set to be contenders for our best Android tablets chart, although their inclusion in our overall tablets chart will likely depend on the software experience.