Lenovo has just announced a brand-new Chromebook, and it has a premium feature you still won't find on most Windows laptops.
The IdeaPad 5i's 16in LCD display has the option for a 120Hz refresh rate, making it the first Chrome OS device with a screen output higher than 60Hz.
High refresh rates still aren't a necessity by any means, but they do make everything feel smoother and more responsive. Combined with a 2.5K resolution and full sRGB coverage, the display is undoubtedly the highlight of the IdeaPad 5i.
However, you'll only find those specs on more expensive models. The entry-level €549 configuration remains limited to 60Hz, alongside a drop to Full HD and reduction in colour accuracy, making it much less impressive. It's not clear how much extra you'll need to pay for 120Hz, but we've asked Lenovo for clarification.
Dominic Preston / Foundry
This variation is also apparent when it comes to the processor. Cheaper models of the IdeaPad 5i are equipped with Intel's basic Pentium 8505 CPU, while high-end versions opt for the more powerful Core i3-1215U.
Stepping up to the latter also gets you 8GB of DDR4 RAM (as opposed to 4GB) and up to a 512GB SSD. By contrast, the cheapest model includes just 64GB of the slower eMMC storage – that's a big step down.
One feature you do get across all configurations is a 180° hinge, which allows you to easily move the keyboard out of the way and make use of the touch support. Lenovo says each key offers 1.5mm of travel, including from the separate numpad.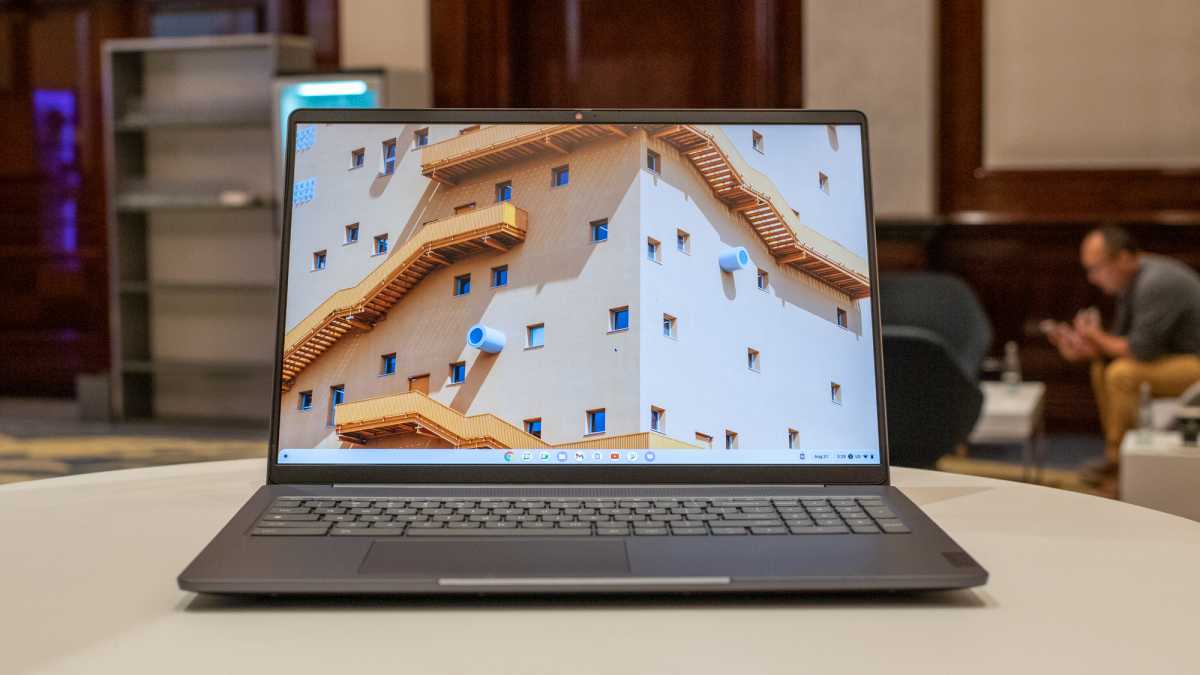 Dominic Preston / Foundry
The company doesn't quote a specific battery capacity, but claims you can get up to 12 hours of usage from a single charge. Other feaures of note include a Full HD webcam with physical shutter, dual stereo speakers and a decent port selection: 2x USB-C, 2x USB-A, microSD card slot, 3.5mm headphone jack and a Kensington nano security slot.
That €549 starting price is all we have for now, but the IdeaPad 5i is expected to be available at some point this month. It looks set to be a contender for our best Chromebook chart, but that'll depend on how much those 120Hz models cost.