More than seven months after it was first revealed, Asus has finally announced the launch of its first foldable: a 17in tablet that can seamlessly become a laptop.
The Zenbook 17 Fold OLED was first shown off at CES in January, but we now know a rough release date – sometime in Q4 – and price: $3,999/£3,299. It was always likely to be expensive, but this means only those with a penchant for new tech will want to buy one, something Asus is aware of.
However, the high price tag and long wait shouldn't dampen any of the enthusiasm surrounding this device. This will become the largest foldable you can buy, and it's one of the most exciting devices in many years. From my brief testing time, I can confidently say this is the real deal.
It's worth reminding ourselves of the Zenbook 17 Fold OLED's truly unique form factor. When fully open, this is a huge tablet with a 17.3in display – that's bigger than most laptops. The screen is a 2.5K panel with touch support and (you guessed it) OLED, with only a subtle crease hinting at its foldable functionality.
A robust 180° hinge allows the device to fully close like a book or become a 12.5in (1920×1280) laptop, with Asus's dedicated keyboard attached over half the screen using magnets. You'll notice some slight movement when vigorously typing, but the laptop experience is remarkably convincing.
Dominik Tomaszewski / Foundry
But there's also a third key way to use the Zenbook 17 Fold OLED, which Asus calls PC mode. A built-in kickstand allows the tablet to be free-standing, while you can connect the keyboard and a mouse via Bluetooth. Running Windows 11 Home out of the box, this could realistically be your main productivity device.
Of course, the Zenbook 17 Fold OLED needs a lot of power to make all this happen. Under the hood, you'll find Intel's latest 12th-gen Core i7 processor, alongside Iris Xe integrated graphics, and 16GB of DDR5 RAM. No discrete GPU means it's more for productivity than gaming, but I haven't noticed any slowdown whatsoever.
Asus has equipped the device with a generous 75Wh battery, which it says will get you 9-10 hours of usage – that's a full working day for most people. The 65W charger included in the box can be used with either of the USB-C ports, but there's no USB-A or HDMI (just a 3.5mm headphone jack). You'll almost certainly need to buy an adapter or hub.
Dominik Tomaszewski / Foundry
At 1.5kg without the keyboard attached, the Zenbook 17 Fold OLED remains relatively lightweight and portable. It looks set to go head-to-head with Lenovo's ThinkPad X1 Fold, especially with rumours of a follow-up to 2019's original on the way.
Price is the biggest reason most people won't buy either, but Asus has proven it can make a compelling tablet/laptop foldable with few compromises. Hopefully many more companies will follow suit over the next few years.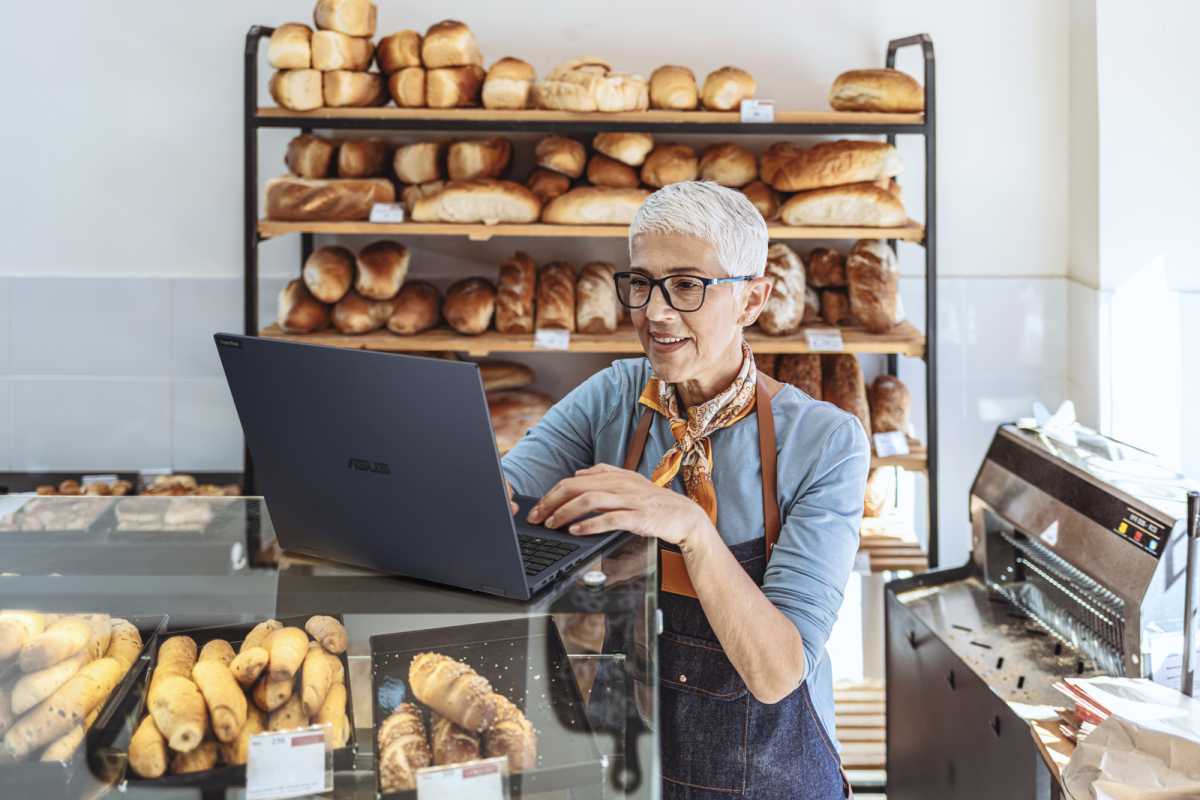 Asus
At the same IFA event, Asus also announced a trio of new business laptops. The ExpertBook B5 adopts a far more traditional laptop design, although at 1.4kg it's Asus' lightest 16in laptop to date. You also have the option for convertible functionality and an OLED display on the ExpertBook B5 Flip, while the ExpertBook B6 Flip adds a discrete Nvidia GPU and the option for mini-LED screen.
Like the Zenbook 17 Fold OLED, all three ExpertBook devices will be available in Q4 of 2022. But unlike the foldable, no pricing has been revealed yet.