True wireless headphones all tend to look alike – but not JBL's latest, which go where no other manufacturer has yet dared by slapping a touchscreen on the side.
The new JBL Tour Pro 2 are standard enough high-end true wireless earbuds, except for the inclusion of a 1.45in LED display on the side of the charging case.
Why, you ask? Well, it's not actually as daft as it might seem. You can use it to do the obvious things like control music playback and change the volume, or even answer phone calls, but none of that is too new.
More importantly, JBL has packed the case with all the same controls you find in the headphones' accompanying smartphone app though, giving you quick(er) access to settings to control the headphones' active noise cancelling (ANC), switch to ambient mode, or even swap between different EQ settings.
The company's reasoning is twofold: firstly, most people don't interact with all these options much beyond initial setup, because you don't really want to dive into an app every time. With customisable controls on the case, you can decide which settings you need quick access to, and use them without the other distractions of your phone.
Secondly, you're not always connected to your phone. Most people want to use the same headphones on their phone as on their laptop or desktop PC, but then you miss out on all the extra features they pack. With the Tour Pro 2, even when paired to a PC you have full control of your ANC and other options, so you never have to miss out.
Dominic Preston / Foundry
This feels particularly important given just how many smart features JBL has packed in. The Adaptive ANC adjusts to react to the noise around you, compensating for sound leakage as it does. Smart Talk pauses your music and turns on ambient mode when it detects you talking, and the VoiceAware option prioritises the sound of other speech so you can tune out background noise without missing people trying to get your attention.
In addition to a custom EQ, you can use the company's improved Personi-Fi test to tune the buds to match your hearing, including compensating for any hearing loss. Source-independent spatial sound creates a more open soundscape no matter what you're listening to, and option movie and game modes can change the feel of that virtual space – with further options to drop latency and make sure you don't miss a beat.
The company has missed one blindingly obvious trick though: while the headphones include a selection of JBL-approved wallpapers to put on the display, for the moment there's no option at all to use your own images here. JBL blames this on problems with scaling for the low resolution of the screen, but that's not much of an excuse – especially given that Samsung has managed to scale not just images, but even custom .gifs or videos, down to fit the similarly-sized cover screen on the new Galaxy Z Flip 4 foldable phone.
It's not as gimmicky as it sounds then, and JBL also claims there aren't really many drawbacks. The obvious worry is about battery life, but JBL reps told me that the buds should last ten hours with ANC off, and a total of 40 hours including the charging case – though they're still tuning and testing those figures with noise cancellation factored in.
The price isn't extortionate either – when they arrive in January 2023 the Tour Pro 2 buds should cost £220 in the UK, which undercuts both the Apple AirPods Pro and the recent Samsung Galaxy Buds 2 Pro, alongside a lot of our other favourite true wireless earbuds.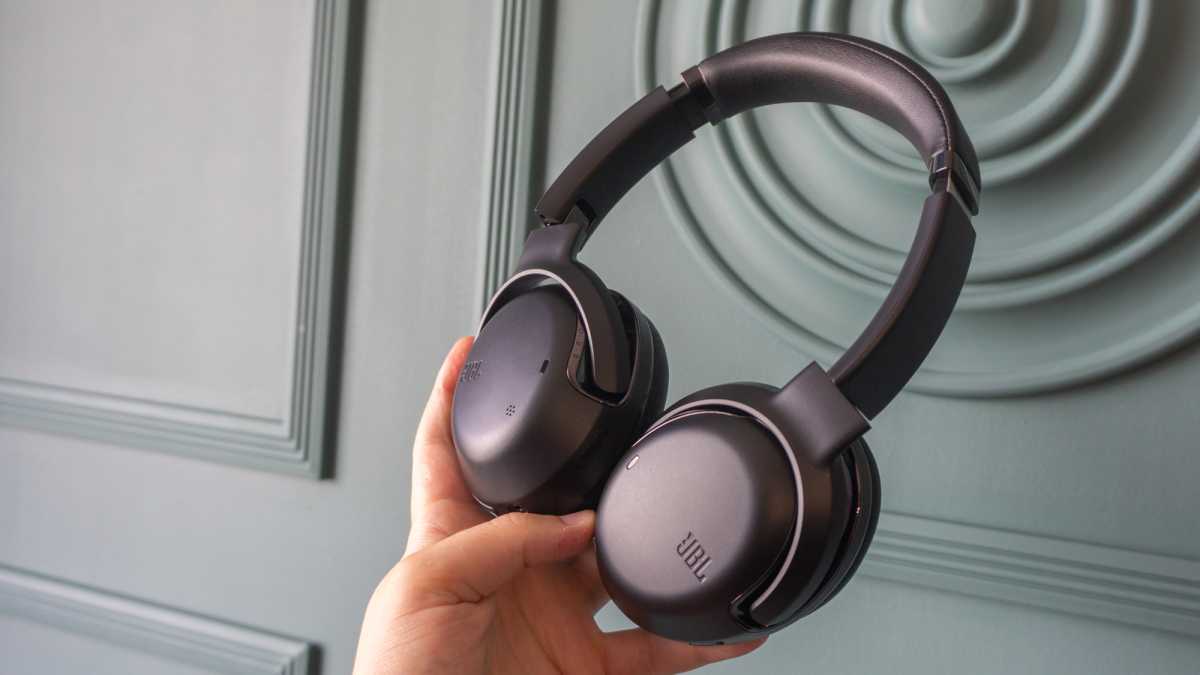 Dominic Preston / Foundry
Alongside the Tour Pro 2, JBL has also announced the Tour One M2 over-ear headphones. These high-end cans are pitched to rival the likes of the Sony WH-1000XM5 and Bose Noise Cancelling Headphones 700, but the hook here is that same comprehensive set of smart features (minus the screen) as the Pro 2 buds – more options than either of those pricier alternatives.
The Tour One M2 launch alongside the Pro 2 buds next January and will set you back £280 in the UK.
Meanwhile, JBL's Go 3 and Clip 4 Bluetooth speakers have been updated with more eco-friendly designs. The pair now use 90% post-consumer recycled plastic, along with more sustainable FSC-certified paper-based packaging, printed with soy ink.