After a four-week summer break, F1 is back. The drivers and teams return to Spa for what could be the last time, with the Belgian Grand Prix's place on the 2023 calendar in serious peril.
In fact, there's probably less doubt over the destination of the driver's title. Max Verstappen holds a seemingly unassailable lead over his rivals, with the Dutchman on course to secure his second consecutive crown.
But despite the apparent lack of a title fight, F1's popularity is on a clear upward curve. Official figures suggest 1.55bn people tuned in around the world in 2021 – a 4% increase on the year before – alongside millions more watching from the grandstands.
Liberty Media has overseen impressive growth since taking over five years ago, with much of this success attributed to Drive to Survive. The Netflix docudrama has proven to be a real hit, with the fourth series charting one of the most dramatic seasons in F1 history. It's at least partly responsible for 58% year-on-year gains in US TV viewership of the live events, with the UK also reporting a 39% rise.
But if watching the show has tempted people to give F1 a try, Sky Sports' extensive broadcasting will surely make them more likely to return. Its coverage is shown in the US, Canada, Australia, and New Zealand, and it's had a dedicated channel in the UK since 2012.
Gone are the days of free-to-air F1 races, but despite being a paid service Sky Sports has put the investment in the sport to good use. There are several key ways in which the broadcaster has helped make the sport such compelling viewing.
24/7 coverage
When Sky obtained the rights to F1 in 2012, it became clear the company was taking coverage very seriously. Committing to a dedicated channel for a single sport was a big deal at the time, although we now have equivalent Sky Sports channels for the Premier League, football (more generally), cricket, golf, horse racing, and the NFL.
Since 2016, Sky Sports has been the only place to watch most F1 races live in the UK. It has become the official English-language broadcaster around the world, meaning you'll hear David Croft in the commentary box and the same line-up of presenters wherever you are.
Of course, most people only watch Sky Sports F1 on race weekends. But being able to access high quality content at any time of the day means there'll always be something for F1 fans to watch. Given the investment needed to make that happen, it's no surprise that a subscription is required.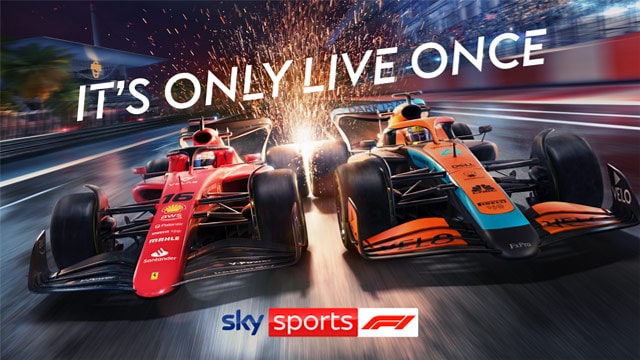 Sky
An active social media presence
For many people, discussing F1 on social media has become just as important as watching the races. Alongside the official accounts, Sky Sports has helped ensure there's more official coverage online than ever before.
Even during the summer break, not a day went by without a post to its F1 Facebook page (with 2m+ likes) and Twitter account (1.6m followers). Videos are also uploaded to the Sky Sports F1 YouTube channel (574k subscribers) on a regular basis.
With race highlights uploaded to the official F1 channel just minutes after it ends, it's easy to catch up with any action you've missed.
Viral moments
In recent years, F1 has had its fair share of memorable moments. From Lewis Hamilton equalling Michael Schumacher's record of seven world titles to the huge title-deciding controversy in Abu Dhabi last year, history has been made in more ways than one.
Sky has been able to use that to its advantage, particularly via the social platforms mentioned above. A prominent recent example is the three-way battle between Sergio Perez, Charles Leclerc, and Hamilton at this year's British Grand Prix.
As the latter completed an unlikely double overtake, Croft's commentary "through goes Hamilton!" quickly gained attention online and soon became an iconic line.
However, it's co-commentator Martin Brundle's pre-race grid walk that most consistently gets people talking. This peaked during last year's US Grand Prix, when a brief chat with rapper Megan Thee Stallion made waves around the world.
This potential for viral moments makes people more likely to watch Sky Sports F1 before the race even starts – you never know when the next one might arrive.
In-depth analysis
Crucially, this doesn't come at the cost of genuine analysis and input from people who know all about Formula 1. Brundle is far from the only ex-driver on the Sky Sports team, and he's joined by experienced journalists and broadcasters with an extensive knowledge of the sport.
On a typical race weekend, you can watch full coverage of every practice and qualifying session. When it comes to race day, expect a long live preview and hours of reaction after the chequered flag. Even during the race, the commentary team regularly encourage analysts and team principals to add their input.
The coverage isn't perfect, but it provides a good balance between catering to the masses and going in-depth on the issues that matter.
Want to know how you can access Sky Sports F1 from the UK or anywhere else in the world? See our separate guide on how to watch F1 races in 2022.