DJI took its first steps into the world of FPV (first-person view) drones in 2021 with the DJI FPV. Since its release, the company has taken feedback from the community on board and returned with the DJI Avata, a second-gen FPV drone that makes it even easier for even total beginners to get into FPV flight.
Meet the smaller, lighter DJI Avata
The most obvious difference between the two FPV drones is the design; the DJI Avata is much smaller than the DJI FPV at just 180 x 180 x 80mm, and it's almost half the weight at 410g too.
DJI says that this combination allows for a better, more responsive flying experience, but the bigger change is the addition of built-in propeller guards. The guards should protect against minor collisions for a more stress-free experience, and hopefully stop the propeller blades from breaking too often – one of the big issues with most FPV drones.
Lewis Painter / Foundry
Of course, it's not just about the flying experience – in 2022, the footage of the flight you capture for social media is just as important as the flight itself. Got to get those likes and follows somehow right?
To aid this, the DJI Avata sports a 1/1.7in CMOS sensor with a 48Mp camera that records at up to 4K@60fps, with the option to enable D-Cinelike colour for improved colour processing and editing. The footage should be relatively smooth too, utilising DJI's patented RockSteady and HorizonSteady EIS, though with a one-axis gimbal, there could be a slight horizontal wobble from time to time.
There's even 20GB of built-in storage, so you don't need a microSD card to get started – but it does also support up to 256GB of microSD storage for longer flights.
The Avata should last up to 18 minutes per flight according to DJI, however we'd imagine that'll depend somewhat on the speeds you're flying at – with top speeds of 14 metres per second, it can go pretty quick. The battery should be easy enough to swap out though, and DJI will sell additional batteries at $129/£109 a pop to further extend flight time.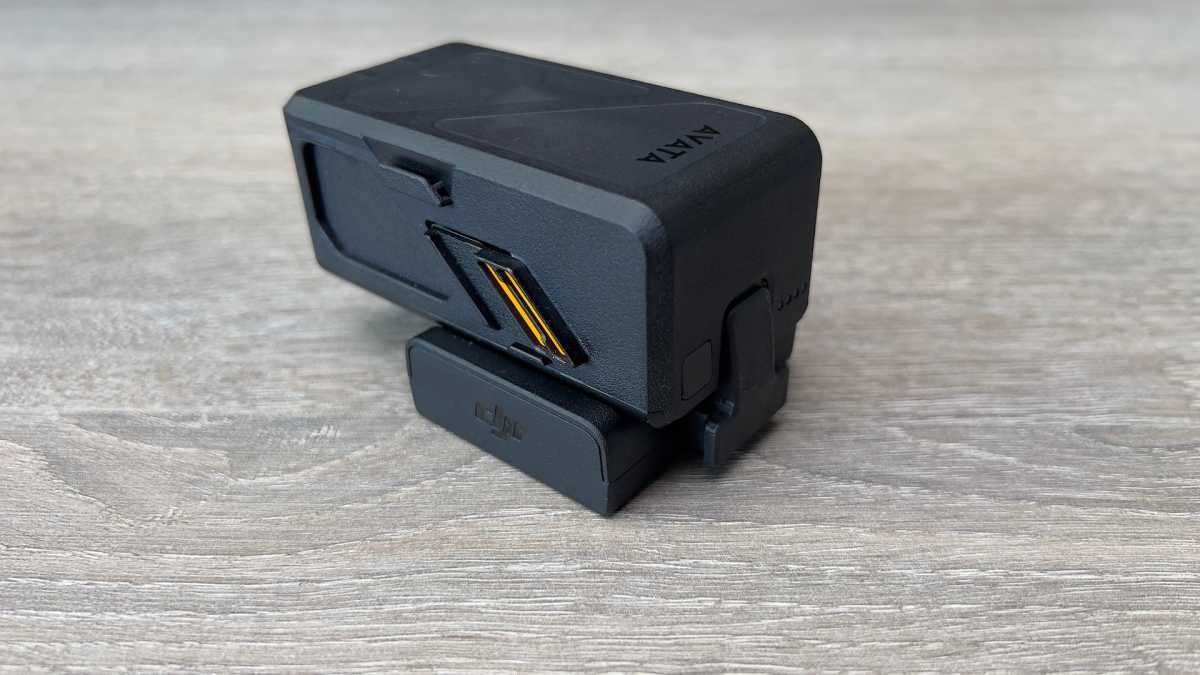 Lewis Painter / Foundry
DJI's Goggles 2 are more compact than ever
Of course, the drone is only half the experience; as the name suggests, the FPV headset is a crucial element to FPV flight.
That comes in the form of DJI's new Goggles 2, which have the benefit of being more compact, lightweight, and comfortable to wear than the original DJI FPV Goggles. It also boasts a range of hardware improvements, including adjustable diopters for glasses-wearers, a touch-based control system, and upgraded Micro-OLED displays.
Lewis Painter / Foundry
While that'd be impressive enough, the transmission tech powering the experience has also had an upgrade. Offering speedy H.265 decoding and ultra-low-latency image transmission of 30ms at an upgraded 1080p@100fps, it offers one of the clearest, most responsive FPV views around in 2022 – a far cry from the sub-HD offering from home-made alternatives and the 720p feed from DJI's first-gen Goggles.
The perfect controller for beginners
Though not a new addition, the DJI Avata ships with DJI's intuitive Motion Controller in place of a traditional twin-stick controller. The joystick design is more intuitive for beginners, especially at the fast pace of FPV flight, closely mirroring flight controls in most flight games on PC.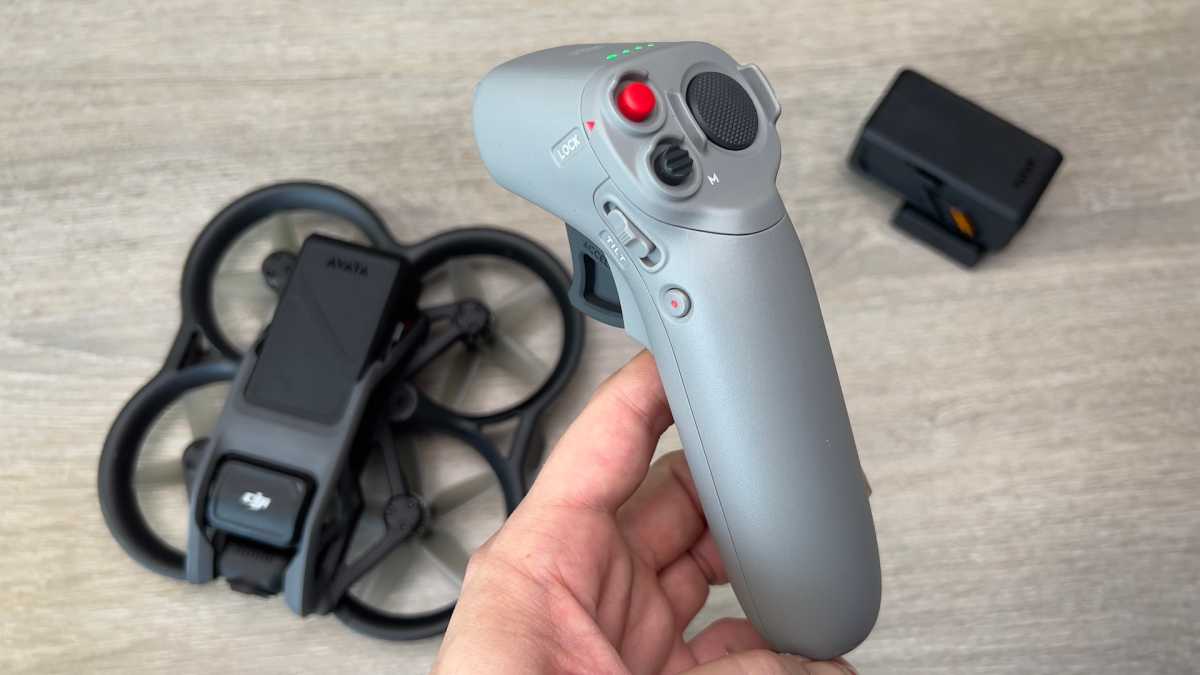 Lewis Painter / Foundry
Using built-in sensors, the Motion Controller can detect when it's tilted downwards, upwards, left, and right and translates that to drone movement with impressive accuracy. There's a trigger on the rear to control the acceleration, along with a big brake button to stop the drone mid-flight, a button to change modes and a slider to control tilt, providing most of the key functions a budding FPV drone operator might need for an exhilarating flight.
"DJI Avata is breathtaking to fly for even a novice pilot," explained Ferdinand Wolf, Creative Director at DJI. "DJI Avata seems to ride with the wind. Whether you fly for the fun of it, to make great clips for social media, or to dazzle viewers in the production studio, DJI Avata will show you why its engrossing flight experience pulls you into a new world of soaring possibilities."
Pro FPV drone users will likely scoff at the motion controller as it doesn't provide as fine control as a traditional twin-stick controller, but for the professionals among us, the DJI Avata is also compatible with DJI's FPV Controller 2 (sold separately) with a dedicated manual mode for full control over flight.
All that snazzy tech comes at a cost
The DJI Avata comes in at a cool $579/£499 for the drone itself, but that's designed for those that currently own a DJI FPV and have a controller and headset to hand.
If you want the bundle with the Motion Controller and DJI's fancy new DJI Goggles 2 for the complete experience, that'll set you back a more substantial $1,429/£1,229 – although DJI argues that you'd probably spend close to that building a comparable drone yourself.
The DJI Avata and its various bundles are available starting today at DJI.com and select third-party retailers.
Lewis Painter / Foundry
DJI Avata key specs
180 x 180 x 80mm
410g
Max speed 14 m/s (or 27 m/s with the FPV Controller 2)
Dual antennas
7ms response time
20GB storage, expandable by 256GB
2420mAh removable battery
10km max video transmission range
1/1.7in CMOS sensor, 48Mp camera f/2.8
Up to 4K@60fps
Single-axis tilt
Compatible with DJI Motion Controller
Compatible with DJI Goggles 2
We've been sent the DJI Avata for review, and our final thoughts will be available in the coming days. Be sure to keep an eye on the Tech Advisor homepage for more!
Related content you might like