LG has just announced the launch of a "table type" air purifier that'll be showcased at IFA this year.
It's a follow-up to the PuriCare AeroTower, a bladeless fan, air purifier and competitor to Dyson's range of similar products. The new release is called the PuriCare Objet Collection Aero Furniture. From the name alone, you can tell we're in for a wild ride.
Not content with merging the functions of an air purifier and fan in the AeroTower – which makes a lot of sense, given that you might as well clean your air when you're blowing it around the room – this time around LG has merged the capabilities of an air purifier with that most techy of innovations: the table.
Luckily, LG's press release succinctly explains how a table works: "The smooth upper surface of LG's innovative, new product provides a useful place for storing household items or displaying decorative objects."
And it doesn't stop there. Give yourself a second to wrap your head around the table concept, because we're going to dive back in.
The table slash air purifier is also a lamp. Sort of. It has a mood lighting feature, anyway, that can "create a pleasing atmosphere" in one of eight different colours. Like the other features, you control it via LG's ThinQ app.
And while you're reeling from all of that, there's also an inbuilt wireless charger for earbuds and smartphones.
There are two table shapes available (round or oval) and three colour options to choose from: Crème Rose, Crème Yellow or Crème Grey – but don't worry, it's cool: I don't know what Crème anything means either.
It sounds as though the air purifier has a three stage filtration process ("Ultra-fine Filter, Dust Collector Filter and Deodorisation Filter") as well as a UV light ("LG's UVnano™ technology") to kill off any viruses or bacteria in the purifier and stop them being blown around the room.
Components of the tables will be made from recycled materials as well, which is something we want to see more of – and not just on high-end pieces. LG has also mentioned that there will be models decorated by artists including South Korean painter Kim Sun-woo.
There's no price mentioned at this stage – nor is there a release date – but given all the above, that need not concern us too much. My guess is that whatever the price, it's a bit more than I can afford to pay for a mushroom-slash-air freshener.
Still, while LG's foray into hybrid smart furniture might be at the more rarefied end of the scale, there are some much more accessible options.
First stop: Ikea.
The STARKVIND
Sorry LG: Ikea got there first. The STARKVIND is – yes, you guessed it – also a table-slash-air purifier. For the semi-reasonable price of $259 in the US or £179 in the UK, you too can put decorative objects on top of your air purifier, safe in the knowledge that they will not fall off.
The table contains a particulate matter filter for cleaning your air of dust and smoke particles and you can separately buy and fit a VOC filter, which will filter out any toxic gases that may be in your air at home.
Is it as lovely as LG's Objet Collection Aero Furniture-thing? To be fair, this exists on the more functional end of the spectrum but it is not, you know, entirely hideous. There are two options, with a lighter and a darker stained oak veneer. They look quite a lot like bedside tables, but where you might expect to find a useful drawer – surprise! – there's an air purifier.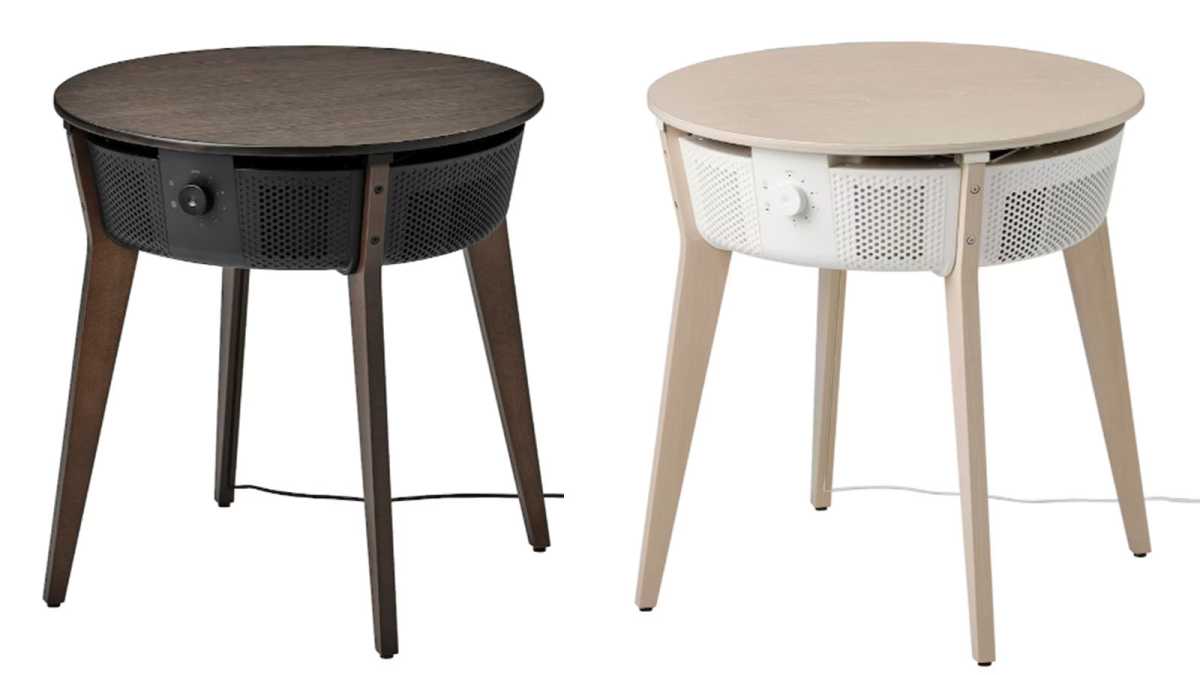 Ikea
And here we reach one of the problems with hybrid pieces. Sometimes they are not quite as good as either thing individually. For example, one of the nice things about a table is the fact that you can put a drink on it and know that if you tip it over, you won't be destroying an expensive air purifier.
Still, the STARKVIND has been designed with patented grooves under the table lip, to ensure that drips fall onto the floor and not into the electronics.
Ikea Sonos Symfonisk Speaker Lamp 2
But maybe a table-slash-air purifier isn't for you. Well, what about a lamp-slash-speaker? We're back in Swedish furniture-land again with this one, which is a collaboration between Sonos, which makes high-quality, although pricey, speakers, and Ikea, which as we know makes shelving units that even an idiot can assemble.
Dom Preston / Foundry
The Sonos Symfonisk Speaker Lamp 2 is the second of its name, improving on the suggestive design and refining the sound experience and some of the controls of the original.
You can buy it in the US for $229.99 and £199 in the UK (for the glass shade option).
Why might you want a speaker embedded in a lamp? Well, for one, it's a space saver. Maybe you can't find a spot for both on your tiny bedside table-slash air purifier.
There's also the fact that, with the Symfonisk Speaker Lamp 2, you can control your music on your phone (via the Sonos app) and if you add a smart bulb, you can app-control that as well, which means you could potentially set up a scene in which your lamp and music come on when it's time to wake up in the morning.
But, once again, neither the lamp nor the speaker function are quite as good as in dedicated devices. When we reviewed it, we felt that the sound clarity wasn't as impressive as an ordinary Sonos speaker. And if you want to use the lamp with a smart bulb, if it gets unplugged, it won't remember its previous state, so you'll have to switch it on manually.
Still, if you are mad for hiding Sonos speakers around your home, you have other options. There's also the Ikea Sonos Symfonisk Picture Frame Speaker. As the name suggests, it is both speaker and picture but although it functions well as a speaker, delivering impressive sound, it's a lot less useful as a picture, given that there are a limited number of image options, and all are a bit ho-hum. It's $219.99 in the US and £220 in the UK.
The Lavazza Voicy
Okay, let's imagine – remote though the possibility might be – that you don't want a speaker hidden in a lamp or picture frame. Well then, what about a smart speaker embedded in a coffee machine?
As well as being a capsule coffee machine, the Lavazza Voicy has an inbuilt Alexa speaker that's much like an Amazon Echo Dot.
Foundry
Here's why you might need it. What if, at the exact moment that you are dispensing a shot of espresso, you need to know how old Madonna is, or what the weather is like outside? Should you have to go out of your way to address a second machine? Hell no, we say.
Obviously, what's really handy about this hybrid is that it's a way to find a spot for a smart speaker in your kitchen. It's not ideal for everyone to stand one on their countertop, as space may be limited, as well as power sockets. It also raises the speaker up above the level of countertop spills.
And there's a lot less of a compromise here than with other hybrid devices. The Lavazza portion of the machine is much like others in the Lavazza line: it's a compact, easy to use machine which takes A Modo Mio capsules. These have two advantages: they produce pretty decent espresso, and they're industrially-compostable, so you can get rid of them in your food waste (although you can't compost them at home) and not faff around with returning bags of them for recycling, as with some rival capsules.
You can buy the Voicy for £199 from Amazon in the UK. Sadly, it is not available in the US, although Lavazza does sell two compact capsule machines.
We'll be hoping to see LG's PuriCare Objet Collection Aero Furniture at IFA and report back.