At a glance
Expert's Rating
Pros
Fast, flagship performance
Impressive battery life
Great main camera
Fun design
Cons
Durability still a doubt
25W charging is sluggish
No telephoto
Our Verdict
The Galaxy Z Flip 4 doesn't change a lot, but improvements to battery life and camera performance address the main flaws of last year's model and should help convince anyone on the fence. I still have my doubts about durability, but right now foldables don't get better than this.
Price When Reviewed
From $999
Best Prices Today: Samsung Galaxy Z Flip 4
Samsung's Galaxy Z Flip 3 marked a massive step forwards for the company's foldable line. It was a revolution in design, practicality, and pricing that took the compact folding phone from niche tech nerd fantasy to a mainstream proposition.
12 months on, it's fair to say Samsung hasn't got the same scale of upgrade up its sleeve again. Perhaps understandably, the Z Flip 4 is a comparatively minor upgrade, more iteration than revolution.
That's not to be critical though: I gave the Z Flip 3 a glowing review last year, and the Flip 4 is quite simply even better. Most importantly, while Samsung's upgrades are few, they're also focussed, and the company has improved both the battery life and camera – two of the only areas where the last Flip fell behind.
PROMOTION
Save up to $200 on the Flip 4 in Samsung's early Black Friday sale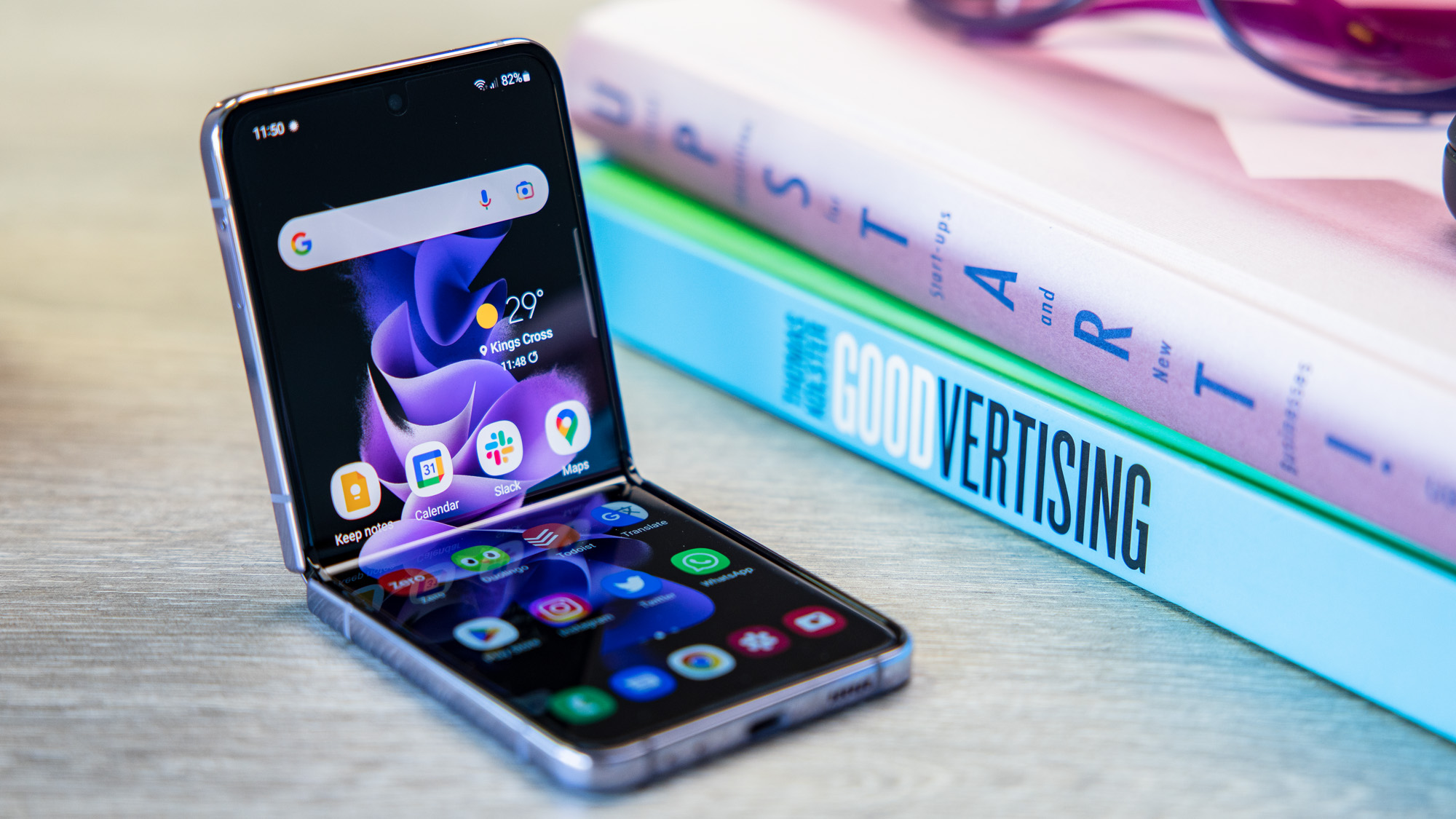 Get early access to Samsung's Black Friday deals from Tech Advisor! You can save up to $200 on the Galaxy Z Flip 4 — and if you've got a handset to trade in, you can save up to another $600 with enhanced trade-in credit. Check it out!
Design & build
Slightly streamlined design
Improved durability
Long-term longevity still in doubt
Let's get the obvious out of the way first: the Z Flip 4 looks an awful lot like the Z Flip 3.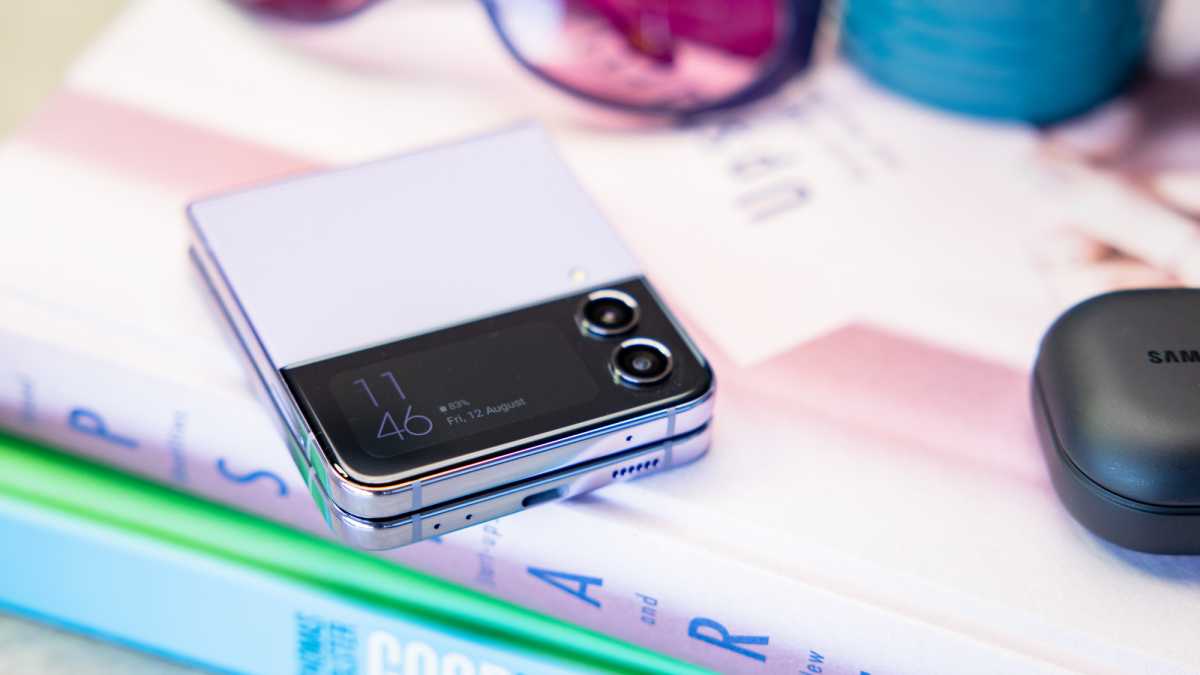 Dominik Tomaszewski / Foundry
Samsung has stuck incredibly close to last year's excellent design, so you once again get a compact phone that folds into a small square, with a two-tone finish on the outside to partly mask the outer cover display.
There have been some changes. The main body of the phone is now matt, rather than glossy, and its edges have been subtly squared off. The cover display is essentially unchanged, but the camera lenses now protrude from the body a little more.
The matt finish now coats four standard colours: Bora Purple, Blue, Pink Gold, and Graphite. There are more options in Samsung's returning 'Bespoke Edition' tool, available exclusively through its online store, which lets you choose from a range of frame and body colours to build your own custom Flip.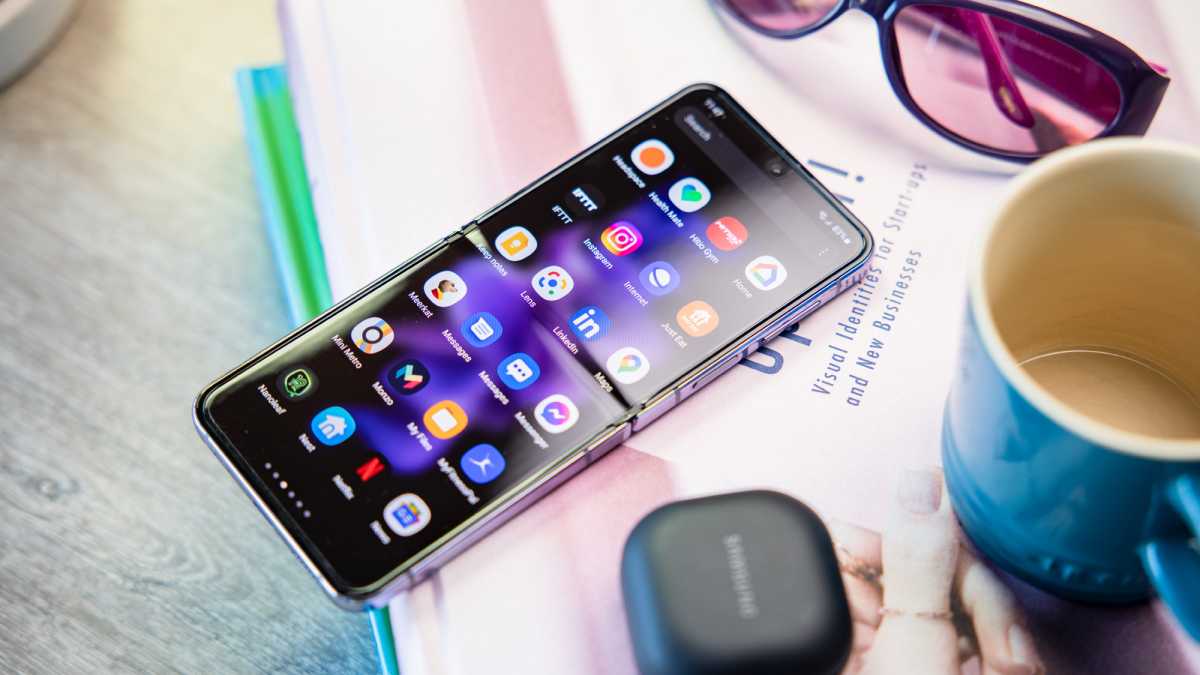 Dominik Tomaszewski / Foundry
Bigger changes can be found in the hinge. This is now smaller and more subtle, which has in turn made the display crease a little less noticeable – though it's still hard to miss. Samsung hasn't yet caught up to rivals like the Huawei P50 Pocket, which can fold completely shut – the Z Flip 4 still leaves a slight gap when closed.
Durability is apparently slightly improved thanks to tougher Gorilla Glass Victus+ coating the body. The phone once again has an IPX8 rating (for water but not dust protection) and its frame is built from toughed 'Armour Aluminium' – for what it's worth, I once dropped my Z Flip 3 right on the hinge from height, and said aluminium was tough enough to protect it from harm.
What I can't speak to is the durability of the hinge. Samsung says that the Z Flip 4's hinge has been tested to survive over 200,000 folds – enough that even with 100 folds a day it would still last for over five years.
Dominik Tomaszewski / Foundry
The company said the same last year though, and anecdotally I've heard of multiple cases of Z Flip 3 phones that developed cracks and splits on the display along the hinge, in one case ruining the screen entirely.
Has this flaw been fixed? Maybe. I can't really test that in a week with the phone – and for what it's worth, a year on my Z Flip 3 is still fine. Maybe this will be too. But no matter what figures Samsung throws out, remember that by buying a foldable you're still taking a bit of a gamble on the phone breaking early.
Displays & audio
6.7in, 120Hz AMOLED main display
1.9in cover display for notifications & shortcuts
Decent stereo speakers
The twin displays are one area Samsung where has essentially changed nothing, aside from the aforementioned hinge improvements and a few new software tricks for the outer cover display.
Dominik Tomaszewski / Foundry
The main screen is a 6.7in, 120Hz AMOLED. Samsung reps told me that this is technically a different panel to last year, but that the improvements are primarily for power efficiency, rather than display quality.
6.7in means that as compact as the Z Flip 4 is when folded, it is a certified Big Phone when it's open – albeit one that's thinner and lighter than almost any other phone with the same size screen.
The screen is bright and punchy, though I think it's fair to say that you could find better display quality in similarly priced slab phones. There's not much in it though, and as long as you can live with the crease I can't imagine many people will find much to fault here.
The 1.9in cover display is a little more divisive. I love this dinky display, which hides away in the design when not in use, and offers just enough space for a few simple controls the rest of the time.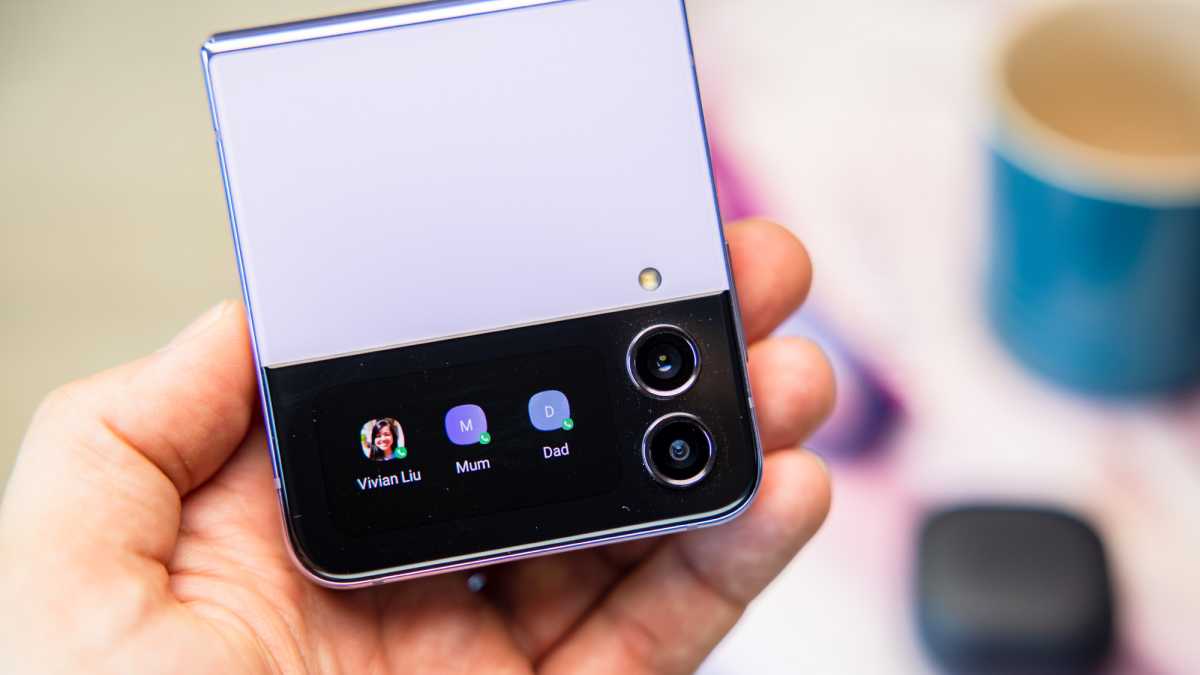 Dominik Tomaszewski / Foundry
You can set up a compact always-on-display with the time and other info, check notifications (and even send some basic message replies), control music playback, set timers and more. New additions this year include speed dial controls for up to three contacts, smart home controls through Samsung's SmartThings system, and the ability to set custom images, gifs, and even videos on the screen.
I know some find this screen a little too compact. It's smaller than the one found on Motorola's Razr 2022, though for my money that screen looks like an ugly halfway house, almost phone-filling but not quite. Samsung's version may be small, but at least it's intentionally so, and suits the Z Flip 4's sleek design.
As for audio, the phone packs a pair of stereo speakers, but no headphone jack. The speakers are solid, but unremarkable – they'll do the job for a spot of music or some gaming, but won't replace your Bluetooth speaker any time soon.
Specs & features
Flagship Snapdragon 8+ Gen 1 chip
Only 8GB RAM
Up to 512GB storage
Samsung has equipped the Z Flip 4 with the absolute latest Snapdragon 8+ Gen 1 – essentially giving this phone a year and a half's worth of performance upgrades on last year's Flip 3, which used the Snapdragon 888.
It's arguably let down very slightly by being limited to only 8GB of RAM, and the form factor also limits how much cooling can be crammed in. That means the phone runs a little hot during more demanding tasks, and performance lags a bit behind the fastest 8+ Gen 1 phones, but this isn't exactly a device aimed at power users.
For typical day-to-day use the Z Flip 4 is pretty much flawless, and only the most demanding of gamers will find cause for complaint on performance.
128GB and 256GB storage options return, joined by a new 512GB tier – you may want to consider one of the higher options, only because there's no expandable microSD card option. It's also worth noting that if you want to use Samsung's Bespoke option to customise the design, you'll be limited to the 256GB model.
Connectivity and other specs are as you'd expect. 5G is supported, including mmWave in the US, along with NFC, Wi-Fi 6, and Bluetooth 5.2.
Face unlock is available using the single selfie camera, or you can use your fingerprint, with a side-mounted fingerprint scanner in the power button, rather than built into the display.
Battery & charging
Massively improved battery life
Comfortably lasts a full day
Slightly sluggish 25W charging
Battery life was the main reason not to buy last year's Z Flip 3. The phone struggled to last a full day, and the battery anxiety was real.
Samsung has significantly improved the situation this year, and while the Z Flip 4 is far from the best battery phones around, thanks to a combination of a bigger battery and a more power-efficient chip it's now good enough that I don't think the battery should put anybody off.
Dominik Tomaszewski / Foundry
I've been using the phone for almost two weeks, and most days go to bed with 30-40% charge left in the phone – a pretty comfortable buffer. I only struggled once, on a day visiting Kew's Royal Botanical Gardens, when the phone dropped to single digits around 9pm, but only after hours of photos, filming, and social media, which any phone would struggle with.
Charging has been improved too, though still lags a little in the market. The phone can now charge at up to 25W – up from 15W last year – but remember that Samsung doesn't include a charger in the box. I tried charging the phone with two different third-party chargers, restoring 36% of battery in half an hour with one, and 48% of battery in the same time with the other.
That's slow compared to super-fast charging phones, but in reality is probably nippy enough for most people. It helps that Qi wireless charging is also available – this is even slower, but has an obvious convenience factor.
Camera & video
Great main camera
Ultrawide but no telephoto
Decent selfie camera – or use the main lens
If the battery was the Flip 3's biggest flaw, the cameras were a close second. Samsung hasn't done as much to fix these, but has shored up the weakest point and certainly made this set-up stronger than it used to be.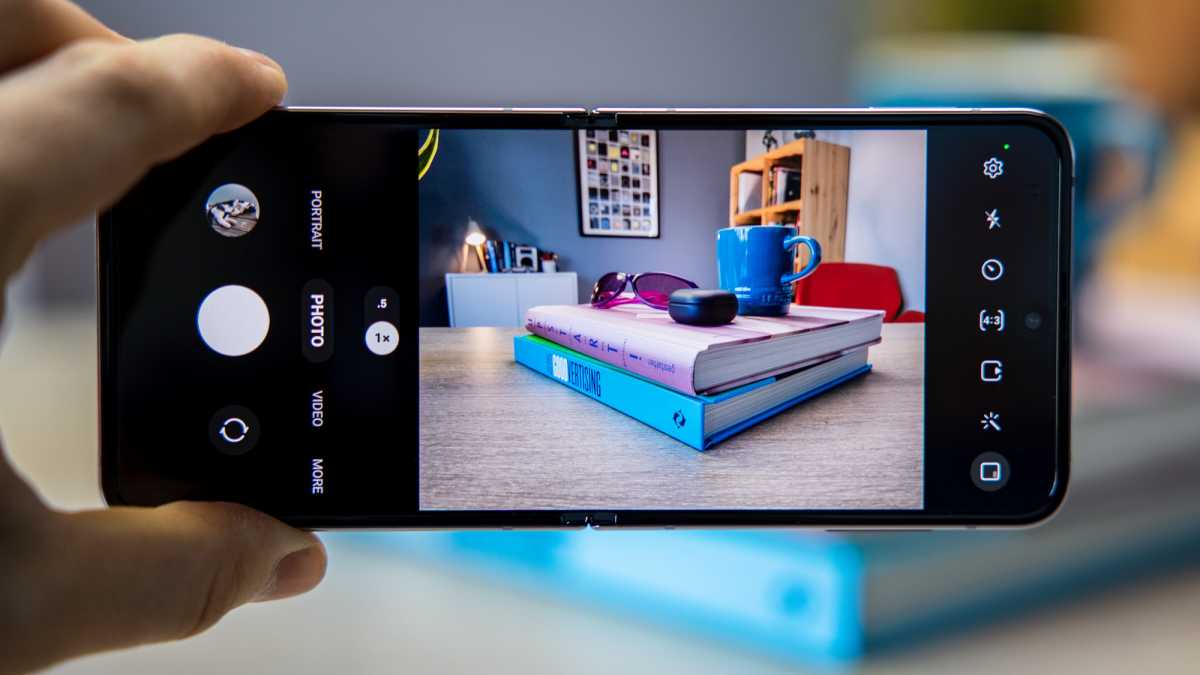 Dominik Tomaszewski / Foundry
There are three cameras here: a pair of 12Mp rear cameras (one main, one ultrawide) and a 10Mp selfie camera in a punch-hole on the inner display. There's no telephoto option at all here, which is arguably its biggest weakness – though it would be remiss of me not to point out that neither the Pixel 6 or iPhone 13 feature a telephoto either.
The only real change from the Flip 3 is to the main camera, which features a new, larger image sensor, capable of catching more light. That may sound like a small change, but the results are transformative. Even in bright daylight this camera is head-and-shoulders above last year's, and in low light the difference is even more stark, though you'll see a gap in quality between the Flip 4 and top photography phones.
Samsung's colour tuning is bright and perhaps a touch over-saturated, but the punchy, vibrant photos really are a pleasure. Capture speed seems improved too – while the Z Flip 3 sometimes struggled with fast-moving animals or children, I spent an afternoon in a cat café with the Flip 4 and never had a problem.
The ultrawide impresses for the most part too, though there's no hardware upgrade here. There's a drop in detail, and it won't compete with the main lens (or rival phones) in tougher lighting, but for the most part it gets the job done.
The 10Mp selfie camera isn't bad either, but you might actually prefer to use the main cameras. With the phone closed you can use the cover display as a preview screen for selfies or video captured from either of the rear lenses – upgraded this year to add in the option for portrait mode, or to see the image preview in the correct aspect ratio (albeit with severe letterboxing!).
This is one of the ways the Z Flip 4 has a photographic edge despite the comparatively limited hardware. The other is that the flexible screen makes this an optimal phone for recording video (up to 4K@60fps), as you can prop it up almost anywhere. I love that for recording sets in the gym to check my form, but I suspect Samsung really has the TikTok crowd in mind.
Software & updates
Ships with Android 12
Four years of OS updates guaranteed
The Z Flip 4 ships with Android 12, running Samsung's One UI 4.1 on top.
Dominik Tomaszewski / Foundry
One UI isn't my absolute favourite Android skin out there, but it's one of the better ones. You'll have to put up with quite a few pre-installed apps (some Samsung, some the likes of LinkedIn or Microsoft Teams) and what can be a rigid, inflexible UI, but the perk is that this is about as easy to use as Android ever gets.
You'll also get the full benefits of Android 12, including the Material You UI customisation and comprehensive privacy features, and extra software tricks if you link your phone to other Samsung gear like headphones, smartwatches, or smart home tech.
There are also software adaptations for the foldable. I've mentioned a few already for the cover display and camera, but another key one is Flex mode, which lets you move an app's display content to one half of the display when it's partially folded, with extra controls on the other. Some apps, like the camera, have custom controls, but an optional experimental setting lets you enable this for any app, giving you options like screenshotting, brightness & volume controls, and even turning the bottom half of the screen into an erstwhile trackpad for the app.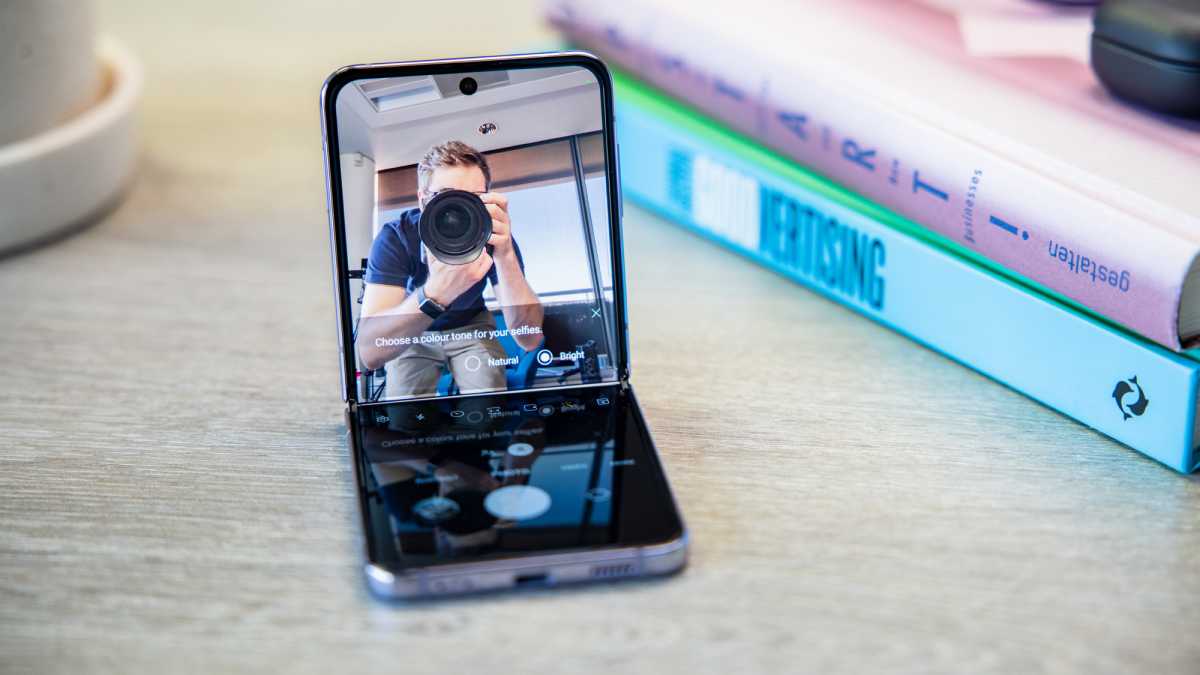 Dominik Tomaszewski / Foundry
Samsung is also the Android market leader on updates. Flagships like the Z Flip 4 are promised four Android version updates, starting with this year's Android 13, and five years of security patches. To be frank, that means I suspect this phone will still be getting software updates long after the hinge or display give out.
Price & availability
The Z Flip 4 is available to order from Samsung now, but you should check out our guide to where to buy the Z Flip 4 for more retailers and the best prices and deals we've found.
At a starting price of $999/£999/€1,099 this is the same price as before in the US, but actually £50/€50 more expensive in the UK and Europe – which stings a little after the Z Flip 3's price cut, though is actually below current inflation. Here's the full pricing:
128GB: $999/£999/€1,099
256GB: $1,059/£1,059/€1,159
256GB Bespoke Edition: $1,139/£1,099/€1,199
512GB: $1,179/£1,199/€1,279
Price for price and spec for spec the Z Flip 4 still isn't really great value – you can get similar specs for a few hundred less elsewhere, or much more powerful cameras and hardware for the same price.
Dominik Tomaszewski / Foundry
Still, that's comparing to phones that don't fold. This is still affordable for a foldable, and owners will have to be open to paying a little extra for the form factor. The price premium feels appropriate, but make sure you're comfortable with the added risk of repair or replacement costs if your hinge develops issues.
For more alternatives, check out our rankings of the best phones and best Android phones to see what else is out there, or the best Samsung Galaxy phones for more options from the Korean company.
Verdict
The Z Flip 4 isn't a perfect phone, and it's unlikely to win over any haters. But it's undoubtedly the best foldable on the global market right now (perhaps that's not saying much though), and should convert anyone who was on the fence about last year's model.
The areas where the phone excels – sheer specs, a snazzy foldable design, and smart software that makes the most of the hardware – are enough to make it a worthy rival to any other flagship out there.
The previous phone's two key flaws – the short battery life and basic camera – have been addressed, if not entirely fixed. Both are now good enough where they previously weren't, removing the main reasons to hesitate over picking up a Flip.
Durability remains my only real concern, not least because it's the one thing I can't test for myself. I can't guarantee that the Z Flip 4 will last as long as other devices, that it won't break before you're otherwise ready to upgrade. But if that's a bet you're willing to take, this is a phone worth taking a gamble on.
Specs
Android 12 with One UI
6.7in Full HD+ (2640×1080) foldable 120Hz Dynamic AMOLED 2X with HDR10+ support
1.9in Super AMOLED (260×512) cover screen
Qualcomm Snapdragon 8+ Gen 1 octa-core processor
8GB RAM
128/256/512GB internal storage
12Mp, f/1.8, OIS rear camera + 12Mp ultra wide, f/2.2
10Mp, f/2.4 front camera
Side-mounted fingerprint scanner
2D face recognition
Wi-Fi 6
Bluetooth 5.2
GPS
NFC
4G LTE
IPX8
USB-C
3700mAh non-removable battery
25W wired charging
Wireless charging
Unfolded: 165.2x 71.9 x 6.9mm
Folded: 84.9 x 71.9 x 17.1-15.9mm
187g
Best Prices Today: Samsung Galaxy Z Flip 4