At a glance
Expert's Rating
Pros
Extremely thin and light
Vibrant AMOLED screen
Decent baseline performance
Range of ports
Cons
Screen not particularly sharp or fluid
Battery life isn't great
Limited spec options
Our Verdict
The Samsung Galaxy Book 2 Pro is an impossibly thin and light 15.6in laptop, and thus one of the most genuinely portable full-sized machines we've used. It also benefits from a punchy AMOLED display and decent performance but is certainly not perfect.
Price When Reviewed
$1249.99
Best Prices Today: Samsung Galaxy Book 2 Pro
Since Samsung's return to the laptop business in 2020, it's turned out some seriously impressive machines at a variety of price points. The Samsung Galaxy Book 2 Pro is the new flagship, and it could very well be its best yet.
Launched alongside the Samsung Galaxy Book 2 Pro 360 2-in–1, this is a premium laptop with an incredibly slim and lightweight body, 12th-gen Intel power, and a vibrant 15.6in AMOLED display.
My review spec is the 15in 5G model, but there are also non–5G variants in both 15- and 13in sizes, though I'm focussing on the larger option here. This 5G model limits you to an Intel Core i5–1240P CPU, a 256GB SSD and 8GB of RAM.
Going Wi-Fi only opens up the possibility of a higher specification, which includes an Intel Core i7–1260P processor, 16GB of RAM and a 512GB SSD.
Design & Build
Incredibly slim and light
Well-weighted hinge
Varied port selection
Samsung boasts that the Galaxy Book 2 Pro is the world's thinnest laptop in its class. I'm not sure whether that's accurate or not, but at 11.7mm thick I'm not inclined to disagree.
More impressive than the laptop's size is its lightness. At a mere 1.16kg (the Wi-Fi model is just 1.1kg), it's significantly lighter than rivals such as the 2kg Huawei MateBook 16s and the 1.8kg Dell XPS 15.
Combined, it makes the Samsung Galaxy Book 2 Pro one of the most pleasant premium 15-inch+ laptops to actually use on your lap. Which is kind of what 'laptops' were invented for, after all.
Jon Mundy / Foundry
This 5G model only comes in a Graphite tone, which is a bit of a shame. It's not that it doesn't look stealthy and classy – it does – but it suffers from the same thing that almost every other dark-toned laptop does. It becomes a downright showcase for your sweaty fingerprints in no time at all.
The non–5G model with 256GB storage comes in Silver, which is seemingly much less prone to this issue but 512GB also comes in Graphite.
The pay-off for the Book 2 Pro's slim and light body is the use of plastic in the construction of its body, with only the display section betraying any hint of metal. There's undoubtedly a degree of flex here that you don't get with heavier laptops, but it still feels reasonably solid.
The hinge is nicely calibrated, running most of the length of the body. There's a bit of a spring-like wobble when you adjust it, but it's properly weighted so that it can be opened easily with one thumb. Just be sure to remove the plastic foot covers, otherwise your laptop may well slide right off your desk the first time you open it.
Right near the ridge that will open up the laptop you'll find a 1080p webcam, which is a step up from the 720p webcam of the Galaxy Book Pro and indeed the Galaxy Book 2 Pro 360.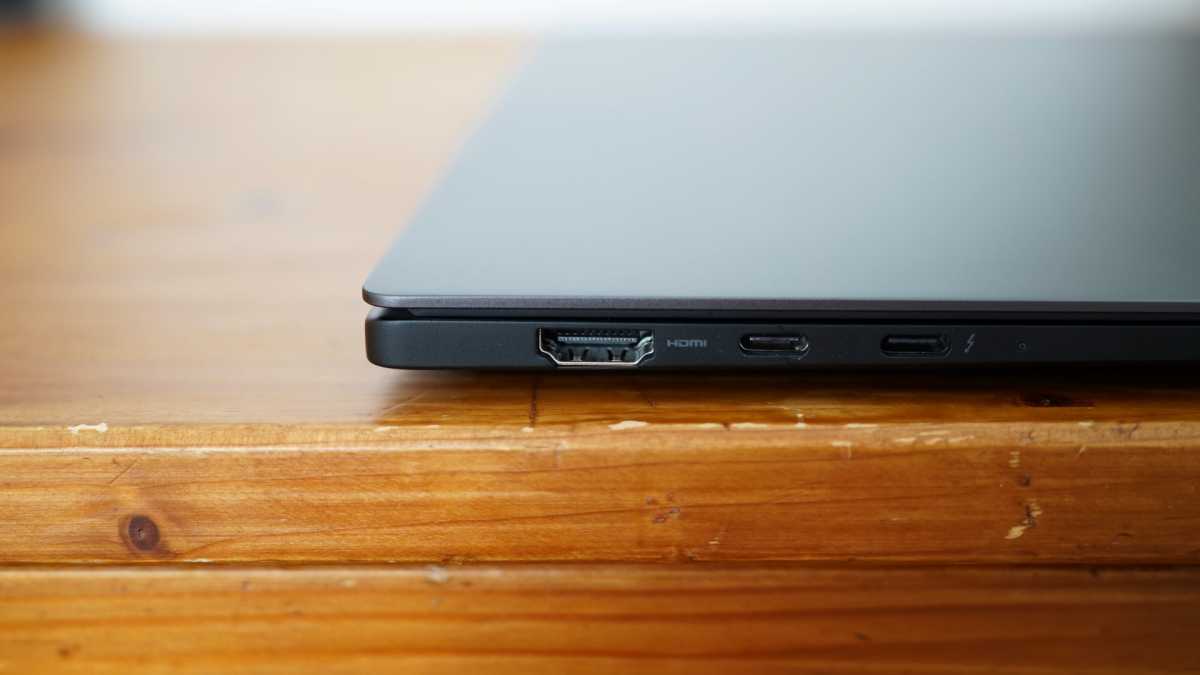 Jon Mundy / Foundry
On the connection front you get a full-sized HDMI port, two USB-C ports – one of which supports Thunderbolt 4 – and one USB-A port. You also get a 3.5mm jack, a MicroSD slot, and of course a SIM tray for that 5G connectivity.
That's a really nice array, especially for an ultraportable in 2022, even if I would prefer to have two USB-A ports, and it's a shame that MicroSD slot isn't a full-size SD card reader. But Samsung has provided a pleasingly flexible and varied selection of connections nonetheless.
Keyboard & Trackpad
Full-size keyboard
Comfortable typing with not much travel
Responsive trackpad, if awkwardly positioned
The Galaxy Book 2 Pro has a fairly typical full-sized keyboard, complete with a separate number pad. The latter feels a little crammed in there, but the inclusion is welcome nonetheless, and the arrow keys are pleasingly easy to find and distinguish.
It's instantly comfortable to type on. The keys are solid, well spaced, and there's just enough travel to them. The feel is perhaps a little soft, creating a muted pitter-patter rather than a loud clickety-clack, but that makes them well suited to use in public if you don't want to feel self-conscious. They're backlit too, for those late-night assignments.
Jon Mundy / Foundry
The top row of function keys double up for key operations like adjusting volume and screen brightness, though you'll need to hold the Fn key in order to use them in this way, of course. There's a fingerprint reader stashed behind the power button in the top right corner of the keyboard, and it's sufficiently quick and reliable.
You'll find a suitably large and responsive trackpad below this keyboard. The sheer size of it, and the fact that the physically clicky buttons are only effective at the lower extremities, meant that the natural typing position of my hands could make access awkward. It led me to lean on the touch function or to plug in an external mouse when at my desk.
Another mention should probably be made of how proudly the keyboard and its surrounding soft-touch material wears those greasy fingerprints. Suffice to say, you'll want to pack a microfibre cloth into your laptop bag as standard.
Screen & Speakers
Strong 15.6in OLED display
Full HD resolution
Dual speakers lack depth
The Samsung Galaxy Book 2 Pro display is, like the Galaxy Book 2 360's, quite a special one.
This 15.6in screen only has a 1920 x 1080 (aka 1080p or FHD) resolution, which is arguably the key weakness here. There's a definite fuzziness to images and text, at least if you're coming from a higher-res laptop.
Thankfully this is also an AMOLED panel, which means it outputs some of the punchiest colours and highest contrast you'll likely find from a laptop.
Colour calibration is decent, as you might hope from a Samsung AMOLED. Using an iDisplay Studio colorimeter, I recorded coverage of 99.3% sRGB, 69.3% Adobe RGB, and 71.5% DCI P3 in the default Samsung AMOLED Profile. There are separate profiles for sRGB, Adobe RGB and DCI-P3, should you wish to tinker.
In my testing, the screen hit a decent 384 nits, which should see it through everything short of working outside in the direct sunshine. The XPS 15, for comparison, is a much more impressive 457 nits.
Jon Mundy / Foundry
Media content generally looks great on the Samsung Galaxy Book 2 Pro. Not especially sharp, but certainly rich with colour and deep blacks.
Otherwise, you could argue that a higher refresh rate than the provided 60Hz would have been nice. This is no gaming laptop, but the likes of the Huawei MateBook X Pro (2022) are offering the option of faster refresh rates without getting into RGB lighting territory.
Samsung's dual bottom-mounted AKG stereo speakers aren't anything to write home about. They're certainly put in the shade by any MacBook Pro of the last few years, and they lack a vital sensor of depth. But they're clear, and they do a decent enough job overall.
Specs & Performance
12th-gen Intel CPUs
Strong performance for everyday tasks
Limited storage options in 5G model
As with many recent laptops, the Samsung Galaxy Book 2 Pro runs on a 12th-gen Intel CPU. The 5G model only comes with an Intel Core i5–1240P CPU, but the Wi-Fi only model also offers an Intel Core i7–1260P option if you want more grunt.
This 5G model only offers 8GB of speedy LPDDR5 RAM as standard, too. Again, you'll need to go Wi-Fi-only if you want to double that RAM to 16GB. Oddly, in the US, the SKUs are a little different with up to Core i7 with 32GB/1TB and Intel Arc graphics.
Performance throughout my time with the laptop was strong, with nary a pause in a general workflow of multiple web tabs, email, Slack and several Google documents on the go simultaneously. I was also able to do a little light image editing without a hitch.
Jon Mundy / Foundry
That's about the extent of what most people will realistically be doing with this hardware. I can confirm that it'll run PUBG on Very Low settings, but the results are not pretty; the frame rates even less so.
You can thank Intel's Iris Xe integrated graphics for that. It'll handle the basics – including a lengthy Monster Train session – but it's no replacement for a discrete GPU when it comes to pushing around modern 3D graphics.
In terms of benchmarks, I recorded a healthy Geekbench 5 multi-core score of 8356, which beats the Huawei MateBook X Pro (2022) and isn't a million miles off he late–2021 Dell XPS 15 9510 with its 11th-gen i7.
A PCMark 10 score of 4900 and a 3D Mark Night Raid score of 13861 aren't quite so competitive. A slight negative point to note is the fan noise, which seemed a little obtrusive and blowy when the laptop was under moderate load.
Battery & Charging
The Samsung Galaxy Book 2 Pro features a 68Wh battery, which is fairly middle-of-the-road. Wrapped up in such a thin and light chassis, however, it can start to feel rather more impressive.
You might struggle to get through a full working day of using it, though. In our looping 720p video test, with the screen brightness set to a fairly dim 120 nits, the Galaxy Book 2 Pro scored a mere 8 hours and 17 minutes.
That's one of the worst results we've had of late, falling well behind even the disappointing MateBook D 16. Remember I've tested the 5G model here but the Wi-Fi only model has the same battery capacity.
Jon Mundy / Foundry
There are plenty of battery-saving measures at your disposal, of course, but the fact remains the Galaxy Book 2 Pro can rather chew through the power. In more intensive working use, with the screen brightness cranked up higher, I wouldn't want to be out and about without a power cord.
Talking of which, you get a 65W charger in the box. In my experience, that's sufficient to get you from empty to a decent 43% in half an hour, and up to 76% after an hour.
Software & Apps
Windows 11 Home
A little too much pre-installed bloat
The Samsung Galaxy Book 2 Pro ships with Windows 11, as you might expect. That's all present and accounted for.
Unfortunately, what with Samsung being Samsung, it's also ladened down with a little too much pre-installed bloat. Samsung has provided its own apps for Quick Search, Quick Share, Samsung Notes, and Samsung Gallery.
Jon Mundy / Foundry
These are evidently aimed at those who are also embedded within the Samsung smartphone ecosystem. That's understandable to a certain degree, as plenty of people are. But even more potential Galaxy Book 2 Pro customers don't own a Samsung phone, so it would have been nice to have had the option to install these apps (or otherwise) at the initial boot-up phase.
The constant pop-ups for an antivirus trial grew tiresome pretty quickly, too.
Price & Availability
The Samsung Galaxy Book 2 Pro comes in a several variants, but that selection simultaneously feels slightly restrictive.
For example, the Galaxy Book 2 Pro 5G reviewed here is available in just a single SKU with a 15.6in display, an Intel Core i5–1240P CPU, 8GB of RAM, and a 256GB SSD. This costs £1,249 and doesn't appear on the Samsung US site.
The Wi-Fi variants of the 15.6in model offer you a choice of the above spec for £1,099, or an Intel Core i7–1260P processor, 16GB of RAM, and a 512GB SSD for £1,499.
You can buy it from Samsung as well as Amazon, AO and Currys.
In the US, things are a little different with the Core i5 model coming with 8/512GB at just $849 and the Core i7 option costing $1,049 for 16/512GB or $1,499 for 32GB/1TB with Intel Arc.
You can buy it from Samsung US as well as Amazon US and BestBuy.
It would have been nice to have more combinations available to choose between here but that's the tricky world of laptop SKUs for you.
Check out our chart of the best laptops to see more options.
Verdict
The Samsung Galaxy Book 2 Pro is a full-sized laptop that makes quite a first impression, with an uncommonly slim and light frame, vibrant 15.6in AMOLED display and a modern laptop that doesn't restrict you to only USB-C ports.
It performs well too, courtesy of 12th-gen Intel power, while its connectivity options are on point.
It's far from perfect, however, with disappointing battery life and some oddly restrictive spec options. I would have liked to have seen that beautiful display pack in a few more pixels and Hz, too.
There's room for improvement, then, but the takeaway here is that Samsung has made one of the most portable and downright pleasant-to-use 15in laptops on the market.
Specs
Windows 11 Home
15.6in Full HD AMOLED display (16:9 aspect ratio, 1920×1080)
Intel Core i5–1240P
Intel Iris Xe graphics
8GB LPDDR5 RAM
256GB SSD
Full-size keyboard with backlighting
1080p FHD Camera
Dual 4W speakers
Fingerprint power button
1x HDMI
1x Thunderbolt 4
1x USB Type-C
1x USB 3.2
MicroSD Multi-media Card Reader
3.5mm jack
68 Wh battery
65W charger
Wi-Fi 6E
5G Sub6
Bluetooth 5.1
355.4 x 225.8 x 11.7 mm
1.16kg
Best Prices Today: Samsung Galaxy Book 2 Pro