At a glance
Expert's Rating
Pros
Good cleaning
Inbuilt voice assistant
Auto-empty station
Genuinely decent mop
Cons
Voice assistant not great with background noise
Editing maps can be fiddly
Pricey
Our Verdict
The T10 Plus has some great features that combine to give you completely hands-off cleaning. But it's a pricey robot and the question is whether you're happy to pay for other features, like its onboard camera and two-way audio, that you might not use.
Price When Reviewed
$949
Best Prices Today: Ecovacs Deebot T10 Plus
The Deebot T10+, along with the flagship and all-around monster robot vacuum the Deebot X1 OMNI, is one of the latest releases from Ecovacs.
In the US and Europe, Ecovacs doesn't have the same name recognition that iRobot's Roombas do, but the brand is one of the biggest names in robot vacuum manufacturing worldwide and is, at the moment, offering some of the most comprehensive software and feature sets around. But the T10+ is not a budget robot, so it's worth checking that you'll use all of the features before you buy.
Design and features
The Deebot T10+ looks like the standard robot vacuum featureless disc. In fact, the only thing that really sets it apart from a shiny white dinner plate is the round, raised tower on top. On the plus side, this is part of its upgraded AIVI 3.0 navigation system, which lets it identify and avoid a number of common household objects, like kicked-off shoes.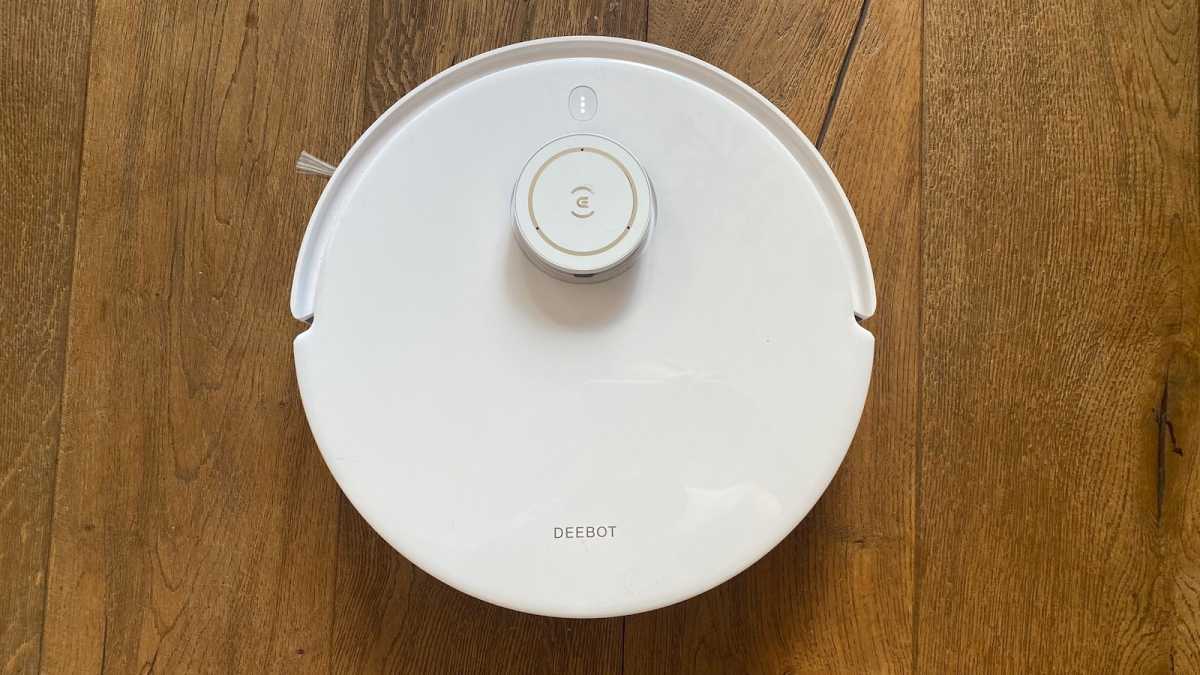 Emma Rowley / Foundry
It is pretty effective and will give a wide berth to objects like books and cups – as well as performing some pretty cool swerves around the cat – but there are still issues with cables, wires and laces, which are either harder for it to spot or to avoid. This can result in it dragging a charger around the house like a dog looking for someone to play fetch with.
The minus side of the tower is that it raises the height of the robot vacuum – and in some households, this means it'll struggle to get under low pieces of furniture like beds and sofas. It's still only 10.5cm/ 4.25in high but before you consider buying it, or any other robot vacuum, we'd advise you to measure the space under pieces of furniture if they're close to the ground and figure out if it'll work for you.
As well as the navigation tower, the T10+ has a "960P astrophotography camera" in front. By this, Ecovacs is telling us that this is a bloody good camera, the kind of thing you might not be expecting to see on the front of a vacuum.
And, indeed, the picture is excellent. Enter the video manager in the app and the real-time, landscape-format video stream delivered to your phone is crisp, with a wide field of view (148.3°). That being said, I'm not entirely sold on the need for a space-quality camera on a piece of cleaning apparatus.
Emma Rowley / Foundry
There's even two-way audio, so when you're out and about, you can jump on the Ecovacs app and ask your partner if you should pick up milk. This is funny in a lot of ways. First off, because you're bypassing all the normal channels of communication already on your phone but also because you're making your partner converse with a vacuum cleaner.
Ecovacs suggests that you'd use the camera to see how cleaning is going or check in on your pets when out, or as a sort of roving security system: at this I raise a sceptical eyebrow. But perhaps that's just because my cat doesn't react well to be stalked by machinery.
Although Ecovacs has TUV Rheinland certification for handling users' data safely, you may want to weigh up how much you'll use the T10+'s on-board camera against the risks inherent in having a camera connected to a Wi-Fi-enabled device that's trundling around your home.
Charging station
And then there's the chunky charging and auto-empty station. It's 35cm/ 14in high, 36.5cm/ 14.5in wide and about 43cm/ 17in deep, including the spot where the robot vac sits. It has a colour scheme of white and silver, which, depending on your perspective, either makes it look a bit less like a bin than most auto-empty docks, or just makes it look like a bin that's drawing attention to itself.
Emma Rowley / Foundry
Inside the dock is a 3.2 litre bag that will give you up to 60 days before you need to swap it out. You might even get longer, as I did, depending on how full your vacuum bin gets.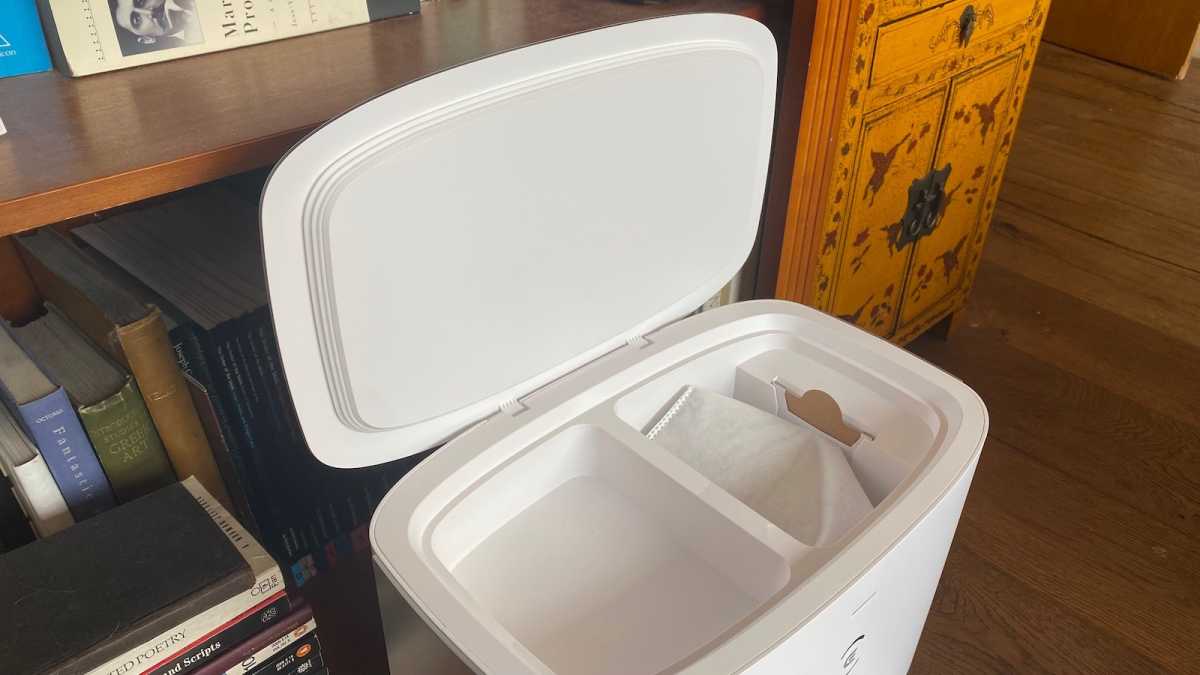 Emma Rowley / Foundry
Self-emptying systems like this are becoming more common. Among others, we've tested the iRobot Roomba i7+, which can be bought with or without the dock. (If space is an issue, its dock is much smaller than the Ecovacs counterpart.)
These docks are really useful for getting the most from your robot vacuum cleaner, as you can set up a cleaning schedule and let the robot get on with it, without having to remember to empty the bin every couple of days. Otherwise, your robot keeps going out to clean with a bin that's too clogged to be of any use.
One thing to be aware of is the fact that they empty the robot via suction, which, although it only lasts a few seconds, is incredibly noisy. If you're not expecting it, it'll make you leap into the air, tipping whatever you're holding all over yourself, which is then just another thing to clean up.
Setting up the T10+
Set-up is straightforward. You'll just need to attach the parking base to the dock and put the robot in its spot to start charging. Then download the Ecovacs app, available for Apple and Android, make an account and connect your robot.

This is where another of the T10+'s features comes into play. In the final stages of setup, you can turn on the voice assistant by saying "Okay Yiko". From there, Yiko will ask permission to begin quick mapping to create an initial map of your home.
Dedicated voice assistant, Yiko
The voice assistant is particularly handy as it works straight out of the box – there's no need to link your robot to your home smart assistant (although the T10+ is also Google Assistant and Alexa-compatible) – and Yiko can understand a greater number of commands.
Sometimes, though, it was hard to get a response. Yes, it's extremely cool to be able to say, "Okay Yiko, go and mop the kitchen floor" but not if Yiko misses the wake-up command repeatedly, to the point where you find yourself lying down next to the robot, bellowing at it.
Conversely, there were a few times when I was watching TV and Yiko would pipe up from the corner of the room and start chatting to the TV people. This part of our dystopian future is happening way too soon.
In the end, I found Yiko to be responsive as long as the background noise was low. And when combined with the level of detail in the mapping function (more on this later), you can request cleaning for specific spot. So you can say, "clean under the sofa" and the T10+ will just do that and then return to the dock. It's a brilliant feature.
Mapping
Back to mapping. Once your map is made, one floor of your home (if you have more than one floor) can be turned into an editable 3D map, to which you can add common items of furniture: a desk, sofa, dining set, bed and more.
You can even add in pet accessories, so the T10+ will know to avoid bowls and beds.
This is also how you target specific pieces of furniture for cleaning.
But there can be some issues in practice. I've used the same app and mapping software before, when testing the X1 OMNI and found it accurate and reliable. However, the first map that the T10+ created was weirdly off, with room boundaries in the wrong places and even the shapes of the rooms unrecognisable.
So I started again. It took two exploratory trips for the T10+ to create an accurate map. It still mistook the bed for a wall and created a door where there wasn't one – and editing the map was a bit fiddly. But these issues didn't affect the cleaning and it was well worth it once it was finished.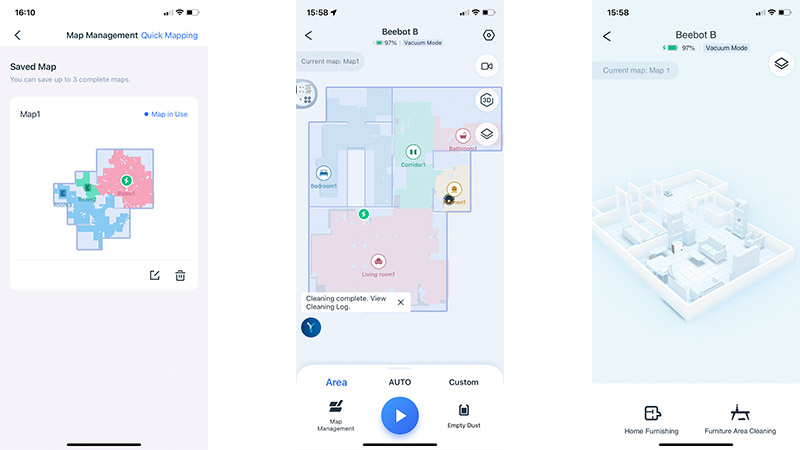 Emma Rowley / Foundry
Vacuuming
It's odd that this is a vacuum cleaner and I'm going to spend such a short part of this review talking about its vacuuming capabilities but my experience here was straightforward. I found it to be a very effective cleaner. It has a pair of spinning sweepers, which can get tangled up with longer hair but which I didn't find scattered crumbs.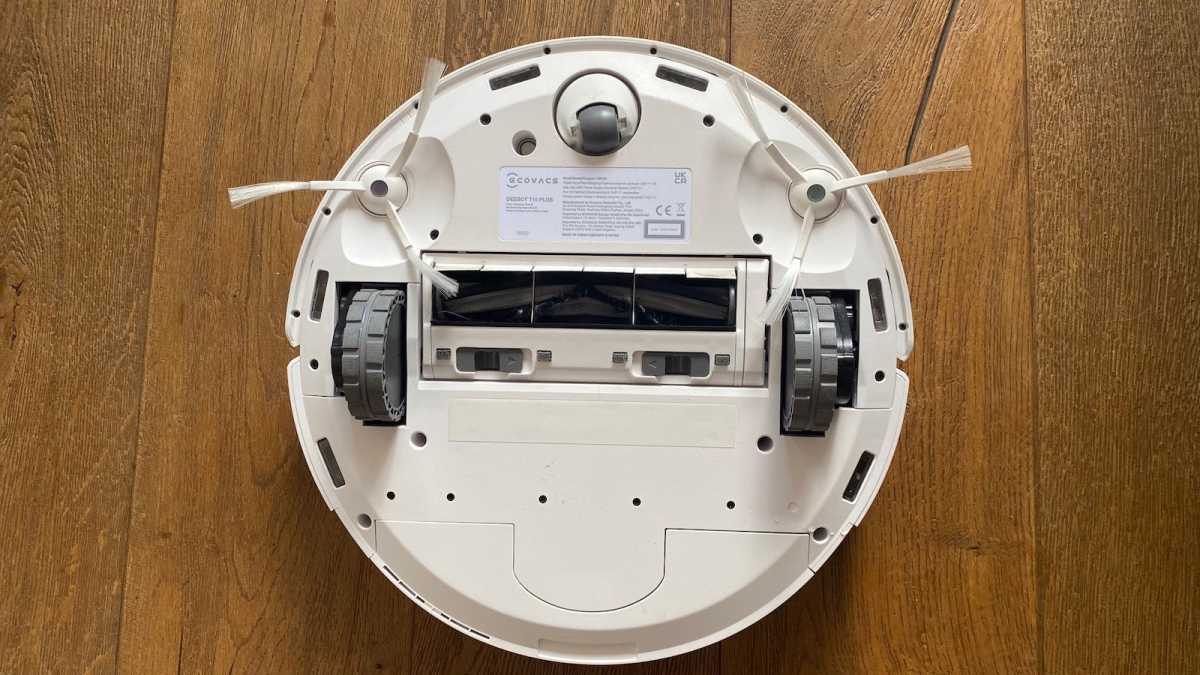 Emma Rowley / Foundry
The T10+'s 3000PA suction is both good on paper and on the floor. It deals effectively with everything from pet hair, to dust, to crumbs. In smart cleaning mode, it turns up the suction when a little extra boost is required.

While moving around, it's impressive at avoiding furniture, stopping just short of obstacles but still managing to navigate between chair legs to clean under a table, for example. It's quiet in action as well, and a good climber that can navigate thresholds of 1cm.
It can vacuum for 195 minutes on a single charge, or mop for 180. If you need more time than this, then congratulations on your vast home. The robot will need to pause when it runs out of power but will resume in the same spot when it's charged again.
Mopping
I tend to think that mopping systems on combined robot vacuums aren't very good, for the simple reason that dragging a bit of wet cloth along the floor isn't an effective cleaning method. This is honestly how the majority of robot vacuum mops operate at the moment. But the T10+ has broken with tradition by actually being pretty good.
The mop section clicks on the back of the robot (replacing a totally unnecessary air freshening cartridge which I'm not even going to engage with in this review, except to ask: why is it here?). You just fill the reservoir and click it in place.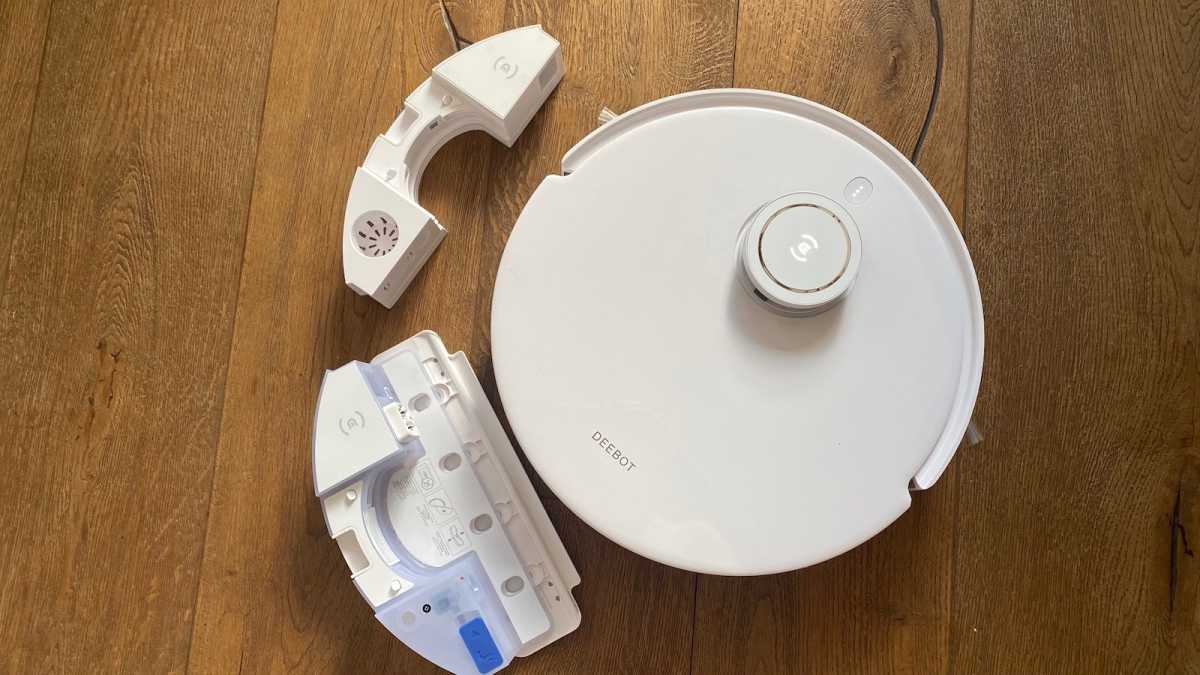 Emma Rowley / Foundry
I used a voice command to ask the T10+ to mop the kitchen floor, then wandered off. A few minutes later, I returned to an impressively clean floor, with tea stains and mystery marks vanished. The mop doesn't soak your floor but as it's able to deliver a bit more pressure than the standard mop attachments, it's much more effective than competitors.
Price and availability
In the US, you can buy the T10+ direct from Ecovacs. If you buy now, you'll get six months of replacement parts (dust bags, air fresheners, mopping pads and more) for $824. It's also currently available from Walmart for $949.
In the UK, the T10+ has a high RRP of £899. But in reality, you can get it for far less. At the time of writing, it's £729 on the Ecovacs website and Amazon. Although it is by no means a cheap robot vacuum, it's better value than the similarly featured iRobot Roomba i7+ with automatic dirt disposal, which is going for £799.
In the US, however, the Roomba is the cheaper option by a small margin.
Don't forget to factor in the cost of replacement bags for the inside of the auto-empty station. In the US, you can get six bags (about a year's worth) for $35.98. In the UK, three bags (which should be enough for around six months) cost £15.90.
Verdict
While I had teething problems with both the mapping and the voice assistant, the T10+ is still one of the best robot vacuums we've tested. If you're looking for a set-and-forget cleaner, it is well worth considering. However, it's not a cheap option by any means, and if you think you're unlikely to use many of its features, you might find that a simpler robot vacuum is a better option.
To see which other robot vacuums we recommend, have a look at our round-up of the best robot vacuums we've tested.
Specs
Robot vacuum and mop with self-emptying station
3000PA suction
AIVI 3.0 obstacle avoidance
Battery life: vacuum 195 mins; mop & vac 180 mins
Operating volume: 68dB
Inbuilt voice assistant
3D mapping
Charging time 6.5 hours
Best Prices Today: Ecovacs Deebot T10 Plus