After spending some time with Oppo's new Android skin, ColorOS 13, the biggest thing I've noticed is it takes Android's 'digital wellbeing' to a whole new level, with built-in features that encourage you to put down your phone and touch some grass.
These features include adjustments to the always-on displays, interactive wallpapers, and a more spacious interface.
Both the Oppo Find X5 Pro and Find X5 will get ColorOS 13 Beta from today, whilst the Find X3 Pro and the Reno8 Pro will get it from September, with other devices to follow in the Autumn. Oppo will be updating over 30 different phones throughout the year in 60 different countries and 20 more devices will follow in 2023.
There are 10 different always-on display skins to choose from with ColorOS 13, but the most intriguing of the bunch is the Insight display, which helps you keep track of phone usage without even having to pick up the device. The background has a colour-tracking bar that shows how many hours you've spent on your phone, as well as a counter to keep track of how many times you have unlocked it that day.
In addition, you can control some apps via the always-on display. For example, you can see what is playing on Spotify without having to wake the phone and go to the lock screen. In India, ColorOS 13's always-on display also supports food delivery apps, so you can keep an eye on your takeaway delivery without having to constantly click through to Zomato or Swiggy.
Oppo claims this will be supported on more delivery apps in the future – no word on if this will come to the west just yet.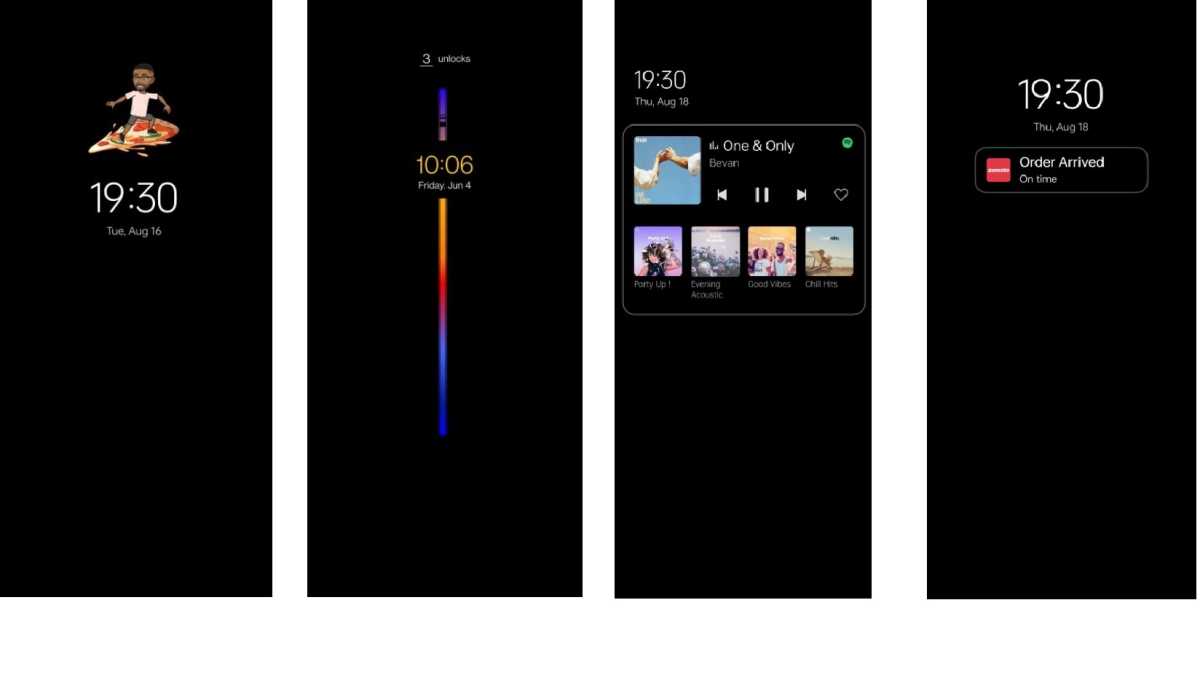 Oppo
If you'd prefer to have a different always-on display, then you can also keep tabs on your screen time with the Blossom wallpaper and lock screen. This is a plant that grows the more you use your phone throughout the day. When you hit your self-imposed limit, the plant will turn into a metallic statue. Oppo's clearly going for a jokey metaphor of a living organism (you) turning into metal (like a robot) after too much time in the digital world.
The background of this plant also changes colour depending on what app you've used the most in the hour. For example, after spending some time on YouTube, my background went red. The time limit for this wallpaper can be set from anywhere from 1 hour to 22 hours.
The OS design is made to make navigation much snappier, which should (in theory) lower that screen time number. You can enlarge folders from 1×1 to 2×2 with multiple apps, but still open apps without having to open the folder first. This means you can clear up your pages of apps on your home screen, but don't need to click multiple times to open what you need.
Meanwhile, the control centre has icons with higher colour contrast and more space, making changing internet connection, controlling music playback, and switching between various modes generally much more friendly and easy to see when glancing at your device.
Oppo has also taken some inspiration from sister company OnePlus's OxygenOS with the introduction of the app Zen Mode. With this, you set a timer which then locks you out of accessing your apps and phone features, whilst the phone plays some soothing music. It also tracks the number of times you use Zen Mode, and the time you use it for.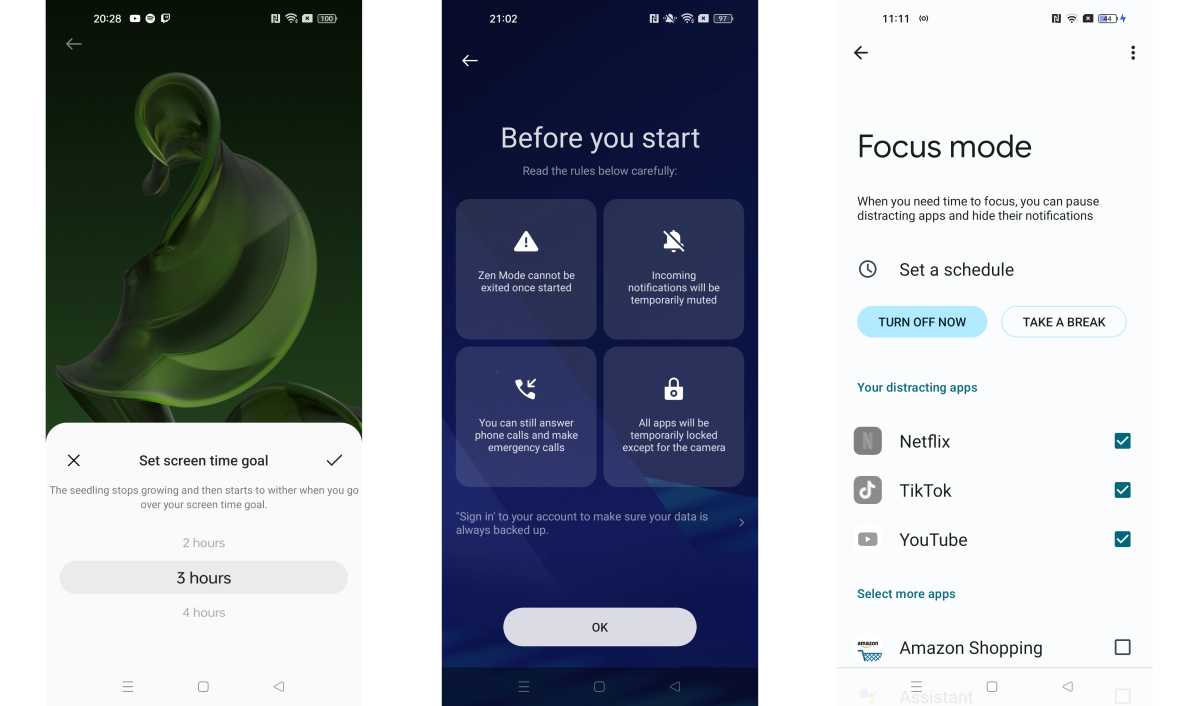 Hannah Cowton / Foundry
OxygenOS uses ColorOS's codebase now, so the two operating systems share very similar design languages, but OxygenOS 13 has not put as much emphasis on digital wellbeing as ColorOS 13 has. Oppo's new features also tie-in with those built in with stock Android, such as Focus Mode. Android 13 includes new themed app icons, updated privacy features and app-by-app languages.
This new OS rollout shows that phone manufacturers continue putting emphasis on having a healthier relationship with our devices, and its future I'm happy to get behind.