At a glance
Expert's Rating
Pros
Tidy hardware & software
120Hz display
5G connectivity
Strong battery life
Cons
Performance isn't 120Hz-worthy
Slow 15W charging
Camera struggles in less than optimal lighting
Our Verdict
The Moto G62 is a quietly solid, relatively well-equipped cheap 5G phone. The combination of a 120Hz display, 5G connectivity, and a relatively up-to-date Snapdragon processor for under £200 is surprisingly difficult to come by in mid–2022, though you can still get a better all-round phone if you consider the 4G alternatives.
Price When Reviewed
Unavailable in the US
Many of Motorola's phones these days hover somewhere around the £200 sweet spot, but the Moto G62 5G hits that pricing target dead-on (well, you'll get 1p change). It's going to be in the mix for a lot of people looking for a decent 5G-ready handset at a budget price.
With a fluid 120Hz display, a 50Mp camera, solid design, 5G connectivity and the brand's super-clean software, it's the kind of cheap phone that ticks a lot of boxes. But does it manage to distinguish itself in a competitive field, and is the inevitable 5G tax worth paying?
Design & Build
Solid, clean plastic body
USB-C, 3.5mm headphones jack, stereo speakers
Fingerprint sensor in side-mounted power button
Motorola is the master at building affordable devices that fail to make a strong impression, for better and for worse. The Moto G62 has a fairly nondescript, generic design, but living with it day to day is pretty frictionless.
Like the phone's price, its design hits that Goldilocks sweet spot. At 161.8 x 74 x 8.6mm, and with a weight of 184g, it's not going to stand out for being impressively compact, but nor is it excessively awkward to wield either.
The feel of the phone is as reassuring as it is forgettable, with a robust, undemonstrative plastic body, and a gently curved rear panel with a pleasingly smooth finish.
Jon Mundy / Foundry
My review model comes in a bright yet reasonably tasteful Frosted Blue, while there's also a darker Midnight Grey option. Judging from this test model, neither is likely to wear sweaty fingerprints particularly lightly. The phone's body is what Motorola refers to as "water-repellent", which means it'll hold off the odd splash of rain, but without the costly reassurance of a proper IP rating.
There's a reasonably reliable fingerprint sensor on the right-hand edge, stashed underneath the power button, though it's not what you'd call fast. Meanwhile, the bottom of the phone houses a 3.5mm jack, a USB-C port, and one of the two speakers that provide a proper stereo sound profile in landscape viewing.
Taken all together, the Moto G62 design is quintessentially Motorola – solid, safe, and reassuringly boring. Precisely what most people are after for £200, in other words.
Screen
6.5in FHD+ LCD
120Hz refresh rate
Solid colour accuracy
Motorola has developed the undesirable habit of equipping some of its more affordable phones with puny 720p displays in recent years, so I'm pleased to report that the Moto G62's 6.5in screen gets the Full HD+ (1080 x 2400) treatment. It really does make a world of difference to the phone's usability.
It's still only an IPS LCD, so colours aren't especially punchy, while blacks are quite grey in tone compared to even entry-level OLEDs. But it's fairly pleasing on the eye once you crank it up to full brightness, which I recorded at an unremarkable 438 nits with auto-brightness turned off.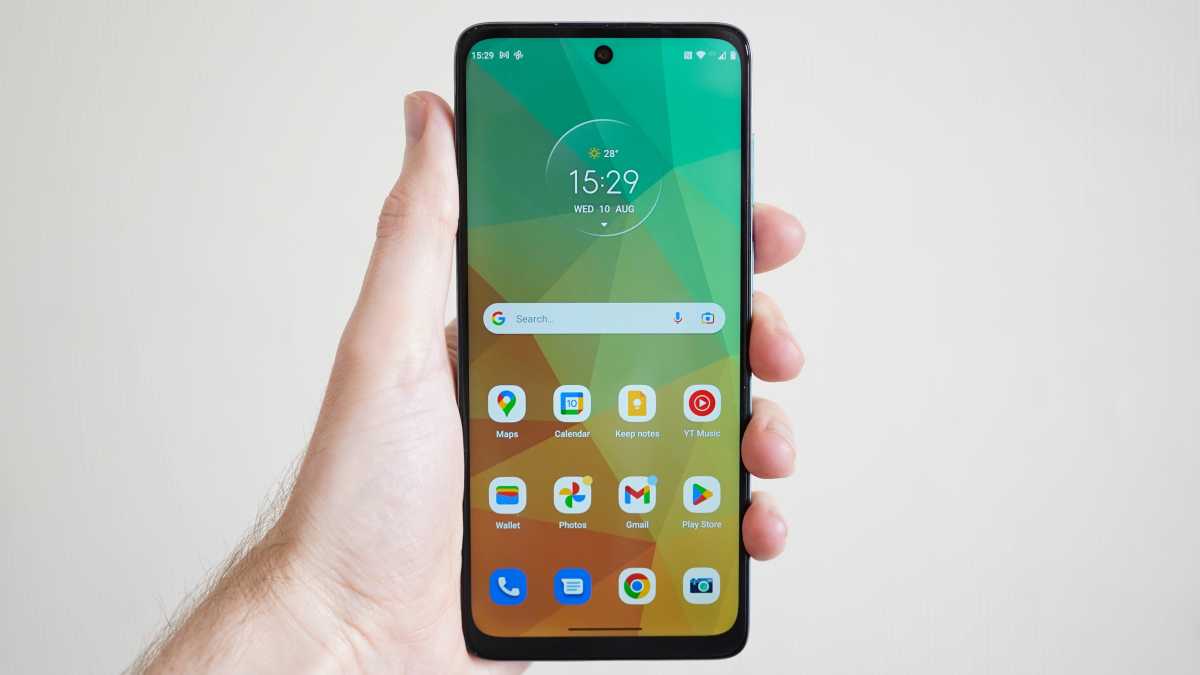 Jon Mundy / Foundry
Motorola has implemented a full 120Hz refresh rate, so scrolling through menus and web content is nice and fluid. Or at least it can be, when the phone's limited processor and RAM aren't causing micro-hitches (more on that below).
In terms of colour accuracy, the default Saturated display mode outputs a slightly exaggerated profile that's better suited to the more saturated DCI P3 colour space. Switching to the alternative Natural mode produces something that's more accurate in the more established sRGB space, with a gamut coverage of 97.1%, a gamut volume of 99.1%, and a strong average Delta E score of 1.19.
In other words, the Moto G62 screen might not be massively bright or vibrant, but it's pretty accurate.
Specs & Performance
Snapdragon 480+ 5G processor
4GB of RAM
5G connectivity
Motorola has equipped the Moto G62 with a humble Snapdragon 480+ 5G processor. This is effectively the same entry-level processor that runs the Nokia XR20 and the Oppo A54 5G, albeit with a couple of overclocked cores.
Neither of those phones were exactly renowned for their speedy performance, and the Moto G62 follows suit – especially with a scant 4GB of RAM backing it up.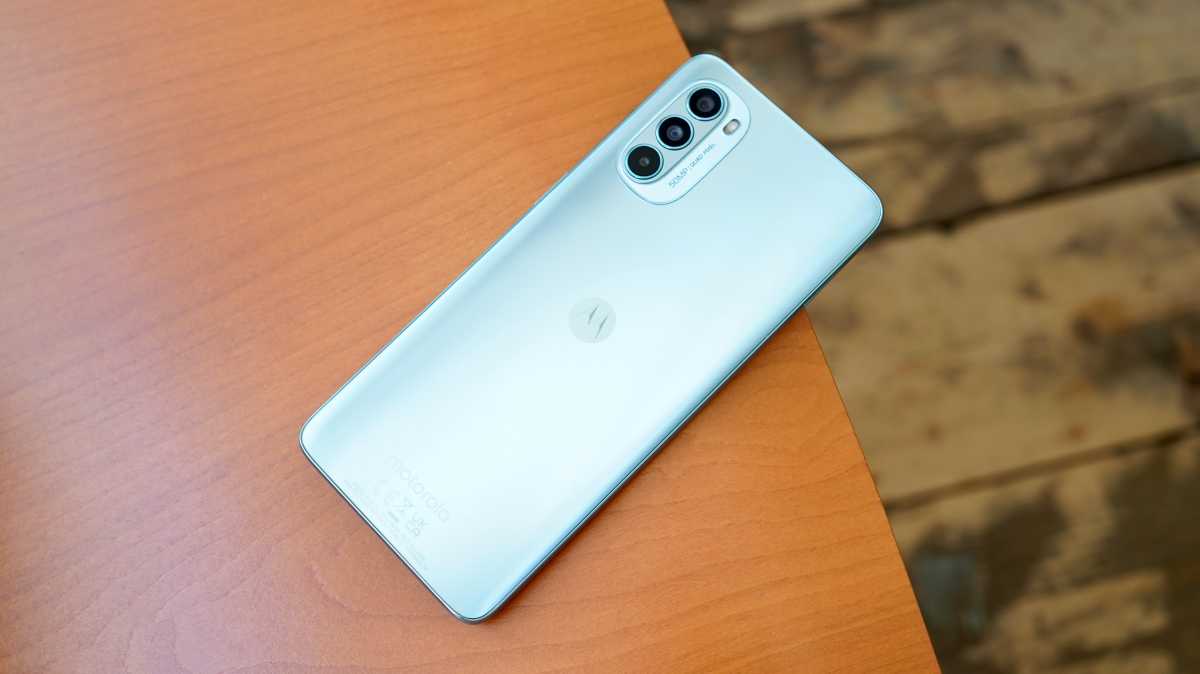 Jon Mundy / Foundry
A Geekbench multi-core score of 1712 pips the aforementioned rivals, as well as the Poco M4 Pro 5G with its MediaTek Dimensity 810. It's more or less equal to the Redmi Note 11 with its Snapdragon 680.
It's a little more impressive in GPU terms, where the Moto G62 scores consistently slightly higher than the Poco M4 Pro 5G, and much higher than the Redmi Note 11 across each of the GFXBench tests I put it through.
Elsewhere, the Moto G62 offers a rather underwhelming storage capacity of 64GB, though there is at least a microSDXC slot should you wish to expand it.
Another noteworthy spec for the Moto G62 is 5G connectivity. Cramming super-fast network connectivity into a sub-£200 isn't unheard of, but I haven't seen it paired with a 120Hz display and that marginally improved Snapdragon 480+ chip before.
Of course, I'd argue that forcing costly 5G into such an affordable phone is to unnecessarily hamper its performance elsewhere. But if you insist on top notch network speeds for your £200 investment, you'll do well to find better.
Cameras
50Mp wide camera
8Mp ultra-wide
Pointless 2Mp macro sensor
Motorola has equipped the Moto G62 with a fairly run-of-the mill 50Mp main camera, which packs a 1/2.76″ sensor and no OIS.
This is backed by a modest 8Mp ultra-wide and a superfluous 2Mp macro. There's a 16Mp sensor around the front for selfies.
From what I can see, this is more or less the same camera system as the cheaper Moto G22, though the latter also throws in a 2Mp macro sensor.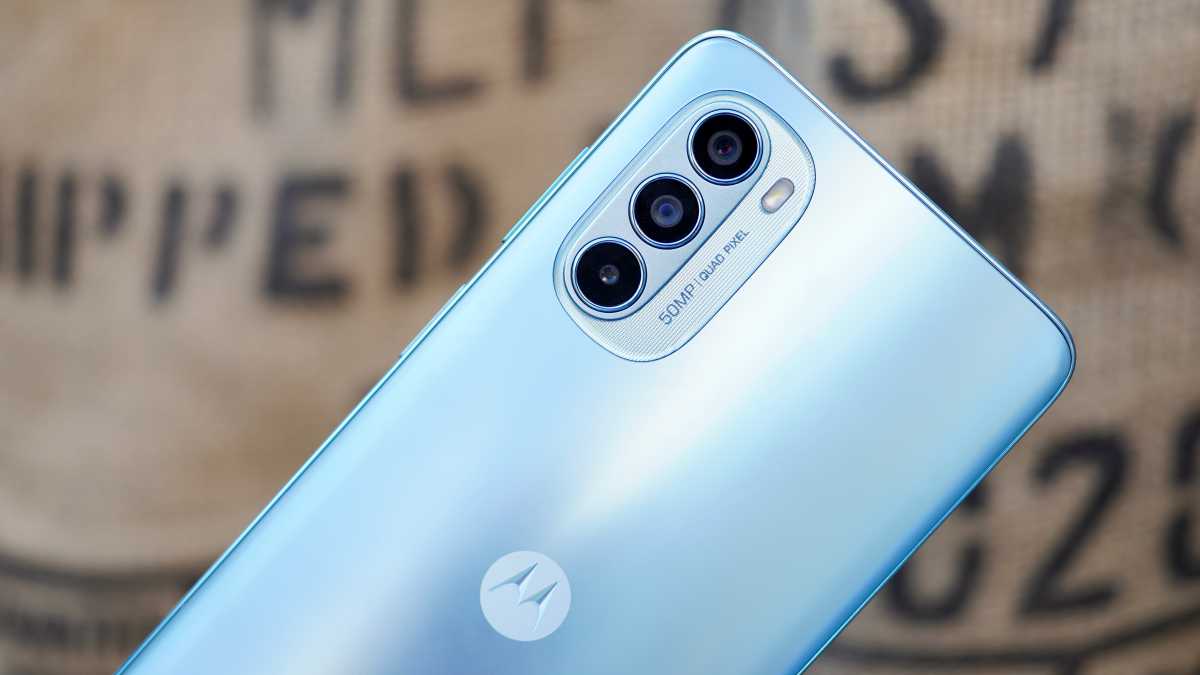 Jon Mundy / Foundry
As we found with the Moto G22, the main camera here is capable of capturing solid images with decent detail and decent colour reproduction – at least in good lighting. When that light drops just a little, such as indoors during the day, the detail really suffers and the noise creeps in.
Night mode shots are downright poor, with lots of grain and a generally washed out tone. The combination of a small sensor, no OIS, and limited image processing power clearly doesn't help here.
Also like the Moto G22, the 8Mp ultra-wide is badly lacking in terms of detail. Motorola does better than many budget phone makers in matching the tone of the main sensor, but you really won't want to rely on this sensor too much.
Selfie shots with that 16Mp front camera aren't massively impressive either, with a generally fuzzy, indistinct look and a washed-out palette. Overall, for usable social media posts in good light, the G62 will suffice.
Battery Life & Charging
5000mAh battery
Genuine two-day potential
Very slow 15W charging
The Moto G62 comes with a nicely sized 5000mAh battery. Combined with the phone's modest hardware, it'll get you through a day of intensive usage with plenty to spare.
I found that I was able to get through a long 16 hour day with 4 hours 30 minutes of screen on time and still have just over half a tank left to play with. That's a strong result, especially when you consider that this was with the 120Hz refresh rate constantly active. With the default auto mode active, I suspect you could go through a full two days of intensive usage fairly comfortably.
Jon Mundy / Foundry
Unfortunately, I wasn't able to perform the usual PCMark Work 3.0 battery test, as it would consistently end with an error message. However, I did run a looping video test with airplane mode active, and it ran for 17 hours and 36 minutes before running dry.
That's not the best result out there, but it's fairly competitive with other affordable phones.
Motorola often supplies its cheaper phones with slow charging bricks, and that's certainly the case with the Moto G62. Like the Moto G22, you get a miserly 15W in the box, which only got me to 21% in 30 minutes on charge. A full charge from empty took an excruciating 2 hours and 44 minutes.
Software
Android 12
Subtle yet useful embellishments
Only impacted by slow hardware
Software is always a safe bet with a Motorola phone, because it has the good taste and good sense to leave well alone.
This is Android 12 in close to stock form, with only a custom clock widget and some tasteful home-brewed wallpapers immediately marking it out as a Motorola device. The company also implements a genuinely useful always-on display, even though this isn't an OLED panel.
Jon Mundy / Foundry
Most of the meaningful tweaks are discretely stashed away in the Moto app, which provides a handy (and again, tastefully handled) colour-coded hub for all your personalisation needs, gesture-based shortcuts, lock-screen customisation, and game-enhancing tools.
If I could choose one Android UI to act as an example for all budget phone makers to learn from, it would probably be Motorola's.
As with Motorola's other cheap phones, the biggest drawback with the Moto G62's interface is that it doesn't respond very smoothly. That's a hardware issue rather than a software issue, but it does negatively impact what would otherwise be an incredibly slick and intuitive experience.
Price & Availability
The Moto G62 is available in the UK for £199.99, and in Europe for €249.99. In the UK, it's available in just the one 4/64GB variant, though it comes in two colours: Midnight Grey and Frosted Blue.
You can buy it from Motorola, Currys, Amazon Argos, John Lewis.and Laptops Direct. The phone is not available in the US where you'll have to buy the $399 Moto G 5G to get, well, 5G.
This pricing puts the Moto G62 up against a whole raft of affordable phones, including the Realme 9i and the Redmi Note 11. However, if we're talking 5G-equipped £200(ish) phones available in the UK, you're looking at the likes of the Oppo A54 5G and the Samsung Galaxy A22 5G, neither of which are spring chickens.
Indeed, when viewed through a 5G lens, the Moto G62 has some pretty competitive specs, especially with that 120Hz display.
Find more options in our best budget phones chart and best cheap 5G phones.
Jon Mundy / Foundry
Verdict
It might seem like a fairly bog-standard phone, but look around and you might struggle to find another phone that gives you exactly what the Moto G62 does.
While it fails to stand out in any one particular area, the combination of a 120Hz display, a fairly current Snapdragon 480+ processor, 5G connectivity, and a £200 price tag is surprisingly difficult to come by. Its stamina is excellent, and Motorola's light-touch UI continues to be the best on the affordable phone scene.
The major drawback here is a familiar one. With margins so tight at this end of the market, 5G connectivity feels like a luxury. It's one that takes an inevitable toll on performance, storage, and charging speeds.
If you want the most phone for your £200, look to the 4G-only alternatives. But if you insist on 5G connectivity, the Moto G62 is one of your best bets at the price.
Specs
Android 12
6.5in, FHD+, LCD, 120Hz, flat display
Side-mounted fingerprint sensor
Qualcomm Snapdragon 480+ 5G
4GB LPDDR4 RAM
64GB storage
50Mp, f/1.8 main camera
8Mp ultra-wide camera
2Mp macro
Up to 1080p @ 60fps rear video
16Mp front-facing camera
Stereo speakers
Dual-SIM
Wi-Fi 802.11 a/b/g/n/ac
Bluetooth 5.1
5000mAh battery
15W charging
161.83 x 73.96 x 8.59 mm
184g
Launch colours: Midnight Grey, Frosted Blue