Like the stereotypical Brit I am, I love moaning about the weather, standing in queues and, of course, having a good cup of tea. I used to get tea in a bottle as a baby, I drank it growing up and, shocker, I still drink multiple cups per day now – some might say a little too much, but hey, who's counting?
Now, if there's one thing worse than someone putting the milk in first (yes, I'm looking at you) it's the realisation that you've forgotten about that lovely cuppa you've made that has now gone cold.
It happens to me on a weekly basis as I work, and there's not much in this world more upsetting than a wasted cup of tea. So much so that I'll often down a cup of freezing cold tea, just to save it from going to waste – but that's a story for another day.
It seems I'm not alone in my strife, as US company Ember has an entire collection of smart cups that will keep your tea, coffee or any other hot drink at the perfect drinking temperature indefinitely (as long as it's on the charging coaster, that is!). It's an exciting idea, and when I explain the concept to friends and family, they're instantly sold – that is, until I tell them the price.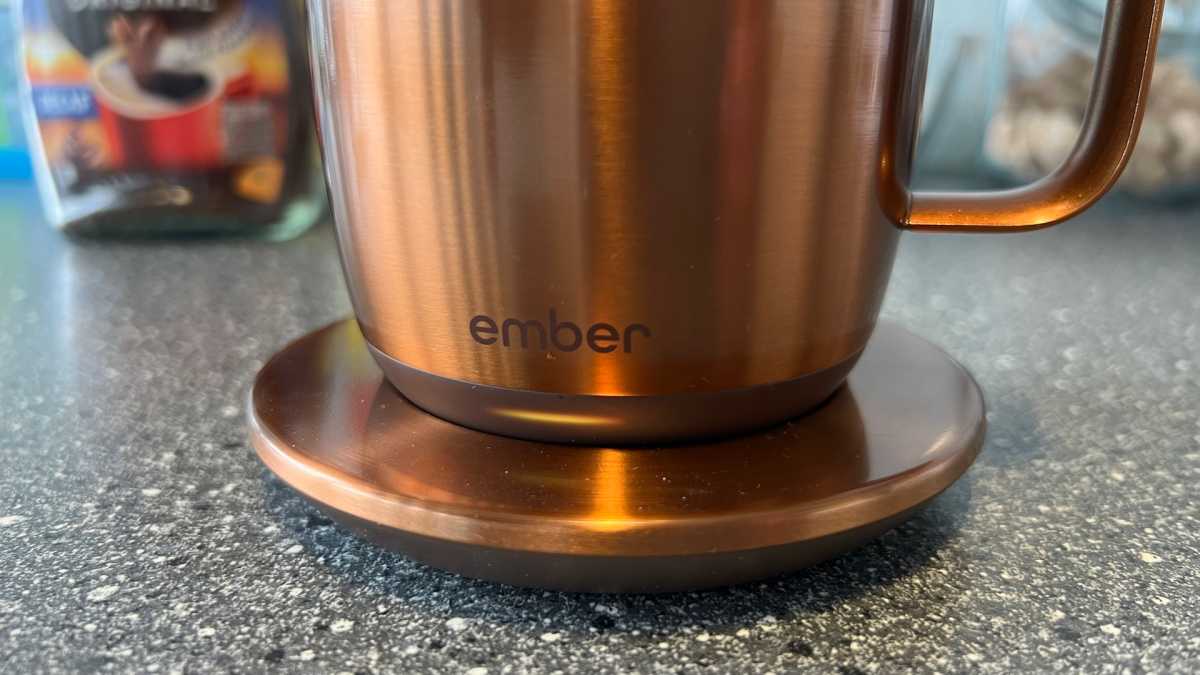 Lewis Painter / Foundry
That's because the smallest 6oz Ember Cup (177ml) will set you back $79.95/£79.95, and if you want the updated Ember Mug2, that starts at $129.95/£99.95 for a 10oz (295ml) model. The price only increases from there if you opt for one of the larger sizes and premium metallic finishes.
The 14oz copper metallic Ember Mug2 I've been using (a tea-addict's 414ml) will set you back $179.95/£149.95 – though it can be a little cheaper at $149.95/£129.95 if you opt for a standard finish.
Still, anything over $5/£5 is expensive for a mug in most people's books – which makes the fact that I'd buy another in a heartbeat all the more shocking to me and my Tech Advisor colleagues.
I was sceptical when I was first sent the Ember Mug2 for review, being fully aware of just how much it costs. I'd heard about the concept through a colleague, but I'd never used it personally, and I was sure that I wasn't going to love a mug that costs the equivalent of around 3,000 Yorkshire Tea teabags.
My opinion began to change within minutes of opening the box.
The large 14oz copper metallic mug not only looks stunning, but is a truly premium cup, with a solid handle and perfectly rounded edges. You don't have that metallic feel of cheaper camping cups, instead with a ceramic coating and brushed bronze look that immediately caught the eye of friends and family during testing.
"Fine, it's a pretty cup, but it's still not worth that much money" I thought to myself as I popped a teabag and two sugars in waiting for the kettle to boil.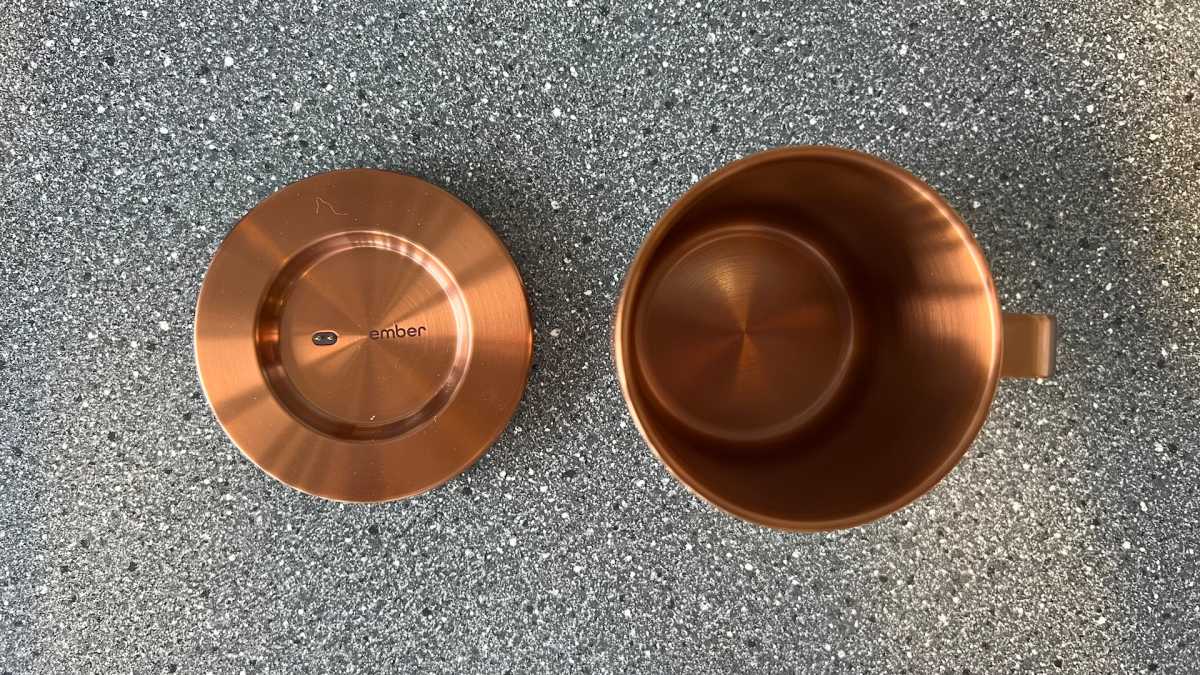 Lewis Painter / Foundry
I made my tea and went back to work, and as usual, completely forgot about my tea for 30 minutes or so. Usually at this point I'd cut my losses and make another cup, but as I sipped, it was very hot – a little too hot, actually – but that's easily changed via the Ember app for iOS and Android that lets you customise the drinking temperature.
After a few cups of tea, experimenting with the temperature, I found my perfect drinking temperature – 57.5°C. That may be too hot for some, but you can select any temperature between 50 and 62.5°C in the app.
From that point, I never needed to touch the app again. The temperature was set, and that was that.
The best part about the Ember Mug2 is that, as long as it's on its charging coaster, it'll keep your drinks hot for as long as you want. That does drop down to 90 minutes (or 80 minutes on the larger mug) if you rely on the battery, but that's usually plenty of time if you're moving from one room to another at home or at work.
Still, the idea is that you'd place the charging coaster wherever you sit most often. For me, it's my work desk, meaning the cup is being charged within minutes of a tea being made and kept warm for potentially 1-2 hours depending on whether I forget about it or not. And even after that long, the tea is still perfectly hot.
It's also a gamechanger for gaming, as I can – for the first time – enjoy a cup of tea while engrossed in a multi-hour gaming session without the need to constantly make a fresh cup.
That might not sound like such a big deal if you're not a fan of a hot beverage, but it really is a relief not to have to worry about your tea getting cold.
Lewis Painter / Foundry
By this point, I was practically sold on the Ember Mug2, but it wasn't until I went into the office without it that I realised how much I relied on its heating tech, with multiple half-drunk cups of tea throughout the day going to waste.
It could just be that I'm just now accustomed to taking longer to sip and enjoy my tea, rather than gulping it down while it's at the right temperature. But, whatever it is, I simply can't go back to an old-fashioned mug and the shock of a cold cup of tea.
That all said, there are a couple of potential drawbacks with the Ember Mug2; it won't reheat completely cold tea, so you have to make sure it's charged before you make your drink, and the built-in battery means you can't put it in the dishwasher either. But, these are arguably negligible with the benefits on offer – it hasn't been a dealbreaker for me, anyway.
So, as you've probably guessed, I'm now an Ember Mug2 convert despite my early concerns about the cost. Sure, the high price means it won't be for everyone, and it's far from a necessity, but if you're an avid tea or coffee drinker that likes the sound of fewer trips to the kettle and a perfectly hot drink, it's potentially a game-changer.
If you're going to drink tea daily, why settle for lukewarm?