If you're trying to decide whether a tablet or a Chromebook is the right choice – for home or for education – you're in the right place. Our comparative guide will help you to choose the right device for your needs.
Both Chromebooks and tablets can be quite powerful productivity tools as well as being able to deliver various forms of entertainment. So the question is, which one is better when you want something bigger than a smartphone but less complicated than a PC? Allow us to explain.
Pros and cons of Chromebooks and tablets
If you're in a hurry, here's what you need to know about the advantages of each device, as well as their limitations.
Pros
Laptop-style design
Full keyboards and trackpads
Easy to use
Great for productivity and kids' homework
Various ports for peripherals
Most are affordable
Cons
Limited app selection (runs web-based apps)
Not compatible with all PC peripherals
Works best with a constant internet connection
Generally poor webcams
Can be underpowered
Google-centric
If you want a simple, laptop-style device for working on documents, the web, and general computer duties, then Chromebooks are an excellent option. They are easy to use, generally don't have viruses or malware, and come with the free suite of Google office apps that make them a very usable solution for productivity tasks.
Gaming isn't really worth the effort and you won't find desktop versions of Microsoft Office, Photoshop or Final Cut Pro, but if these things aren't of interest then a Chromebook could be the best replacement for your old laptop.
Tablet
Pros
Great displays
Easy to use
Good cameras (at least on non-budget models)
Wide selection of apps
Support Bluetooth accessories
Cons
No keyboard or trackpad
Few ports
File systems can be hard to use
Smaller displays
Android apps may not be optimised for a tablet
Tablets have come a long way in the last few years. Most are now powerful devices that can be used for work or play. Budget models are best suited to entertainment – think Netflix and basic games – but a mid-range tablet can be a workable laptop replacement. Naturally, you'll need to buy a Bluetooth keyboard (or the official optional one) if you want to get any serious work done.
Overly restrictive file systems and a lack of desktop-class apps can make things a little awkward for some workflows, but if you keep things simple then a good tablet will let you create documents, prepare presentations, then play some games on the way home and cap off the night with a movie from Disney+.
If a tablet is for you, here are the best tablet and iPad deals.
Software: Chrome OS vs Android vs iPadOS
Now, let's dive deeper into the specifics. But before we get to battery life, prices and the actual products available to buy, it's best to start with what you can actually do on a Chromebook and a tablet.
Chrome OS
Chromebooks use an operating system called Chrome OS, which is made by Google. It's much like the Chrome web browser you're probably already familiar with, albeit more powerful. While some software will run locally, Chromebooks are primarily designed to be used online, with many of the services and web apps requiring an internet connection.
You can't run Windows or MacOS software on a Chromebook, so it's not possible, for example, to use Adobe Photoshop.
Foundry
You don't always need an internet connection to use a Chromebook. Several Chromebook apps work offline, including Google Docs, which will then sync any changes to documents when you're back online. You'll also find a section of the Chrome Web Store with specific collections of apps that work without an internet connection.
Some of the standout apps on Chrome OS are Google's own productivity apps – such as Google Docs, Google sheets, Google slides, Google Keep, and Gmail – which all run natively on Chromebooks and are a good alternative to Microsoft Office, especially when you consider they are free to use. You can't run the desktop versions of Microsoft Office, but you can of course subscribe to Microsoft 365 and use the online versions.
In recent years, Google has made it possible to use Android apps on Chromebooks, which has massively increased the choice of available apps. These aren't always optimised for larger screens though, so it's not always as slick as you would find on a PC or Mac.
If you're technically minded, there is also the option of running Linux on Chromebooks, with many of the newer models offering this feature. The advantage of this is you get full desktop apps installed locally on your machine just as you would with a PC.
You can do most things on a Chromebook that you would do on a standard PC, with notable exceptions being advanced photo editing, video editing, music production and gaming. Some of these can be achieved using Linux apps, though.
Android and iPad OS
There are two main types of tablets: iPads and Android tablets. Admittedly, you do get some that run Windows (such as Microsoft's Surface range), but these are more usually thought of as hybrid devices rather than a straight-out tablet.
Foundry
The iPad is by far the most popular tablet, with an incredible array of apps available on the App Store, just as with the iPhone. They offer arguably the best experience, as all of the apps are optimised for the larger screens and not just blown up versions of the iPhone apps.
While there are plenty of apps available for Android tablets, many of them are simply the phone version and therefore can appear stretched or have more empty space on the screen.
There is another option: Amazon Fire tablets. These are budget devices with a focus on entertainment, but there is a productivity version of the flagship Amazon Fire HD 10 that is bundled with a Bluetooth keyboard case and a year's subscription to Microsoft 365. These run Amazon's own FireOS operating system. It's based on Android, but there are no signs of Google anywhere: you can't (easily) install Android apps, and there are no built-in Google apps such as YouTube, Gmail, Maps or Drive.
Samsung is the leading manufacturer of Android tablets with a good range of options available. These begin with its budget-friendly Galaxy Tab A-series up to the premium Galaxy Tab S-series, and if you're in the market for a hybrid Windows device then the Microsoft Surface Pro 8 is a classy, if expensive, option.
As with Chromebooks, you can do many things on a tablet, from emailing to video calling, with the bonus that there are plenty of games available. You probably won't want to do any high-end creative editing on a tablet though, mainly due to the fact that the tools and interfaces are often quite basic and designed for casual, rather than professional use.
If you buy an iPad Pro you will certainly get a hugely capable device, albeit one still held back from its true potential by the software.
Hardware: how do Chromebooks and tablets differ?
It's quite easy to see the difference between Chromebooks and tablets, as the former look like laptops, while the latter doesn't have a physically attached keyboard. Of course, there are Bluetooth keyboards available for tablets but these are rarely included in the box and are optional extras.
If you're unsure how a Chromebook is different from a laptop, read our separate guide: Chromebook vs laptop.
Displays
In terms of screen size (and overall dimensions) there is a wide range of choice available on the Chromebook side of things, from the 10.1-inch Lenovo IdeaPad Duet (which bucks the trend as it has a detachable keyboard and doubles up as an Android tablet) to the 15.6-inch Acer Chromebook 515 and many points in between.
Foundry
Quite a few modern Chromebooks have touchscreens, but if you stick to the more affordable end of the market then they often have mediocre screens which you can't tap or prod. They are perfectly usable for writing and web activities, but if you want to use it to watch Netflix then you might find the dim colours and poor off-centre viewing angles a little disappointing.
Mid-range and premium Chromebooks are a different case though, as they usually feature higher-quality screens that are as good as on Windows laptops of a similar price.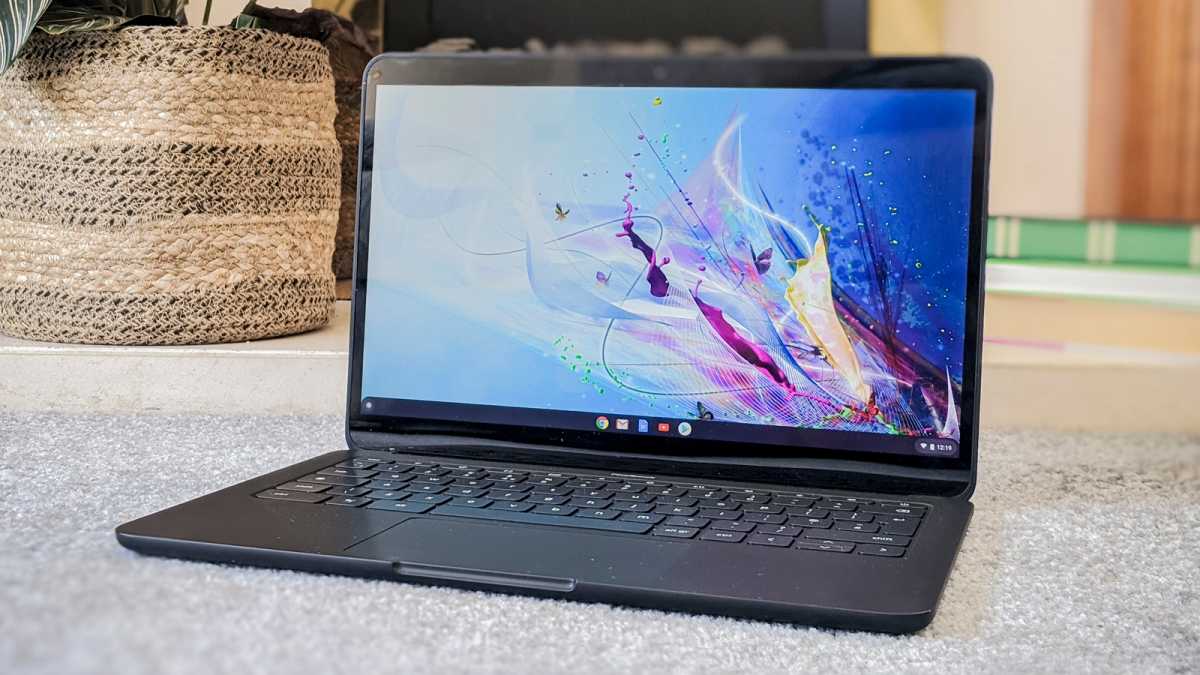 Hannah Cowton / Foundry
Tablets all tend to have excellent screens (albeit with some exceptions at the budget end) that have crisp detail, bright colours, and are all touchscreens, of course. Most are smaller than on Chromebooks, with the standard iPad featuring a 10.2 inch display.
So, if you're going to be working on spreadsheets or heavily text-based documents you may find this a downside. But for gaming and media consumption they are an excellent choice.
You can get larger tablets, such as the 12.9-inch iPad Pro or the huge 14-inch Samsung Galaxy S Tab Ultra, but they are expensive ways to get a few more inches of screen real estate.
Processors
As there are so many different kinds of Chromebooks available, you'll find a wide selection of processors. Budget-level devices will usually feature ARM chips that are low power and not really up to any serious challenges. This is ok though, as Chromebooks mainly rely on websites to do the heavy lifting. We've recently seen some higher-end devices appear, such as the HP Chromebook x360 14C and Acer Chromebook Spin 713, which boast new Intel Core chips for faster overall performance and make the use of Linux desktop apps far more appealing.
It's a similar story with tablets. At the lower end, think Amazon Fire HD 8, you'll find MediaTek chips that are fine for media consumption and using a few apps. Apple bestows its own A-series chip in most of its iPads, which are very capable and keep things ticking along nicely. For more power, you'll need the M1 processor in the iPad Pros, which is a desktop-class chip that also appears in MacBooks and iMacs. Alternatively, in Android land, the Samsung Galaxy Tab 8 Ultra sports a Snapdragon 8 Gen 1, which is one of the most powerful mobile processors available.
Adam Patrick Murray / IDG
Cameras
This one is a clear winner for tablets. Chromebooks usually come with a solitary web-cam, most of which are rubbish. They're passable for Zoom calls, but you won't be taking any pictures with them, at least none you'll want to keep. The same is true for the budget tablets, but once you get up to the iPad or Samsung Galaxy Tab S level, you'll have far better optics for capturing images and upgraded video-call experiences.
Storage
Due to Chromebooks being web-centric, you'll often find they don't have a lot of onboard storage. It's common to see 64GB or even 32GB on budget and mid-range models. This is slightly offset by Google offering 100GB of Cloud storage free for the first year.
Tablets usually offer different amounts of storage, with some Android ones offering the option of using a microSD card to increase their capacity. While this is a good option, especially on some of the lower-end devices like the Amazon Fire 7 whose base model only includes 16GB, we recommend only keeping files on the storage rather than installing apps, as the latter can get a bit flaky.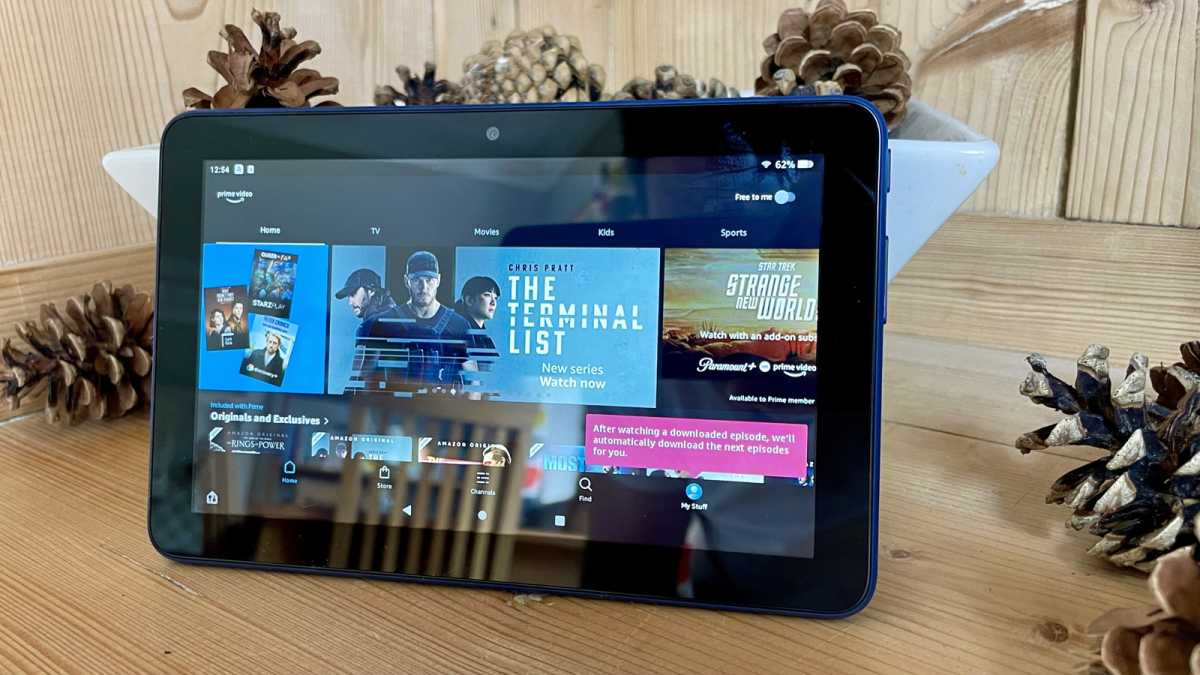 Jim Martin / Foundry
There's no way to add additional storage to iPads, but at least Apple does offer multiple configurations, with the standard 10.2-inch iPad coming in either 64GB or 256GB variants.
It's more important to think about storage when it comes to tablets, as everything will need to be installed on the device, including music files, games and apps, so the more you can get, the better.
Battery life
As a rule of thumb, Chromebooks have better battery-life than most laptops, primarily due to the lightweight nature of ChromeOS and the likelihood that you won't be running graphically demanding games or applications. Expect to get a full working day out of most Chromebooks.
Tablets also have great battery life, with your average iPad lasting around 10 hours between charges.
Ports
Chromebooks are laptop-style devices, and as such have room from plenty of ports. These usually range from USB-C to HDMI to SD card readers. Tablet, as a general rule, only have a charging port. You can of course use Bluetooth to connect external devices, but if you want to plug something in, even something as simple as a USB thumb drive, you'll probably find a Chromebook is the better option.
Foundry
Prices
As you can see from the various models mentioned above, there are a wide range of options when it comes to both Chromebooks and tablets. Some of the Amazon Fire tablets start at below $100/£100, while you can begin your Chromebook adventure at around the $250/£250.
On the tablet side of things, as a rough guide, the Amazon Fire devices occupy the $80/£80 to $150/£150 range, which is then taken over by the Samsung A-series that goes from around $180/£180 up to $229/£259.
At that point the iPad and Samsung Galaxy S-series pick up the story, going from around the $300/£300 mark right up to over a thousand if you want extra storage on the top models. See our best tablets roundup for which ones we'd currently recommend.
Chromebooks have a lot more companies involved, such as Acer, Asus, Google, HP, Samsung, Dell, Lenovo and others, which offer devices for all purses. Check out our roundup of the best Chromebooks to get an idea of the pick of the crop.