At a glance
Expert's Rating
Pros
Extremely affordable
Capable in mid-range games
Slim, light chassis
Satisfying keyboard
Cons
Rivals are routinely faster
Single-channel memory
Disappointing display and battery life
Our Verdict
The MSI GF63 Thin is cheap, it handles everyday eSports and mainstream games at mid-range settings, and it's got a decent keyboard and a slim, light design. Rivals perform better in various ways but for office work followed by gaming time at the end of the day, it's a good value buy.
Price When Reviewed
From $899
Best Prices Today: MSI GF63 Thin (2022)
The MSI GF63 Thin 11UC is one of the cheapest gaming laptops around, with a US starting price of just $899 and £699 in the UK. Those numbers will make anyone take notice, but low prices sometimes mean plenty of design and component compromises.
And while it's true that the Nvidia GeForce RTX 3050 graphics core is modest, it's still capable of handling 1080p gameplay. And, similarly, the Core i5-11400H processor remains a solid choice.
There's no shortage of competitors if you're after a cheap gaming laptop, though, so it's time to go hands-on to see if the MSI GF63 Thin 11UC is a great bargain or just destined for the bargain bin.
Design & Build
Stylish for a budget model
Only 21.7mm thick
1.86kg
MSI's rig looks better than its price suggests: the brushed metal casing looks smart, and the red keyboard edging and logos lend the GF63 consistency. It's more mature than the military-inspired Asus TUF Gaming A15 and sleeker than the Acer Nitro 5. Only the Dell G5 15 Gaming can really compete unless you're willing to spend more.
At 1.86kg on the scales, the GF63 won't weigh you down, and its 21.7mm-thick body impresses, too – competitors typically weigh more than 2kg and are at least 25mm thick.
The MSI may be slim and light, but it's not sturdy. The metal above the keyboard flexes, the plastic base moves too much, and the display wobbles. If you're using the MSI at home it's not a big deal, but you'll likely want a protective sleeve outside.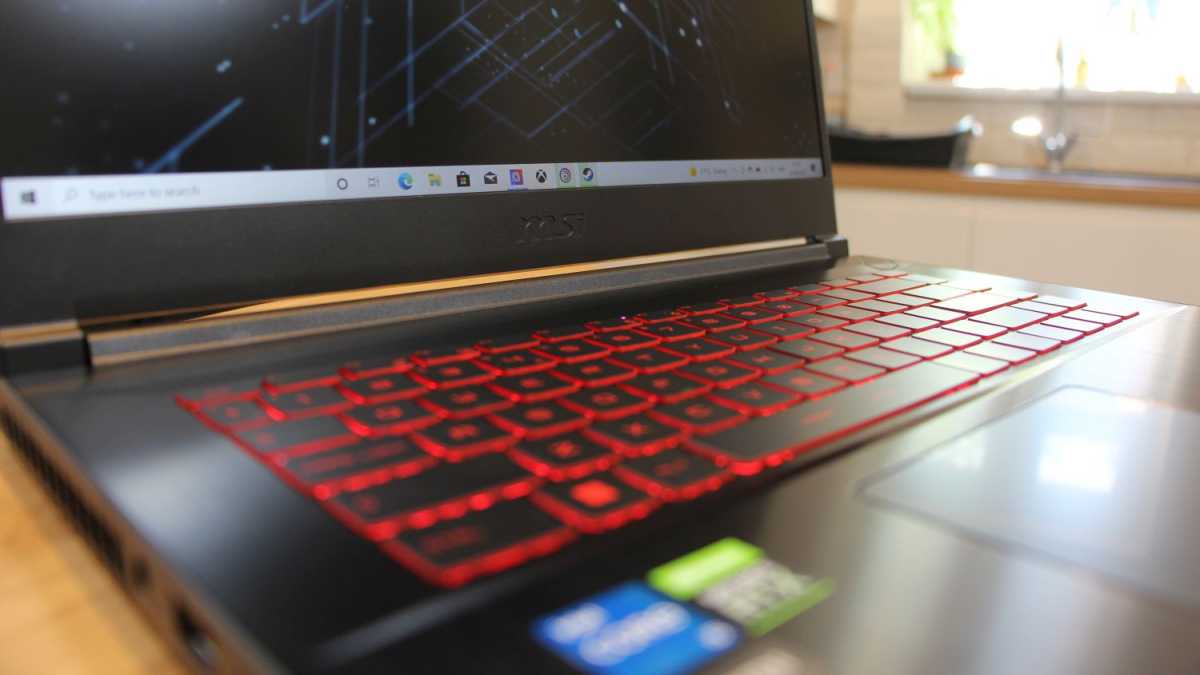 Mike Jennings / Foundy
The GF63 Thin's left-hand edge houses a single full-size USB 3.2 Gen 1 port, and the right-hand side has a USB-C port at the same pace and two more full-size USB connections alongside Gigabit Ethernet. The rear has an HDMI 2.0 socket, and on the inside, there's dual-band Wi-Fi 6 and Bluetooth 5.2. The chassis features conclude with a 720p webcam without Windows Hello support.
There's no card reader or Thunderbolt either but and for everyday gaming that's fine, but other notebooks are more generous. The Asus has two USB-C ports, the Acer has faster USB connectivity, and the Dell has a fingerprint reader and HDMI 2.1.
Keyboard & Trackpad
The keyboard has no numberpad and a single-zone red backlight rather than RGB LEDs. It might not be flashy but testing reveals surprisingly competent hardware. The buttons are fast and reasonably crisp, so they can handle the rigours of mainstream gaming.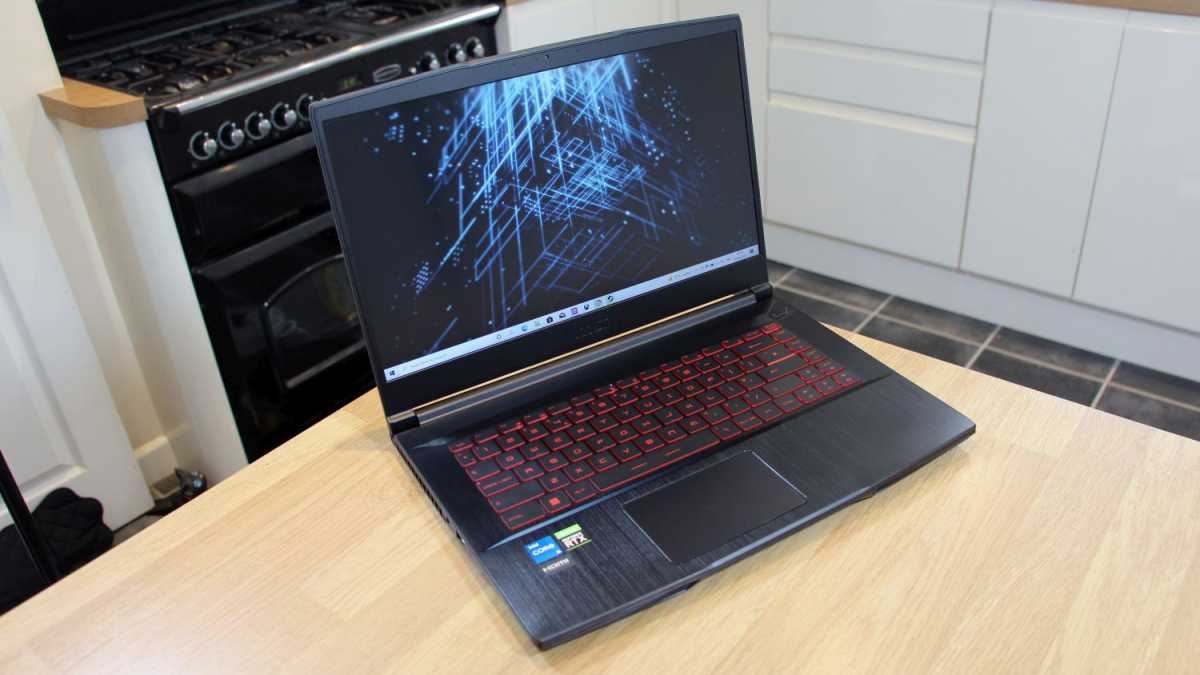 Mike Jennings / Foundy
The Asus has crisper buttons and a numberpad, the Acer's buttons are too soft, and the Dell has RGB LEDs but a hollow action. The MSI easily competes here.
The trackpad has responsive buttons, but it's too small to prove satisfying for gaming. A USB mouse, of course, would transform your gameplay even if you only spend ten pounds or dollars.
Screen & Speakers
Full HD IPS panel
144Hz refresh rate
Poor performance elsewhere
The 15.6in display is an IPS panel with a Full HD resolution and 144Hz refresh rate, which is normal at this end of the market.
Sadly, though, the budget bites when it comes to quality. The maximum brightness of 227 nits is fine for indoor use unless you're in direct sunlight from a nearby window and not good enough for outdoors either. The contrast ratio of 946:1 is average; fine for everyday gaming but not high enough to deliver vibrancy or depth.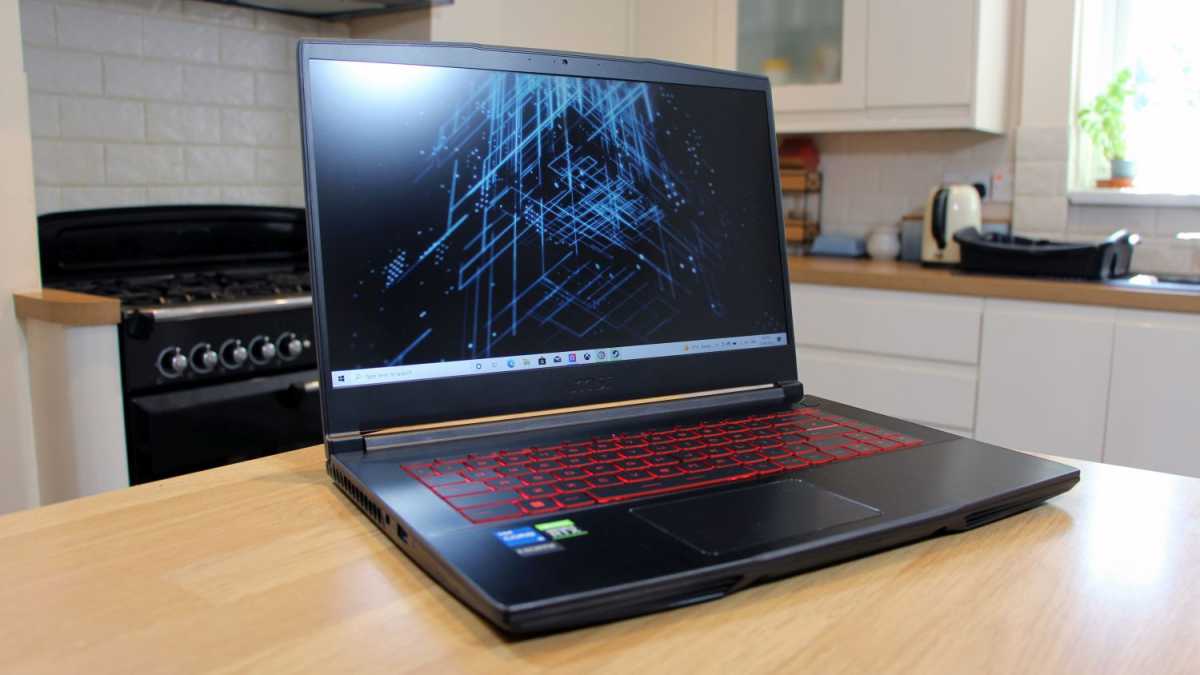 Mike Jennings / Foundy
The panel's delta E of 4.86 is mediocre and the display only rendered 58.1% of the sRGB colour gamut, so this screen won't produce many of the shades needed for vibrant gaming.
This screen can still handle everyday gaming, even if titles look pallid and underwhelming – and it's similar to the Acer. But the Asus and Dell laptops are significantly bolder and brighter.
The speakers, meanwhile, are serviceable; too tinny at the top end and with flat bass, but usable for games in a pinch. That said, a gaming headset will always provide better audio.
Specs & Performance
Intel Core i5
RTX 3050
8GB RAM
512GB SSD
The RTX 3050 is Nvidia's weakest laptop core, and that's reflected in its specification: it only has 2,048 stream processors and 4GB of memory. In the MSI it also has a 40W power limit, which is miles behind its theoretical peak of 80W.
The Core i5-11400H is a generation behind the curve, but it still includes six Hyper-Threaded cores and a top Turbo speed of 4.5GHz which is still decent.
The rest of the specification disappoints. There's a 512GB SSD and its read speed of 2,230MB/s is fine, but its poor write pace of 350MB/s will hinder game installations. And while 8GB of DDR4 memory is the bare minimum for any laptop, its single-channel configuration will slow down performance.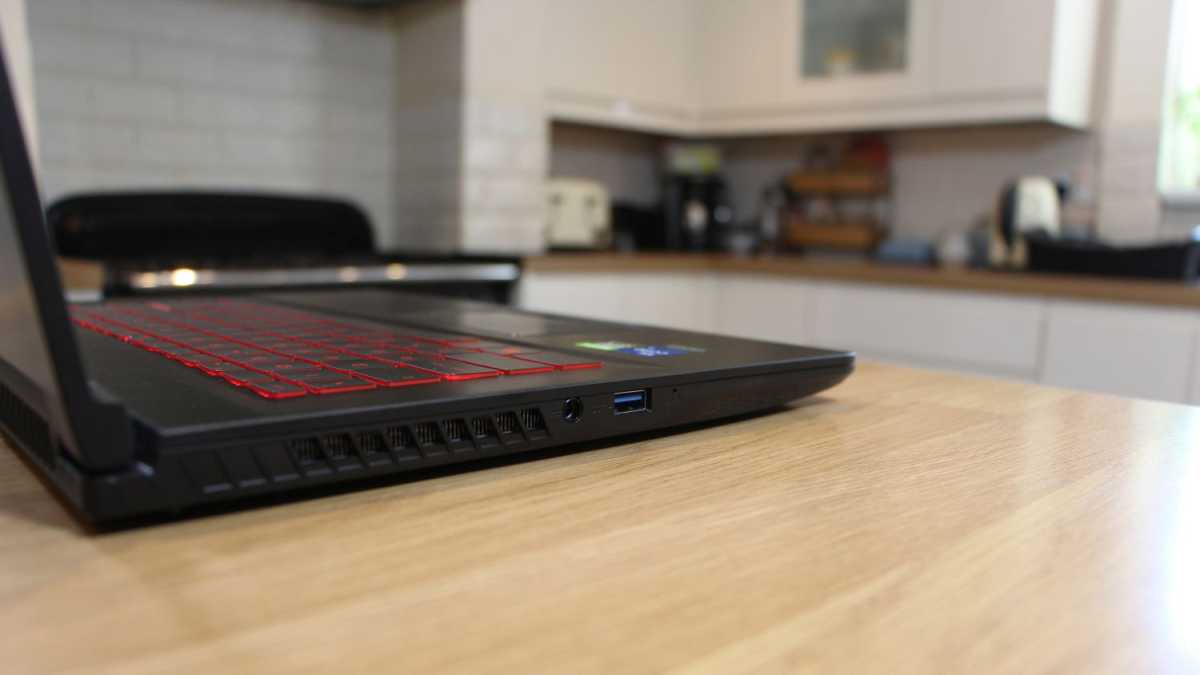 Mike Jennings / Foundy
Unsurprisingly the GF63 Thin was not particularly fast in games. Its best benchmark score came in Rainbow Six Siege, where the GF63 averaged 134fps at Ultra settings, but that's exactly 100 frames behind the Asus and its beefier RTX 3060.
The MSI couldn't play Cyberpunk 2077 at Ultra settings thanks to an average of 24fps, and it ran at 41fps with the settings at Medium. That's playable, but miles behind the competition. It ran Far Cry New Dawn with an Ultra quality average of 55fps, but other notebooks regularly hit 80fps.
It must be said that other laptops mentioned were tested with beefier graphics cards but the GF63's RTX 3050 is not a fast example of this GPU either. It scored 26,661 in the 3DMark Night Raid test, but an RTX 3050 at full power will score beyond 30,000 points. You should expect that pace from the cheapest Dell and Acer laptops, because those rigs run their RTX 3050 GPUs at 80W and 75W.
This leaves the GF63 somewhat limited. It'll play most esports titles at speeds to sate the 144Hz screen, and it'll play today's mainstream single-player titles at mid-range graphics settings. You'll need to spend more on RTX 3060 laptops if you want to max out settings at 1080p.
Moving onto the processor and it isn't particularly quick, either. The MSI's Geekbench 5 multi-core result of 5,366 is just over 1,000 points behind what the chip achieves with dual-channel memory, and it's miles behind the Dell's Core i5-12500H. It's also comfortably slower than the AMD Ryzen 5 6600H and Ryzen 7 6800H parts you'll find in the Asus and Dell laptops.
Mike Jennings / Foundy
If you need a laptop for content creation or tough workloads, you'll want to shop around. That said, the Core i5-11400H will run Office tasks and loads of browser tabs, so it remains an acceptable everyday CPU. The GF63 also has a spare memory slot, so it's easy to upgrade to 16GB of dual-channel memory if you'd like an affordable boost.
On the plus side, it's incredibly quiet, so most of the time you just won't hear it.
For a little extra, MSI sells a more powerful model with a Core i7 and RTX 3050 Ti which could be well worth the upgrade.
The budget bites in the battery department. In a video playback test the MSI lasted just over three hours, it delivered similar longevity in a work test. When playing games it ran out of juice after one hour and 15 minutes. The Asus and Acer were similar here, though, and the Dell was far better if you need to be away from a socket.
Price & Availability
This MSI GF63 Thin model number is 11UC-241UK or 11UC-284CA depending on where you live and it costs £699 in the UK and $899 in the US. If you'd like a performance boost from the GF63, MSI builds a model with the RTX 3050 Ti and Core i7-11800H (11UD-261) that costs £799 and $1,049.
In the US, you can but it from Amazon, Newegg and Adorma. UK buyers can find it at Amazon, Ebuyer, Laptops Direct and Scan.
Those prices compare well to rivals that do admittedly offer more quality in key areas. The cheapest Asus TUF Gaming A15 pairs an RTX 3050 Ti with an AMD Ryzen 6800H processor for $1,079/£1,199. The latest Dell G15 costs $899/£849 for a rig that pairs the RTX 3050 with a newer Core i5-12500H, and you'll have to pay $1,049/£999 for that laptop with the RTX 3050 Ti.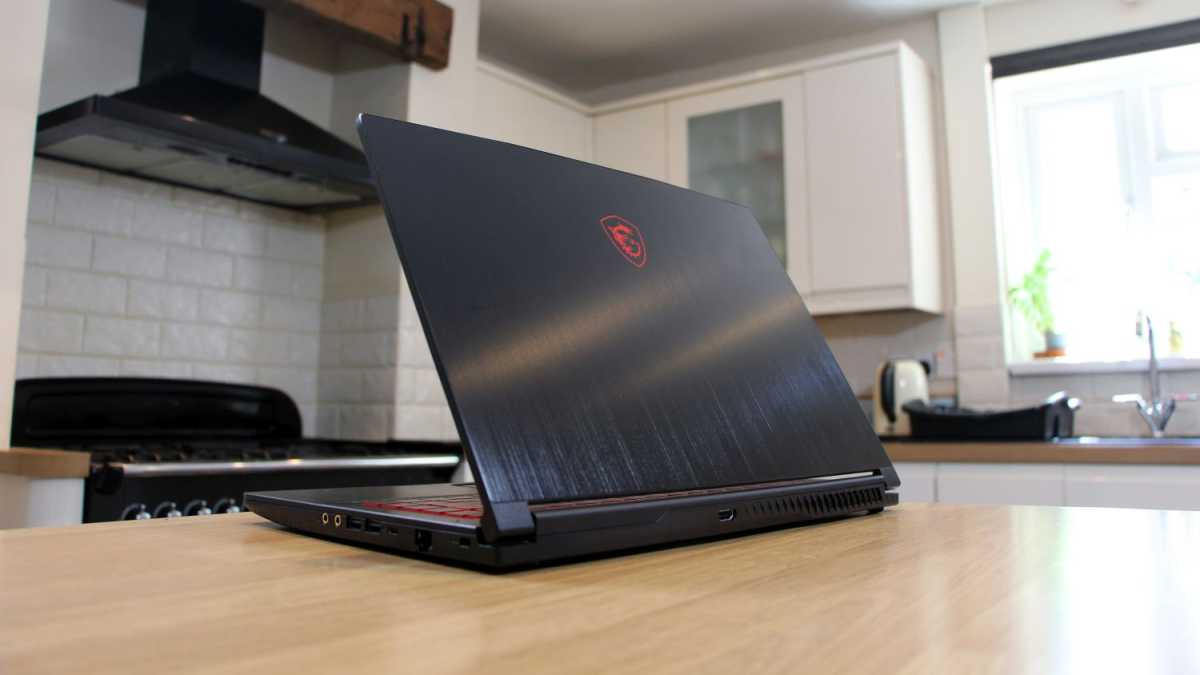 IDG
The only rival with prices that approach the MSI is the Acer Nitro 5. For a Nitro with the RTX 3050 it'll cost you $799/£749, and for the RTX 3050 Ti it's $999/£799.
Check out our chart of the best cheap gaming laptops to see all the top options.
Verdict
The MSI GF63 Thin is about as cheap as gaming laptops get, and for £699/$990 you get an affordable machine that'll tackle some important scenarios. It handles everyday esports and has the processing power for basic computing. The keyboard is decent, and the MSI is slimmer and lighter than any competitor.
Elsewhere, though, the GF63 struggles. Other laptops offer more gaming and processing power. If you're happy to spend a bit extra you'll find bolder, brighter screens, faster USB ports, better battery life and more robust, feature-packed enclosures.
The MSI GF63 Thin is slim, light and tackles modest gaming – and it's extremely cheap. It'll do the job if you're after a budget notebook for a combination of work and play without going far from a power socket. But if you can afford more, certain aspects get a lot better.
Specs
Model tested
OS: Windows 11 Home
Display: 15.6in IPS, 1920 x 1080, 144Hz
CPU: Intel Core i5-11400H
Memory: 8GB onboard
Graphics: Nvidia GeForce RTX 3050 4GB
Storage: 512GB PCIe NVMe M.2 SSD
Webcam: 720p
Connectivity: 1 x USB Type-C, 3 x USB Type-A, HDMI 2.0, combo audio jack.
Networking: Wi-Fi 6, Bluetooth 5.2, Gigabit Ethernet
Battery capacity: 52.4Wh
Dimensions: 14.13 x 10 x 0.85 inches
Measured weight: 1.86kg
Best Prices Today: MSI GF63 Thin (2022)