With end-to-end encryption for your messages – and chat backups – along with security-centric features such as two-step verification and Screen Lock, which requires you to enter your passcode or use a fingerprint (or face) to use the app at all, it's one of the best choices for keeping conversations private.
That's handy, because it's also one of the most popular messaging apps in the world, and it isn't as if you can switch to a different app if no-one else uses it.
And the good news is that three new features are being rolled out right now which add even more privacy.
1. Hide your online status
It's really useful being able to see when someone was 'last seen' and that they're 'online', but not so great if you want to be able to read messages without others knowing that you're using the app.
Soon, though, you'll be able to choose who can see whether you're online. The feature is an update to Last Seen, and is called Last Seen and online.
Tap on Settings > Account > Privacy > Last seen and online.
You'll options like those below. You can change them whenever you like, so you could nip in and set it to Nobody, then change it back to Everyone later on.
Dominik Tomaszewski / Foundry
The only choices for Online status are Everyone or Same as last seen.
This means if there are particular people you want to hide your presence from, pick My contacts except… and then choose which people won't be able to see your status, and be sure to choose Same as last seen under Who can see when I'm online.
Note that if you don't share your last seen / online status, you won't be able to see whether other people are online or when they were last seen either.
2. Leave groups quietly
Groups are a big part of WhatsApp. Chances are you're a member of at least a few. While you can mute notifications from specific groups to avoid distraction, there comes a time when you no longer want to be part of the group.
Previously, leaving a group chat would notify everyone in the group that you'd left. But now, when you tap on the group info (the name of the group at the top of the screen), scroll down and tap Exit Group, you'll see a message that only the group admins will be notified of your leaving.
WhatsApp
If you don't want them to know, you can simply archive the chat. To do that on an iPhone, simply swipe left on the group in the list of conversations.
On Android, tap and hold on the group chat in that same list and archive it.
You can unarchive a chat whenever you like: the feature doesn't delete the chat, it simply hides it so you don't see it or get any notifications when people post anything new.
3. Block screenshots
Another helpful privacy feature is the ability to tag a photo or video as View Once. The recipient can only look at the media once, and then it's gone.
This is ideal for sending sensitive information such as passwords, passcodes and bank details. But there was nothing to prevent the recipient from taking a screenshot and keeping the message as long as they wanted.
A brand new feature which is still being tested is screenshot blocking. You won't have to enable any settings to use this: just mark the image or video as View Once, and WhatsApp should prevent the recipient from taking a screenshot – and displaying a message telling them they can't save it.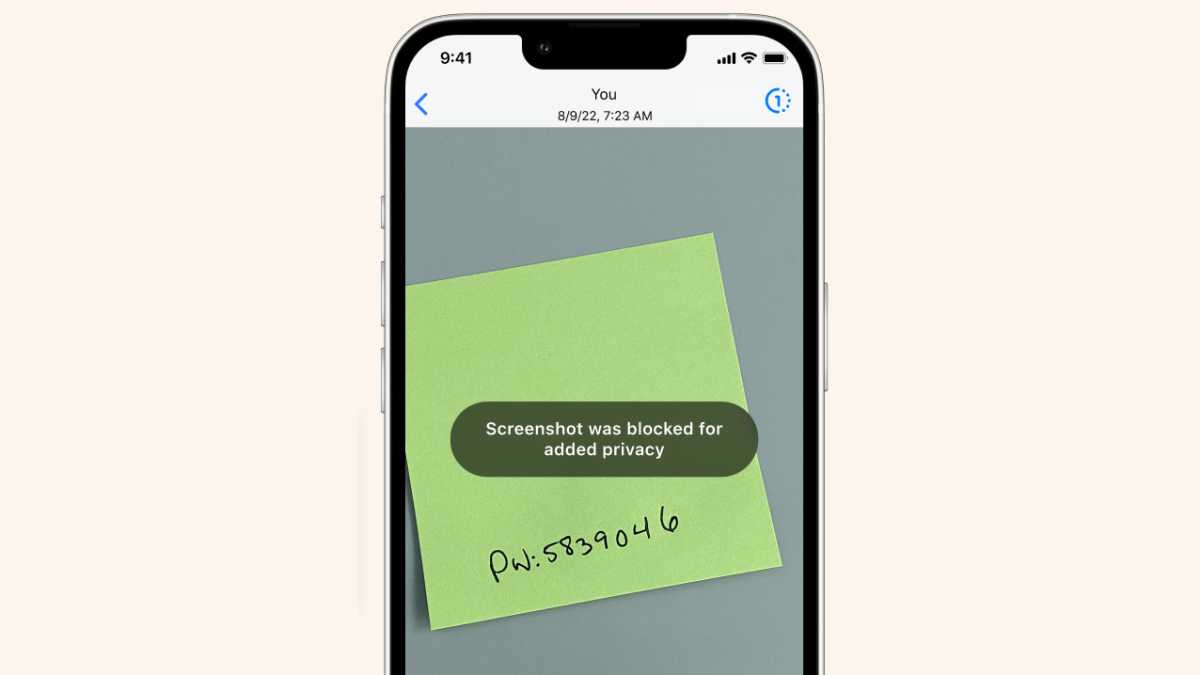 WhatsApp
Of course, even this isn't a guarantee of privacy: they could still use another phone or camera to take a photo of the View Once image. But it's a welcome additional layer of privacy nonetheless.
Related stories