At a glance
Expert's Rating
Pros
Lightest 5G smartphone on the market
Gorgeous 6.5in 144Hz AMOLED display
Great performance
Cons
All-plastic build
Middling battery life & fast charging
Only 2 years of OS updates
Our Verdict
The Motorola Edge 30 has tough competition in the UK, but the lightweight design, premium look, stunning display and decent performance could be enough to tempt consumers – as long as they look past the all-plastic build, slow charging and limited OS upgrades.
The Motorola Edge 30 has tough competition in the UK, coming in at a near-identical price to big hitters like the OnePlus Nord 2, Google Pixel 6a and, most recently, the Nothing Phone (1).
Offering a stylish design with a 144Hz AMOLED display, decent performance and a lightweight build unmatched by most of the competition, the Motorola Edge 30 certainly has potential – it just depends on what's most important for you.
Design & build
Premium design
All-plastic build
Feels incredibly light in the hand
The Motorola Edge 30 is the world's thinnest 5G smartphone, and its lightweight nature is immediately apparent in hand.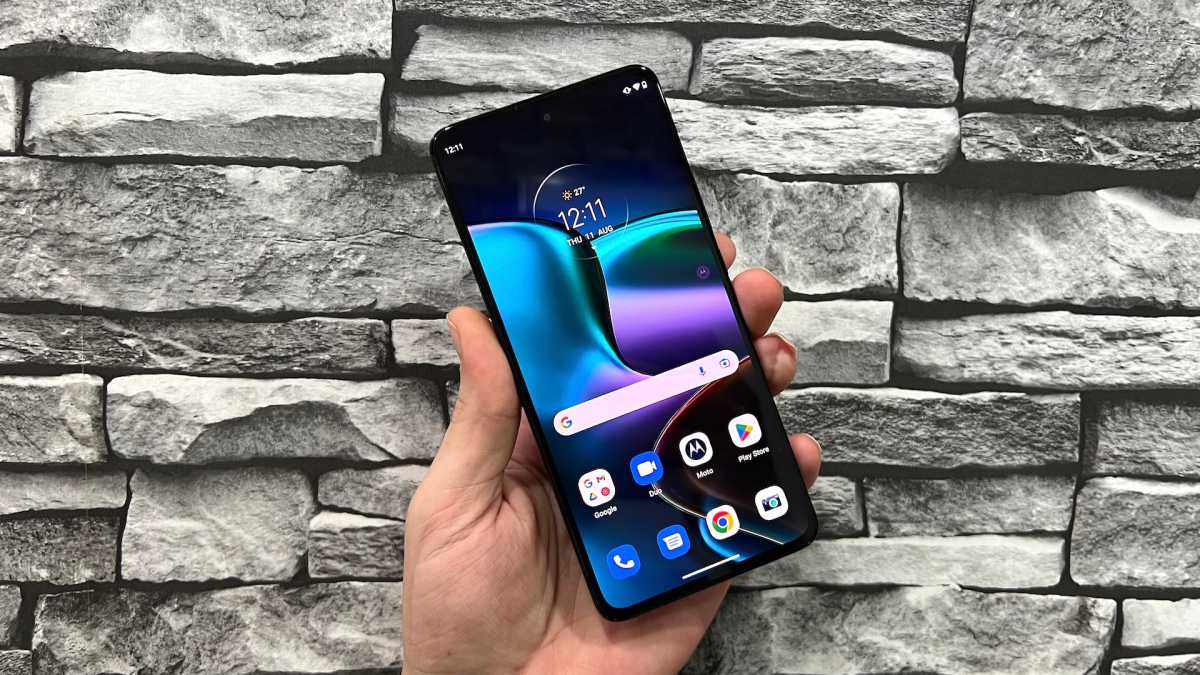 Lewis Painter / Foundry
Measuring in at just 6.79mm thick (discounting the ever-so-slightly thicker camera bump) and an equally lightweight 155g, the Motorola Edge 30 is a refreshing change to big, bulky phones like the iPhone 13 Pro Max and Samsung Galaxy S22 Ultra. It almost feels too light, as if it's free of internals, and that's something you don't see (or should that be feel?) too often these days.
It's not just a lightweight phone either; it looks like a premium bit of kit, with a two-tone frosted rear that catches the light in a pleasing way and a triple camera island sporting a unique triangular pattern within. It's available in three finishes too; Meteor Grey (photographed here), Aurora Green and Supermoon Silver.
Of course, there is a downside to its lightweight nature, and that's the choice of materials that Motorola utilised.
It's entirely plastic in design, from the frosted back panel to the frame, which can diminish the otherwise premium look on offer from the phone. It will fare better against shattering than glass alternatives, but it'll also scratch way more easily, so it'll probably be worth making use of the transparent cover bundled in the box.
Buttons for power and volume control are both found on the right side of the phone, with a combined volume button that feels a little cheap compared to its split brethren. The bottom of the phone houses the USB-C port, along with a SIM card tray and a speaker.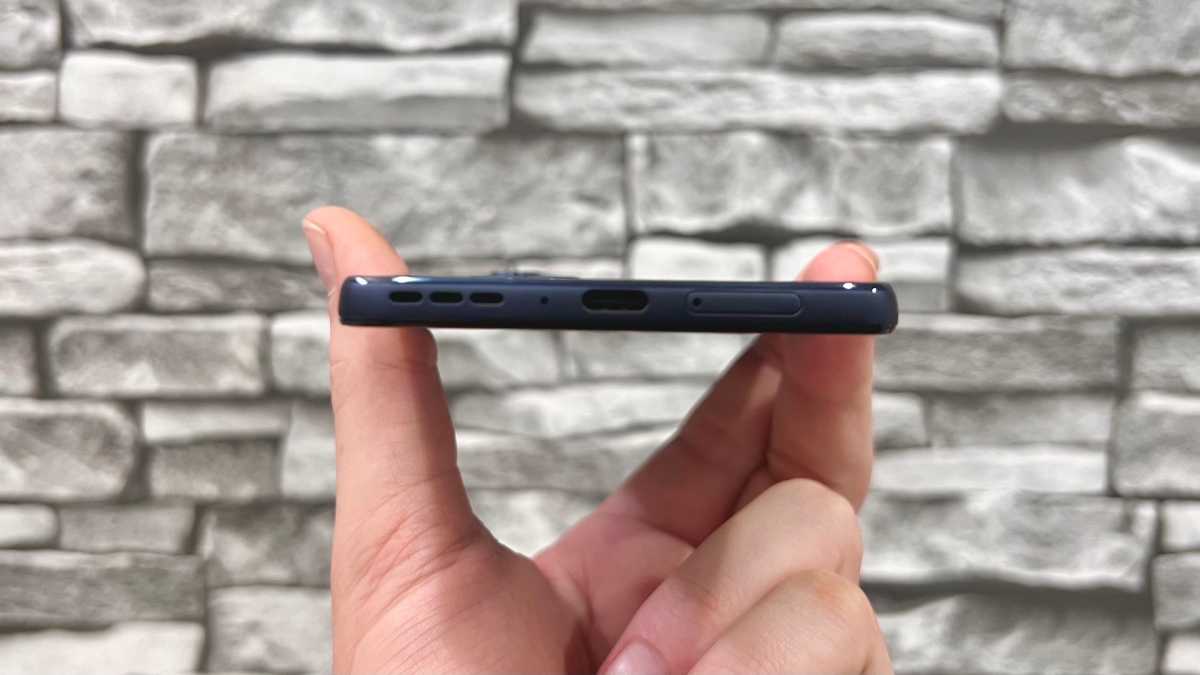 Lewis Painter / Foundry
There is water resistance rated at IP52 which should protect it from light rain, but I wouldn't recommend submerging the Edge 30 in water for any period of time.
Display
Gorgeous 6.5in AMOLED display
Super-smooth 144Hz refresh rate
Refresh rate isn't adaptive
The 6.5in AMOLED display is a strong point of the Motorola Edge 30. It's not only relatively high resolution (2400 x 1080) with a pixel density of 405ppi – beating the Edge 30 Pro due to a slightly smaller display size – but it offers a buttery smooth 144Hz refresh rate.
Though the 144Hz refresh rate is synonymous with gamers, it brings benefits to general smartphone use. Animations feel fluid and responsive, and swiping through media-heavy apps feels light and breezy. It helps it feel faster than it actually is in many respects.
The refresh rate isn't adaptive, which means it'll take more of a hit on battery life than premium alternatives as it'll constantly be stuck at the top refresh rate (unless changed in the Settings menu) but that's common amongst mid-rangers at this price point.
Lewis Painter / Foundry
There's also HDR10 support, which combined with the high resolution and smooth refresh rate make the phone ideal for watching video content, be it Hollywood blockbusters on Netflix or the latest trending TikTok video.
Content is bright, detailed and vivid while not going too­ far on the contrast as some smartphones tend to do. It's also plenty bright, with a maximum brightness of 486cd/m2 in benchmark tests that's easy to view when outside in bright sunshine.
The bezels aren't noticeably thick, and even with a centrally placed teardrop camera cutout, it doesn't detract from the overall experience.
There's also a fingerprint scanner embedded within the display that, though not as large as some, works surprisingly well, with very few misreads during tests.
Cameras
50Mp rear camera is impressive
Decent night-time shots
Ultrawide is comparatively soft
Aside from the display, the camera setup is the highlight of the Motorola Edge 30. While not quite as advanced as its Pro sibling's offering, the combination of a 50Mp main, a 50Mp 114-degree ultra-wide and 2Mp depth camera (that doubles up as a macro lens) offer a versatile shooting experience.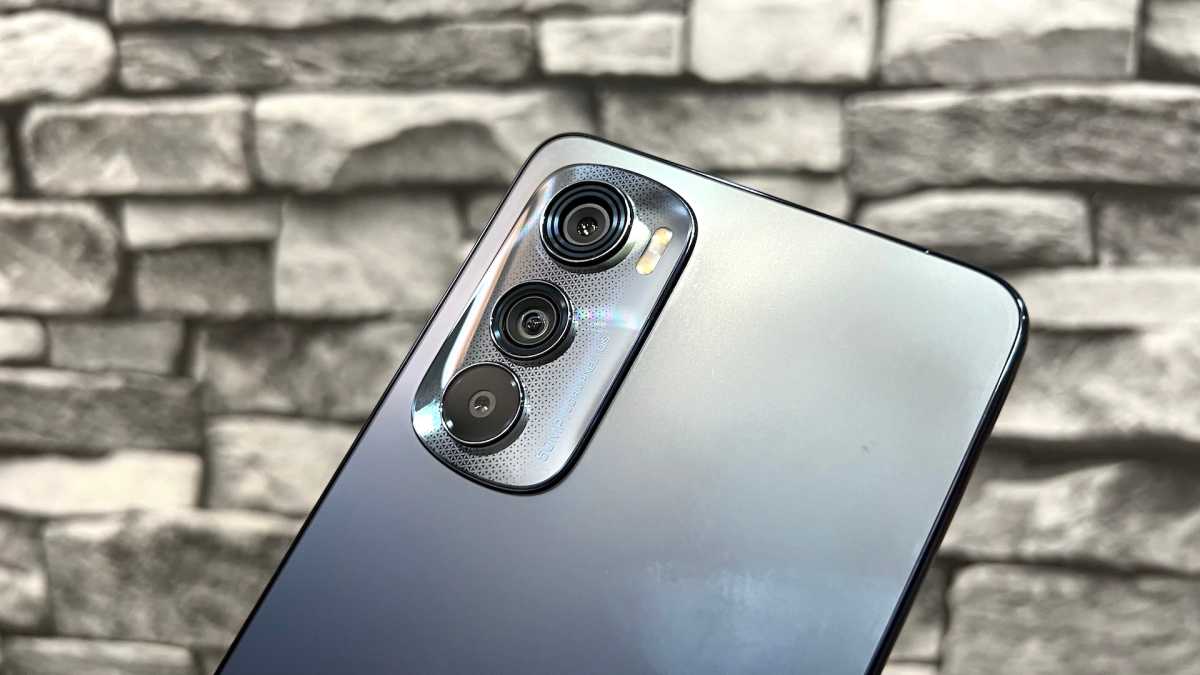 Lewis Painter / Foundry
The main 50Mp snapper is what most people will use, delivering the best shots possible from the phone – even compared to the ultrawide with the same megapixel count.
In well-lit environments, the 50Mp sensor captures great detail and plenty of sharpness, thanks in part to the 4-in-1 pixel binning tech that reduces the 50Mp shot down to a more detailed 12.5Mp shot. Colours are vibrant without being too contrast-heavy, generally delivering shots perfect for sharing on social media.
The only downside to the main lens is the dynamic range, with parts of images blown out on particularly sunny days even with HDR enabled.
The combination of an f/1.8 aperture and OIS means low-light photography is decent for the money, but zooming in reveals an over-aggressive noise reduction filter that leaves photos looking a little soft in places compared to those delivered by the likes of the Pixel 6a.
It's a similar story with the upgraded ultrawide lens; it works well in well-lit environments, though with a little less overall detail than the main lens, however the f.2.2 aperture and EIS mean it's not quite as performant in low light conditions.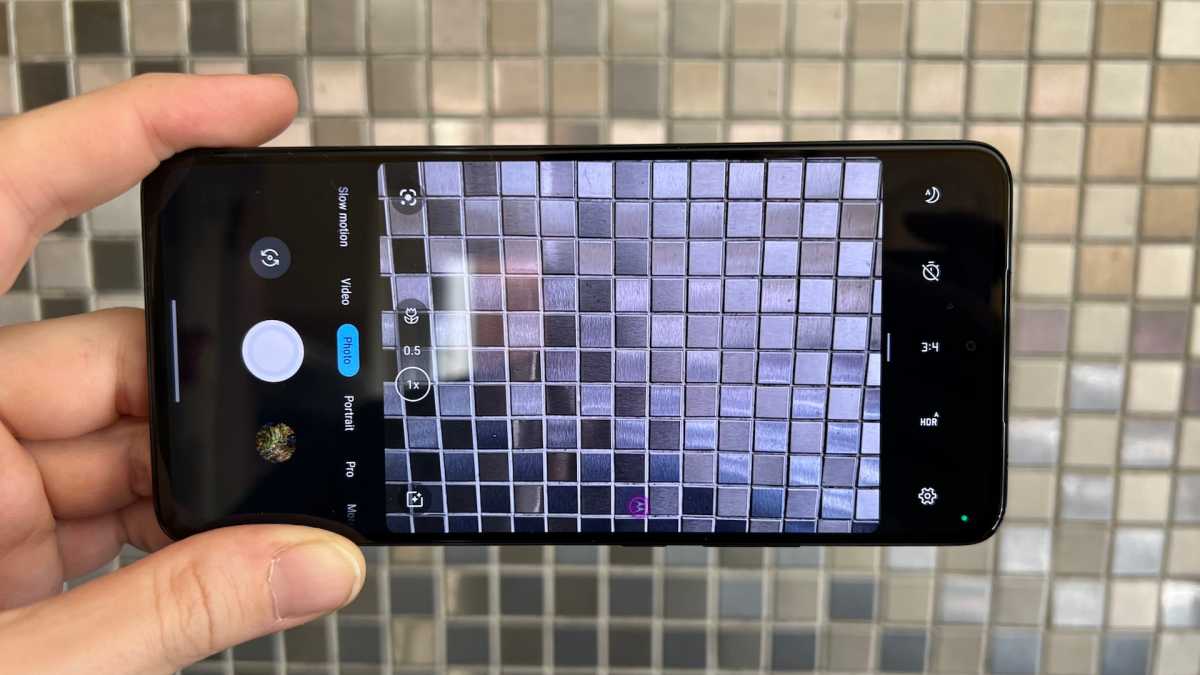 Lewis Painter / Foundry
The less said about the 2Mp depth sensor/macro lens the better; it's there, it allows for extreme close-up shots, but the quality is relatively poor and, more than likely, it's just there to bump up the camera count.
Selfies taken by the 32Mp main snapper are generally detailed and vibrant, but with the caveat that even minor phone shakes can blur images captured, so there is sometimes a bit of trial-and-error before you capture the perfect shot. Stability issues aside, the camera is ideal for video calls and quick snaps.
Features & performance
Snapdragon 778G+ feels responsive
Decent performance
Top-end connectivity options
At the heart of the Motorola Edge 30 you'll find a Qualcomm Snapdragon 778G+ chipset, paired with 8GB of RAM and 128- or 256GB of non-expandable storage. It's nice to not have to opt for the higher storage model to get as much RAM as possible, especially at the mid-range level.
Yes, it's lacking compared to the flagship-level processors found in the likes of the Google Pixel 6a and iPhone SE, but performance is still solid for a phone at this price point.
As such, the Motorola Edge 30 won't be taking on the flagship competition anytime soon, but it can hold its own compared to similarly priced smartphones like the OnePlus Nord 2T and the Nothing Phone (1) as seen in our benchmarks below.
In real-world use, the Motorola Edge 30 feels responsive in use – thanks in part to the smooth 144Hz refresh rate – with no real lag when opening apps, taking photos and scrolling through my Twitter timeline.
Sure, mobile gamers might be left wanting more, but there are plenty of affordable gaming phones if sheer performance is what you're after.
Chipset aside, you can look forward to 5G connectivity, support for the latest Wi-Fi 6E, and Bluetooth 5.2 with atpX Lossless support.
Battery life
4020mAh battery
Can last all day, even with a high refresh rate
33W TurboPower charging
The combination of a large 6.5in 144Hz AMOLED display and a rather standard 4020mAh battery might suggest middling battery life, but the Edge 30 comes through trumps.
Even with the 144Hz adaptive refresh rate enabled, I found I could comfortably scroll through Instagram, send texts and watch TikToks without having to worry about battery life too much.
It'd reach around 30% by the end of the day, which doesn't quite give it enough juice to see a second day through, but most of us are in the habit of charging our phones daily at this point anyway. More power-hungry users (and gamers) may see a difference in overall battery life though.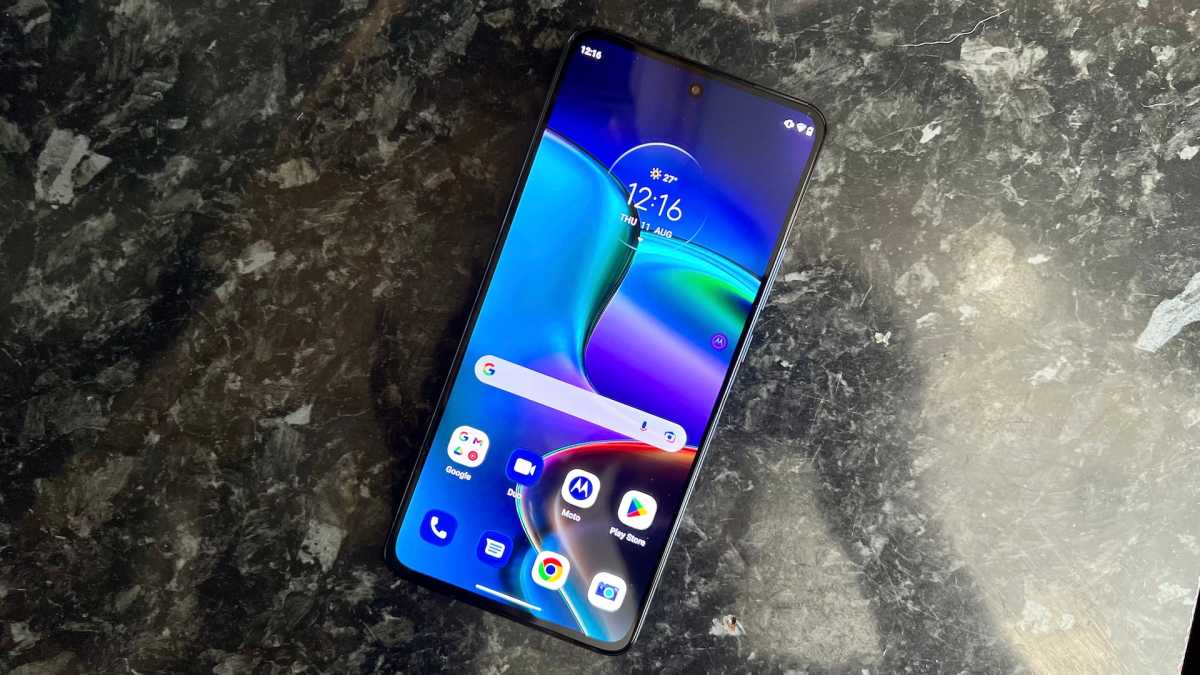 Lewis Painter / Foundry
There is TurboPower fast charging to speed up the process, supporting up to 33W, and unlike a growing number of smartphones in 2022, it comes with the fast charger in the box. The bundled charger provided 61% charge in 30 minutes during testing, with a full charge taking just over an hour.
While that's not quite as fast as the likes of the OnePlus Nord 2T and its 80W fast charging, it'll still be noticeable in use.
Software & updates
Android 12 with near-stock UI
Moto gestures are genuinely helpful
Only two OS upgrades
If there's one consistent element among Motorola's smartphones, it's the company's clean, near-stock approach to Android – and the Edge 30 is no different. The smartphone comes with a near-stock version of Android 12, with only a handful of tweaks.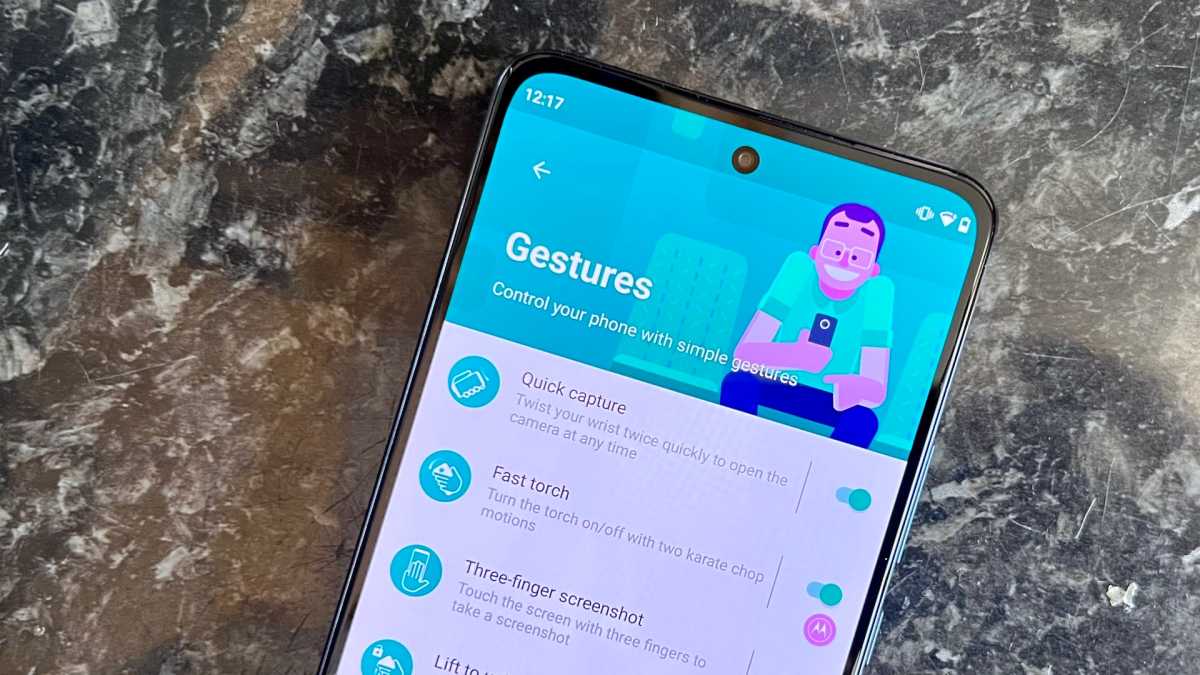 Lewis Painter / Foundry
The most popular will no doubt be its gesture-activated actions, allowing you to do things like double-twist the phone to switch between selfie and rear cameras and double shake to turn on the torch. It's one of few software enhancements on Android from manufacturers that I find myself using regularly.
Motorola has committed to at least two OS upgrades – taking you through to Android 14 – and three years of bi-monthly security updates. That's a step in the right direction, but it still can't quite compete with the three-year promise from similarly priced phones like the Nothing Phone (1) and Google Pixel 6a.
Price
Coming in at £379, the Motorola Edge 30 has stiff competition from the likes of the £369 OnePlus Nord 2T and £399 Nothing Phone (1), each of which has pros and cons.
The Nord 2T has exceptionally fast 80W charging at the cost of a 90Hz refresh rate, while the Nothing Phone (1)'s cool design makes up for its average performance. The Motorola Edge 30 has the benefit of a large 144Hz AMOLED display and a decent camera setup at the cost of an all-plastic build – it's just down to what's most important to you.
If you are tempted by the Motorola Edge 30, you can pick it up from Motorola directly alongside retailers including Currys and Carphone Warehouse in the UK. It isn't available in the US, though the more powerful Motorola Edge 30 Pro is.
Verdict
The Motorola Edge 30 has stiff competition in the UK, coming in at an almost-identical price to the OnePlus Nord 2T and the Nothing Phone (1) – but there's a lot to like about Motorola's latest mid-ranger.
It boasts a premium design with a frosted rear that looks great, and it's the lightest 5G phone around – something immediately noticeable in the hand.
The 6.5in AMOLED display is crisp and detailed, and the 144Hz refresh rate makes things feel smoother and more responsive, though without an adaptive resolution there is a hit to overall battery life.
The camera setup is also decent for the money, with the main 50Mp snapper able to capture detailed, well-lit shots in both light and dark environments, but the dynamic range leaves something to be desired. The 50Mp ultrawide is also a nice touch for scenic shots.
Battery life is middling at just over 4,000mAh, but it can still last all day with average use – though heavy users and gamers may need a top-up to get through to the end of the day. 33W charging helps, but it's a far cry from the exceptionally fast charging of the Nord 2T.
Essentially, it comes down to what's best for your needs; if you prioritise design and display, the Motorola X30 Pro is a great choice. But, if things like performance, battery life and fast charging capabilities are what's most important, there are better mid-range phones available.
Specs
159.4 x 74.2 x 6.79mm
155g
IP52 water resistance
Plastic body
5in 144Hz AMOLED display (10-bit, HDR10+)
Under-display fingerprint reader
Qualcomm Snapdragon 778 5G with 8GB RAM
128/256GB storage
5G connectivity
Wi-Fi 6E
Bluetooth 5.2 with aptX Lossless support
Rear cameras: Main wide 50Mp (OIS, all-pixel focus, f/1.8). 50Mp ultrawide (114-degrees, f/2.2), 2Mp depth camera
Front camera: 32Mp, f/2.4
HDR10+ Video Recording
Up to 4K@30fps
4020mAh battery
33W TurboPower charging (included)
Android 12 with 2 OS upgrades and three years of security updates
Lenovo ThinkShield for Mobile support
Available in Meteor Grey, Aurora Green & Supermoon Silver