Microsoft has shifted its attention to Windows 11 in the last year, although the company hasn't forgotten about Windows 10 entirely. The upcoming 22H2 update will apparently include a "scoped set of new features", but you don't have to wait until it arrives for an update that's worth installing.
Version KB5016616 has been released as Windows 10's monthly security update for August, but it has a surprise up its sleeve. Not only is there a genuinely new feature, it's something you'll probably want to use on a regular basis. Microsoft's "Focus Assist" tool can already block notifications while you need to get work done, but it can now be set to allow specific "important" alerts to still reach you.
This is undoubtedly a subtle change, but it could have a significant effect on productivity. You may be reluctant to use Focus Assist for fear of missing out on something important, especially if you usually allow notifications from many different apps. This can lead to a distracted and sometimes chaotic workflow, but allowing only specific alerts to make it through means you can be sure anything else can wait. There's no need to manually set a priority list, as was the case previously.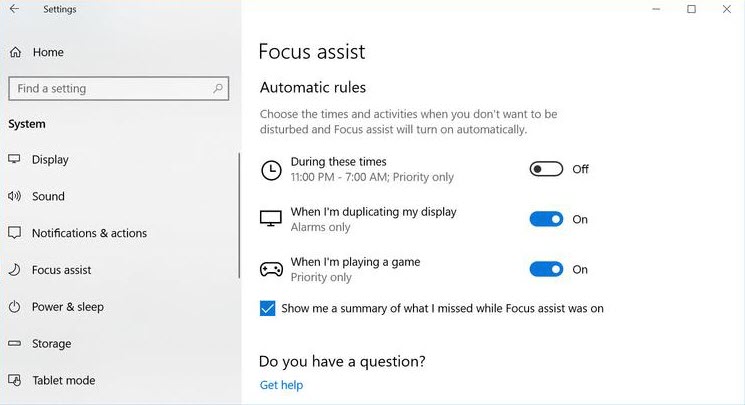 Jim Martin / Foundry
The KB5016616 update technically includes another new feature, but the return of support for "Windows Autopilot" is only relevant to enterprise customers.
As a security update, it's no surprise to see bug fixes and improvements. But there are more than usual in the August patch, some of which may affect you. These include problems connecting to the internet when you have a docking station connected and Windows Troubleshooter not working across several stock apps. The following are also included in version KB5016616:
Reducing the overhead of resource contention in high input/output operations per second (IOPS), which should fix some performance issues
Improving the OS upgrade experience, including "push-button reset" feature
Fixed an issue that restricts event logging channels and removes EN-US language pack
The "remove-Item cmdlet" and it will now interact with Microsoft OneDrive folders
System will now additional audio endpoint information.
Fixed an issue that might cause consecutive video clip playback to fail in games that use DX12
Fixed an issue that crashes Windows when the feature "Windows Defender Application Control" is turned on and Intelligent Security Graph is also enabled
Fixed an issue with the Windows profile service failing sporadically
If you're suffering from any of these problems, installing the KB5016616 update is highly recommended. As usual, simply head to Settings > Update & Security > Windows Update and click 'Check for updates'. Alternatively, it can be downloaded manually via Microsoft's Update Catalog.
There will be more new features in the 22H2 update – some of which are hidden in the current version. But will they be of any relevance to consumers? Chances are, the answer will be no. Still, with Windows 10 still supported until October 2025 and no reason for many people to get Windows 11 yet, keeping your device up to date should be a top priority.
Related articles you may like