Google Docs, as you probably know already, is fantastic. Not only is it a free alternative to Microsoft's Office suite, but it's also integrated tightly with Google Drive, which is also far more user friendly than the competition from Dropbox and OneDrive.
Docs may not match Office for every last feature, but it still has a wide range of tools beyond the basics that make your life easier. And there's one in particular that can speed up your typing and save your fingers in the process. It's one of Google Docs' best kept secrets: voice typing.
As the name suggests, voice typing is dictation software that's built into Google Docs. Not only does it allow you to dictate content directly into a document, it also has an array of voice commands to help you to create and edit text.
This can be an incredibly useful tool if, for example, you're not a particularly fast typist; you need to to transcribe text from an audio conversation or, like me, suffer from RSI and struggle to type at all from time to time. In fact, due to my condition I've tried all of the most popular voice dictation offerings – Dragon Dictate, Microsoft Office, Apple's Siri etc. – but always keep coming back to Google's services (both Assistant and voice typing), as it just seems the easiest to use and manages to understand what I say with a high degree of accuracy.
The best part is that it is completely free and works on pretty much any device that runs Google Docs, including PCs, Macs, phones, Chromebooks and tablets.
How do I use voice typing in Google Docs?
It's very easy to dictate in Docs. All you need to do is open a document in Google Docs, click the Tools option in the menu bar and from the drop-down list that appears, select Voice typing.
Foundry
You'll now see a box appear with a microphone icon inside. This is the control for turning voice typing on or off. Just above the microphone there's also a drop down menu from which you can select the language you want to use. There are plenty of them, but voice commands (such as the various editing tools) are only supported in English.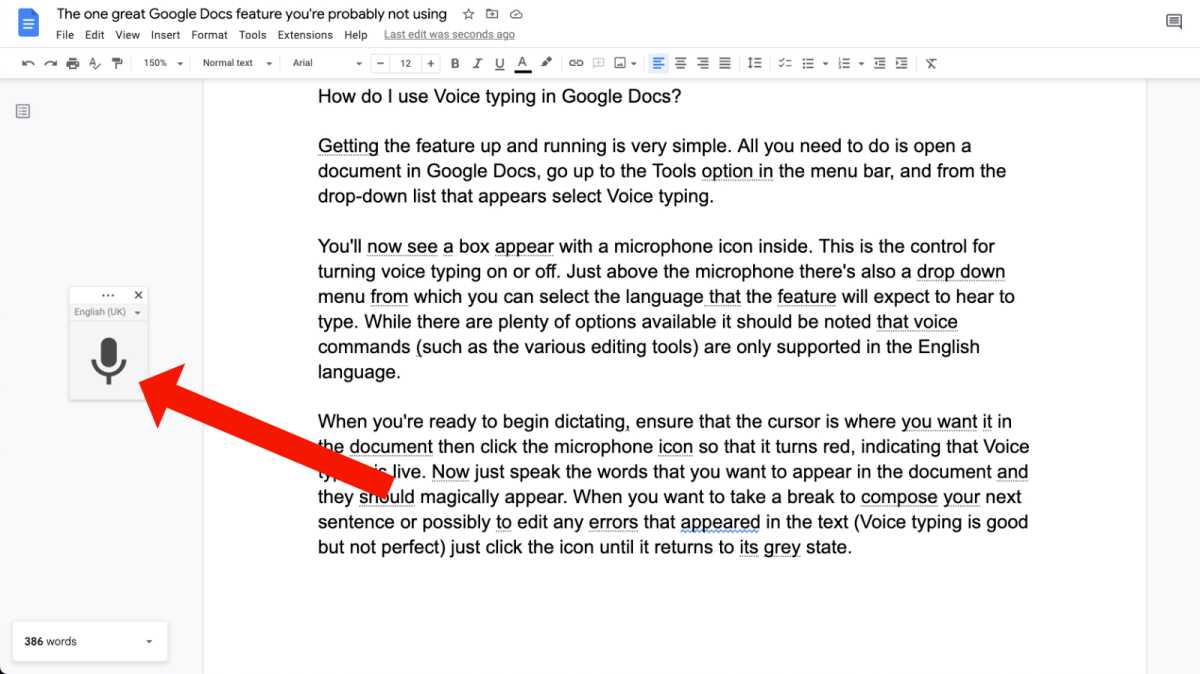 Foundry
Voice typing will use the microphone built-into your device, but you can also plug in external microphones, which could improve the accuracy, especially if you're in a noisy environment.
When you're ready to begin dictating, ensure that the cursor is where you want it in the document then click the microphone icon so that it turns red, indicating that voice typing is live.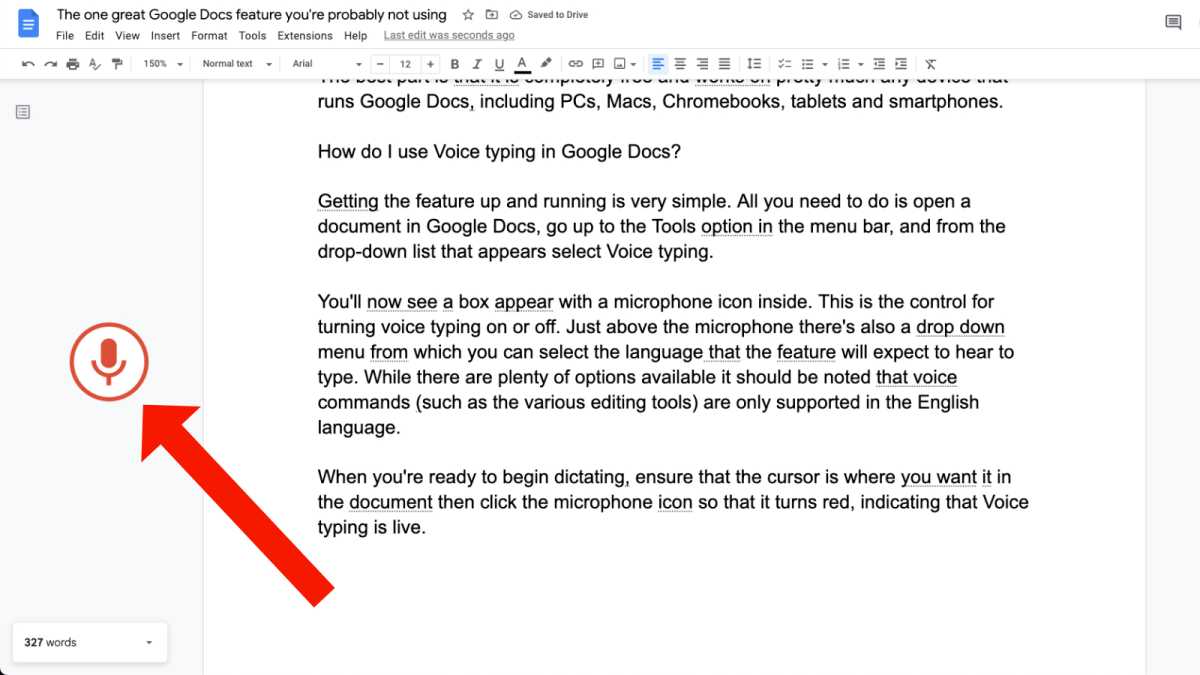 Foundry
Now, speak the words that you want to appear in the document and they should appear in the document. When you want to take a break to compose your next sentence, or possibly edit any errors that appeared, just click the icon so it returns to its grey (not recording) state.
Punctuation
Obviously, as well as plain words, your document will need punctuation. You can speak this as well, and here are some of the most common and useful commands.
While dictating you can say comma, question mark, colon, exclamation mark, period (or full stop for those in the UK) and pretty much any other standard punctuation command that you might expect.
Here are the punctuation commands available in voice typing:
Period / full stop
Comma
Question mark
Exclamation mark
New line
New paragraph
Colon
Semicolon
Open/close bracket
Open/close quotation mark
Open/close single quotation
Hyphen
Dash
Em-dash
At sign
Hashtag
Forward slash
Backslash
Underscore
Ampersand
Asterisk
Ellipsis
Open/close square bracket
Open/close curly braces
Edit text with voice typing
If you want to edit what you just dictated, or simply change or fix an existing document, then there are a number of commands you can use to do so. The 'select' command is a powerful one that lets you highlight specific words, phrases or even entire paragraphs.
Let's say you have incorrectly spelled a word and want to quickly change it. Click on the microphone icon so it turns red, then say 'Select [word]' then either type or say the word again to change it. The same is true for moving text around. If you want to move a paragraph, just place the cursor in that block of text, say 'select paragraph' then you can use the copy or cut commands (just as you would normally with typing), move the cursor to where you want the text to go, then say 'paste paragraph'.
Foundry
You can use various formatting commands in the same way, such as Bold, Italicise, Underline, and even adjust the text size, font or colour.
It can take a little getting used to, but once you're accustomed to interacting with voice typing it can be a very quick and easy way to work with documents. The feature is also available in Google Slides, so you can put together presentations without needing to rely on your typing.
You can find a complete list of the features and commands on the official Google Voice Typing page.
Related stories
Google Docs tips everyone should know
Useful add-ons for Google Docs