At a glance
Expert's Rating
Pros
Very affordable for Wi-Fi 6
Compact units
Decent speeds for the price
Cons
Set up problems
Eagle Pro AI Android app needs work
No support for wired backhaul
Our Verdict
The D-Link M15 mesh Wi-Fi system is one of the most cost-effective whole-home Wi-Fi solutions currently available, but it's not without its drawbacks. The Android app is prone to crashing and it's not the easiest system to set up. Hopefully future firmware updates will iron out these kinks, but for now it's something of a mixed (if inexpensive) bag.
The D-Link M15 Eagle Pro AI is the latest entry-level mesh Wi-Fi system designed to give people solid whole-home coverage for less. It's a Wi-Fi 6 AX1500 system, which means that most modern phones, laptops, and tablets will be able to get adequate speeds from this on the 5GHz band – but it's by no means the fastest option out there.
With Wi-Fi 6 fast becoming the standard for home networks, it's about time that we started seeing cheaper devices hitting the shelves, and the D-Link M15 is very competitively priced.
The three-pack – which I was sent for this review – is priced at $119.99 / £179, and promises up to 500 square metres of coverage.
Smaller homes with less demanding requirements can likely get away with a 2-pack, which is priced at $99 / £120, and promises 370 square metres of coverage.
The M15 is one of three products in the Eagle Pro ecosystem, the others being the R15 router (surprisingly affordable itself) and E15 extender: now you know what the M stands for.
You don't need either of the other two for the M15 to work: it will happily replace the Wi-Fi of any old router, but if you do buy (or have) an R15 router, reviewed, that will act as one mesh unit and the M15 will simply add to it as if it were another node in the network. This might mean you need only the two-pack rather than the three-pack but, conversely, you'll get even more coverage if you pair a three-pack with an R15.
There's a lot on offer here, and all for some very attractive prices. Let's see if D-Link's M15 Eagle is a bargain or not.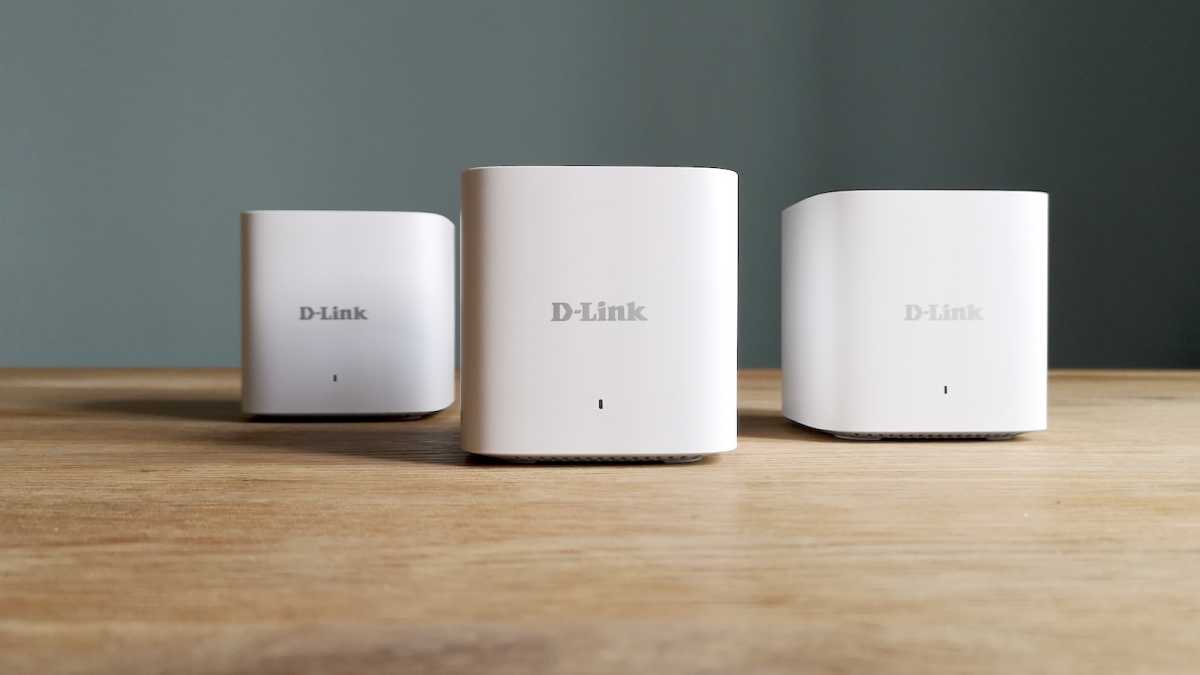 Thomas Newton / Foundry
Design & Build
Units measure 92 x 92 x 93mm
Two Ethernet ports (one WAN, one LAN) per device
Very similar to the D-Link Covr X1862 hardware
The D-Link M15 units are tiny little cuboids that will sit unobtrusively in the corner and quietly get on with the job of piping Wi-Fi around the home.
Unlike some networking gear where the primary router is crowned with moveable antennas, the D-Link M15 units keep their aerials tucked away, much like the Amazon Eero 6 and the Tenda Nova MW12 units. There's a sole status LED on the front of each unit, above the D-Link logo.
In terms of physical connections, there are two Gigabit Ethernet ports on each unit, one WAN (marked 'Internet') and one LAN (marked 'Ethernet'). Both can be used for connecting wired devices, but not for connecting the units to each other so that they can use wired backhaul instead of using Wi-Fi.
There's a button for WPS pairing, a pinhole reset cavity, a port for the mains adapter, and that's it. There are no USB ports on any of the devices, but that's fairly common for mesh Wi-Fi systems.
The devices are virtually identical to look at, all boasting the same design and dimensions. While one of the devices is set up to act as the primary node, it's only differentiated from the others by featuring an orange '1' sticker on the top, which you can discard once you've finished setting everything up.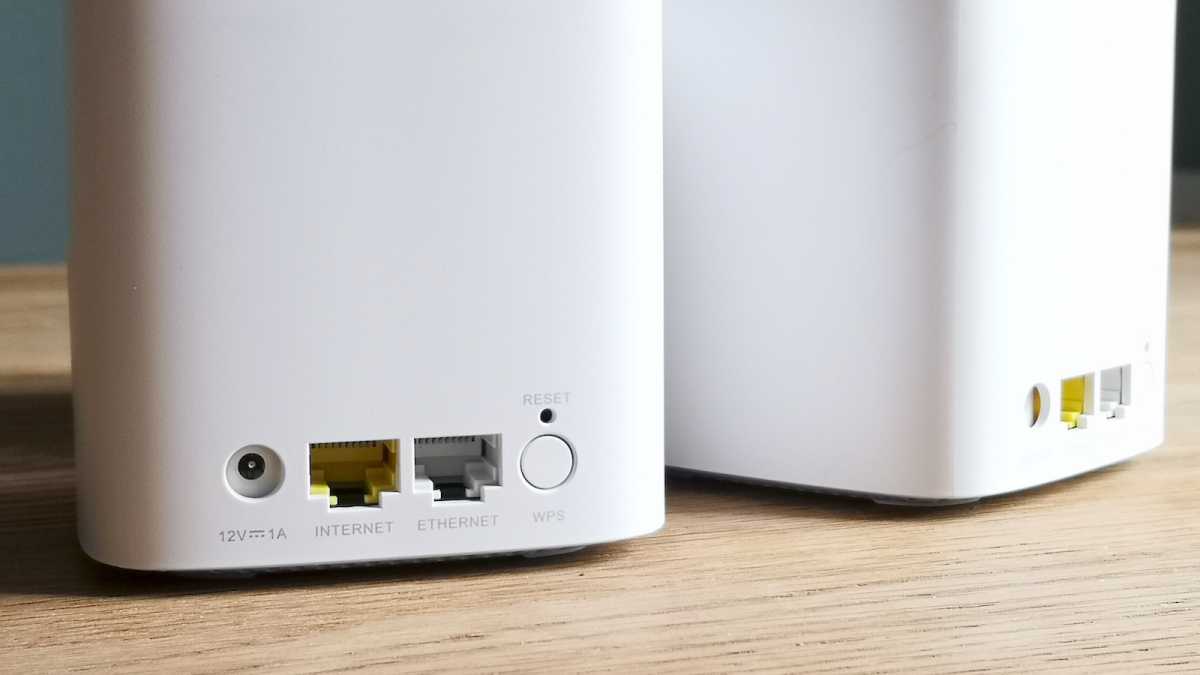 Thomas Newton / Foundry
Setting up
Setting up the first M15 unit is easy
You might need to manually install firmware updates on the second and third units
All M15 units need to be running the same firmware
Like a lot of modern mesh Wi-Fi systems, the D-Link M15 hardware is set up with the help of a mobile app, which makes the process simple: good news for anyone new to home networking.
Once you have connected the primary D-Link M15 device to your modem, powered it on, and powered your modem back on, you're ready to use the Eagle Pro AI app (iOS, Android), as this lets you scan in the QR code on the underside, and then follow the on-screen instructions.
You'll be prompted to change the default network name, network password, and admin password during set-up, which is good from a security perspective, but it's also practical: you can set it to whatever your old Wi-Fi name and password were so all your devices will automatically connect to the new system without having to change them all.
You'll also be prompted to give the router a location e.g. 'living room', 'kitchen' and so on. Once all that's done, you'll then likely be prompted to install a firmware update. This whole process takes around five minutes or so.
At this stage, you're then ready to add other D-Link M15 nodes to the network. Through the app, this is done by tapping on the plus symbol, scanning in the QR code of the other devices, and selecting 'Extend My Network'.
If all goes well, the process should be the same as described above, and the new devices will appear as Extenders within the network map. This is slightly confusing, as you're creating a mesh Wi-Fi network – and Wi-Fi Extenders are quite a different kind of product.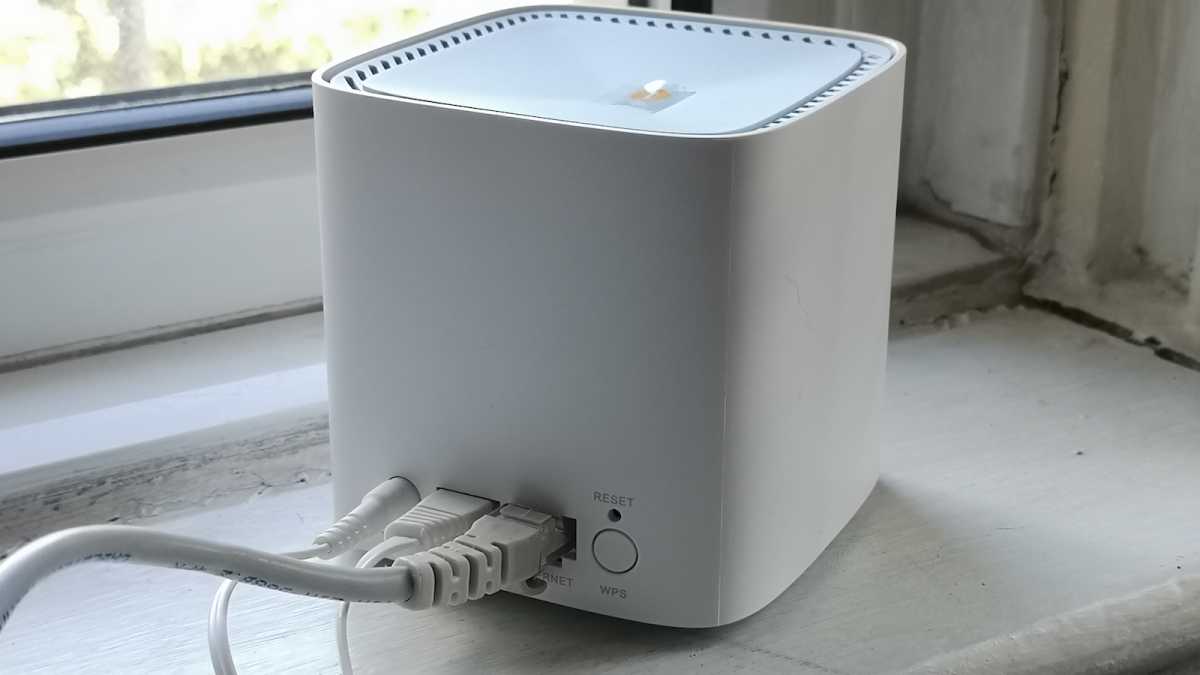 Thomas Newton / Foundry
How to manually upgrade M15 mesh Wi-Fi units
During testing, I ran into a problem, partly due to the fact that the review samples I was sent contained early versions of the firmware (v1.02).
Because you are prompted to install the latest firmware on the primary device during the set up process of the first M15 unit, when the time comes for you to add the second (and/or third device), the set-up process stalls, as two (or more) M15 units not running the same firmware cannot be paired with each other.
The solution is to manually update the devices. Luckily, this is fairly straightforward, but, as you're not actually prompted to do this anywhere in the app, or the instruction manual, it's a little confusing.
For anyone who encounters a similar problem, here's what to do.
When you've set up the first M15 unit and upgraded the firmware (in my case, I upgraded to v1.05.05), take the second one, and connect it to your laptop or desktop PC with an Ethernet cable (plugging in to the port marked 'Ethernet' on the M15 hardware). Then, plug the device into the mains, and wait for it to power on.
Once done, open a fresh browser window on your laptop, and enter the URL printed on the underside of the device, using the default password that's printed next to the URL to sign in.
This will give you access to the control panel of the device. Head to Management > Upgrade, and there should be a prompt to upgrade to the latest version of the firmware there. This took me around 10 minutes.
Then repeat this process with the third M15 unit (if you have one).
After that you should be good to go.
All of the M15 devices must be running on the same version of the firmware before they can be successfully paired – I upgraded every device to v1.05.05 using this method, and after that, I was able to complete the set-up process with no further issues.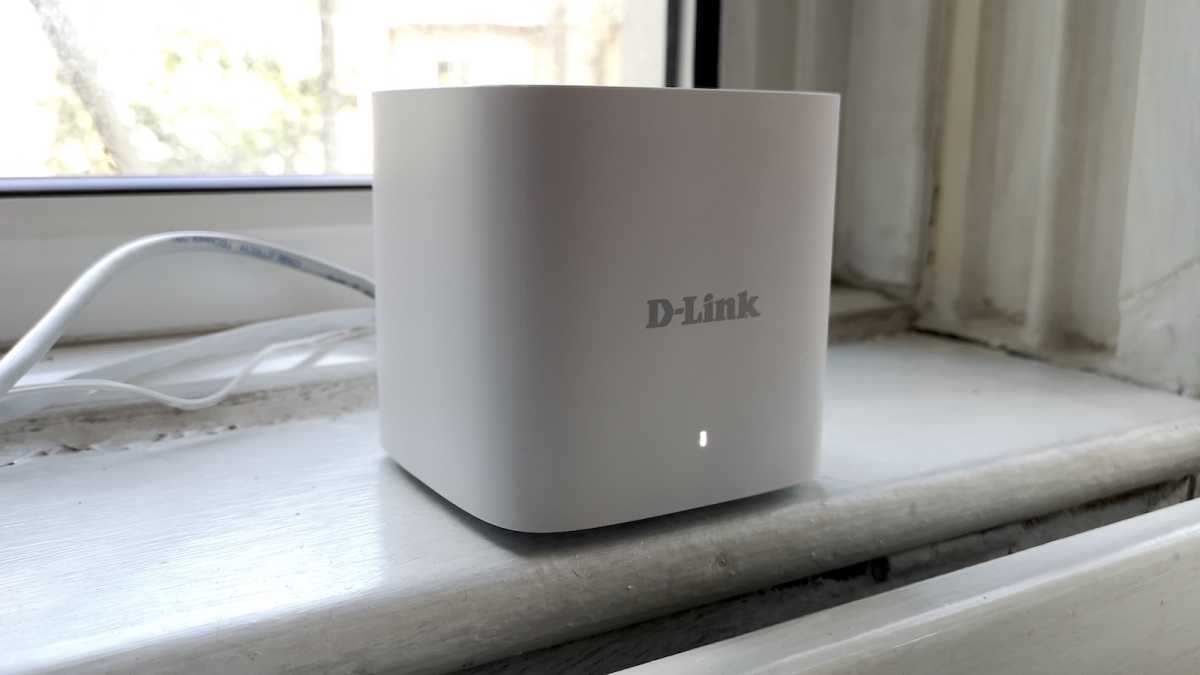 Thomas Newton / Foundry
Features
Guest Wi-Fi, parental controls, QoS, and Port Forwarding
WPA2-WPA3 and WPA3 is supported
Limited Alexa and Google Assistant controls are available
Once all the setting up is done and you've got all of the M15 nodes connected and talking to each other, you are effectively done, and you're free to start tinkering with some of the extra features included in the M15 system.
A lot of the now-standard home networking features are included here. There's Guest Wi-Fi, called 'Guest Zone'. This lets you create a temporary Wi-Fi network if you're not keen on handing out your main network password to party guests.
There is a Parental Control which lets you create profiles specific to members of your family and create rules for those profiles. However, this is simply to block internet access at bedtime, or at other times of day. Once profiles are created, they can be assigned to specific devices on your network. It's a useful feature, but very limited compared to what dedicated parental control apps offer, such as control over time spent on individual apps as well as web filtering.
WPA2 encryption is on by default, but you can choose to set it to the newer WPA3 standard if you wish, or WPA2-WPA3, if you have a mixture of client devices supporting different standards.
You can also set up the D-Link M15 to be controlled from your phone via Amazon Alexa or Google Assistant, but you're currently limited to basic functions such as rebooting the device, enabling Guest Wi-Fi mode, checking for firmware updates, and checking the quality of each router's wireless connection.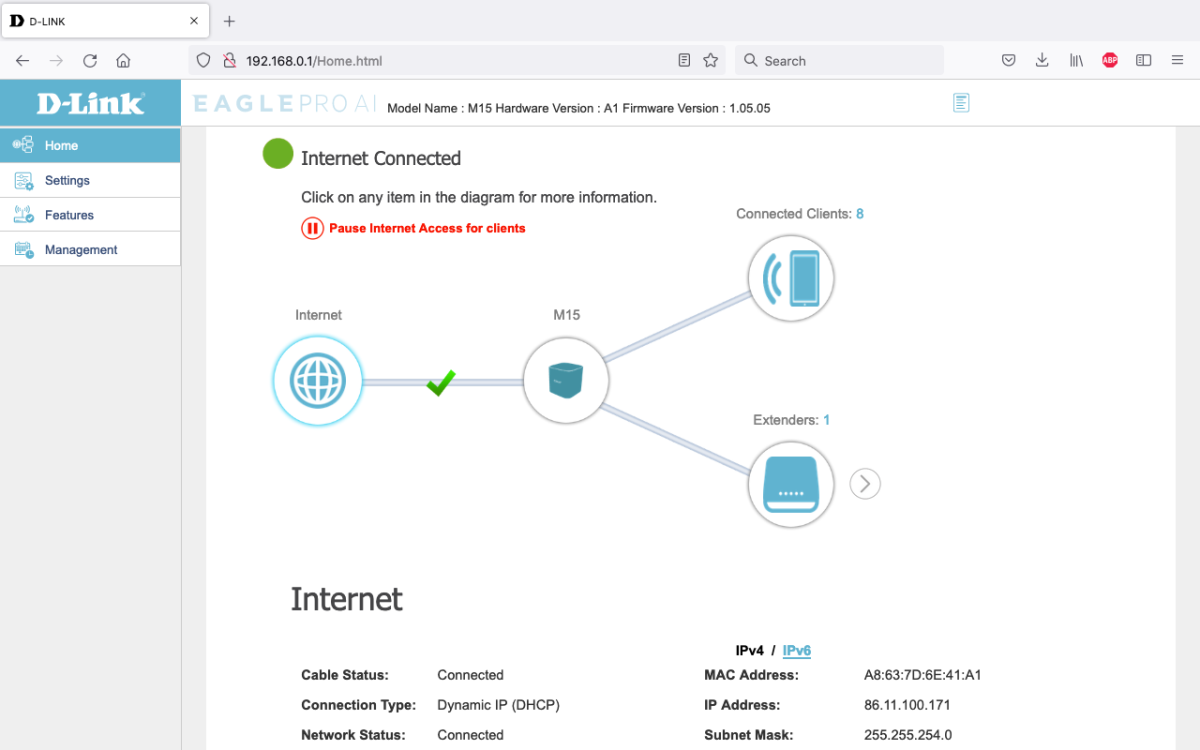 Thomas Newton / Foundry
The mobile app lets you see which client devices are connected to which radio frequency, and prioritise specific devices within your home network (like 'Thomas's MacBook Pro') for a set number of hours per day, or all the time, or deprioritise devices, if there's a lot of congestion.
You can't, however, see which client devices are connected to which access point i.e. if you've set up an extender and labelled it 'Kitchen', you can't see which devices are using the kitchen extender via the mobile app.
For that, you'll need to open up the desktop interface, which gives you access to all the above, as well as giving you greater oversight of your network. Plus, you get access to other things, like a simple port forwarding tool, as well as standard router features like DNS settings, firewall settings, system logs.
There's a QoS (Quality of Service) dashboard as well, which lets you prioritise and deprioritise devices on the network as you can through the mobile apps, but you also get a Speedtest.net-powered tool here – you'll need to input accurate download and upload speeds to let the M15 more accurately apportion bandwidth.
Technically, you can access all of these features from your phone – there's a shortcut within the app itself, labelled 'Advanced Mode', which just opens up a window in your phone's browser. Alternatively, you can head to http://dlinkrouter.local instead.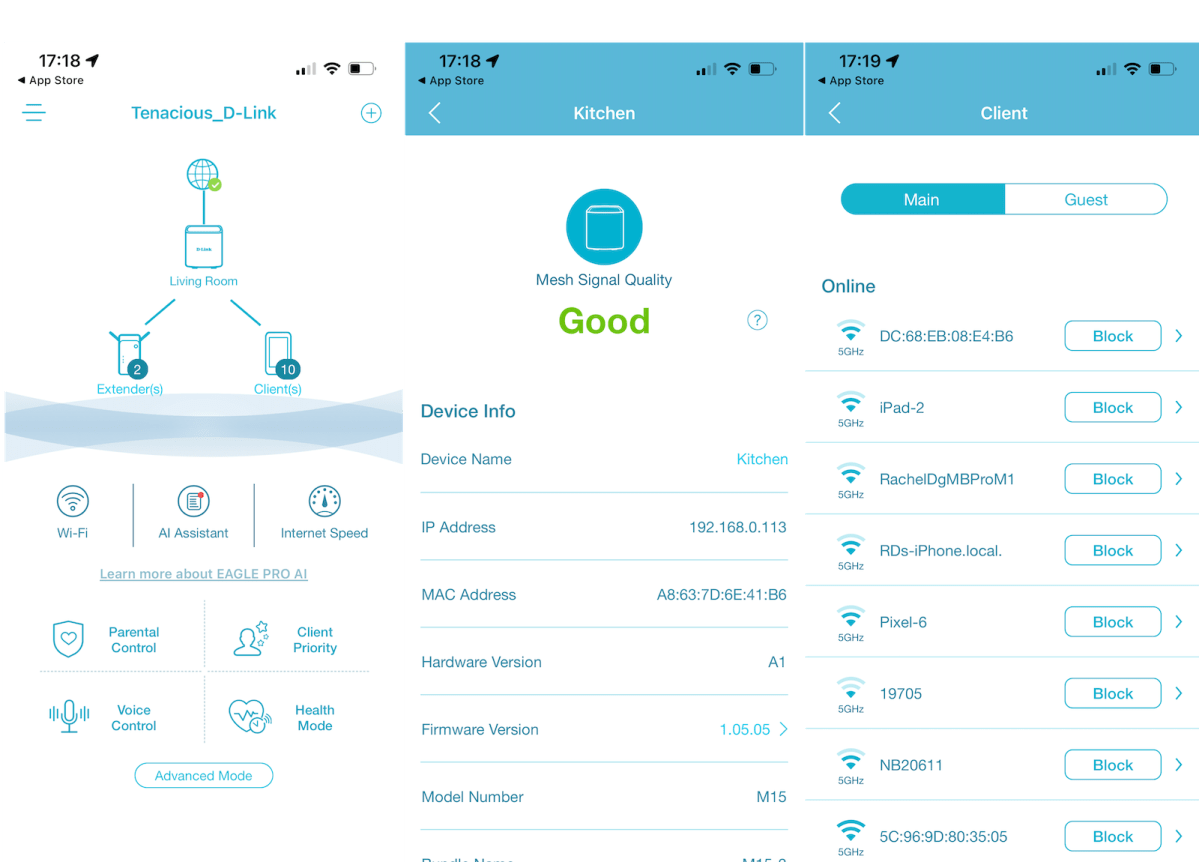 Thomas Newton / Foundry
Performance
Between 600-700Mbps at close ranges
Between 300-400Mbps further away
Band steering will put devices on 5GHz in most situations
Wi-Fi speeds I recorded on the D-Link M15 are typical, and in line with what I'd expect from Wi-Fi 6 AX1500 hardware – expect to see speeds in the region of 600-700Mbps when working in the same room as an M15 unit, and 300-400Mbps at greater distances, and below that if there are physical obstacles impeding signals.
There certainly are faster Wi-Fi 6 systems available to buy now – look for an AX3000 or AX5400 device if you have gigabit broadband. Of course, you won't find a mesh system delivering faster speeds for the same price: you'll have to pay more.
There's also no separate dedicated 5GHz channel for 'backhaul', which is the data passed between all of the units to function as a mesh network, as opposed to the user data being sent between them. This means it's a dual-band system, not a tri-band. Again, you'll pay more for a tri-band, which will give you faster speeds.
Typically, the D-Link M15's band steering will try to put as many devices onto the 5GHz band wherever possible, even when obstacles such as walls get in the way. During testing, though, I saw on one occasion the system keeping a client device on 2.4GHz even when the device was right next to one of the M15 units.
I used an old Huawei Mate 10 Pro (a Wi-Fi 5 device), a Realme X50 5G (a Wi-Fi 6 device), and a more modern Google Pixel 6 (a Wi-Fi 6E device) to demonstrate the kind of Wi-Fi speeds you can expect to get on a range of devices.
Testing took place in a two-up two-down terraced house in south London. Speed tests were taken at distances of 1 metre away from the primary unit, 5 metres with a closed door and a non load-bearing wall in between the client and the primary unit, then 15 metres away and one floor up in an upstairs office, and outside in the garden roughly 20 metres away, with two walls and two shut doors between the client and the primary router.
The second and third nodes were set up in the kitchen (on the ground floor, roughly 12 metres away from the primary router) and in the office (on the top floor, roughly 15 metres away from the primary router).
| | | |
| --- | --- | --- |
| Wi-Fi 5 phone | Virgin Media Super Hub 3 | D-Link M15 |
| 1m | 584Mbps | 717Mbps |
| 5m with a wall | 173Mbps | 117Mbps |
| Upstairs, office | n/a | 143Mbps |
| Garden | n/a | 193Mbps |
| | | |
| --- | --- | --- |
| Wi-Fi 6 phone | Virgin Media Super Hub 3 | D-Link M15 |
| 1m | 436Mbps | 523Mbps |
| 5m with a wall | 276Mbps | 115Mbps |
| Upstairs, office | 15Mbps | 410Mbps |
| Garden | n/a | 367Mbps |
| | | |
| --- | --- | --- |
| Wi-Fi 6E phone | Virgin Media Super Hub 3 | D-Link M15 |
| 1m | 616Mbps | 529Mbps |
| 5m with a wall | 260Mbps | 277Mbps |
| Upstairs, office | 18Mbps | 405Mbps |
| Garden | n/a | 329Mbps |
Both the Wi-Fi 6 and Wi-Fi 6E clients were steered towards the 5GHz bands in all situations, which explains the relative uniformity of those test results, whereas the Wi-Fi 5 device tended to be steered towards the 2.4GHz band in both the 1m and 5m tests.
The results of the office test are especially strange, as it took place in the same room as one of the M15 units, and in such close proximity, you would expect it to default to 5GHz, but for whatever reason, the M15 unit couldn't get the Huawei Mate 10 Pro onto the higher frequency band. In these cases it could just as well be the client device – the phone – which refuses to switch, rather than the router.
There's no way to specify within the Eagle Pro AI app which clients connect to which of the three nodes at any one time, nor is there a way for you to tell the system that you'd prefer to have certain devices use certain radio frequencies. You can flag certain devices as being high priority, which should, in theory, see them moved onto the faster 5GHz band by default.
The desktop control panel will tell you at a glance which devices are connected to which of the three access points, but the mobile apps only give you an overview of what's on your network, with no option to drill down further and see which clients are connected to which access point.
While the iOS version of the app works fine, the Android counterpart was prone to crashing at any moment, such as when you're trying to change something in the settings, or even when you're trying to open the app. Hopefully future versions will make for a more stable experience.
Thomas Newton / Foundry
Price & availability
The D-Link M15 is available to buy now.
Those in the US can go direct to D-Link and get M15 2-packs and 3-packs for $99.99 and $119.99 each. You can also buy single M15 units for $59.99 if you want to expand your coverage even further.
Amazon's prices for the 2-pack and 3-pack bundles are absurdly expensive at $179.98 and $215.98, and it's much cheaper to buy single units at $49.95, though not as cheap as buying a 3-pack direct from D-Link.
While listed on D-Link's UK website, it's currently not possible to buy any M15 bundles directly from D-Link, you'll need to look elsewhere.
Amazon's prices for the D-Link M15 2-pack and 3-pack bundles are £116.95 and £175.95, respectively – not nearly as competitive as in the US.
You can pick up a D-Link M15 3-pack from Ebuyer, for £173.09.
They're cheaper at Box: £110.49 and £157.49 at the time of review – and while Maplin boasts the best price I could find for the 2-pack – £104.99 – they were out of stock.
D-Link's Australian site also allows you to buy direct, with the 2-pack on for AU$249.95, and the larger 3-pack priced at AU$379.95.
Elsewhere, you can get the same packs from JB HiFi for AU$279, and AU$379, or The Good Guys, also for AU$279 and AU$379 for the 2-pack and 3-pack bundles.
If you're keen to see alternatives, read our roundup of the best mesh Wi-Fi systems.
Verdict
The D-Link M15 is remarkably cheap, offers good Wi-Fi speeds, and the three-pack ought to provide enough coverage for most homes (at least most UK homes). Some people might want to opt for a D-Link R15 router, which has more Ethernet ports and the M15 two-pack, but if you're going to keep your existing router (maybe because it has a built-in model, which the R15 doesn't) then there's no reason to buy the R15.
It's a shame about the set-up struggles, but even without those, the Android app needs improving. Not crashing is a minimum requirement, really. For buyers on a budget, the D-Link M15 is fine. Just don't make the mistake of thinking you're getting a really fast mesh system simply because it supports Wi-Fi 6.
Specs
Dimensions: 92 x 92 x 93mm
Weight: 200g
802.11ax (Wi-Fi 6) dual-band AX1500 (2.4 GHz Up to 300 Mbps, 5 GHz Up to 1201 Mbps)
2×2 MU-MIMO & OFDMA
1 x Ethernet WAN port
1 x Ethernet LAN port
Remote control and management with the Eagle Pro AI app (iOS, Android)
Guest Wi-Fi
Parental controls
Wi-Fi management
IPv4, IPv6
WPA 2/3 hybrid
WPA3