At a glance
Expert's Rating
Pros
Inexpensive
Easy to install
Can record video to Sync Module 2
Cons
Not the widest field of view
Average video quality
Our Verdict
If you're looking for a basic video doorbell on a budget then Blink's could well be the one. Easy installation, simple operation, and a low price make the Blink Video Doorbell a great option for those that don't need all the whistles but like a few bells.
Price When Reviewed
$49.99 (tested with optional Blink Sync Module 2, $34.99. Total cost as reviewed: $84.98.)
Best Prices Today: Blink Video Doorbell
If you've been put off buying a smart doorbell because of their cost, you'll be pleased to know that some of the big brands now have very affordable options in their ranges.
A video doorbell can be incredibly useful. Whether it's getting notifications on your phone when someone is at the door, a live video feed that you can see on your phone, or the ability to talk to them even if you're not home, adding a video doorbell can instantly make your life more convenient.
Amazon's new Blink Video Doorbell seeks to take this convenience even further than Ring's similarly priced Video Doorbell Wired by removing the need to think about any wires at all. Just pop in some batteries, screw it to your door frame or wall, and you're good to go. So, is it really that simple? Read on to find out.
Design and build
Reasonably compact design
IP54 weather resistance
Plastic construction
The Blink Video Doorbell is a reasonably compact device, measuring 130mm tall. The 42 x 34mm width and depth make chunkier than a traditional doorbell (and the slimmer Ring Video Doorbell Wired), but this is in order to accommodate the camera, microphone & speaker (so you can listen and talk to the person at the door), Wi-Fi antenna, and battery compartment, the latter of which holds two AA cells that Blink says will last for two years before needing to be replaced. That's quite an amazing claim, but in reality it will depend upon how much activity there is in view of the lens as to how long they last.
Also note these are lithium AA batteries, not your common or garden Li-ion or alkaline AAs, so they are more expensive to buy. You can't use rechargeable batteries in it either, which isn't ideal for the environment.
If your doorframe is white, you'll be pleased to know the Blink also comes in white to match. But unlike the Ring, there aren't replaceable faceplates in a variety of colours.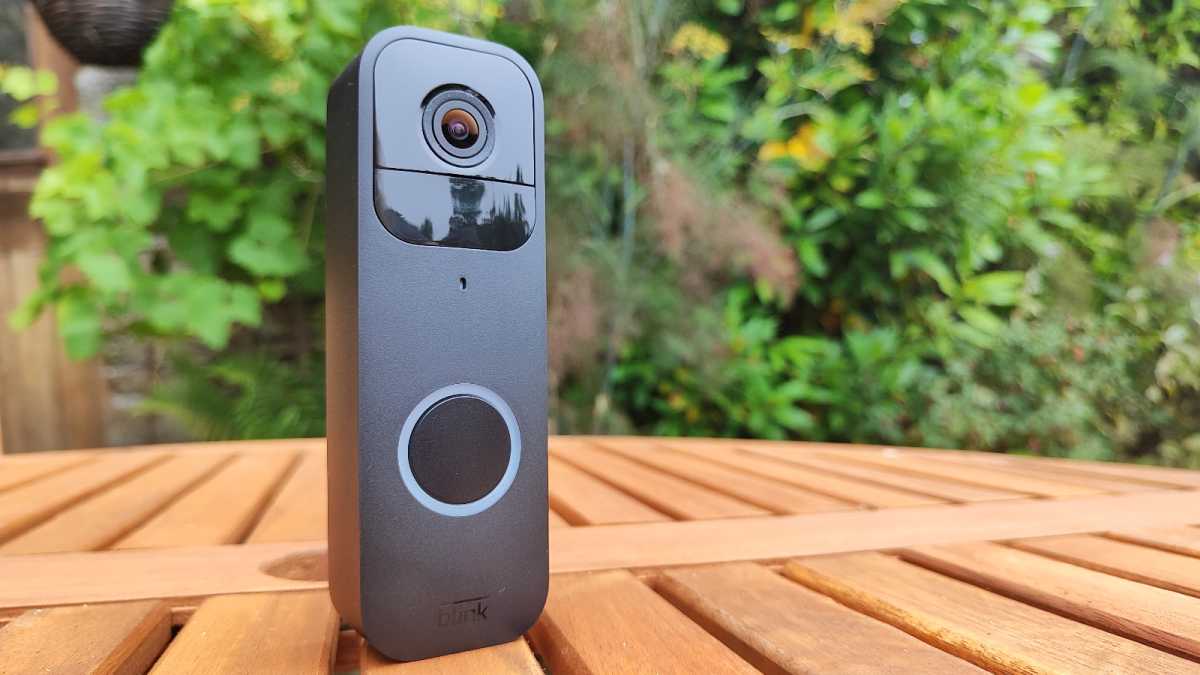 Foundry
The majority of the chassis is matte black plastic, with a large circular button on the front – quite obviously the doorbell itself. At the top of the panel is a glossy area that is home to the 1080p camera that captures the video.
It must be said that the construction isn't what I would call robust. I've no problem with plastic devices – especially at this price – but I did find that the shiny area picked up a scratch very easily after only a few minutes out of the box. To be fair, even expensive doorbells, including the Ring Video Doorbell Pro 2, tend to be made primarily from plastic, and if you're careful while handling it during installation, it should remain pristine.
As you'd expect from a doorbell, the Blink Video Doorbell has an IP54 rating. This means it should survive any downpours that ol' mother nature throws at it, which is obviously an essential feature for a device that will spend its life outside.
In the box, there's a backplate for mounting the Blink on your door frame, plus a wedge bracket if you need to angle the camera left or right rather than pointing straight ahead. There's a connector cable too, giving you the option of connecting the Blink into your existing doorbell wiring system should you want to use an existing chime.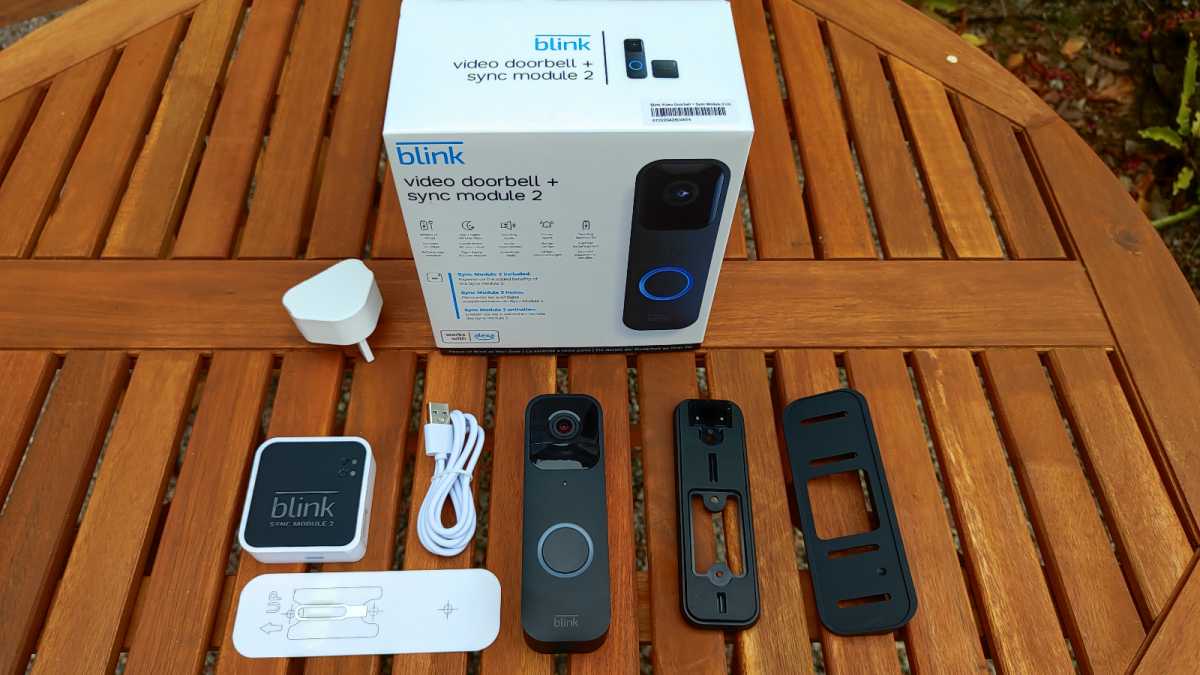 Foundry
For this review, I specifically requested the more expensive bundle pack that also includes the Sync Module 2 unit, along with its power supply. The reason for this is because the Module allows you to record video from the doorbell onto a USB stick (not supplied) as well as sync up and control any other Blink devices you already own, such as the Blink Indoor, Blink Outdoor or Blink Mini. Of course, you can buy a Blink doorbell on its own if you're not bothered about these features and plan to subscribe to Blink's cloud service and record the footage online instead.
One thing to note is that, as with most smart doorbells, no chime is included in the box. So, while the unit itself rings when the doorbell is pressed, that's for the visitor's benefit. You'll receive an alert on your phone.
There are other options, though. One is to link it up to any Amazon Echo speakers you may already own, which then act like a chime and announce that someone is at the door. To do this, you'll need to use the Blink SmartHome skill in the Alexa app, sign in with your Blink account and enable the Doorbell Press Announcements option in the device settings.
This worked well enough, although I did find that for a while the announcements would say, 'Someone is at the GYAR578642JKKLLL' which was referencing the particular model number of the device. To change this, you'd think it was just a case of amending the device name in the apps to something like Door. But, no. Even when I'd done this, the strange announcements kept coming. In the end I had to delete the Blink Doorbell from the Alexa app then reconnect it. This finally registered the new name and gave the 'Someone is at the door' announcement that I'd wanted.
If you instead have Google Home or HomeKit devices, unfortunately the Blink Video Doorbell won't play nicely with them: this is very much an Amazon-centred device. Oddly, though, unlike Ring doorbells, the video feed from the Blink doesn't automatically show on an Echo Show display, which is a shame. You can ask Alexa to show it, but your visitor might well have left by the time you see the feed and start the two-way talk.
Installation and setup
No wiring required
Comprehensive installation guide on app
Only two holes to drill
As mentioned, you can install the Blink Video Doorbell without the need to do any wiring. This is a very good thing, as I'm absolutely hopeless when it comes to electrics. Reading the instructions that come with in the box didn't fill me with confidence, but, that's due to the fact that the Blink app holds your hand through the entire process.
First, then, you should download the Blink Home Monitor app for Android or iOS and create an account. Even though Amazon owns Blink, this is different to your normal Amazon account.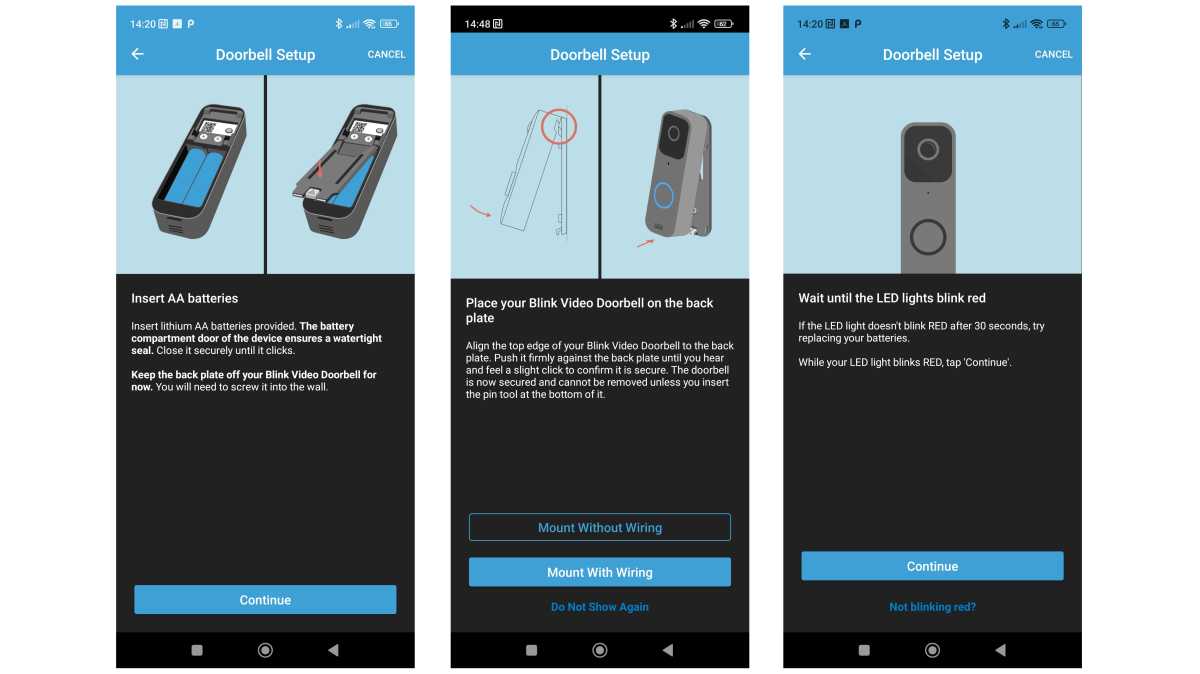 Foundry
After that, it's a case of following the onscreen instructions to set up the device. There's also a step-by-step guide on how to mount the Blink on your door or door-frame. Thankfully this is quite easy, as you only have to drill a couple of shallow holes, which is made even simpler by a paper template being included so you know exactly how far apart they need to be. If you want to use the wedge mount, then mark where the holes are in the mount, drill them, screw the mount onto the surface, then use the included smaller screws to attach the flat backplate to the corner mount. Either way, all that you then need to do is clip the Blink on to the backplate and you're good to go.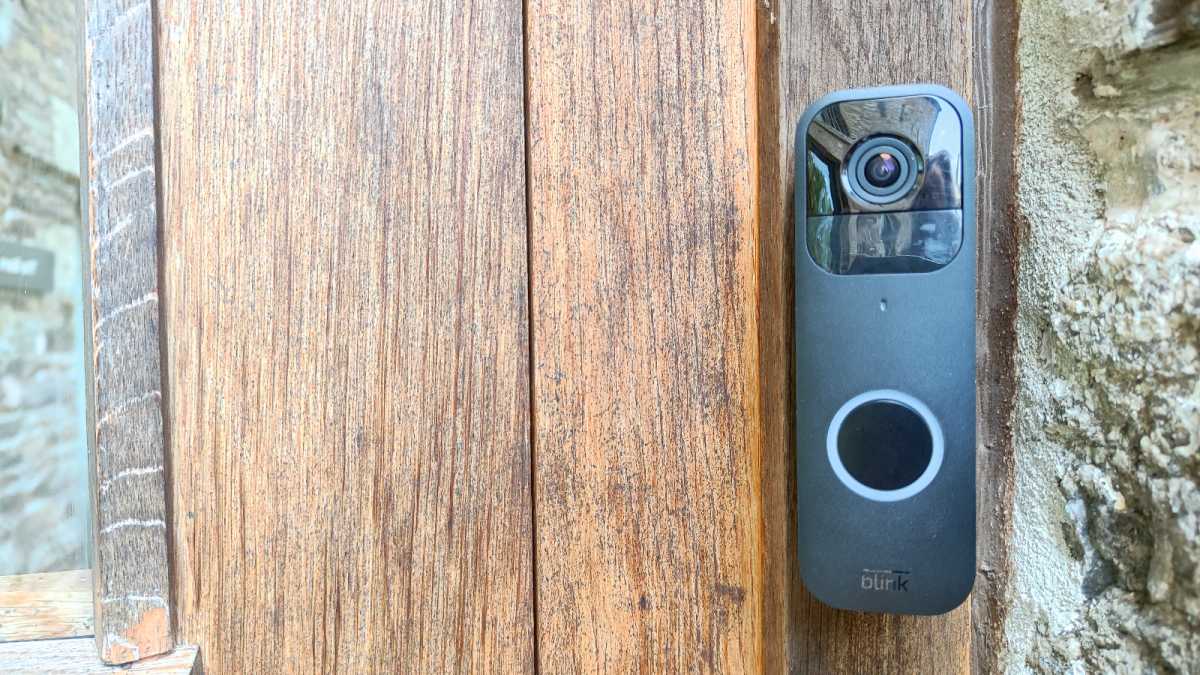 Foundry
As the doorbell is reliant on Wi-Fi, you'll need to ensure that there is a decent connection available wherever you place the unit. I had a slight mishap during the installation, where one of my Wi-Fi extenders had been accidentally switched off. This starved the Blink Video Doorbell of a decent connection, resulting in slow link up times from the app to the camera and long delays when transmitting audio to and from the device.
Once I realised the issue and switched my extender back on, these problems immediately went away, but not before giving me an experience that was frustrating and highlighted how important a strong Wi-Fi connection is to a smart doorbell.
Video
1080p at 30fps
135° horizontal, 80° vertical field of view
Average quality Night mode
Live feed
The Blink Video Doorbell shoots video at 1080p/30fps, which is a perfectly respectable resolution. It isn't the sharpest 1080p I've ever seen though and you have to be careful about placement.
Positioning it where my existing non-video doorbell was seemed a logical step, but I soon noticed that this way faces the sun for the first half of the day, resulting in silhouetted figures appearing in the video feed.
I switched it to the other side of the door and used the angle bracket, which gave much better results. The footage was still a bit basic, with the background blown out due to the sunshine, but visitors' faces were clearly visible, which is the primary requirement for a video doorbell.
The 135 degree horizontal field of view and 80 degree vertical feel a little tight when trying to get a good look at whoever is at the door. You won't be able to check the live-view to see if there's a parcel sitting on your doorstep, unless you mount the camera close to the ground, so if that's one of the reasons you're considering a video doorbell, then the Blink might not deliver, even if the postman does.
Again, the Amazon Ring Video Doorbell Pro 2 has this covered, with its 150 degree vertical and 150 degree horizontal field of view that gives 'head-to-toe' coverage. Of course, it's also four times the price of the Blink Video Doorbell, so that has to be taken into consideration when we compare specs and features.
The Live Feed allows you to see who is at your door or what is happening outside in real-time via the app. It's a useful little feature, albeit one that produces quite static footage unless you live on a busy street. Once the Blink Video Doorbell is set up on your Wi-Fi network, you'll also be able to check the Live Feed via the Blink Home Monitor app even if you're at the shops or the office. Handy.
Audio is ok, with recordings showing a varied frequency response that can sound thin and tinny at times. It's workable as a way of either capturing someone's voice or interacting with them through the device if you're somewhere else when they call.
Should your visitors arrive at night, then the IR sensor in the camera will do its best to try and light up their features. It's ok, but does have a tendency to overexpose faces, especially if you also have an light. As a rough guide to the comings and goings at your door, it's fine, but if you want a detailed look at your arrivals then you might find the results from the Blink a little disappointing.
Blink Home Monitor App
Clean design
Activity zones for motion detection
Easy to access recordings
Subscription required for storage
As well as alerting you of visitors and showing a live video feed, the Blink Home Monitor app has a good few other capabilities. The interface is simple, with the Home area showing the last picture taken from the Blink Doorbell, with icons to open the Live video feed or take another still image. There's also the Sync Module area too (as this is the bundle pack), which you can use to enable the local storage of recorded videos.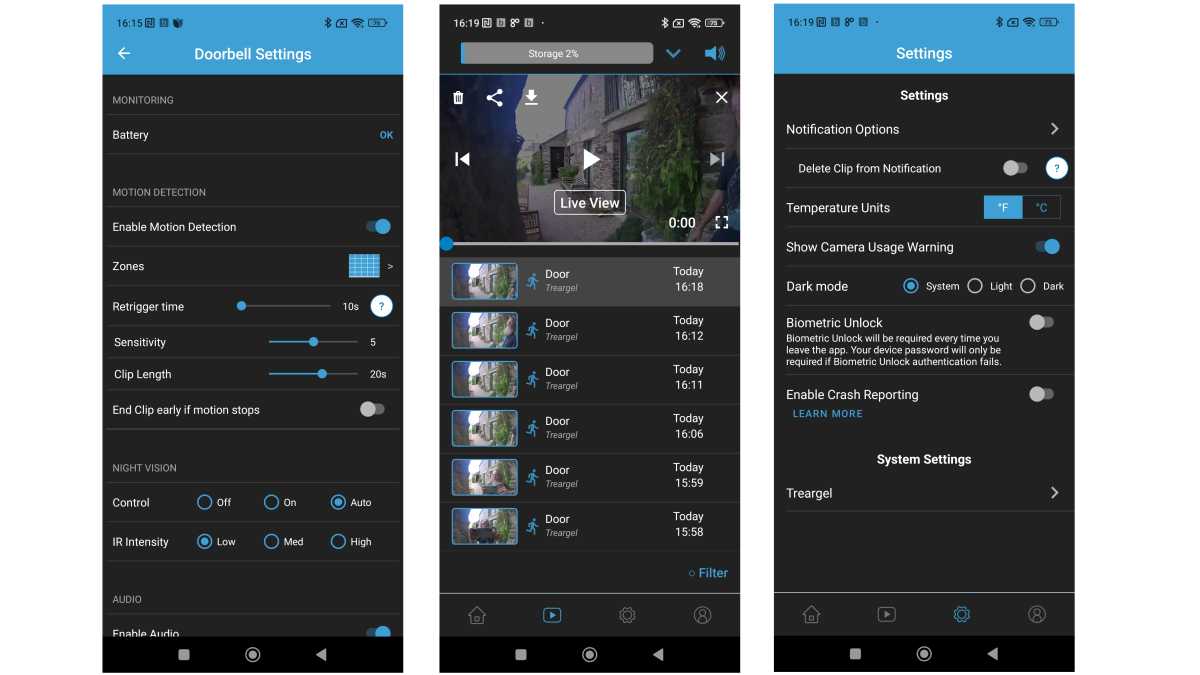 Foundry
If you want the Blink Video Doorbell to double as a kind of ersatz security camera, there's Motion Detection mode. This can be honed to your preferences, with options for sensitivity, durations of recordings once triggered, as well as the ability to set up Zones. The latter offers either a grid system (Activity Zones) or the ability to draw two areas (Privacy Zones) where the selected areas will be exempt from any motion detection. This is particularly handy if, like me, you have some plants outside your door that tend to blow about when it's windy. I simply disabled the grids or areas where they live and it meant I didn't get notifications every ten seconds when the next storm came around.
Foundry
When someone passes by the camera, you're immediately alerted on your phone, giving you the option to open the Live View to see who it is.
The app also gives you the choice over the quality of video that's captured, volume controls for the audio, which kind of IR intensity you want for the night vision mode, plus the option to automatically take a still image every hour.
When you purchase the Blink Video Doorbell it entitles you to a 30-day free trial of the Blink Plus service. This allows the device to record footage (online) which you can then view in the Blink Home Monitor app, rather than always having to rely on the live feed.
It's all done automatically and you can review the previously recorded clips from the list shown in the app. These include all instances of the doorbell being rung as well as any motion detection captures. There are two tiers available, the first is Blink Basic which is for a single device and costs $3/£2.50 per month or $30/£24.99 per year. If you need a plan for multiple devices then the Blink Plus tier supports unlimited Blink products for $10/£8 a month or $100/£80 per year. All store videos for 30 days.
What you don't get here, but you'll find on more premium smart doorbells are things like face recognition and parcel detection.
Sync Module 2
Easy to set up
Local storage (with USB stick)
No subscription required
If you don't want to pay for a subscription, then the Sync Module 2 gives you the ability to store recorded clips locally at no additional cost (aside from purchasing the device itself).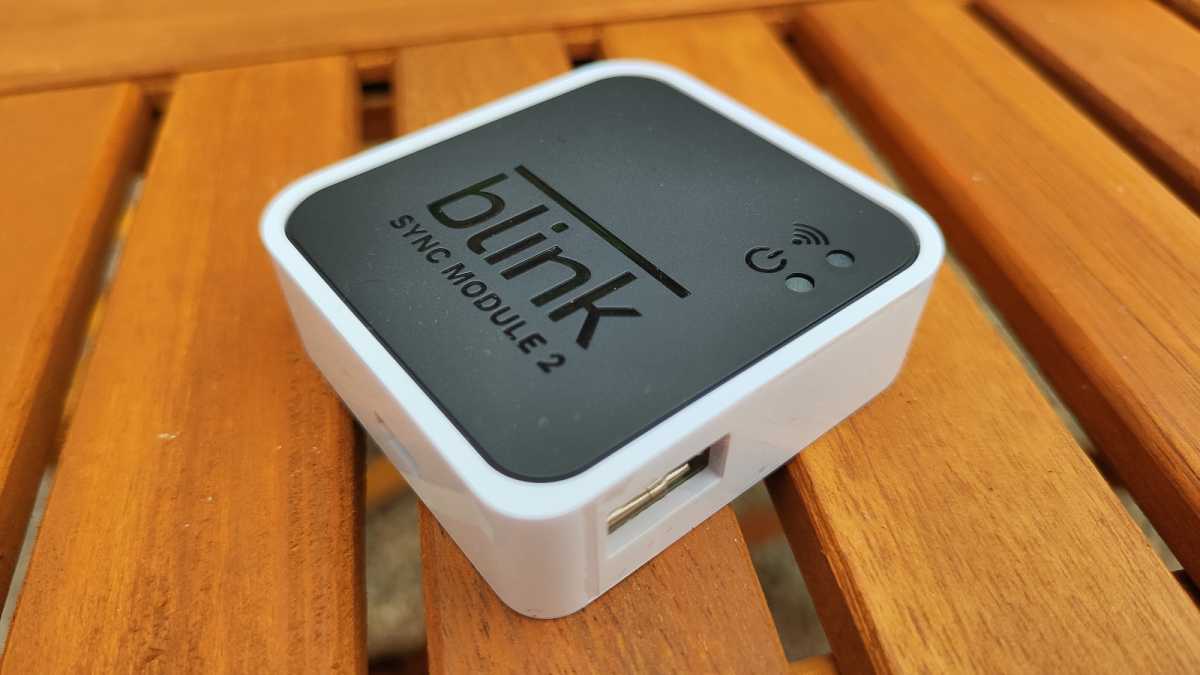 Foundry
You need to plug a USB stick into the Sync Module 2 before any footage can be saved. Once this is done any motion detection clips will be recorded and be viewable in the Blink Home Monitor app. If you respond to the doorbell or any motion detection alerts by going to the Live View, this will automatically disable recording as the app will take control of the camera, which could be a dealbreaker for some: this doesn't happen if you pay for a Blink Plus subscription. However, this is the only notable difference between subscribing and not.
Should you decide to sign up for one of the subscription tiers, then the Sync Module 2 will automatically backup each days' clips, so long as you have a USB thumb drive inserted. While this is useful, it should be noted that you can only then view this footage by removing the USB thumb drive and placing it in a PC.
As the name suggests, you can also use the device to sync up any Blink camera products you already own and also be able to control them all from a single space. You can either get the Sync Module 2 in the full bundle pack with the Blink Video Doorbell, as I have for this review, or purchase it separately for $29.99/£29.99 on Amazon.
Price and availability
You can buy the stand-alone Blink Video Doorbell on Amazon for $49.99 / £49.99 or in a bundle pack which includes the Sync Module 2 for $79.98 / £79.98. Unless you really want to store your captured footage locally on a USB stick or the ability to sync up other Blink devices, the doorbell on its own will be more than enough for most people.
There are not many video doorbells around for these kind of prices, but you could opt for Ring's Video Doorbell Wired, which comes with many of the same features, or potentially pick up the EZVIZ DB1 or DB2 kit (which comes with a chime). Be sure to also take a look at our roundup of the best video doorbells to see our other recommendations.
Verdict
The idea of messing around with electrical wiring can be a daunting one for normal folk, so the easy installation of the Blink Video Doorbell will be a blessed relief. The low price is also welcome in these days where everything seems to cost more and more each day.
Talking of which, the Ring Video Doorbell Wired now costs $64.99, despite still being £49.99 in the UK.
So, if you're in the US, the Blink is much better value, even if build quality could be better, as could video quality. Neither has a tall enough view to monitor your doorstep, but by all accounts, they both cover the basics you'd expect from a video doorbell.
If you like the idea of zero wiring, no subscription costs and don't mind the hassle of changing batteries, then the Blink Video Doorbell is a great budget buy. Yes, you'll get better quality and more features if you pay more, but that's the case with most tech products.
Specs
1080p/30fps
135° horizontal, 80° vertical field of view
IR night mode
Motion detection
Live Feed with two-way talk
2.4 GHz 802.11b/g/n
IP54 water resistance
2xAA battery powered or mains wiring
130 x 42 x 34 mm
91g
Best Prices Today: Blink Video Doorbell