With autumn here, temperatures plummeting and energy bills higher than ever, we're all looking for ways to save money in the coming months.
Some are staunchly refusing to put their heating on and wrapping up in extra layers instead. But a recent report by the Heating and Hot Water Council contained a tip that could save you 6-8% on your gas bill.
You've probably heard about it already, with many headlines quoting a saving of £112 a year, and some sites claiming you'll use up to 12% less gas.
The 'hack', as some are putting it, is to turn down your boiler's temperature from 80°C to 60°C.
More specifically, this is talking about the flow temperature. Most gas boilers are set to run at 80/60 flow and return temperatures. What this means is that the boiler sends out water at 80°C and, after running around your radiators, it returns at 60°C.
But this is said not to be the most efficient way to run your boiler, and by turning the temperature down, you can make savings.
But is there any truth in this? Does it really work?
Before I go any further, let me say that I'm not a boiler expert, nor a plumber. But I know enough to tell you that it's not a simple as all these news stories make it out to be.
Plus, every home is different, and there is no "one size fits all" solution that works for everyone. It might work for you, but the chances are you won't make significant savings, and it can be dangerous, depending upon the type of boiler you have.
Lower temperatures, longer heating times
It's simple physics. If you send cooler water to the radiators in your home, they're going to take longer to heat the room. Figures, specifically from the Nesta study that everyone is quoting from, suggest that rooms will take "up to 15 minutes longer to for your home to reach the right temperature", but how much longer the boiler needs to run for will very much depend upon your particular home, and how well it is insulated.
Now, the principle is a good one and it can save money. But you'll need a well insulated home and you'll need a combi boiler in order to benefit from this tip.
Ultimately, you'll be hard pushed to calculate how much you've saved by making the adjustment.
At worst, you may find that your home never reaches the temperature you've set on your main thermostat (which could be 21°C, let's say), because the radiators just aren't getting hot enough. That would mean the boiler will be on constantly, or for much longer, cancelling out those savings.
Plumbers – actual experts – have also warned that setting the flow temperature too low can cause your boiler to short cycle, which can also lead to a higher energy bill, not a lower one (and can also cause problems with the boiler itself, and plumbers' hourly rates aren't insignificant).
You may be fortunate and have a boiler that allows you to set the flow temperature to exactly 60°C. But many have dials which don't have temperatures marked on them, so you don't really know what temperature you're setting it to.
To find the optimum setting on your boiler, some trial and error may be needed until you find a position that keeps your home at a comfortable temperature.
If you have a boiler and separate hot water cylinder, don't try it
If you have a conventional or system boiler, which has a separate hot water tank, you should not turn down your boiler temperature to save money.
The cylinder will have its own thermostat, which should be set at comfortably over 60°C. 65°C should be about right. If the water doesn't reach 60°C, it won't be hot enough to kill the dangerous bacteria it carries – including Legionella, which can be fatal.
If you set it too high, you run the risk of scalding yourself, but the highest temperature it can reach is limited by the setting on your boiler. So, if you turn down the flow temperature to 60°C or less, it won't matter if the hot water tank is set to 65°C or more because it will never reach that temperature.
And as mentioned above, you probably won't know the exact temperature your boiler is set to.
If you're not sure which kind of boiler you have, find your manual or look up the make and model online.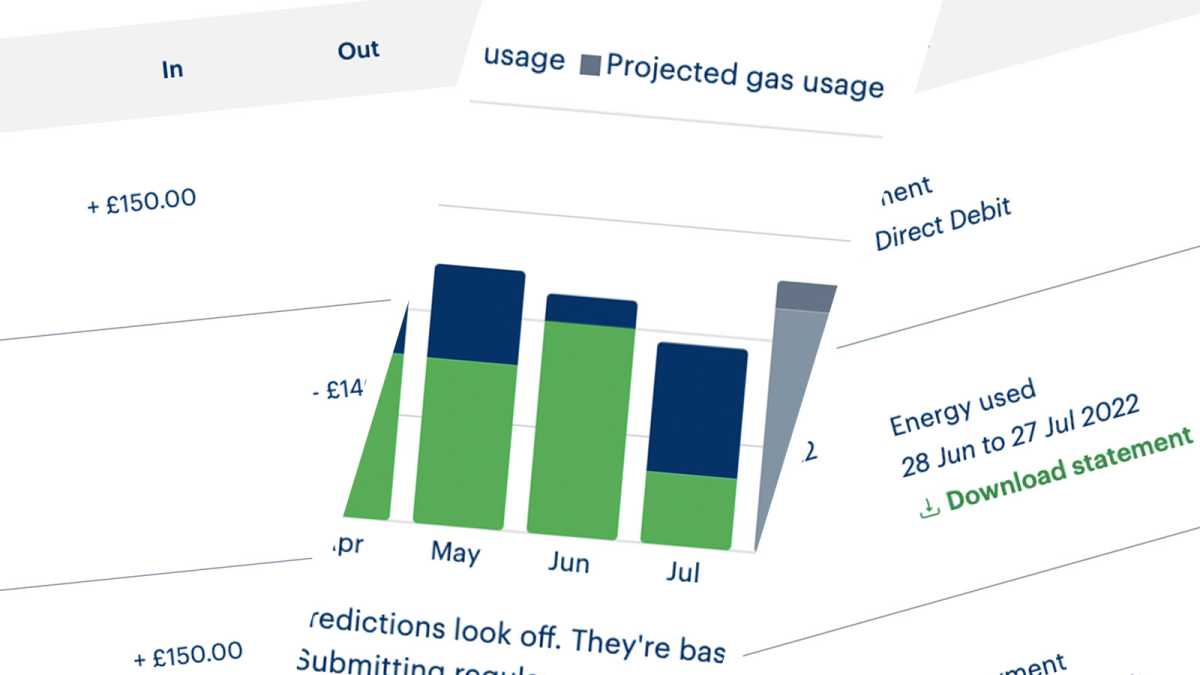 Foundry
How to turn down your heating flow temperature if you have a condensing combi boiler
If you have a condensing combi boiler, here's how to turn down your heating flow temperature.
To be clear, you'll need to change the temperature on the boiler itself, not your home thermostat. If you still have your manual, or can look up your boiler online, you may be able to find more precise information. Remember that you only want to turn down the temperature of the water that goes to your radiators, not to your tap.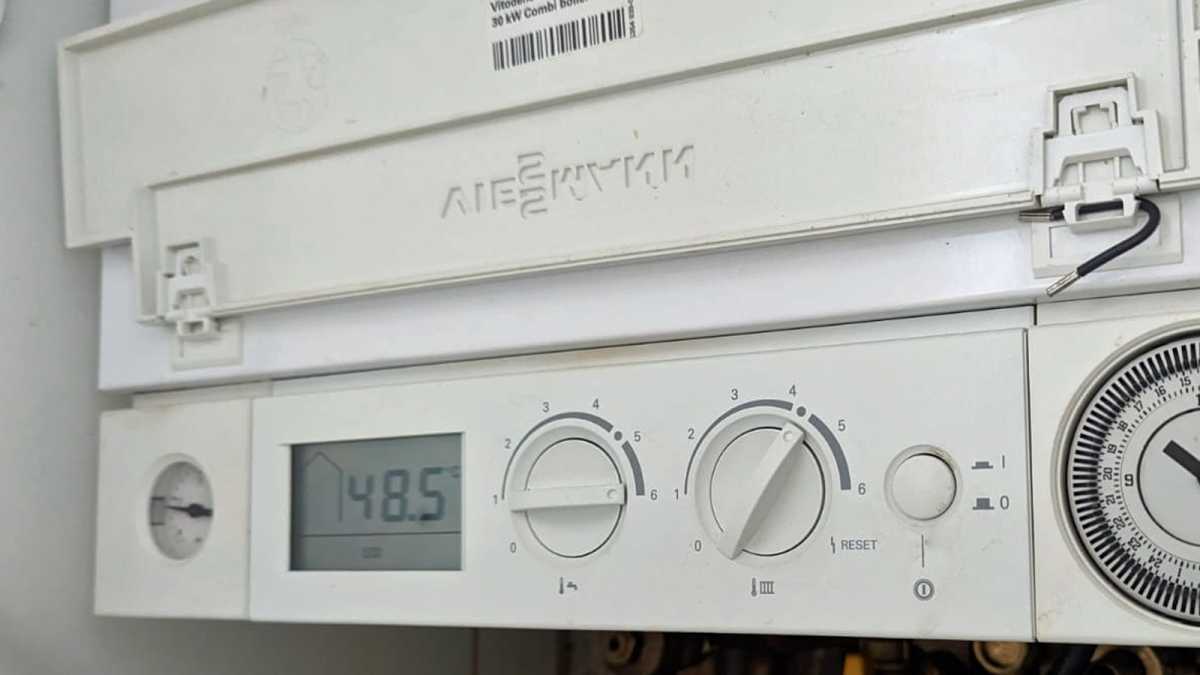 Chris Martin / Foundry
There are a number of different boiler set-ups. Here's advice for all different types:
Boilers with dials and temperature settings: You'll usually see two dials. The one you're looking for will have a radiator icon, and you should set it to 60°C.
Boilers with dials and numbers: Some boilers don't have a temperature display at all. Instead, they'll have dials marked with numbers (like the ones above). Find the dial for heating. You'll want to set the temperature at roughly the half way mark. If the dial is marked from 1-8, set it just above 5.
Boilers with a digital display and dials or up and down buttons: Either turn the dial down or press the down button until the temperature reaches 60°C. Don't try to change your hot water temperature.
If, after making the change, your radiators are obviously too cool and your home never gets to the 19/20/21°C temperature you've set on your thermostat, then try turning up the boiler dial a bit.
What about water temperature?
Combi boilers usually have a dial for the temperature of your hot water as well as one for the heating. You can try turning this down too. In the same way, heating the water that comes out of your hot taps to a lower temperature uses less gas and saves you money.
It won't save as much as turning down the heating flow temperature though.
More money-saving tips
There's another tip you can try if your combi boiler has Comfort and Eco modes.
You may need to dig out your manual if your boiler has multifunction buttons, as it's not always apparent what the different settings mean: Eco and Comfort may not be clearly labelled.
Many boilers will be set to Comfort. What this means is that the water that comes out of your taps will be hot instantly. To save money, you can change the setting to Eco. It'll mean you need to wait a few seconds for the water to heat up once you turn on your taps.
Or you can try the best known money saving tip for heating: simply to turn down your thermostat by 1°C. That could save roughly the same amount as turning down the flow temperature on your boiler.
You could also install a smart thermostat. Anything you buy to save money has to earn its keep, and it isn't possible to tell you how quickly you'll make back your investment, break even and start making real savings. But smart thermostats have a variety of benefits and claim to save up to a third on your annual heating bill.
If that sounds interesting, you'll probably like to read whether smart heating can really save you money.
For more help, here's how to save money on your energy bills and how much your appliances cost to run.