At a glance
Expert's Rating
Pros
Affordable
Easy to fly
Comes with an additional battery & carry case
Cons
No obstacle avoidance
Limited range
Lacking advanced shooting modes
Soft video output, even at 4K
Our Verdict
The HolyStone HS720E can't quite compete with even entry-level drones from DJI and Parrot in terms of features, lacking RAW photography, advanced shooting modes and obstacle avoidance, but the solid build, easy controls and bundled accessories are enough to make it tempting for first-time buyers new to aerial photography.
Price When Reviewed
$299.99
Best Prices Today: HolyStone HS720E
HolyStone might not have the same brand recognition as DJI or Parrot, but the company's entry-level HS720E is a tempting drone for those getting started in aerial photography.
It doesn't have all the bells and whistles of more premium drones, lacking features like a gimbal, advanced shooting modes, object avoidance and long-range connectivity, but it is a solid performer in a compact form factor at a very tempting price tag.
Design & features
Compact design
Controller can be awkward to use
Lacking smart features like object avoidance
Comes with two batteries and carry case
The HolyStone HS720E is a surprisingly compact drone, folding down to a rather small 173 x 104 x 56mm that's easy to hold and carry one-handed. Even with its arms fully extended, it's still one of the smaller drones around at 336 x 370 x 56mm.
But while it's compact, there is a bit of heft to the system, with a weight of 495g almost double that of truly lightweight drones like the DJI Mini 2. It does feel solid and robust which gives confidence that it won't completely shatter if a collision occurs, and although there's no gimbal system for truly smooth video, the camera's mounted securely in the body of the drone.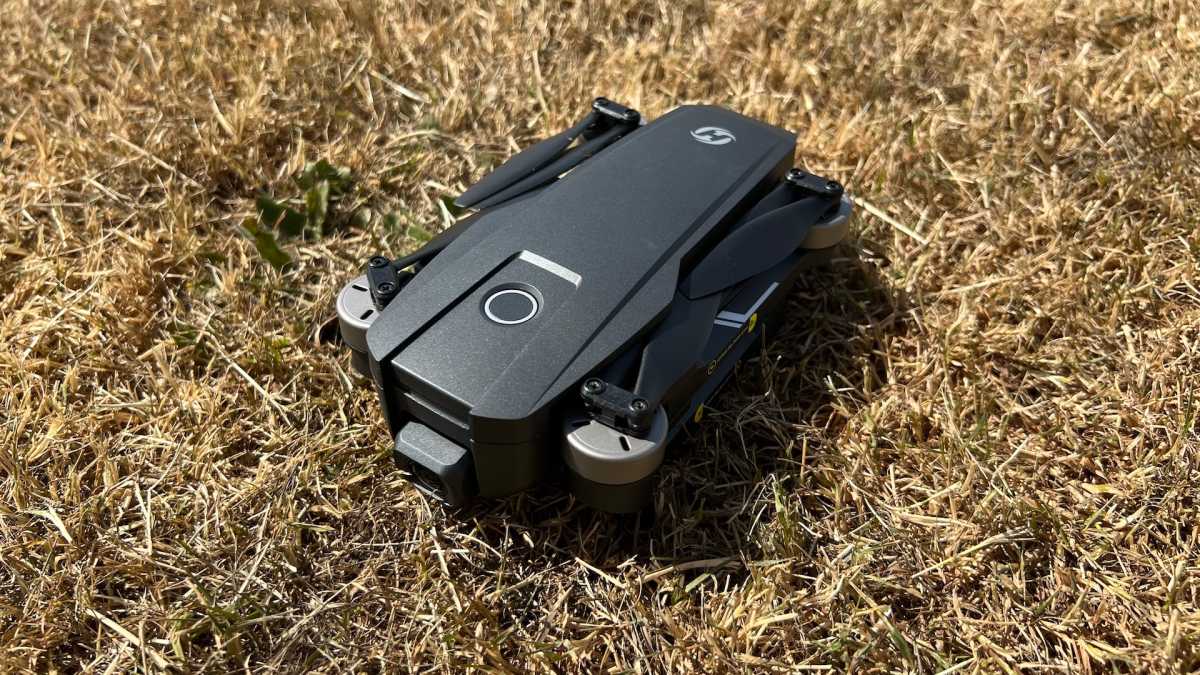 Lewis Painter / Foundry
There's also a spare set of blades in the box if you do need to replace them at any point.
The battery slots into a compartment in the rear with a quick release button for an easy battery swap, and there's a small microSD card slot on the side to store footage (sold separately).
But while the drone itself feels robust and sturdy, the accompanying controller doesn't feel quite as polished, made from a cheap-feel plastic with a particularly awkward phone mounting system that barely accommodates large-screen phones like the iPhone 13 Pro Max.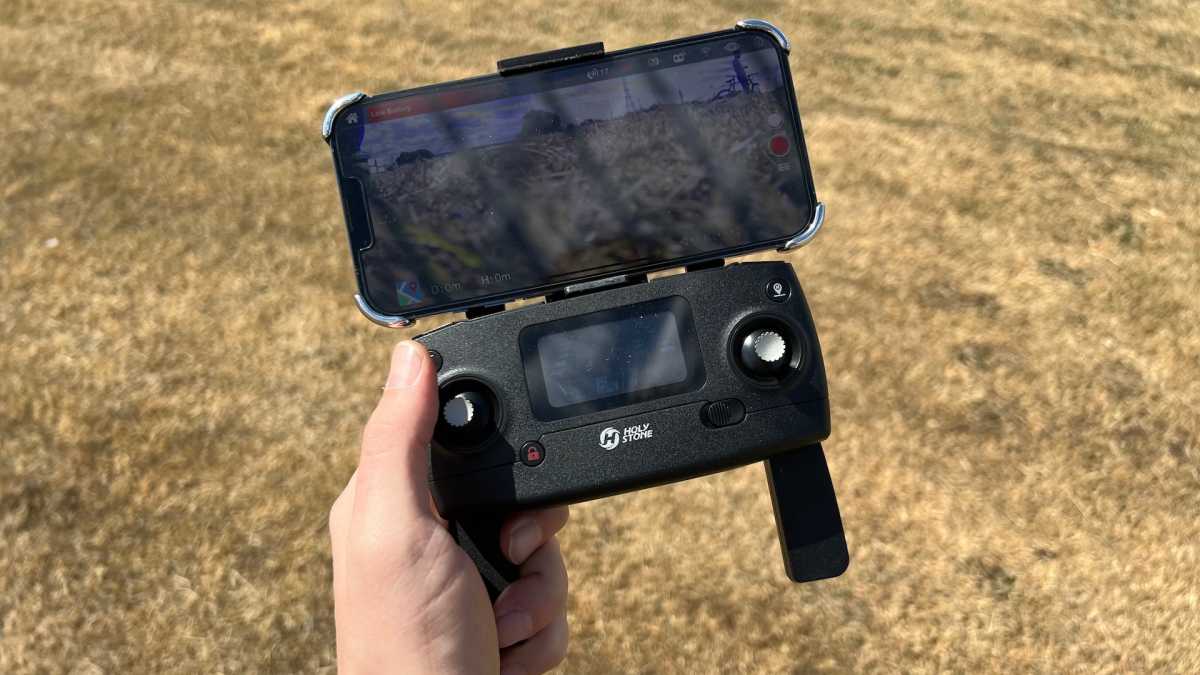 Lewis Painter / Foundry
Extendable grips make the relatively small controller easier to hold when a phone is mounted though – a nice touch.
Aside from the phone mount quirks, the controller is essentially what you'd expect from a drone; there's a low-res LCD screen to display stats like signal quality and GPS status, along with dual joysticks to control the drone's movement, a dedicated return-to-home button and camera controls on the right bumper.
The latter can be particularly hard to reach when a phone is mounted, which can make mid-flight camera adjustments finicky – all the more important when you consider the lack of automated camera movements.
Both the phone and controller connect to the drone via 5GHz Wi-Fi with FPV video at up to 500m – in theory. In reality, the video connection will begin to cut out much sooner – as little as 50m in my experience.
The controller will connect up to 1km away using its built-in antennae, but much like the claimed video range, it's much less. I got around 100m away in a clear environment before the GPS-powered auto-return kicked in. That's a far cry from the likes of the 10km DJI Mini 2.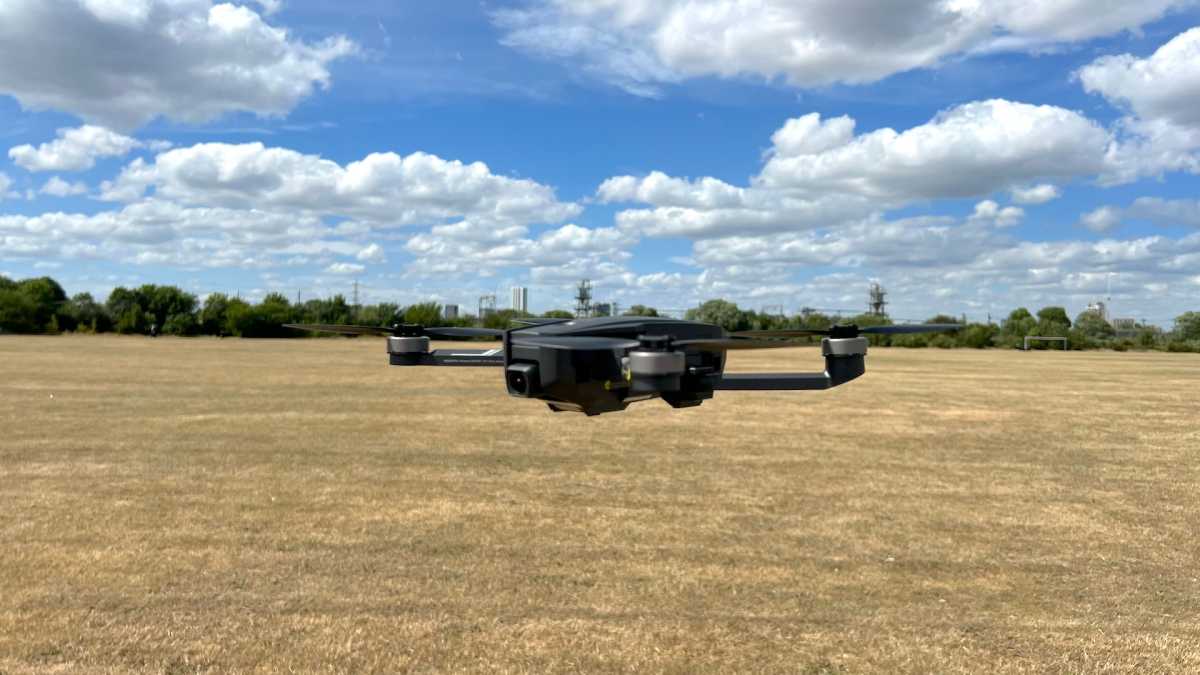 Lewis Painter / Foundry
You can set up preset flight plans via the app that the drone will follow using GPS if you want to go further – though it's worth noting that under UK law, you have to be within 500m and within line-of-sight of your drone at all times, so it's not recommended.
There are also other automated shooting modes available, including point of interest that'll circle around a point of interest 10m away for a cool spiral-esque shot, and a Follow Me mode. The latter isn't quite as impressive as you might hope, lacking any kind of object avoidance and the ability to adjust the camera to keep the subject in the shot.
HolyStone provides two batteries with the HS720E, with 23 minutes from each totalling 46 minutes of flight time – though you'll have to land the drone and swap the battery at the halfway mark.
The good news is that if the battery does get low it'll return to the point where it initially took off from, rather than simply drop from the sky.
Handily enough, there's a dual charger in the box that allows you to connect both batteries at once, though you'll have to supply the USB-A charging brick yourself. It also charges the batteries one at a time, and considering it takes around 5-6 hours to charge one battery, you're looking at a rather long 10-12 hour wait between flights.
Lewis Painter / Foundry
When not in use, the HolyStone HS720E, the controller, batteries and charger are stored in a hard protective case – also provided with the drone. The case has cut-outs for each component, allowing it to be stored safely and securely during transit, and it'll help protect against a drop or two too.
Performance
Easy to fly with two speed modes available
Video can be shaky without a gimble
4K video is softer than competitors
Limited range
Sporting brushless motors and a bevvy of sensors that help keep it stable, the HS720E is a joy to fly. It has two modes – one limited to 15mph and the other limited to 22mph – with the former good for slow, sweeping controlled shots while the latter is ideal for fast-paced shots, following moving subjects and generally having a fun time flying the drone in an open space.
The camera, mounted onto the front of the drone, has a -90-0° pitch to help get the angles you need, and the 130° FOV is certainly wide enough to capture the scene in all its glory.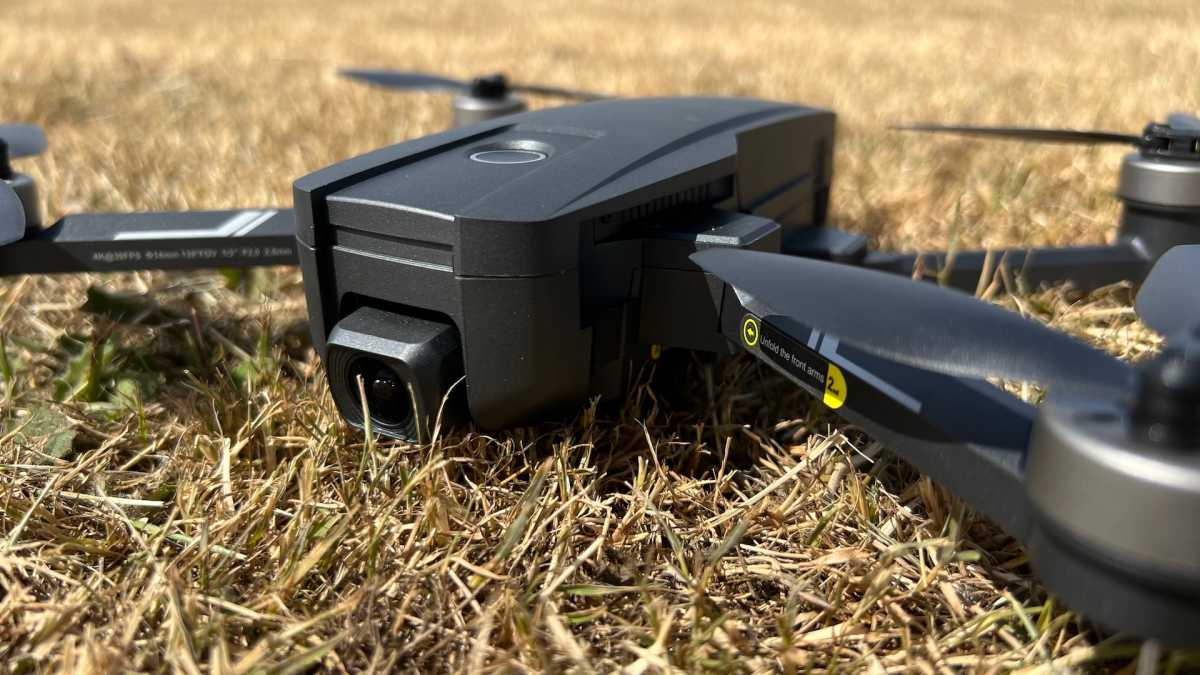 Lewis Painter / Foundry
When it comes to video quality, you've got two options to choose from; 1080p@60fps or 4K@30fps. It's worth noting that, as with most drones, you'll only get a standard 1080p video transferred to your phone – you'll have to take the microSD card from the drone and connect it to a PC or laptop to view the full-res footage.
Videos are recorded in MP4 format by default, with the option to change the codec to AVI in the app if you prefer. The video bitrate isn't listed by the manufacturer, but I suspect it to be less than the likes of the 4K-enabled DJI Mini 2 and its 100Mbps MP4.
Lewis Painter / Foundry
That does ring true to life, with a softer look in videos overall, regardless of the resolution you shoot at. Sure, 4K looks better than 1080p on the drone, but it's not quite as detailed as 4K videos from similarly priced drones.
That's not to say it's bad quality – in fact, I'd say it's on a par with a mid-range Android smartphone, with natural colours and good exposure, though with more of a wobble. The EIS helps take the edge off in bumpy flights, but it's not quite as smooth as you'd get from a 2- or 3-axis gimble – especially if the drone has to compensate for wind.
Take a look at the video below to see the 4K capabilities of the drone.
There is also a standard photo mode for stills, captured at 3840 x 2160, though the fixed focus of the drone's camera means it's better suited to vista shots rather than close-up stills. It's also captured in JPG with no RAW support, so don't expect to boost up the detail too much in Photoshop.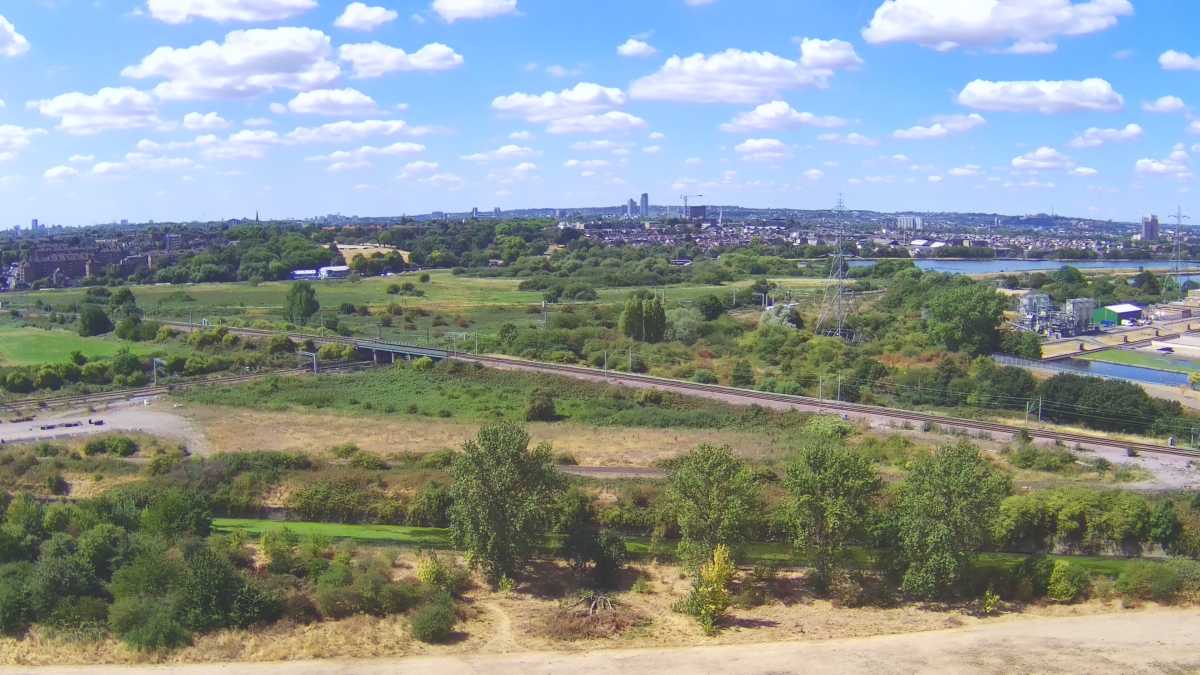 Lewis Painter / Foundry
That all said, it'll still be more than sufficient for those just getting into drones, with easy flight controls and video quality that doesn't look too bad even when showcased on a 4K TV – it's just not quite as clear and smooth as it could be.
Price & availability
The HolyStone HS720E is a very competitively priced drone, coming in at an affordable $299/£299. That makes it one of the cheaper drones currently available, beating the $449/£419 DJI Mini 2 and the $349/£369 Mavic Mini – though it has to be said that, for that extra money, you are getting better video quality, more advanced shooting features and more.
If you are sold by the idea of the HolyStone HS720E, you can pick it up from the likes of Amazon in the UK and US.
To see how it compares to the competition, take a look at our pick of the best drones.
Verdict
The HolyStone HS720E won't compete with the likes of established drone brands like DJI and Parrot, but that's kind of the point. The HS720E is an entry-level drone with a much more affordable price tag than even cheap rival drones – and when you start to look at it like that, it becomes more appealing.
Sure, you won't get advanced flying modes, object avoidance, a camera gimbal or fancy photo modes that'll stitch images into a panorama, but it nails the basics quite well.
It's easy to fly at two speeds depending on what you're shooting, with built-in GPS and a live 1080p video feed – as long as you're no more than 100m away, that is. Even if you do lose control of the drone, it'll return to where it lifted off with impressive accuracy.
The option to choose between 1080p@60fps and 4K@30fps is handy for beginners, even if the footage is a little soft compared to other 4K drone camera footage.
Considering it also includes two batteries, replacement blades and a hard-shell carry case for transport, the HolyStone HS720E is a competitively priced drone for those new to the world of drones and aerial photography.
Best Prices Today: HolyStone HS720E