At a glance
Expert's Rating
Pros
Powerful Bafang motor
Neatly integrated LED controller
Decent range
USB-C port for charging your phone
Cons
Heavy
Some budget parts
Mode change requires one-handed riding
Our Verdict
As long as you're not planning on extreme off-roading, the Netuno is a decent electric hard-tail mountain bike. It's got plenty of power and good range, but it is very heavy.
Price When Reviewed
$1,459
Best Prices Today: Eskute Netuno
A year ago Eskute offered just two electric bikes but now has an increasing range of models. The latest is the Netuno E-Mountain Bike, and it's an affordable option compared to some of the big brands which charge considerably more.
For $1,459/£1,299, you get front suspension, disc brakes, a range of 65 miles and a neat built-in backlit LED display. Is it a bargain or a false economy? Read on to find out.
Design & Features
Hardtail design with disc brakes
19.2in/49cm frame
25kg weight
On the whole, the Netuno looks very similar to the Voyager we reviewed last year. It's a hardtail design with an identical black and blue colour scheme (this is the only choice) and a surprisingly slim top tube.
There are some differences though, starting with a bigger 19.2in (49cm) frame vs 16.5in (42cm), though Eskute still says it's suitable for riders of the same size range: 5ft3in to 6ft7in (160-200cm) and can carry 125kg – that's the rider plus any luggage.
The aluminium frame feels sturdy and well-made and the bike is, once you've got your head round the occasionally confusing instructions, easy enough to put together with the tools supplied in the box.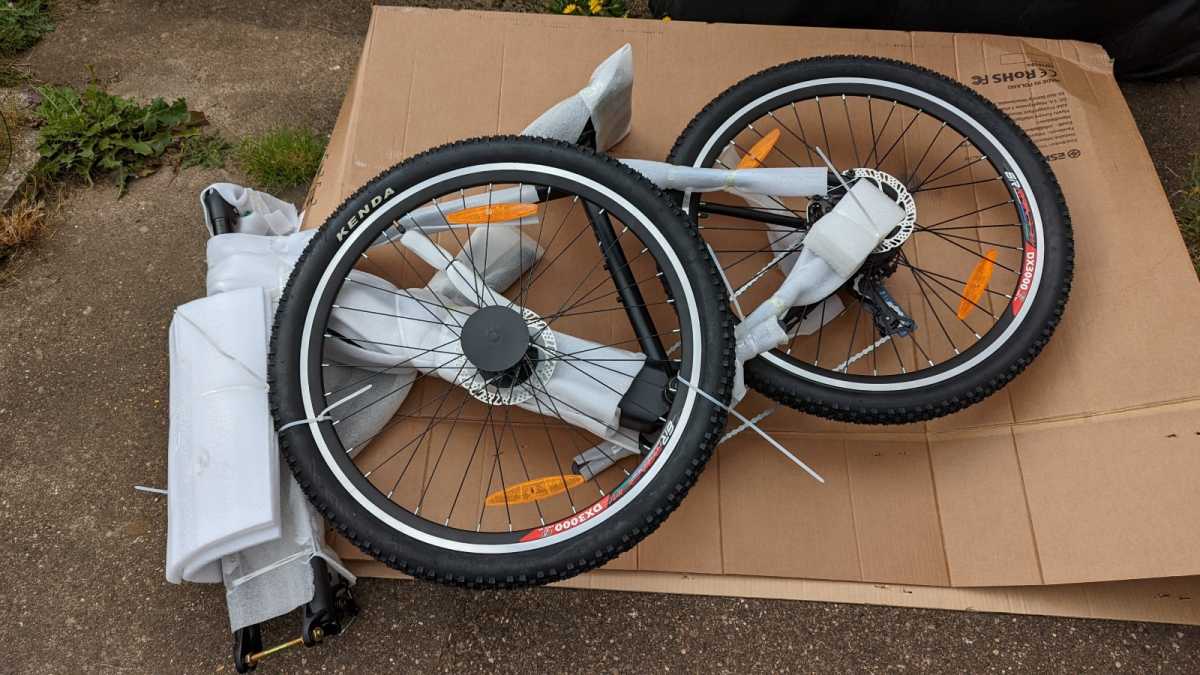 Chris Martin / Foundry
As is the case with many entry-level e-bikes, the Netuno is heavy at 25kg, including the battery. It doesn't feel too bad when you're riding it but makes it a awkward to maneuver when you're not. It's a particular challenge if you need to lift it onto a wall-mounted bracket for storage or up onto a car roof rack – taking the battery out first will help, of course.
Eskute ships the Netuno complete with a front light which is powered from the bike itself, as well as a separate rear light to attach underneath the seat. Elements such as the seat post and front wheel are quick release, but the rear has nuts.
Something you don't get, despite its off-road skills, are mud guards so you'll have to buy and fit your own if you need some. It's worth adding that the Netuno is IPX5 rated so you can ride in the rain.
Chris Martin / Foundry
The battery is housed in the oversized down tube and can be removed for charging. You'll need to use the key for this, as it's locked to dissuade theft while the bike is left somewhere. It's also good if you don't have power in your shed or wherever you store the bike: you can charge the battery in your home.
Unlike the Voyager's battery, this one doesn't have any LEDs to indicate remaining power, just an upside-down power button. Instead, there's a backlit display is built into the handlebar stem which gives this information (more on that below).
Motor & Controller
Bafang 250W motor
Backlit LED display
Charging port
Like other Eskute models, the Netuno is powered by a 250W Bafang motor and this, along with the battery and controller, comes with a two-year warranty. Other parts vary so check this table for more information.
A Bafang motor is better than you might expect to find around this price and should be reliable regardless of that warranty. After two years, it should also be repairable if something goes wrong.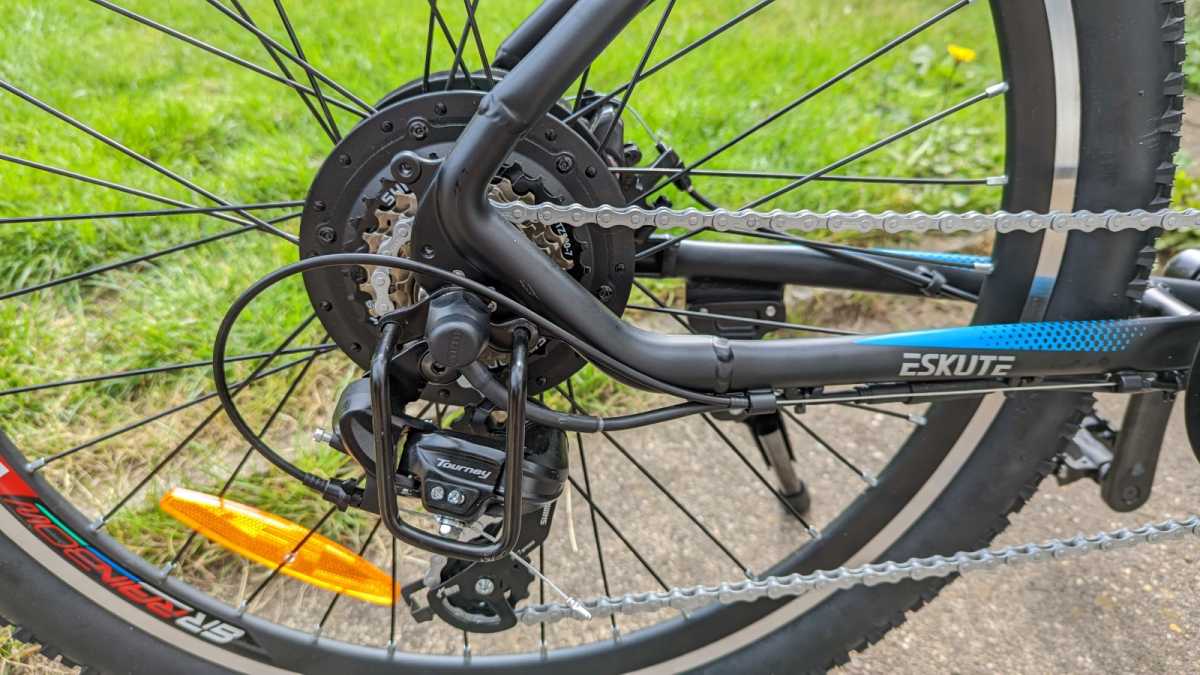 Chris Martin / Foundry
We're fans of the backlit LED controller which is neatly built into the stem.
The large display is easy to read (unless you're in really bright direct sunlight) and gives you information on things like assistance level, speed, front light status and battery level (in five segments). Two buttons at the bottom are for powering the bike on and off and changing the mode (aka assistance level).
While the design looks great and is seamlessly integrated into the bike, it means you can't adjust the assistance mode without taking one hand off the handlebars.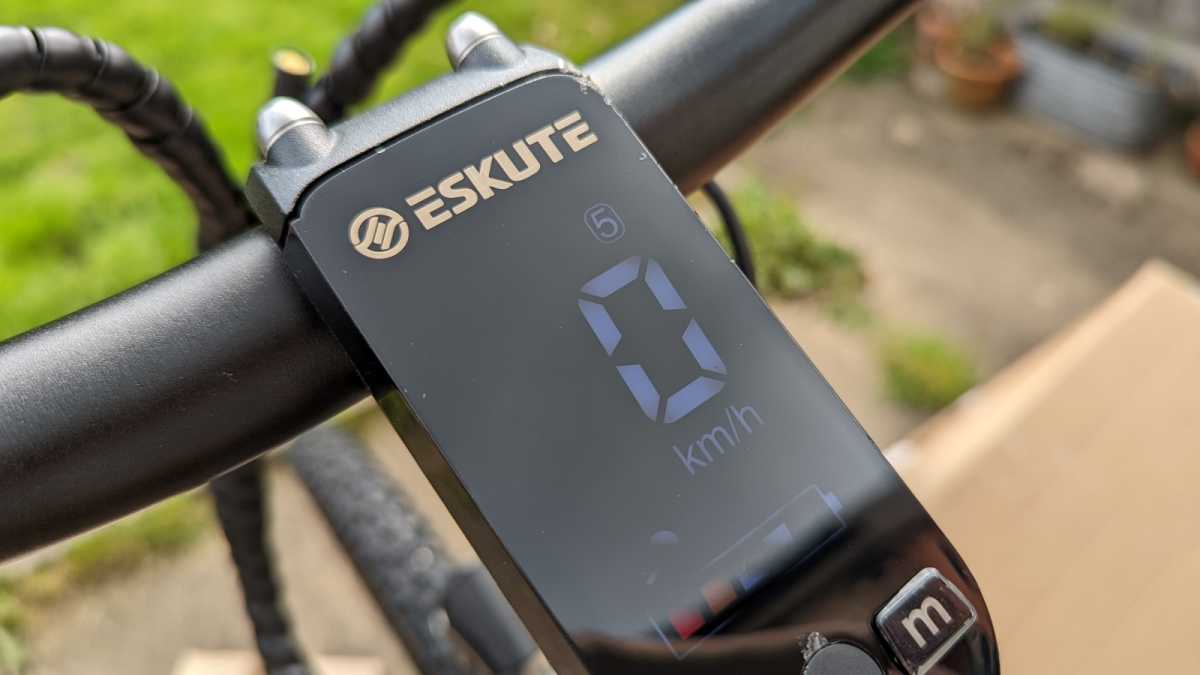 Chris Martin / Foundry
On the plus side, there's USB-C charging port tucked away so you can top up a device such as a phone from the bike's battery.
You'll also need your phone if you want to connect the Eskute app to the bike over Bluetooth. This is new, and lets you adjust the screen brightness, set a password so the motor can't be used unless you 'unlock' it via the app, and an auto unlock feature that works by the proximity of your phone.
Connecting worked on on the second attempt for me, but I found the app useful for changing the speed unit from km/h to mph. It's hard to see why you'd use the app to turn on the front light, though.
You can also record your rides, and see what any error codes mean.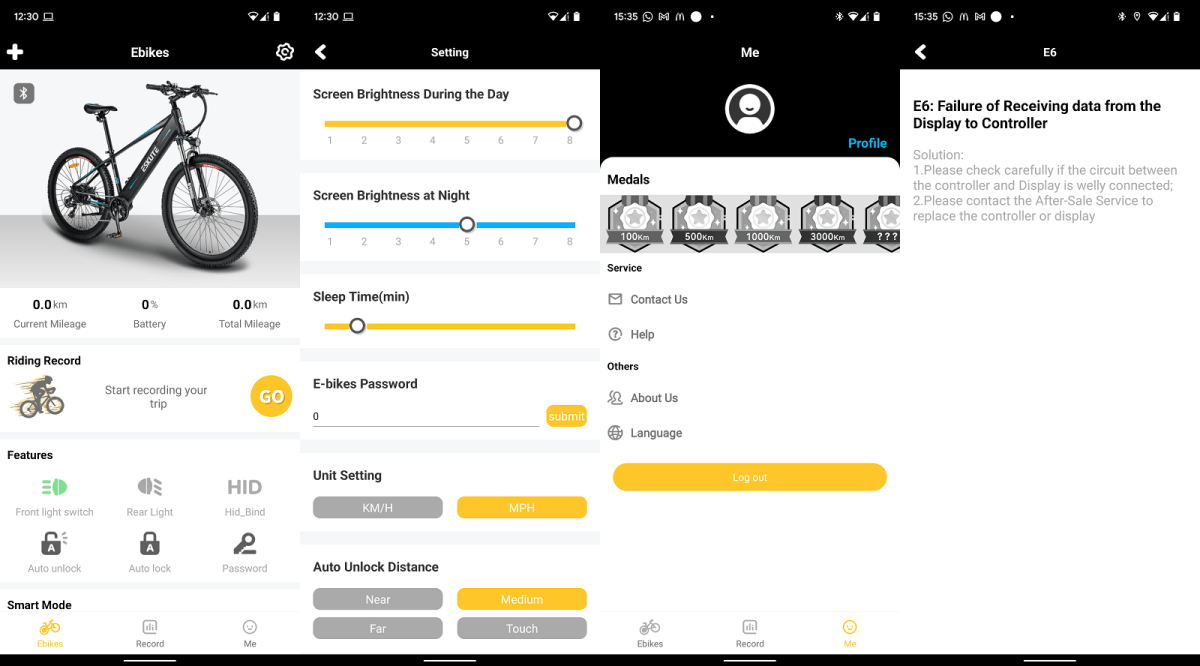 Chris Martin / Foundry
It'll also give you things like distance covered, battery level to the nearest percent, trip records and medals for achievements.
Ride Quality
Five assistance levels
A learning curve to power delivery
7-speed Shimano gears
Like a lot of e-bikes, the Netuno has five levels of assistance to choose from not including zero (i.e. no assistance). And the 250W motor has plenty of torque (45Nm) to get up steep hills, and get going quickly on the flat.
Power delivery is smooth most of the time but there is a learning curve to riding the Netuno as the combination of terrain, gear selection and assistance mode can be tricky to get right.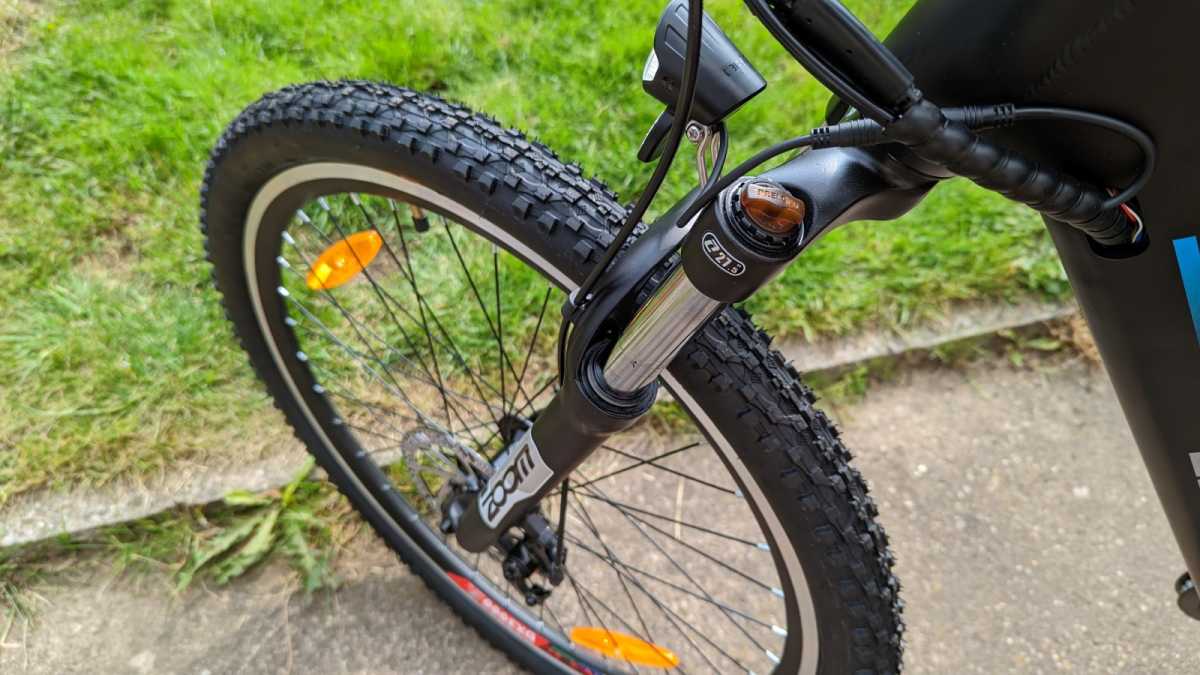 Chris Martin / Foundry
If you have the bike set to level five – maximum – you might even find the acceleration too much. This is because it uses a cadence sensor to detect when you're pedalling, as opposed to a torque sensor that not only knows whether you're pedalling but also how hard you're pushing on the pedals, and matches power output to your effort. With a cadence sensor, or at least in Eskute's case, it just applies maximum power (for the mode selected) as soon as you start to turn the pedals.
It can take you to a maximum of 15.5mph and I found it could go from a snail's pace to around nine or 10mph within a few seconds on flat ground.
Planning ahead is the key, especially if you're about to go up a steep hill but you'll learn how the bike works more over time. When off-roading it can be frustrating, dangerous even, that the mode selection button isn't reachable without taking your hand off the bars.
The Netuno is a comfortable ride overall, able to soak up small rocks, tree roots and more urban obstacles such as a raised manhole cover. It's worth noting that the suspension forks, gears and brakes are not top-quality components. At least they're branded: the shifter, derailleur and cassette are basic Shimano parts and there's a Zoom suspension fork unlike the Voyager's unbranded one.
Chris Martin / Foundry
Occasionally the Netuno wouldn't go into the correct gear (mainly between three and four) as the factory adjustment was slightly our and the mechanical disc brakes could be more responsive, too, although that should improve as they bed in. What's odd is that they're back to to front compared to a traditional setup: the right-hand lever is for the back wheel, not the front as you'd normally expect.
When riding on the road, the front suspension can be locked out.
Range
Up to 65 miles
Large 522Wh battery
While the Eskute Voyage had a range of up to 44 miles (70km), the Netuno is able to go further. Eskute says it can manage up to 65 miles (100km) in electric assist mode. That means you need to pedal and not use a throttle. Our test bike didn't have a throttle anyway, and they're not legal in the UK (beyond walking speed).
The extra range is mainly down to the larger-capacity 522Wh battery vs 480Wh.
However, remember that 65 miles is the absolute maximum and the distance you actually achieve will be based on many things like your weight, the terrain, weather conditions and much more.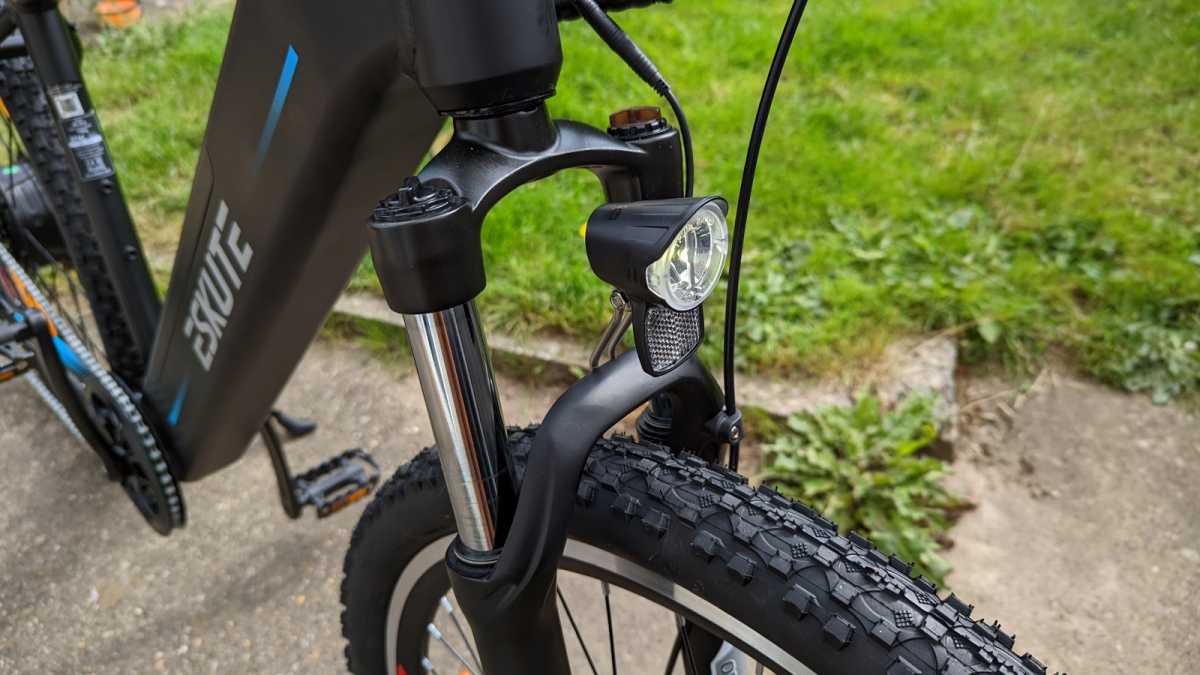 Chris Martin / Foundry
Also know that manufacturer range figures are usually based on smooth, flat roads in ideal conditions. And riding off-road on steep, rough terrain will reduce that range a lot.
If you want, you can buy a spare battery from Eskute at £350, though this doesn't appear to be available in the US.
Your other option is to buy the Eskute Netuno Pro which has a higher range of up to 80 miles (130km) and a more powerful motor with 80Nm of torque. It costs more at £1,999, though, and isn't available in the US.
Price & Availability
You can buy a Netuno for $1,459/£1,299 direct from Eskute.
It's worth noting that although Eskute is a Chinese company, its bikes aren't shipped from China so you don't need to wait a long time or worry about import fees. The firm has warehouses in UK, US and Poland and delivery is free.
One way to save money in the UK is to buy two bikes (any two models) at the same time. Using the code '2BIKES' will save you £150.
One of the Netuno's rivals in the UK is the Carrera Vengeance E which is 1.5kg lighter and £200 cheaper but has slightly less range at 40 miles.
To see other options, check our roundup of the best electric bikes.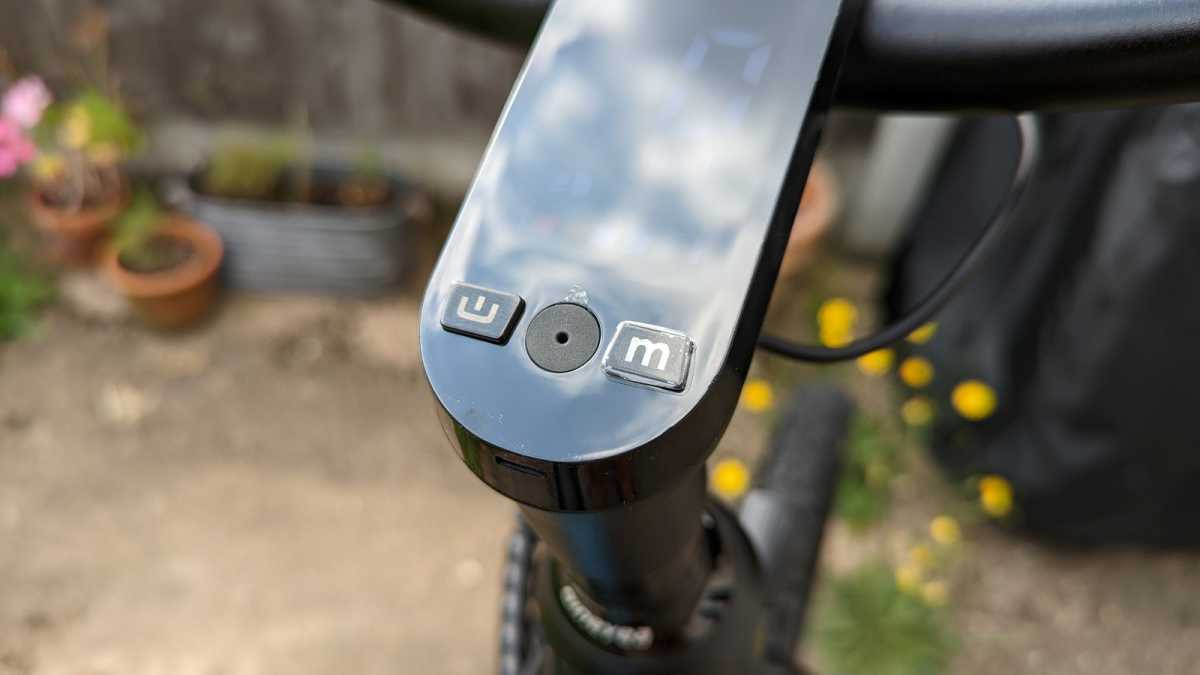 Chris Martin / Foundry
Verdict
Those looking for an electric mountain bike on a budget should definitely consider the Eskute Netuno.
It's stylish and well-made with some neat features including a decent range from the 522Wh battery along with a built-in LED display. The only downside to its positioning is that it requires you to remove one hand from the handlebars to change the assistance mode.
Those who like smart features will likely enjoy the Eskute app as well as the fact this bike has a handy USB-C port for charging devices.
Performance is decent and there's plenty of power on demand when you need it: it's just a shame that it isn't very subtle, and you'll need a while to get used to it if this is your first electric bike. Just note that certain parts are towards the budget end so the bike isn't suited to extreme off-roading.
For those in the UK, the Carrera Vengeance E is another good-value option, particularly because of the convenience of being able to take it to your local Halfords for any repairs.
Specs
Motor: 250W Bafang G020
Max Speed: Assisted Motor Speed, 15.5mph or 25kmph
Location of Motor: Rear hub
Bafang LED Display: Speed, Distance, Battery Power, Assistance Level, Light, Bluetooth and Error
App support: iOS or Android
Frame: Aluminium
Weight: approx 25kg with battery
Max Person Weight: 125kg
Frame Size: 19.2in
Wheel Size: 27.5in
Wheels: Unbranded
Tyres: Kenda K1027
Seat: S1 354
Seat Post: Aluminum 6061 with Clip
Gears: Shimano 7 Speed Tourney
Brakes: Zoom DB-330/331
Lights: Wires front light, independent rear light
Front Fork: Zoom 525 AMS-27.5 with lockout
Battery Type: 36V, 14.5Ah Lithium battery (522Wh)
Distance: Up to 65m/100km
Warranty: Up to 2 years depending upon component
Best Prices TodayEskute Netuno