If your kids are anything like mine, they'd spend all day on TikTok if they could. They might occasionally go outside in the sunshine (but only to record another video), and getting them to do something other than staring at a phone screen isn't a simple task.
Telling them they've had enough screen time doesn't work, but there are various free apps and tools you can use to enforce limits. That may not stop the arguments, but at least it'll mean you're in control.
I'm going to assume they have an iPhone or Android phone here, but if they have an Amazon tablet, you can read my guide on how to set up time limits on those separately.
1. Limit screen time on iPhone
Apple has added great parental controls to iPhones in the Screen Time feature. It isn't an app: you'll find it in Settings.
In order to use it, you'll need an iPhone or iPad of your own. Technically you could set up Screen Time on your child's device and not need a second device, but you won't be able to alter time limits (including allowing extra time) without physical access to the phone, and that will almost certainly cause problems.
When setting up Screen Time, you'll first need to make sure the child is in your 'Family'. That's the Family Sharing part of iCloud, and to set it up, go to Settings > Your Name > Family Sharing and follow the instructions.
Dominik Tomaszewski / Foundry
Then, under Settings > Screen Time tap on your child's name and enable it.
You'll be walked through setting up each of the main Screen Time controls.
First is Downtime – the hours between which the iPhone can't be used overnight. They can be the same every day, or you can customise them. Make sure to enable the option 'Block at Downtime', else the phone will remain usable.
You can then set App Limits. If you want to set an overall daily limit, select All Apps & Categories, scroll down and choose how many hours your child can have.
You can also set additional (lower) limits for individual apps. Use the search bar at the top to quickly find the app you want.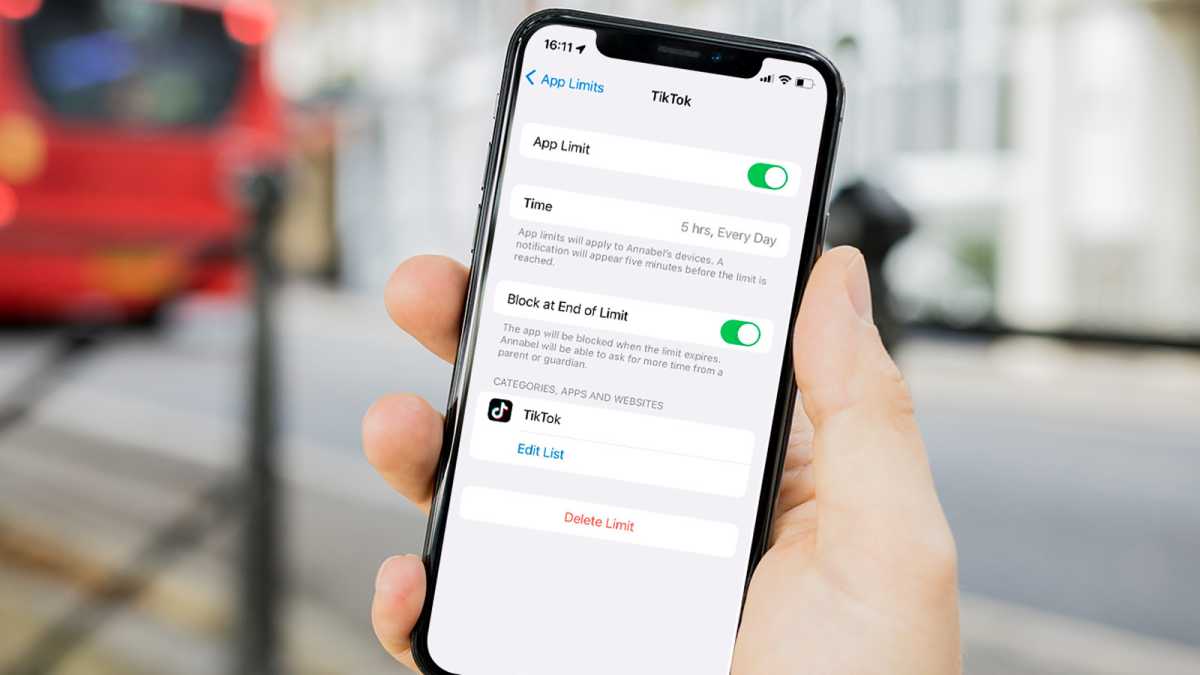 Dominik Tomaszewski / Foundry
For any rule you create like this, make sure you enable Block at End of Limit, otherwise nothing will happen.
When you've finished, you'll see a blank activity graph, along with the various Screen Time settings which you can modify any time you like.
Perhaps the best Screen Time feature is Always Allowed. This lets you choose which apps can be used during Downtime. That could be the Phone app, Camera or whichever you choose.
It's also possible to choose which contacts your child can talk to both during Screen Time and during Downtime.
When you first set up Screen Time for a child, you need to enter a Screen Time PIN. This should be a code they don't know and cannot guess, otherwise they'll be able to disable the feature and use their iPhone as much as they want.
2. Limit screen time on an Android phone
Google's equivalent of Screen Time is called Family Link. It's basically the same thing, but with the benefit that you can use either an Android phone or iPhone to manage Family Link as a parent.
Family Link is a standalone app that you need to install, as it isn't part of Android. Also note that Family Link cannot be used to limit screen time on a child's iPhone: it is only available on iOS for parents.
As with Screen Time, the first job is to set up your Google Family so there's a profile for your child. Then you can assign one or more devices to them – those could be Android phones, Chromebooks or Android tablets.
Dominik Tomaszewski / Foundry
Family Link separates app limits from a Daily Limit, which is less confusing than on iPhones. You can choose how many hours of screen time your child is allowed each day (this could be different every day if you like) and a Bedtime, the hours overnight when the devices are completely blocked.
Separately, there are App Controls where you can see a list of installed apps. It's possible to set usage limits for each app (to the nearest five minutes) or use the Always allow option.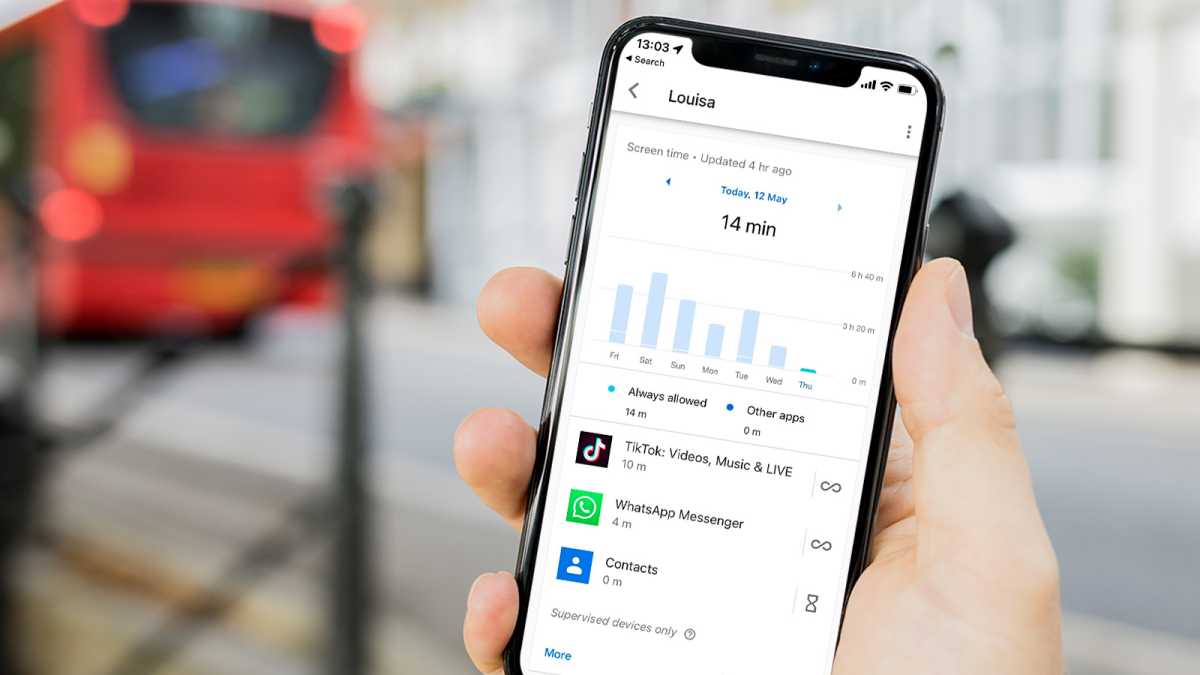 Dominik Tomaszewski / Foundry
That means the app can still be used even if the Daily Limit has been reached. This could be the Phone app, Messages app or another that allows your child to communicate with you (or perhaps their friends) after their screen time is used up for TikTok and other apps. However, unlike Apple Screen Time, Family Link has no option to allow the use of any apps during Bedtime.
It's possible to give extra time, but the option to do so appears only when the child is close to their Daily Limit.
3. Limit screen time using your router
One big problem with the methods above is that they don't prevent the use of other screens around the house. You could pay for parental control software such as Qustodio which runs on just about everything (including Windows and macOS) to provide a single time limit for all devices.
However, even that won't stop them watching Netflix on smart TV.
It is possible to enforce limits there by changing the settings in your router.
As the device that provides an internet connection to all the screens in your home, it one of the best ways to stop your kids from using a Fire TV Stick or Apple TV when you don't want them to.
As routers vary from brand to brand, it isn't possible to provide the exact instructions for your model. But hopefully your router has a companion app which makes the process a lot easier. This doesn't only work for routers: mesh Wi-Fi systems should also allow you to restrict access to certain devices too.
I'll use the BT Smart Hub 2 as an example – a popular ISP-supplied router in the UK. It can be controlled using the MY BT app, but even if yours doesn't all routers can be configured in a web browser.
You're looking for the parental controls, or Wi-Fi controls. Most routers let you turn Wi-Fi on and off for specific devices and – usually – at set times. This means you can select the Fire TV Stick in your daughter's bedroom and set the Wi-Fi to be blocked between, say, 11pm and 7am.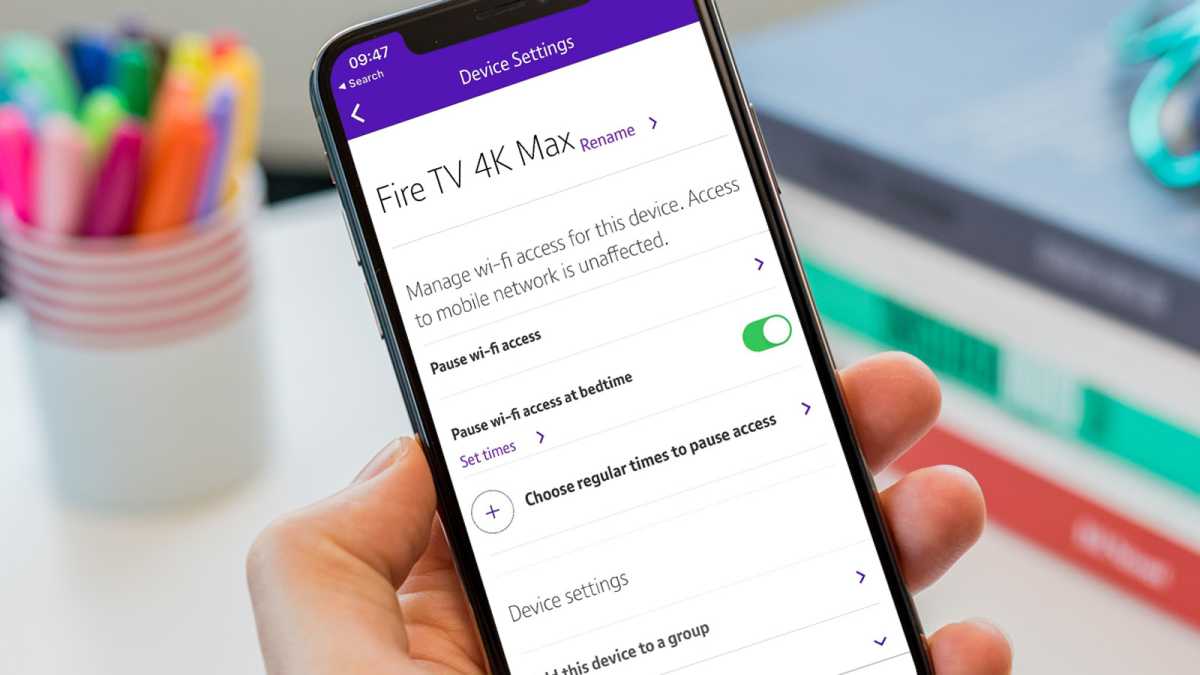 Dominik Tomaszewski / Foundry
Sometimes this is a very easy process. But one common problem is that a lot of devices aren't properly named which makes it impossible to tell which is which. Many of those shown in the MY BT app are simply 'Unknown'. It isn't BT's fault: it's usually down to the manufacturer of the device in question: they just didn't give it a friendly name that would help identify it.
Fortunately there are two ways to identify any device connected to your router: by its IP address or, better still, by its MAC address, which never changes.
It can be tricky to find either of these details on some TVs and other set-top boxes. Sometimes the MAC address is printed on a stick on the device in question, or it may be in the settings menu under 'Wi-Fi settings' or Network. You'll have to look through the settings and see if it's there. Take a photo of it.
And because IP addresses can change, it's better to use a MAC address.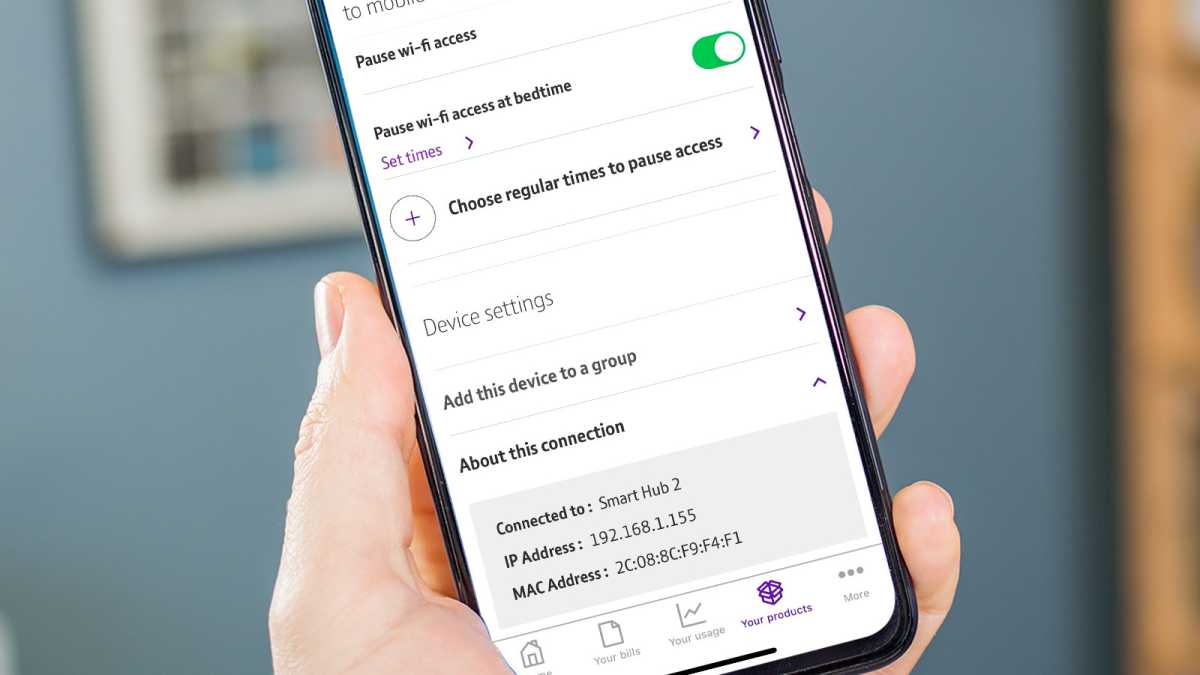 Dominik Tomaszewski / Foundry
Back in your router settings, search through the list of connected devices until you see the one with the MAC address you're looking for and – if possible – rename the device so you can identify it later and then set up the times when Wi-Fi should be unavailable.
You won't be too popular if your kids haven't previously has these screen time limits imposed, but at least you're now armed with the knowledge of how to enforce them and – hopefully – get them to pick up a book, go out for a walk or do something with their time off school that doesn't involve a screen.
Related stories