Huawei has updated is MatePad Pro with a new 11in version the company claims is the thinnest and lightest tablet of its size, but it only wins out if those metrics are combined.
At 5.9mm, the new slate is exactly the same depth as Apple's latest 11in – though both devices have camera bumps that are thicker than that measurement.
It means the new Huawei tablet is much thinner than the 2020 version of the MatePad Pro, which was 7.2mm thick.
The MatePad Pro tips the scales at 449g, a smidge lighter than the iPad Pro's 466g, so I guess Huawei can say it's got the thinnest and lightest 11in tablet even if it is a somewhat wrangled brag.
The tablet cannot hide how influenced it is by the iPad either. It has a curved cornered flat screen with a 120Hz OLED panel, the same as Apple's Pro. That display can get to 600 nits of brightness and has a 10-bit colour depth and the ability to display the same colour range across Huawei compatible laptops and phones to appeal to the creative industry.
We presume such a laptop will include the new MateBook X Pro announced alongside the MatePad Pro.
The tablet packs in six speakers and dual 12Mp main and 8Mp ultrawide cameras. It can be paired with the Smart Magnetic Keyboard, which looks quite like Apple's Smart Keyboard Folio but can be used detached from the tablet. There's also the Huawei M-Pencil, just like the Apple Pencil.
Huawei
Huawei adds its own flavour to proceedings with the MatePad Pro running Harmony OS, the company's mobile operating system. It's based on Android, but Huawei doesn't tend to mention that ever since a US trade ban meant Huawei tablets and phones can't run Google services anymore.
Instead, Harmony runs Huawei Mobile Services and taps into Huawei's App Gallery to download apps.
Confusingly, Huawei doesn't tend to refer to Harmony OS at all in its Western marketing. On phones that run Harmony OS in China, in Europe they are marketed as EMUI.
The MatePad takes advantage of new software features such as App Multiplier, which can display several instances of the same app simultaneously for multitasking with multi-window updates.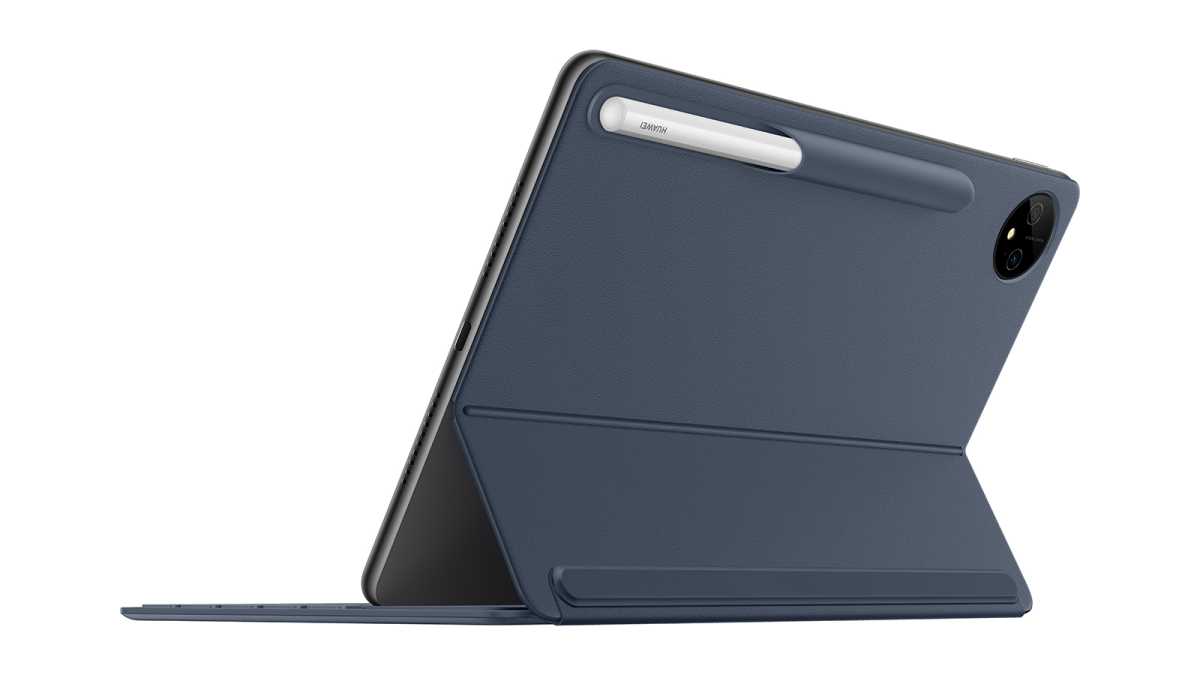 Huawei
Another new software perk called Super Device for Smart Office works on the MatePad Pro and compatible Huawei laptops like the new MateBook X Pro and MatePad Paper tablet, which lets you click and drag windows, join conference calls, and sync across devices.
The new MatePad Pro runs a "flagship 5nm Qualcomm chipset", though in a presentation Huawei CEO Richard Yu did not confirm which specific processor it was. That's paired with a decent sized 8300mAh battery that can be topped up with 66W fast charging.
It comes in a gold black finish, but global pricing and availability is to be confirmed, making it very hard to place where it will end up in the market. We hope to get one in for review very soon.