Trading in your old tech is a win-win situation. You clear out the clutter and get some money to put towards another purchase – and your unused gadgets are kept out of landfill.
Right now, Walmart has partnered with CExchange to run a trade-in scheme for old tech: Gadgets to Gift Cards. Send in your old tech items and you'll get an e-gift card to spend at Walmart.
Here's how it works.
How do I trade in my old tech at Walmart?
The first step is to gather any old devices together. Go and have a look in your cupboards and drawers for obsolete fitness bands, broken smart speakers and cell phones that you've moved on from. You might be surprised at what you have lying around.
If you have newer devices that are still working, it's a good idea to see if you can get more for them by selling. But if they're older, or broken, it's better to trade in devices than to leave them in a cupboard. The longer you keep old tech, the less it will be worth.
Which products does Walmart accept for a trade-in?
Walmart accepts devices in these categories:
Cell phones
Tablets
Game consoles
Smart speakers
Laptops
Wearables
Can I trade in broken gadgets?
Your items don't have to be in mint condition. You can even trade in broken devices and tech that won't switch on. Of course, you won't get as much money for them as gadgets that are in good working order and come with their box and accessories.
What is my tech worth?
Once you've decided what you want to trade in, the next stage is to visit Walmart's Gadgets to Gift Cards page. You'll be asked a few questions about your tech. First of all, you'll need choose the device type from a number of options.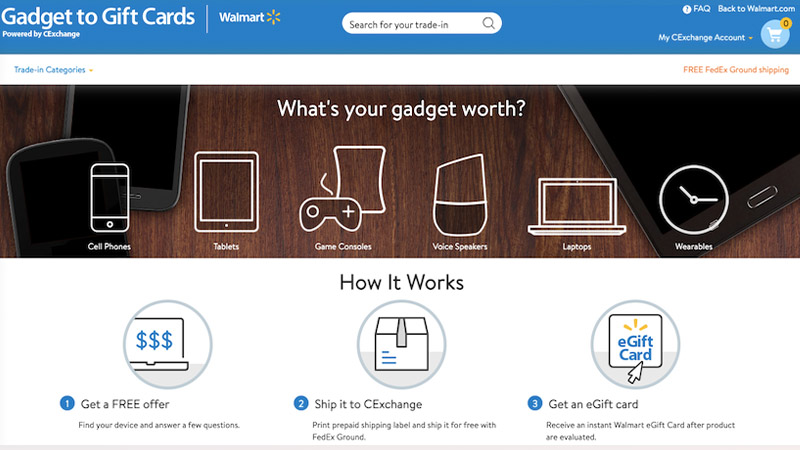 Walmart
Your next step will be to choose the model. For example, if you have a 64GB Google Pixel 3 to trade in, you'd choose Cell Phones > Google > Pixel 3 > 64GB
Walmart
On the final page, you'll specify if it's working or not, which accessories you are trading in with it (charger, box etc) and your carrier. For an unlocked 64GB Google Pixel 3 of this kind with a charger, you'll get a $31.50 Walmart gift card.
Walmart
How do I send off my old tech?
Once you've added one item, you'll be able to return to the main categories page and add further tech items to trade in. When you're finished, you'll be prompted to create an account. To do so, you'll just need to provide an email address, mailing address and create a password. The system will create a label for you to print out so you can ship your tech for free with FedEx Ground.
Then all you need to do is sit back and await your gift card. If you're looking for buying inspiration, Walmart has a great selection of Switch consoles and accessories and iPads. For even better value, you could buy refurbished. We've got the pros and cons of buying a refurbished phone.
If you often shop at Walmart, you may want to sign up to Walmart +. Check out our guide to the service.