At a glance
Expert's Rating
Pros
Superb performance
Impressive battery life
Effective built-in cooling
Cons
Hit-and-miss cameras
Lower refresh rate than regular model
Heavy and bulky
Only guaranteed one Android version update
Our Verdict
The Red Magic 7S Pro is an accomplished gaming phone, but Nubia's cheaper models are a better bet for most people. The minor upgrades here simply don't justify a new release.
Price When Reviewed
From $729
Best Prices Today: Nubia Red Magic 7S Pro
Dedicated gaming phones have experienced a remarkable rise in recent years, with one company leading the way.
Nubia doesn't necessarily make the best gaming handsets, but it does make the most. In just over four years, a staggering 16 Red Magic branded phones have come to market. Most of these have been released globally, meaning there's always a new model just around the corner.
But Nubia's 2022 update cycle is aggressive even by its standards. The Red Magic 7S Pro launched globally just three months after its predecessor, making substantial upgrades highly unlikely.
Despite featuring Qualcomm's latest and greatest chipset under the hood it looks, feels, and performs almost identically to the 7 Pro.
Design and build
More muted design than previous Red Magic phones
Heavy and bulky
Underwhelming fingerprint sensor
Nubia introduced a slightly different design with the Red Magic 7 Pro, so it's no surprise to see it stay the same here. It uses a blend of glass and aluminium, materials we've come to associate with flagship phones.
The most eye-catching difference compared to regular handsets is a large metal plate which extends down the middle of the back of the phone. Nubia says this is to improve heat dissipation, although it adds significantly to the 7S Pro's total weight.
It's identical to the 7 Pro at 235g, but still one of the heaviest phones you can buy. This isn't a problem for long gaming sessions but does become uncomfortable if using one handed for an extended period.
Within that heat dissipation plate, you'll find a rectangular rear camera module, consisting of three lenses and a flash. The 7S Pro is relatively thick at 10mm, meaning it sits almost flush with the back of the phone.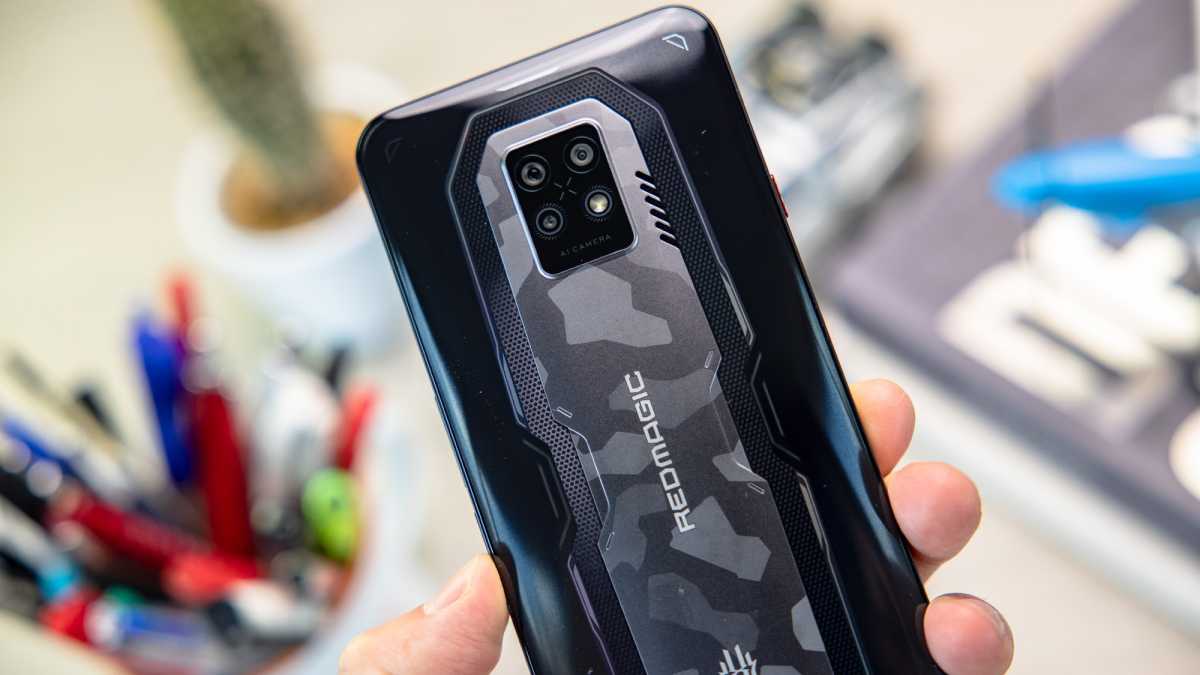 Dominik Tomaszewski / Foundry
It's obvious from the rear design that this is a gaming phone, but the Obsidian (black) model I tested is more muted than past Red Magic handsets. There's also a silver version, but the transparent model doesn't make it onto the global version. If you're looking for a wacky design or vibrant colours, the 7S Pro isn't the phone for you.
On both versions, Nubia has done a good job of concealing the built-in fan. Aside from a couple of grilles and the audible whirring when it's in action, you wouldn't know it was there.
The Red Magic 7S Pro retains a large 6.8in display, but it's more compact than you might expect. That's because the phone uses an under-display selfie camera, meaning there's no need for a notch. The lens is still just about visible, but an 87.1% screen-to-body ration is mightily impressive. Hopefully, all phones will look like this before too long.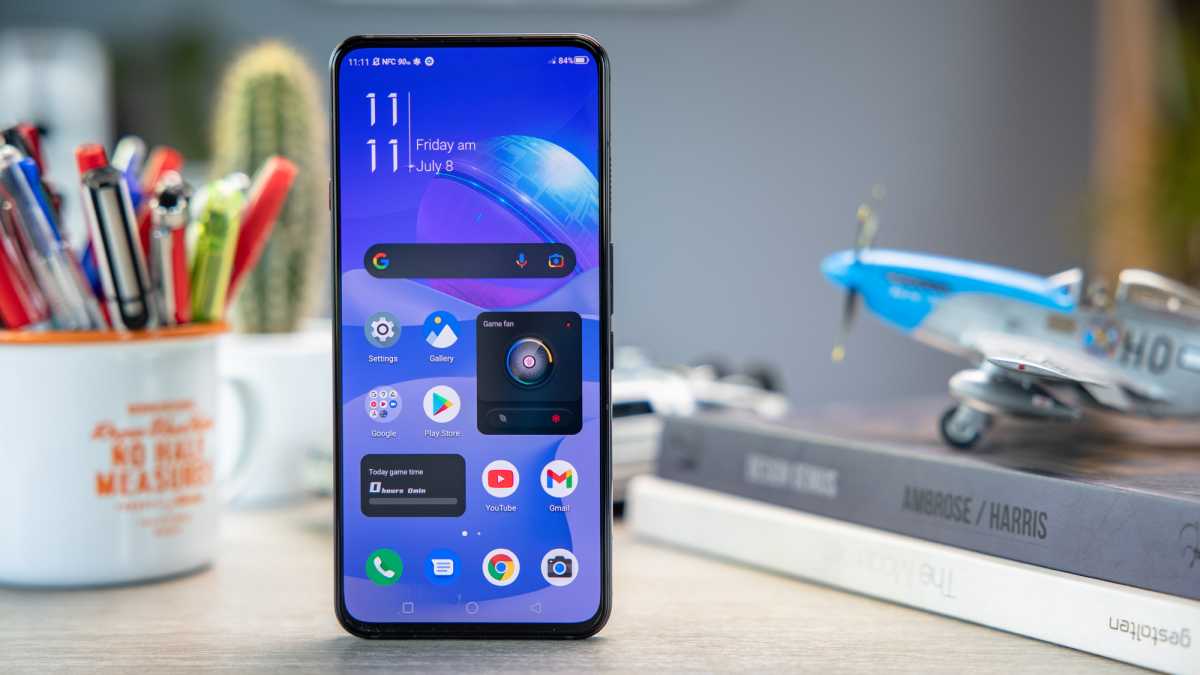 Dominik Tomaszewski / Foundry
Fortunately, you don't need to rely on the front-facing camera for face unlock. The in-display fingerprint sensor will handle that for you, but I was disappointed with how it performed. Setup is simple, but it often took several tries for the phone to recognise me. It also requires a longer press to unlock the 7S Pro than you might be used to.
Nothing has changed on the sides of the phone, but it's still very different to regular handsets. Power and volume controls are joined by one of the fan grilles and dual shoulder triggers, making it very clear which way to use the phone in landscape mode. On the opposite side, you'll only find the physical slider for turning on Game Space, Nubia's software-based gaming mode.
It's great to see the headphone jack retained at the top, alongside one of two speakers. You'll find the other at the bottom, alongside a dual SIM card tray and USB-C charging port. The latter's positioning may prove problematic while gaming, as charging while you play can get awkward. Asus's ROG Phones get around this using a second side-mounted port, but Nubia has decided against it.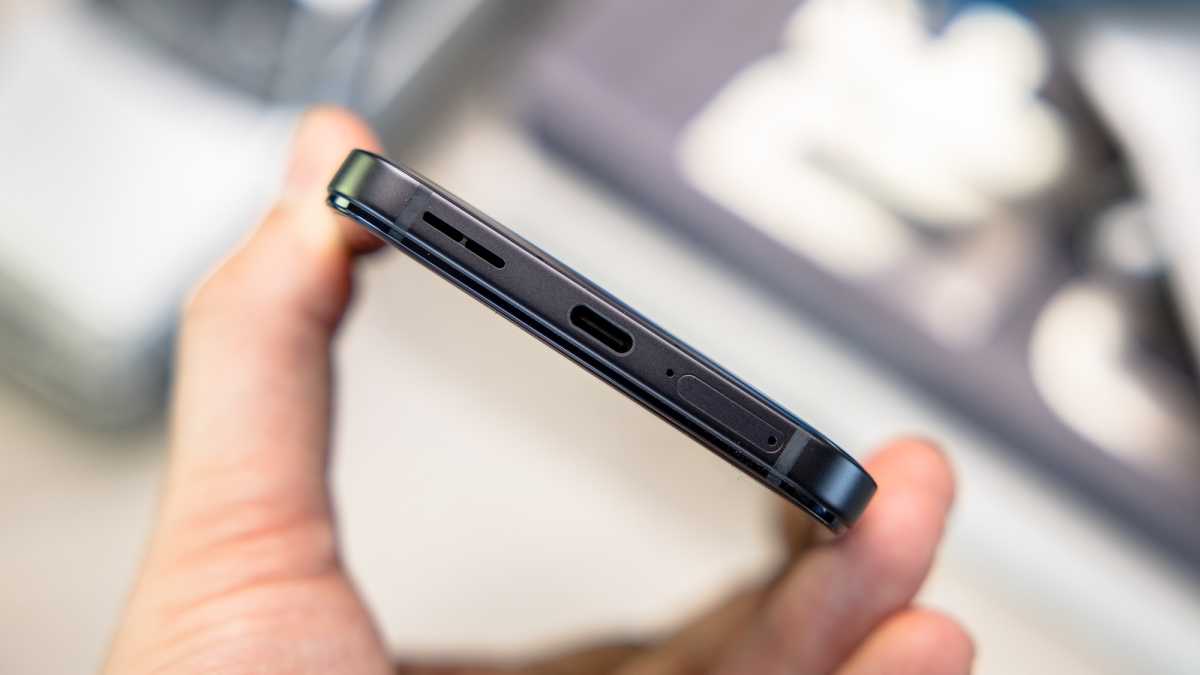 Dominik Tomaszewski / Foundry
Display and audio
6.8in Full HD+ AMOLED display
120Hz refresh rate, 960Hz touch sampling
Above average dual speakers
The display changes Nubia made with the Red Magic 7S Pro were controversial, but nothing has changed on its successor. That means it remains a clear step down from the best phone screens in 2022, something you wouldn't expect from a device at this price.
You still get a 6.8in, 1080×2400 AMOLED panel, giving it the increasingly common 20:9 aspect ratio. It'd be nice to have a higher resolution, but other display characteristics are more relevant for gaming.
They include a high refresh rate, something the 7S Pro possesses. But you're limited to 120Hz here, while many gaming phones opt for 144Hz or 165Hz instead. Nubia's valid counterargument might be that many games don't support those refresh rates, but the cheaper Red Magic 7S still has a class-leading 165Hz display.
Dominik Tomaszewski / Foundry
You can manually drop this down to 60Hz or 90Hz to conserve battery life, but the refresh rate still can't adjust automatically depending on what you're doing.
To help offset this, the 7S Pro has the highest touch sampling rate of any smartphone. It's 960Hz, meaning it can register up to 960 times every second. It makes the display ultra-fluid and responsive, which could make all the difference in FPS games – especially when paired with the 520Hz shoulder triggers. I certainly felt more confident while playing combat games such as Call of Duty: Mobile and PUBG: Mobile.
But even the most avid gamer won't be playing all the time. I'm pleased to say the display is excellent for everyday usage, delivering vibrant colours and plenty of detail. It also has an impressive range of viewing angles, despite being highly reflective.
However, I was disappointed with the brightness, or lack thereof. I recorded just 252 nits at the maximum, far below most other smartphones. Using the phone outdoors is very difficult as a result – I was often squinting to make out anything when the sun was out.
As alluded to earlier, the 7S Pro has dual speakers. The stereo sound they produce is significantly better than the average smartphone – punchy audio with a satisfying hit of bass. They also get impressively loud, but many details are lost at high volumes.
These help to deliver an immersive gaming experience, although many gamers will prefer to connect headphones instead.
Specs and performance
Snapdragon 8+ Gen 1 and 12/18GB of RAM
Stellar performance across the board
Fan can get loud
There are a handful of small upgrades on the Red Magic 7S Pro, but the processor is undoubtedly the most significant. It's powered by the new Snapdragon 8+ Gen 1, Qualcomm's latest flagship chip. Gains compared to the regular 8 Gen 1 are minor, but it maintains the Red Magic brand's reputation for top-tier performance.
The model I tested combines it with 12GB of RAM, but there is the option for 18GB if you need any more power. I doubt it, considering the stellar performance the 7S Pro already delivers.
Gaming on this phone is a joy, with fast, smooth visuals and excellent responsiveness. I tested some of the most demanding titles on the Play Store, including Call of Duty: Mobile, PUBG Mobile, and Asphalt 9, with no slowdown whatsoever. With the 120Hz refresh rate and 960Hz touch sampling, it felt like I had a crucial advantage over players using a regular smartphone.
The one caveat is the fan, which kicks in as soon as you load a game and gets quite loud. It means the phone only ever gets slightly warm to the touch, but it can be distracting unless you drown it out with audio. I tried turning off the fan completely, but the phone soon got very hot – I wouldn't recommend this.
As usual, great gaming performance translates into real-world usage. Common apps such as Chrome, Gmail, Maps and YouTube all run impeccably, even when split-screen multitasking. In reality, it offers far more performance than you'll ever need for any basic tasks.
But the 7S Pro can rival any smartphone in terms of performance, which the benchmarks reflect:
In China you'll find the option for 1TB of storage, but that's not available on the global version. But 256GB or 512GB should be plenty for most people, even if there's no microSD expansion.
Cameras and video
Triple rear cameras
Main lens is decent, ultrawide and macro less impressive
Poor under-display selfie camera
Like many previous Red Magic phones, the 7S Pro has a set of triple rear cameras. However, the 64Mp main sensor is doing most of the heavy lifting here.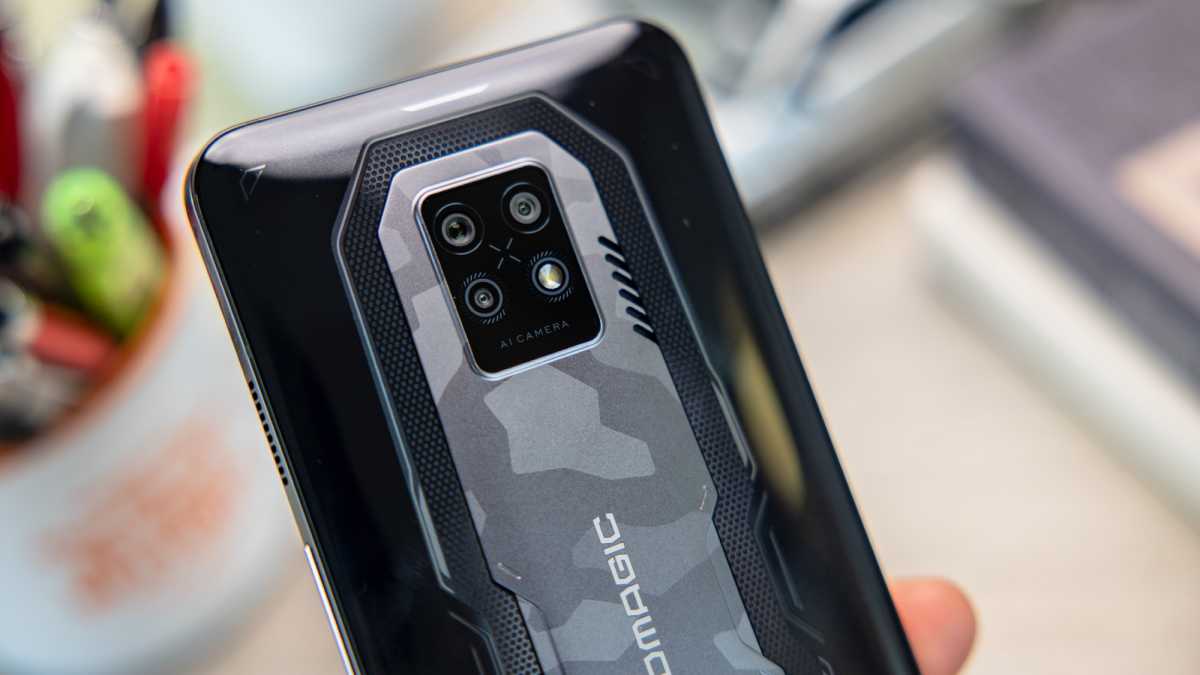 Dominik Tomaszewski / Foundry
It's the phone's best lens by a long way, delivering shots you wouldn't typically associate with a gaming handset. The lens is particularly suited to clearly defined subjects, whether it's buildings, people or pets.
I was also really impressed with the quality of portrait-style shots it produced. The edge detection isn't perfect, but the subtle background blur it delivers is impressive.
Night mode also relies on software, and it improves low-light shots without making them look artificially bright. However, many key details are still lost.
The latter also affects landscape shots, with overexposure another common issue. You might be tempted to switch to the 8Mp ultrawide sensor in those scenarios, but the drop-off in quality means it's not worth it. That's a real shame, as the flexibility of a 120° field of view is a great option to have.
Things are even worse when it comes to the 2Mp macro lens, which adds nothing to the camera experience. For close-up shots, I managed to get better colours and more detail using the main lens instead.
However, the selfie camera remains the single most disappointing thing about the 7S Pro. Not only is it embedded under the display, Nubia has also downgraded it to an 8Mp sensor on the global version.
Predictably, the results are significantly worse than a regular front-facing lens. Selfies tend to look grainy and washed out, with almost all details in the background lost. It's fine for the occasional video call, but even for photos with friends you'll want something better.
The gallery below showcases some of these inconsistencies, but also the 7s Pro's ability to take some nice shots. It just can't be relied on as your main camera for anything more than casual use.
On the video side, the Red Magic 7S Pro is capable of footage up to 4K at 30fps, but the default 1080p at 30fps is more realistic for everyday use. It does an impressive job of preserving key details, but without OIS (optical image stabilization), video is very juddery when moving around.
Battery and charging
5000mAh battery
Comfortably all-day battery life
Decent 65W fast charging
The Red Magic 7S Pro is equipped with a 5000mAh battery. That's a decent capacity, although it does have to contend with a large, high-refresh rate display and plenty of demanding apps.
Battery life is solid as a result, albeit one step down from the best you'll find on any smartphone. With the brightness set to 200 nits, I recorded 10 hours and 37 minutes in PCMark's battery test. This aims to reflect real-world usage by simulating a variety of tasks, but demanding games depletes the battery much more quickly.
Nonetheless, it's possible to get the device to last a very long time. With the refresh rate set to 60Hz, I spent around 12 hours away from the charger and still had around 70% battery left. That was despite frequently using mobile data and GPS, plus keeping brightness close to the maximum.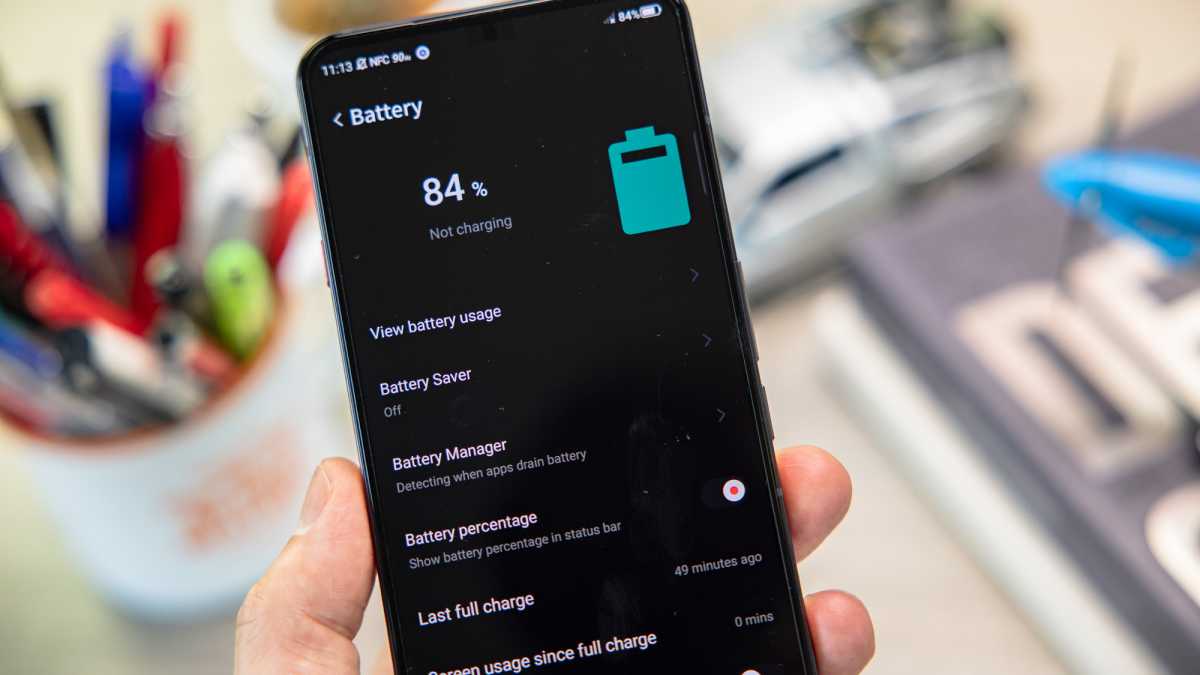 Dominik Tomaszewski / Foundry
However, it's worth noting that some camera features are limited when the battery is very low. At under 5%, both portrait and night modes won't work, but regular photos and video are unaffected.
When you do finally run out of charge, a 65W charger is included in a box. Again, this is a big step down from 135W adapter available with the Chinese version of the phone, but it's not slow by any means. In under 30 minutes, the battery is fully charged, although there's still no wireless charging.
Software and updates
Red Magic OS 5.5 over Android 12
Game Space and other useful software tweaks
Only one new Android version guaranteed
As expected, the 7S Pro runs Red Magic OS over Android 12. This is version 5.5 of Nubia's custom skin, although not much has changed. Notable additions include a home screen wallpaper rotation (complete links to popular articles) and the branding of gaming enhancements as 'Red Magic Force'.
The latter works in tandem with Game Space, Nubia's dedicated mode for playing games. This is still available via a physical slider on the side of the phone, although the main page has been redesigned. Core functionality is unchanged though, meaning it can still be used to tweak performance and control notifications.
While games can be launched from the main home screen, it's nice to have this mode that's separate from the rest of the device. Using it as a regular smartphone is enjoyable, despite the addition of several widgets and various redesigned stock apps.
Plenty of familiar Google features are still here, including the Messages app, Digital Wellbeing tools and the Discover feed to the left of the home screen.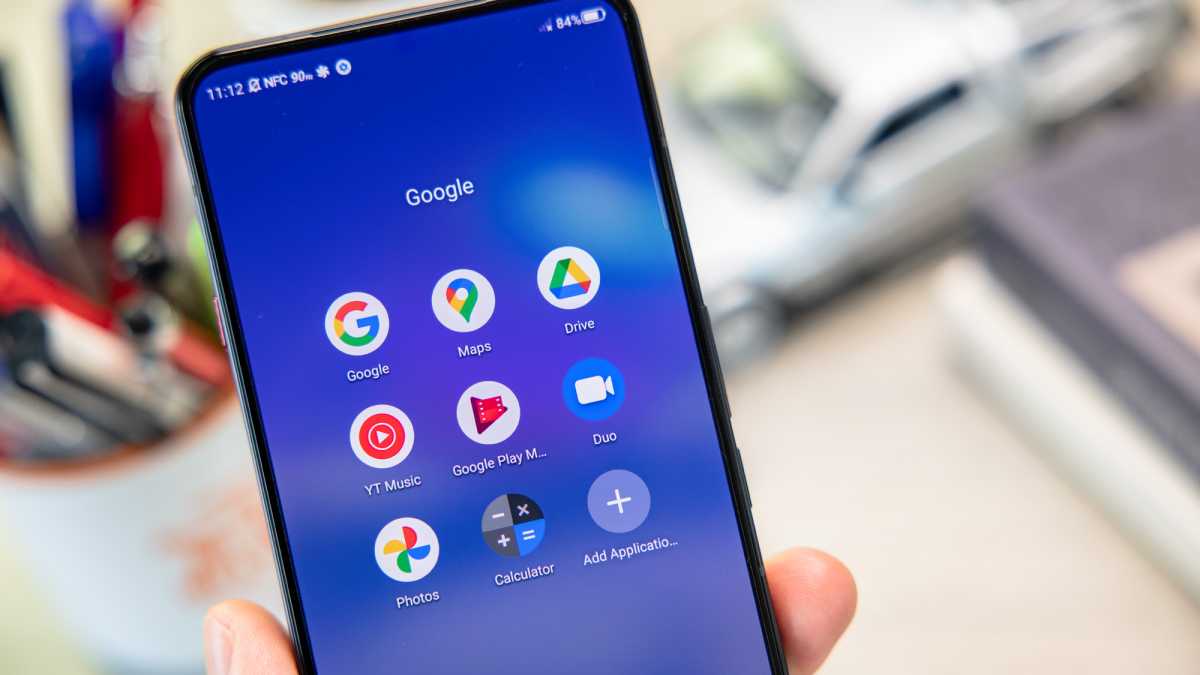 Dominik Tomaszewski / Foundry
However, you might notice that many pre-installed apps can't be uninstalled. There's also no option to change the default launcher, something most Android phones allow you to do.
Nubia says Red Magic phones continue getting updates for between 1.5 and 2 years, but most of these are security updates. Each generation of phones is expected to get a major Android version update, but it's not guaranteed.
Even then, Android 13 is likely to be the only big update the Red Magic 7S Pro gets. With Samsung committing to four major updates and Google not far behind, this is disappointing by comparison.
Price and availability
This might be a 'Pro' phone, but its pricing doesn't necessarily reflect that. The Red Magic 7S Pro starts at $729/£669 for 12GB of RAM and 256GB of storage – this is the model I tested.
There's also the option to step up to 18GB of RAM and 512GB of storage for $899/£809, but those are your only two options outside China. Both models are available to buy now, but the official store is your only option:
This isn't quite flagship phone pricing, but it's far off. The 7S Pro is most likely to go head-to-head with the Asus ROG Phone 6, with the 6 Pro significantly more expensive. But there are plenty of great alternatives in our gaming phone chart, including the Red Magic 7 Pro.
There's very little room for error at this price point, and 7S Pro still makes sacrifices in some key areas. As a result, you'll find better value for money elsewhere.
Verdict
The Red Magic 7S Pro is a great gaming phone, but there are plenty of reasons to hesitate before buying one.
Gaming performance from the Snapdragon 8+ Gen 1 is superb, especially when combined with class-leading 960Hz touch sampling and a 120Hz OLED screen. But the cheaper regular 7S has a higher 165Hz refresh rate and avoids the headache of an under-display fingerprint sensor.
Battery life is impressive, but you miss out on the ultra-fast 135W charging in China and there's still no wireless charging. The cameras are also unreliable, while the muted aesthetic and bulky design won't please everyone.
Even if you're set on buying a gaming handset, the Red Magic 7S Pro is only the right option if you use your phone in a very specific way. For everyone else, there are better alternatives.
Specs
Android 12 with Red Magic OS 5.5
6.8in FHD+ (1080×2400) AMOLED display, 120Hz refresh rate, 720Hz touch sampling
Qualcomm Snapdragon 8+ Gen 1
12/18GB RAM
256/512GB internal storage (non-expandable)
64Mp main lens
8Mp ultrawide lens with 120° field of view
2Mp macro lens
8Mp selfie lens (under-display)
Fingerprint scanner (in-screen)
Bluetooth 5.2
GPS
NFC
5G
Dual-SIM
5,000mAh non-removable battery
65W wired charging
166.3 x 77.1 x 10 mm
235g
Best Prices Today: Nubia Red Magic 7S Pro