Samsung's latest foldable device – the Galaxy Z Flip 4 – comes with better one-handed usability, slimmer bezels, and a bolder camera design than the previous generation.
If you want to get your hands on the Galaxy Z Flip 4 for the best price, then we have everything you need to know.
It will be Black Friday on 25 November 2022, so it may be worth holding out a few weeks to see if any other deals come up.
You can find out our thoughts on the phone in our Galaxy Z Flip 4 review.
How much does the Samsung Galaxy Z Flip 4 cost?
The Z Flip 4 is available in three versions with different storage, plus the Bespoke Edition:
128GB: $999/£999/€1,099
256GB: $1,059/£1,059/€1,159
256GB Bespoke Edition: $1,139/£1,099/€1,199
512GB: $1,179/£1,199/€1,279
In the UK and Europe that's a £50/€50 increase on the starting price of the Flip 3, though with current inflation levels that should really come as no surprise – and lucky US buyers can get it for the same price as before. The addition of a 512GB storage option is a welcome change for everyone though.
Samsung is also offering Bespoke Editions of the phone again this year, which allow you to customise the colours of both the front and back panels of the phone, along with the frame. This is only available for the 256GB model of the phone, and adds an extra $80/£40/€40 to the price.
If you don't want to pay the extra for Bespoke then the phone comes in four standard colours: Graphite, Pink Gold, Bora Purple, and Blue.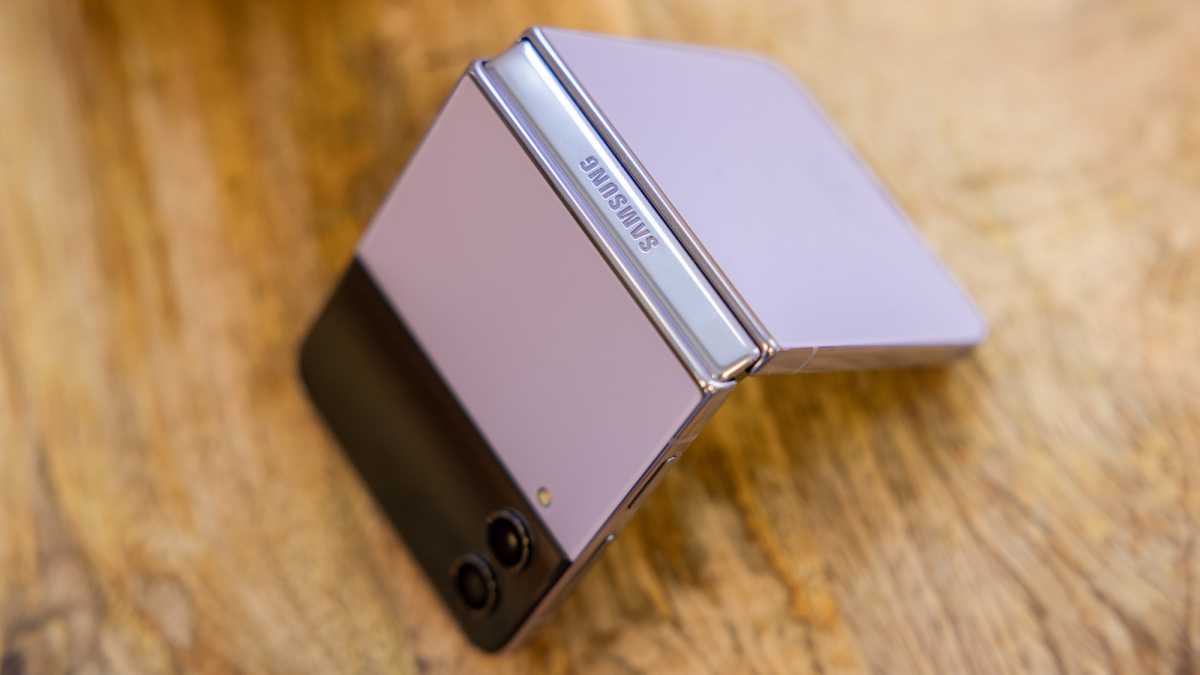 Dominik Tomaszewski / Foundry
Best Samsung Galaxy Z Flip 4 deals
US readers can currently get 30% off if you bundle the Flip 4 with the Galaxy Buds 2 Pro and Galaxy Watch 5 from the Samsung website.
Samsung is also offering some crazy trade-in deals for US readers. You can currently get the phone for $305.99 if you can trade in a Galaxy Z Flip 3 (256GB) or a Galaxy 22 Ultra in good condition. Samsung also has other trade-in deals available for various phone models in different conditions.
Best Buy is also offering $100 off the 256GB version of the phone, and Amazon is offering up to 17% off.
In the UK, you can claim a free Galaxy Tab S6 Lite when you purchase the phone. You can also get 12 months of Disney+ for free. This is available across most major retailers, including Carphone Warehouse and Currys.
You can also trade in any old smartphone at Samsung and get £250 off the retail price of the Z Flip 4.
Where to buy the Samsung Galaxy Z Flip 4 SIM-free
Here is where you can buy the Z Flip 4 right now:
US retailers
UK retailers
Where to buy the Samsung Galaxy Z Flip 4 on contract
Contract deals are also available for the Samsung Galaxy Z Flip 4 – here is what is currently available:
US networks
UK networks