Netflix has run numerous tests in attempts to put an end to password sharing, and the latest experiment prompts users to pay for additional 'Homes' if they want to stream Netflix shows and films on a device that's used outside of the main household.
The trial is currently underway in Argentina, El Salvador, Guatemala, Honduras and the Dominican Republic. First reported by Bloomberg, the cost of each additional home works out to around $2.99 per month, apart from Argentina, which charges the equivalent of $1.17 per month.
If a user signs into Netflix on a TV outside of their primary household, the option to purchase an extra home will pop up. Netflix will allow users to stream on this TV for two weeks for free, and after that time period the device will be blocked from using that Netflix account – unless the main account holder pays for an extra 'House'.
Allegedly, Netflix will allow users to stream on any device within the primary household without charging. It will also give subscribers access on portable devices on the go – but this must be in a location that has not been used before. Users cannot repeatedly stream from another place outside of the primary household.
On a support page for Netflix Honduras, the streaming giant claims that it uses IP addresses, device IDs, and account activity to determine whether or not a device is based within a primary household.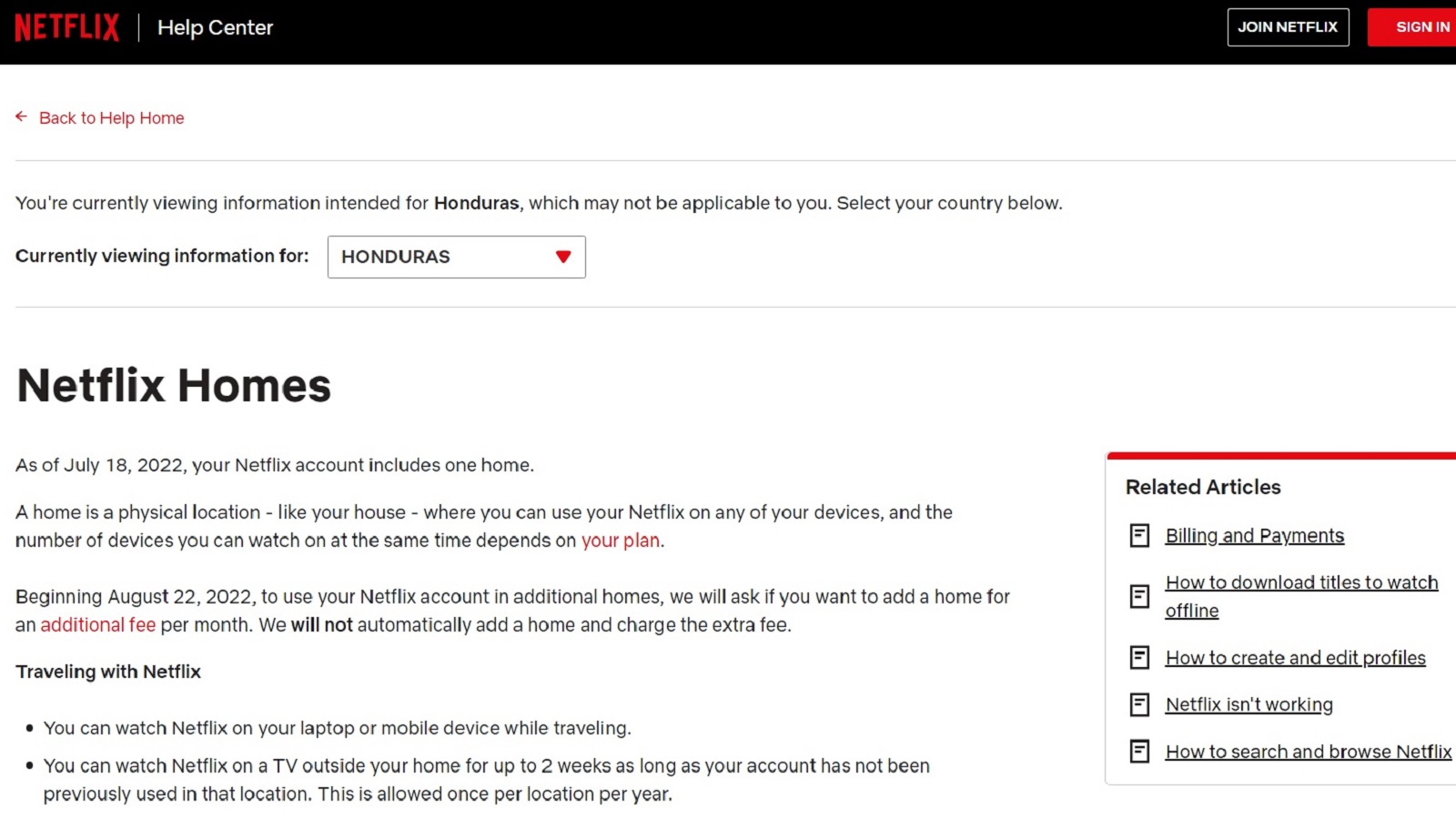 There may be cases where users receive a message claiming that their own personal device should be on an extra Home account. If that is the case, users should double check that they are connected to the internet of the primary household (the same one that the main TV uses), and that the device is not connected to a VPN, proxy or other similar unblocking service.
Other password sharing curbing tests from Netflix include paying for additional members, but there have been mixed results on the success of these trials. Netflix is also attempting to maximise revenue by introducing a new, cheaper ad-supported tier later this year.
None of these tests have been run in the US or UK, but Netflix has previously spoken about releasing similar features worldwide in the future.