Snapchat is still one of the most popular social media apps around, even if a lot of people use it only for its crazy photo filters. Due to that focus on images and videos, it can also be something of a data hog. We tested how much data it uses so you'll be able to ensure it doesn't accidentally use up all your mobile data for the month.
First, we installed a data usage tracking app on a phone then used Snapchat for 5 minutes. We then worked out the usage figures for longer sessions so you'd get an idea of the kind of data the app gets through during each day.
Here's what we found:
5 minutes = 60MB
15 minutes = 180MB
30 minutes = 360MB
45 minutes = 540MB
1 hour = 720MB
As you can see, after a single hour of use, you could be getting close to 1GB of data from watching videos and sending snaps to your friends. Based on these figures, if you use Snapchat for an hour a day, then by the end of the week it will have consumed just over 5GB (720MB x 7).
Do this across a month and you'll arrive at a whopping 20GB, just from Snapchat alone. Obviously, if you combine this with other platforms such as Instagram and TikTok, then you could easily eat through your data allocation in no time.
Of course, you could try and use Snapchat mainly when connected to Wi-Fi, but if you need to use it with mobile data there are always unlimited SIM plans.
If you don't want to pay a premium for unlimited data, there are now SIM-only plans which give you a fixed monthly allocation, but let you use certain social media apps including Snapchat as much as you like without it counting against that limit, such as Voxi in the UK.
How can I get Snapchat to use less data?
If you feel that the figures above are a bit much, you can always watch fewer videos, or set Snapchat to use less data. This is achieved by stopping the app from automatically loading snaps or lenses. You may also find that the app is a little slower to use, but with the benefit that you're data isn't being consumed at such a high rate.
To do this, follow these steps:
How to enable the data saver feature for Snapchat on iOS
Open Snapchat
Tap on your profile icon
Tap the Settings icon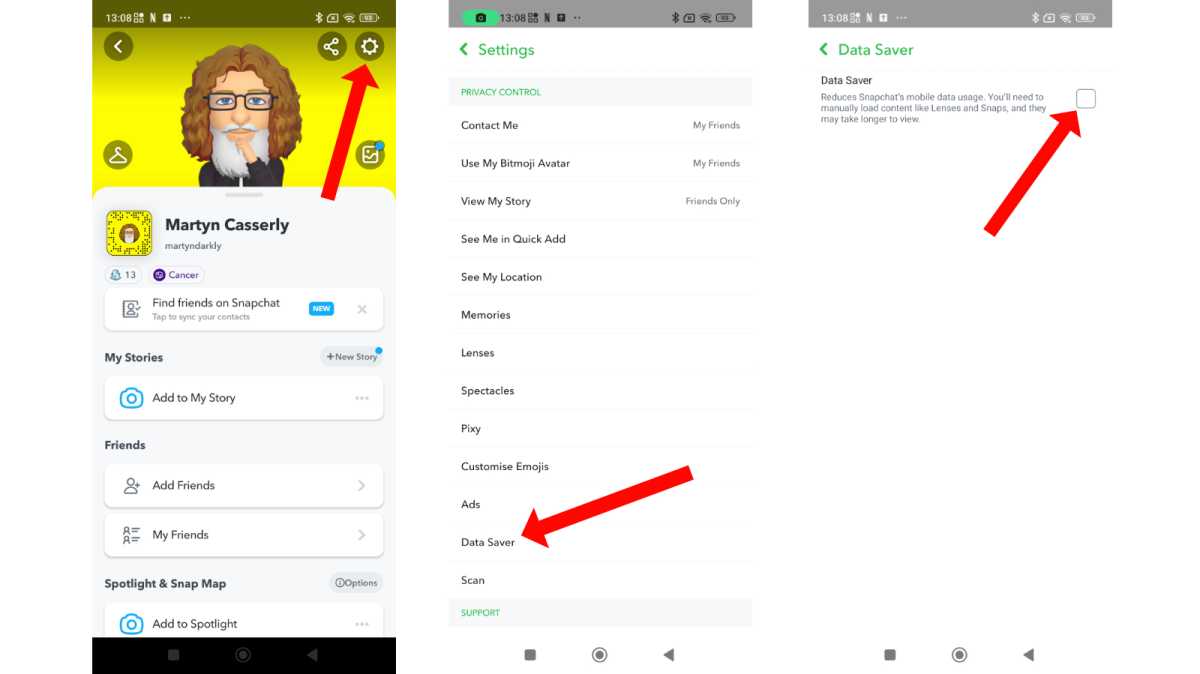 Foundry
4. Scroll down until you find Additional Services then tap Manage
5. Toggle the Data Saver switch on.
How to use the data saver feature on Android
Open Snapchat
Tap on your profile icon
Tap on the Settings icon
Foundry
4. Scroll down to Privacy Control, then tap Data Saver
5. Toggle Data Saver on
Of course, one easy way to save data is to only use Snapchat when you're connected to a Wi-Fi network, as this will leave your mobile data alone. Alternatively, if your current contract feels to limiting in terms of data, try looking at our roundups of the best phone networks and best pay-as-you-go networks to see if you can get a better deal.