At a glance
Expert's Rating
Pros
Better CPU
Four NVMe slots for storage or cache
HMDI 2.0 output
USB 3.2 Gen 2
Cons
Full installation requires disassembly
A little expensive
Our Verdict
A high-performance solution for both home and business users. A significant upgrade from previous Lockerstor designs and more powerful than any current dual-drive Synology box. It isn't cheap, but it is probably good value.
Price When Reviewed
$459
Best Prices Today: Asustor Lockerstore 2 Gen 2 AS6702T
Asustor, a subsidiary of Asus has been creating some attractive NAS drives for a while, and it regularly revamps the product line.
We've previously covered the Lockerstor 4 AS6604T, an excellent four-bay NAS, and now it has extended that series with a 'Gen 2' release featuring an upgraded platform.
Instead of the Lockerstor 4 version, this review covers the dual-drive Lockerstor 2 model, the AS6702T. While this machine resembles the previous AS6602T from the outside, internally, this is a completely different solution.
Design & Build
Same design
Spring-loaded bays
Other areas are harder to reach
On the outside, the AS6702T hasn't changed at all from the AS6602T, and as it doesn't carry any other label than 'LOCKERSTOR', you could easily confuse them.
Those wanting to add hard drives and power the unit up should have this machine up and running quickly since the drive trays come out with a spring-loaded release. It's disappointing that screws are used to hold the drives in place, both 3.5- and 2.5in types, as many other NAS makers have toolless trays.
Even more ironic is that the M.2 slots don't require a screwdriver to fill, as plastic clips hold the modules in place.
Mark Pickavance / Foundry
If you wish to install more memory or NVMe M.2 modules, then the AS6702T will need to be disassembled to some degree. The M.2 slots are accessible by removing three screws and the outer case cover, but accessing the SODIMM slots requires temporarily removing the motherboard. It appears from the owner's manual that on the AS6704T four-bay variant, this isn't necessary, but it is on the AS6702T.
Being able to access these more easily would be nice, but most users won't be doing this more than a handful of times over the life of the device.
As a NAS, the AS6702T is a functional design that avoids the temptations of being over-engineered, and all the ports are easy to access and clearly labelled. It's as well-made as most of the Synology desktop NAS and comparable with the better QNAP NAS options.
Specs & Features
New Intel Celeron processor
Space for up to four M.2 NVMe drives
USB 3.2 Gen 2
HDMI 2.0
To better understand the AS6702T, it's worth turning the clock back to its predecessor, the AS5602T, and analysing what has changed. It's worth noting from the outset that the Gen 2 design isn't a small overhaul.
What they share is the same size enclosure, dual drive bays, and a 65W AC power adapter.
Where the 6602T used an Intel Celeron J4125, a Lake Gemini refresh design from 2019, the AS6702T uses the Jasper Lake cored Celeron N5105 from 2021. These are both four-core and four-thread CPUs, but the N5105 is made with the better 10nm fab and not the old 14nm one used in the J4125.
The trade here is that the N5105 uses about 25% more power but has higher clock speeds and a more powerful GPU. The chipset that goes with these newer processors is possibly more important than the CPU, allowing for faster memory, more PCIe bandwidth (3.0 over 2.0) and more PCIe lanes.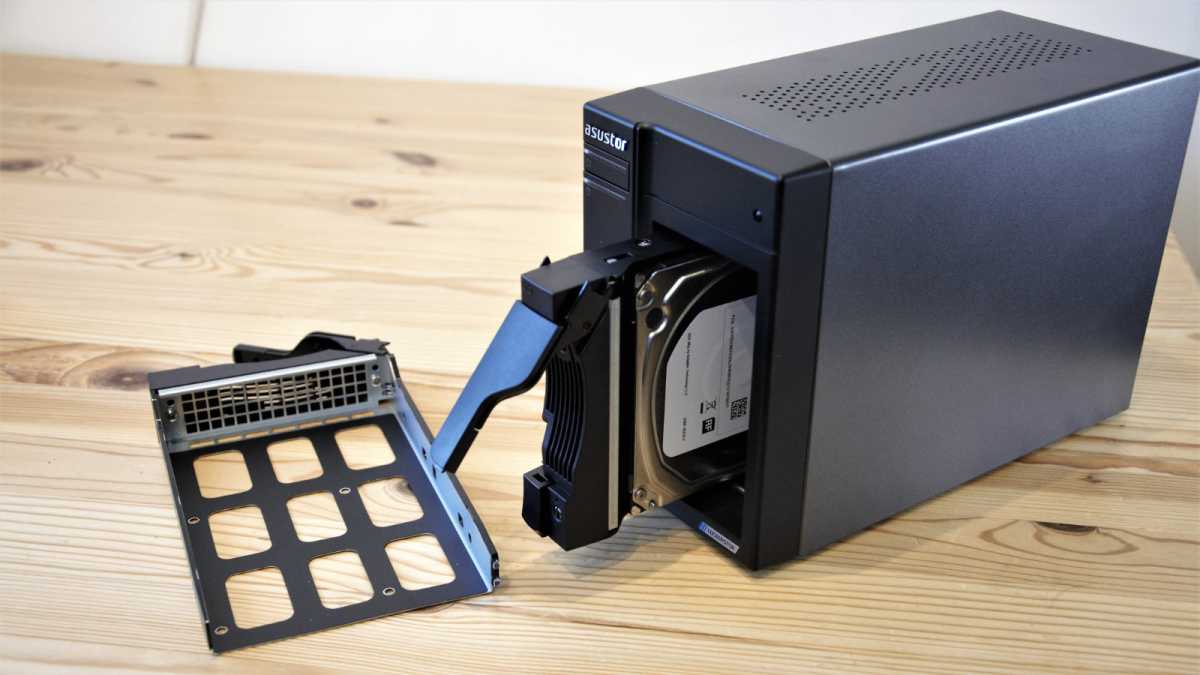 Mark Pickavance / Foundry
The bandwidth available to the system has increased enough to take four M.2 NVMe drives, double that of the previous design, and the USB ports are now 3.2 Gen 2.
That last feature is significant. While there are now only two USB ports, they are now capable of 10Gbps, making them substantially better than the eSATA ports that Synology is stuck using for external expansion.
When you combine those NVMe caching possibilities and the dual 2.5GbE LAN ports, the AS6702T is a powerful system, even if it looks modest outside.
With the GPU in the N5105, it is also appropriately specified for 4K transcoding, and with HDMI 2.0 available, it can output media directly to a suitable display.
Overall, this new platform is roughly 35% faster than the one it replaces, and with features like the USB 3.2 Gen 2 connections and the four M.2 slots, it's easier to exploit that power inside.
However, there is one critical limitation that, when addressed, will make the AS6702T even better.
Currently, if you cable both 2.5GbE LAN ports to a suitable aggregating switch, it is possible to get close to 600MB/s of reading speed and 500Mb/s of write performance to the NAS. But, not one connected host can get all that bandwidth, as it is over two channels that are kept separate.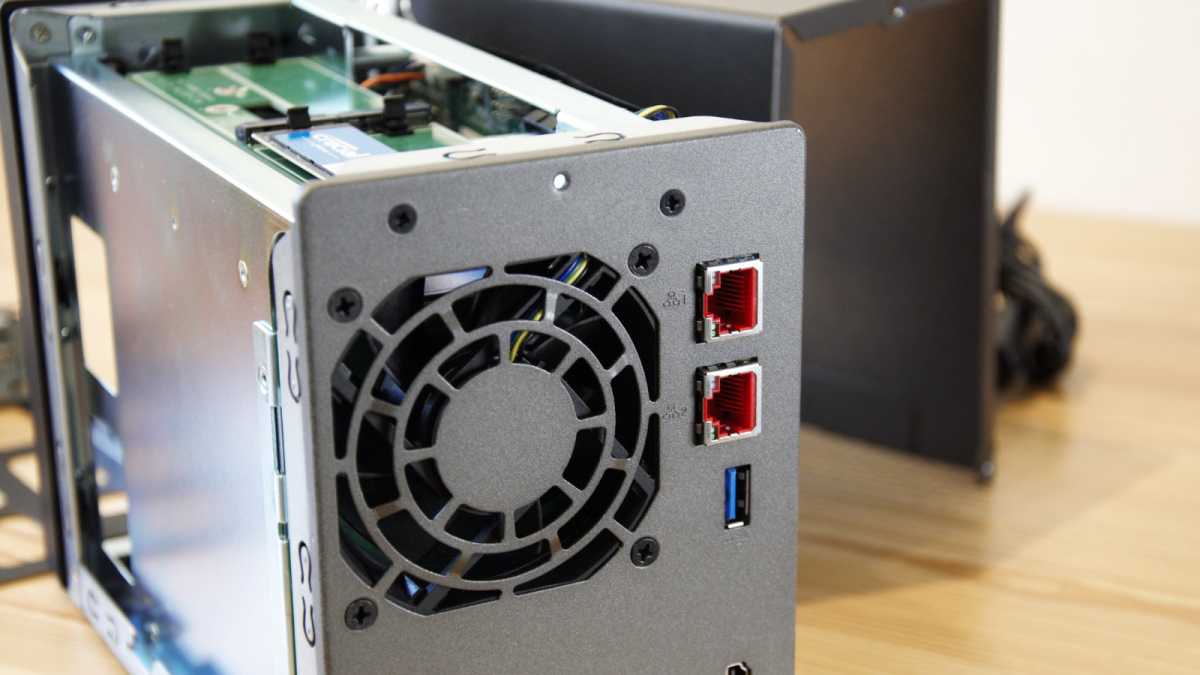 Mark Pickavance
If two host systems are accessing the NAS, the total performance can add up to larger numbers, but one can only get the full speed of a single 2.5GbE LAN.
The solution is called SMB Multi-channel, and this feature is still considered 'experimental' under Samba 4.4.0. It's not a feature active by default, even on the ADM 4.1 release on this NAS. It is possible for those with command-line experience to make it active, though some users have experienced data loss in the past.
The final special feature, also on its predecessor, is an HDMI port. In this model, this is HDMI 2.0 specification. Asustor has a different interface for the HDMI out called Asustor Portal, and there are specific apps designed to interface to this for output. If you have the NAS near a TV, this is an excellent way to output from Plex directly.
Software & Apps
ADM 4.1 OS
Impressive selection of apps
Use M.2 drives as storage or cache
Cheap NAS generally have a poorly considered OS with a small selection of approved applications, but Asustor has a very impressive app selection and a reasonably mature platform for them to run on.
What I especially liked about this version of Linux is that M.2 modules can be configured as both conventional storage and as cache, and with four slots available, they can even use RAID.
Mark Pickavance / Foundry
However, it needs to be mentioned that Asustor has recently had something of a PR nightmare with the security model of ADM. Specifically, a Deadbolt ransomware attack in February 2022 targeted Asustor NAS using the EZ-Connect mechanism to gain entry and access.
QNAP and, more recently, TerraMaster NAS have also been attacked with the same ransomware, so this is something that many people who own these devices have encountered.
Asustor has released updates designed to plug these holes on ADM and help affected users recover their systems, but encrypted files can't be unencrypted, unfortunately.
The only NAS maker not widely impacted by this activity so far is Synology, but considering how lucrative these criminal endeavours are, there are no guarantees.
Price & Availability
The Asustor Lockerstor 2 Gen 2 AS6702T retails for $459/£469, making it about $60 more than the AS6602T it replaces.
You can buy it from Amazon, Amazon US and Newegg.
Comparing this machine to the market leader, Synology, is difficult as they don't make a dual-drive NAS with both NVMe and HDMI out. The DS720+ excludes the HDMI out port, has a much older CPU, less RAM and only two NVMe slots, and costs about £420 in the UK.
It does have an eSATA port for expansion, but the USB on that machine is USB 3.2 Gen 1, and you can only use the NVMe slots for caching, not directly as volumes.
Until new dual-drive models come from Synology, the AS6702T doesn't have much opposition in the high-performance small NAS slice of the market.
Check our chart of the best NAS drives to see more options.
Verdict
That Asustor has more enthusiastically embraced 2.5GbE networking, and NVMe storage in this design than Synology has in its products speaks volumes about its ambitions in this sector.
There is a delicate balance between the components here that demonstrates that those designing these machines use them regularly and understand where the performance pinch points exist.
With only two 3.5in drive bays, the thinking behind the AS6702T is that the owner should use one very large or two, if budget allows drives, using the 10Gb USB 3.2 Gen 2 ports to create resilience with an overnight backup to an external drive. The NVMe slots keep the flow of data to and from the machine lubricated or ideal for a special smaller volume for live backups.
The link aggregated 2.5GbE ports allows for files to travel smartly to and from the NAS, and when SMB Multi-channel is ready for everyone, a single user with dual network ports could be moving close to 500MB/s between the PC and this NAS. Though, this performance would require NVMe caching or SSD volumes.
Amongst all the great things, there are a few hiccups. It's troublesome to dismantle the machine to install memory and NVMe drives, but this is a job you are likely only to perform once.
The only real issue here is the price, and given the feature set, this level of outlay is to be expected.
Specs
Quad-Core Intel Celeron N5105 2.0 GHz – 2.9 GHz turbo
4GB DDR4-2933 SO-DIMM (max. 16GB, 8GB x2)
2x 3.5in or 2.5in SATA HDD/SSD and 4x M.2 NVMe 2280 (drives not included)
Raid Modes: Single, JBOD, RAID 0/1
Networking: 2x 2.5GbE LAN port
Networking Protocols: CIFS/SMB, SMB 2.0/3.0, AFP, NFS, FTP (Unicode Supported), TFTP, WebDAV, Rsync, SSH, SFTP, iSCSI/IP-SAN, HTTP, HTTPS, Proxy, SNMP, Syslog
USB ports: 2x USB 3.2 Gen 2 (one front and rear)
OS: ADM 4.1
OS Languages: Deutsch, English, Français, Italiano, Nederlands, Русский, 日本語, 한글, 简体中文, 繁体中文, Česká, Polski, Svenska, Dansk, Norsk, Suomi, Português, Türkçe, Español, Magyar
Internal drive formats: EXT4, BTRFS
Size (HxWxD): 163.5 x 108 x 230mm
Warranty: 3 years