Nubia's aggressive update cycle for its Red Magic gaming phones is clearly working, with the company already onto its third and fourth handsets of 2022 so far.
The Red Magic 7S and 7S Pro are official in China, but it's no surprise to see only iterative updates to the devices that launched less than five months earlier. Like the Red Magic 7 Series, both new phones are expected to launch globally, but that's only the case for one phone so far.
Here's everything you need to know about the new Red Magic 7S Series.
Red Magic 7S release date
Nubia officially launched the Red Magic 7S and 7S Pro in China on 11 July, where the phones went on sale on 15 July.
Fortunately, we don't have to wait long for the Pro model to arrive elsewhere, as a separate global launch event took place on 26 July. The phone is now available to buy in the US, UK and many other countries, having gone on sale from 9 August.
However, there's no sign of the regular Red Magic 7S outside China. Nubia says that "for now we planned to release only 3 devices for the REDMAGIC 7 series" – that's the regular 7, 7 Pro and 7S Pro.
Red Magic 7S pricing
As you might expect, we only have international pricing for the Red Magic 7S Pro:
Red Magic 7S Pro – 12GB RAM, 256GB storage (Obsidian) – $729/£669
Red Magic 7S Pro – 18GB RAM, 512GB storage (Supernova or Mercury) – $899/£809
That's slightly cheaper than the Red Magic 7 Pro cost at launch (from $799/£679), with the pricier top-spec model explained by more RAM. Comparisons with the more expensive Asus ROG Phone 6 Pro are inevitable, but there are plenty of other gaming phones to consider.
The regular model is now unlikely to ever be released globally. If you choose import it, here's a rough idea of how much you can expect to pay:
Red Magic 7S (8GB RAM, 128GB storage) – ¥4,000 (approx. $595/£500)
Red Magic 7S (12GB RAM, 256GB storage) – ¥4,800 (approx. $714/£600)
Red Magic 7S (16GB RAM, 512GB storage) – ¥5,500 (approx. $819/£688)
Nubia
Red Magic 7S specs and features
Nubia typically uses the 'S' generation of its gaming phones to deliver more iterative updates, and that's no different here. The Red Magic 7S and 7S Pro are essentially the same as their predecessors, with a handful of exceptions.
Undoubtedly the most notable is a move to the Snapdragon 8+ Gen 1, Qualcomm's new top-of-the-line chip. It's paired with and Adreno 730 GPU and 8-, 12-, 16- or 18GB of RAM in China, although it's possible not all these options will make it to the global version.
The 6.8in, 1080×2400 OLED screen is almost identical, meaning you're still getting a 165Hz refresh rate on the regular model but 120Hz on the Pro. As before, this is offset by a higher 960Hz touch sampling rate on the more expensive phone (instead of 720Hz). Both phones are now equipped with Gorilla Glass 5 screens for extra durability, while the pressure-sensitive zones on the side of the device are 520Hz instead of 500Hz – it's hard to imagine it making much of a difference, though.
Both phones have identical rear cameras, consisting of 64Mp main, 8Mp ultrawide and 2Mp macro. Curiously, the under-display selfie camera on the 7S Pro is now 8Mp rather than 16Mp, but it should hopefully deliver better image quality. The regular 7S has the same 8Mp lens in a bezel above the display.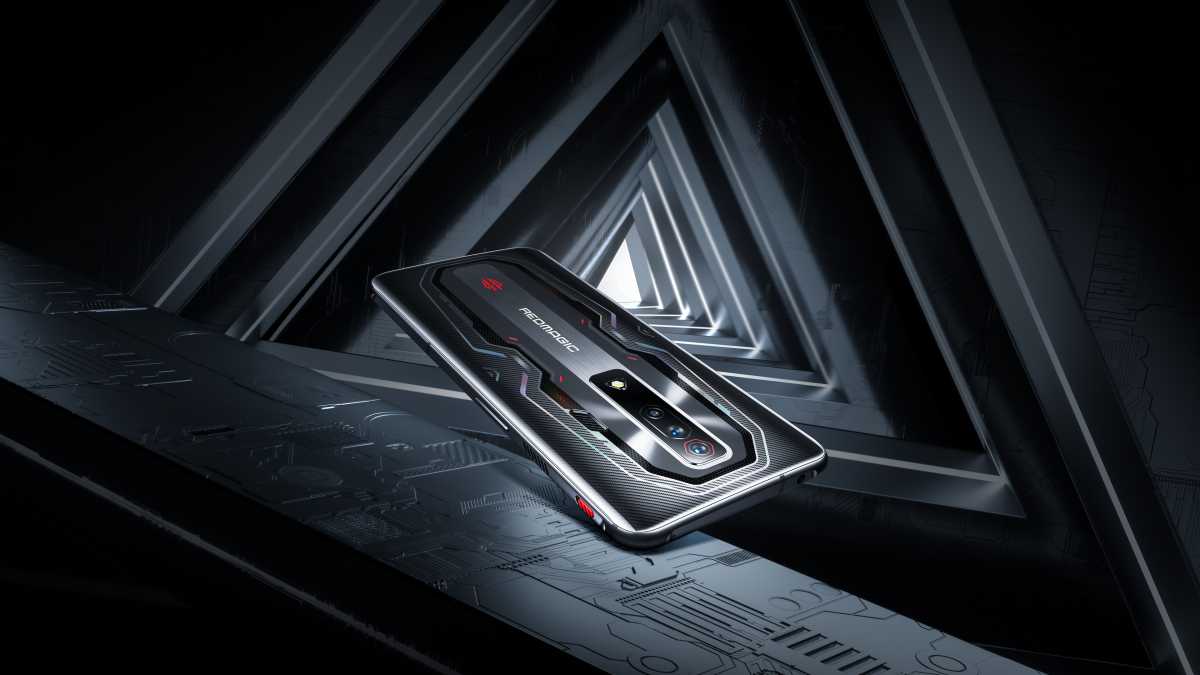 Nubia
As before, the only other main difference on the 7S Pro is a 5000mAh battery, as opposed to 4500mAh on the regular model. The Chinese version gets an incredible 135W fast charging on the Pro and 120W on the regular Red Magic 7S, but that hasn't made its way onto the global version of the Pro model. You'll have to be satisfied with the same 65W we've seen before, and there's still no wireless charging
Learn more in our full Red Magic 7S Pro review. It's undoubtedly one of the best gaming phones you can buy, but so are the Red Magic 7 and Red Magic 7 Pro.