Asus is one of the last Android phone manufacturers to offer powerful, compact models for those who don't want enormous phones in the pockets or bags, keeping things compact in its Zenfone flagships.
That's continued with the Zenfone 9, which is even smaller than last year's 8 (though admittedly not by much) but still packs in flagship specs to rival Samsung and Xiaomi's best.
Here's what you need to know about the Asus Zenfone 9 – or read our Zenfone 9 review if you want to know what we think of the phone.
When will the Asus Zenfone 9 be released?
Asus unveiled the Zenfone 9 on 28 July, and it's available now. That varies a little by market though, so it may not be on sale yet where you are – we'll update this piece with more concrete information on availability when we have it.
For context, here's when Asus has launched the last few Zenfone models – note that this year is actually a little out of step with the usual May release.
How much does the Asus Zenfone 9 cost?
The phone is a little more expensive than last year's Zenfone 8, now more firmly into flagship phone territory:
8+128GB: $699/£699/€799
8+256GB: $749/€849
16+256GB: $799/£749/€899
Note that the middle SKU isn't available in the UK, where instead it goes straight to the top spec – making the upgrade to double the RAM and storage very affordable indeed.
What are the Zenfone 9 specs and features?
As with last year's Zenfone 8, they key thing to know is that the Zenfone 9 is a small phone – certainly by modern standards.
Dominik Tomaszewski / Foundry
It packs the same size display as its predecessor, but is actually slightly more compact elsewhere than that model – it weighs about the same too, which at 169g makes this a pretty portable device.
The design is distinctive too, with two large circular rear cameras and a finish made from a unique plastic polymer material. It boasts a grippy texture and scratch-resistant finish, and comes in blue, red, white, or black. The phone also has an IP68 rating for dust and water-resistance.
The display itself is an AMOLED made by Samsung, and has a 120Hz refresh rate, Full HD+ resolution, and HDR10+ support. It's covered in Gorilla Glass Victus, so should also be pretty safe from damage.
There's no in-display fingerprint sensor, as Asus has gone with placing it in the power button on the right flank. This also acts as an extra input, allowing you to pull down the notification shade by swiping across the button – or set it to refresh a page, scroll to the top, or control media playback if you prefer.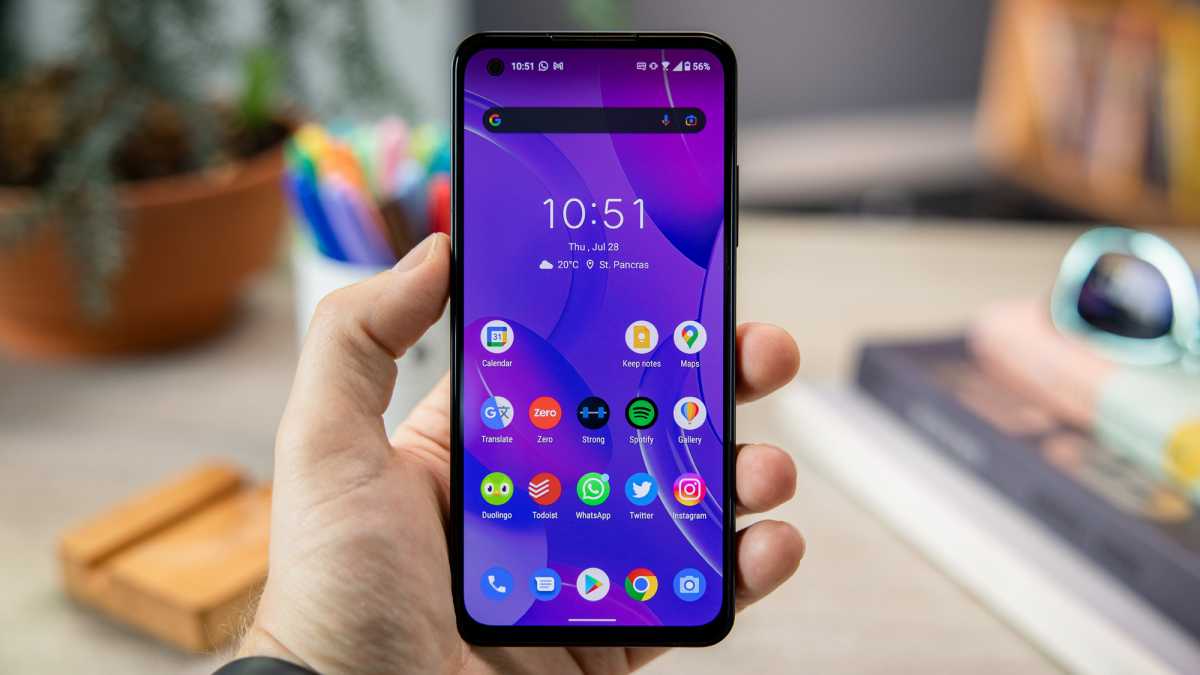 Dominik Tomaszewski / Foundry
In terms of processors, Asus has gone with a Snapdragon Gen 8+ 1 chipset, which is unexpectedly powerful. It comes in three configurations: 8+128GB, 8+256GB, and 16+256GB.
Cameras are always an essential element in a modern phone, so the improved optics here are another important step forward, especially in terms of video. The 50Mp Sony IMX766 sensor used in the Zenfone 9 main camera (as seen in the Realme GT 2 Pro, OnePlus Nord 2T, and Nothing Phone (1)) is a solid performer that will deliver great photos. The Zenfone 9 adds a 6-axis gimbal module for optical image stabilisation, so video footage should be rock solid, and night mode photos have extra clarity.
It's joined by a 12Mp ultrawide using the Sony IMX368 sensor, though this is limited to electronic stabilisation. There's also a 12Mp camera on the front, in this case with the IMX663. Both of these are the same as in the Zenfone 8, for reference.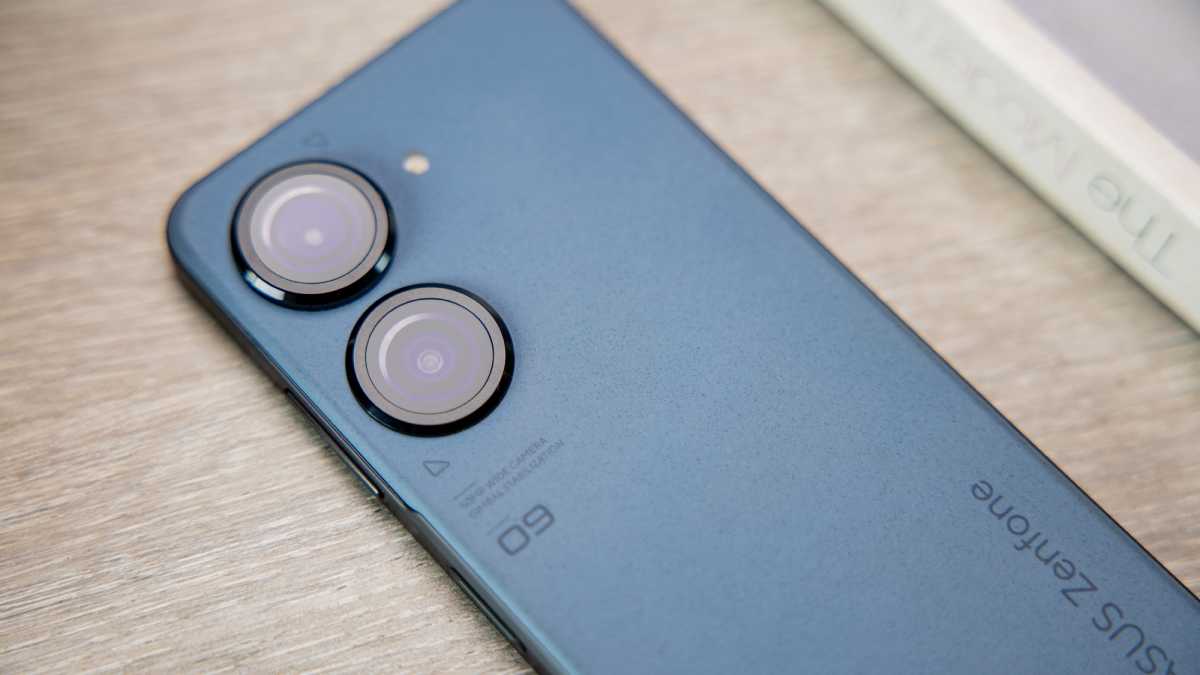 Dominik Tomaszewski / Foundry
Audio comes from dual stereo speakers, while there's also the surprising inclusion of a 3.5mm headphone jack if you prefer to plug in your cans.
Everything is powered by a 4300mAh battery, which we found was enough for over a day's battery life in our review, and it ships with a 30W charger.
Asus has also shown off a couple of accessories for the phone, with a smart backpack mount that can activate the camera with a tug, plus a Connex phone case that has a kickstand built-in as well as a card holder.
Be sure to take a look at our guide to the best mid-range phones to see the competition the Zenfone 9 will have to beat.