HMD Global has announced three new Nokia feature phones and according to analyst house IDC, the worldwide feature phone market is worth $1 billion. If you squint, the year could be 1999.
Feature phones are a sizeable market still as older users reject smartphones and younger generations try and wean themselves off their smartphones.
But these new phones are far from dumb. What gives the game away are the wireless earbuds hidden by a sliding mechanism in the back of the Nokia 5710 XpressAudio, one of three new feature phones from HMD, the Finnish company that licenses the Nokia phone brand.
Iterating on the recent reboot of the Nokia 5310 XpressMusic, the new 5710 XpressAudio sports a similar look in black and red or white and red colourways but with matching wireless earbuds that are hidden, stored, and charged by placing them into a compartment on the back of the device.
It will cost just £74.99 when it launches in July – not a bad price for a phone with included wireless earbuds, which can also be paired to other devices.
If it weren't for this decidedly 21st century feature, the new version of the Nokia 8210, first launched in 1999, could have fooled some that we were back in pre-millennium days.
HMD Global
The 8210 was a bona fide classic Nokia handset that at the time was one of the smallest cellular devices ever made. The new 2022 version is part of HMD's Nokia Original range that previously released the 3310. The 8210 adds 4G connectivity for voice over LTE call quality, a bigger 2.8in display, and a built in WhatsApp app for more modern comms options.
If you'd flip rather than slide your next phone then there's also the new Nokia 2660 Flip, a design based on, you guessed it, the Nokia 2660 from 2007. It's recommended by HMD for people over 55 because of its long battery life, hearing aid compatibility, and big buttons, but this is a phone for anyone looking to strip back features and indulge in a digital detox. It'll cost £64.99 in the UK in either black, blue, or red.
The three phones will be coming to parts of Europe too, while there's a similar version of the 2660 Flip already launched in the US, for some reason called the 2760 Flip instead.
HMD Global
Make no mistake, these new phones are not smartphones, but when HMD promises the 8210 has "weeks of standby battery like the good old days", it's hard not to get nostalgic and a little tempted to splash out on one. The 8210 4G will be on sale in late July in sand, red, and blue for £64.99 in the UK.
HMD also announced a new Android tablet, the Nokia T10, a successor to the T20 that we reviewed and gave a solid 7/10 to last year.
The company told us in a briefing it was for both the consumer and enterprise markets after the success of the T20 saw it used by larger companies to hand out to employees.
The T10 has an 8in display and a polymer body designed to take a few scratches and bumps whether it's in the office or in the hands of your toddler. It ships with Android 12 and HMD guarantees two updates to Android 14, and three years of security updates. It'll cost £129 for a Wi-Fi version with 3GB RAM and 32GB storage, or £149 for the same specs but with the option for a 4G SIM card.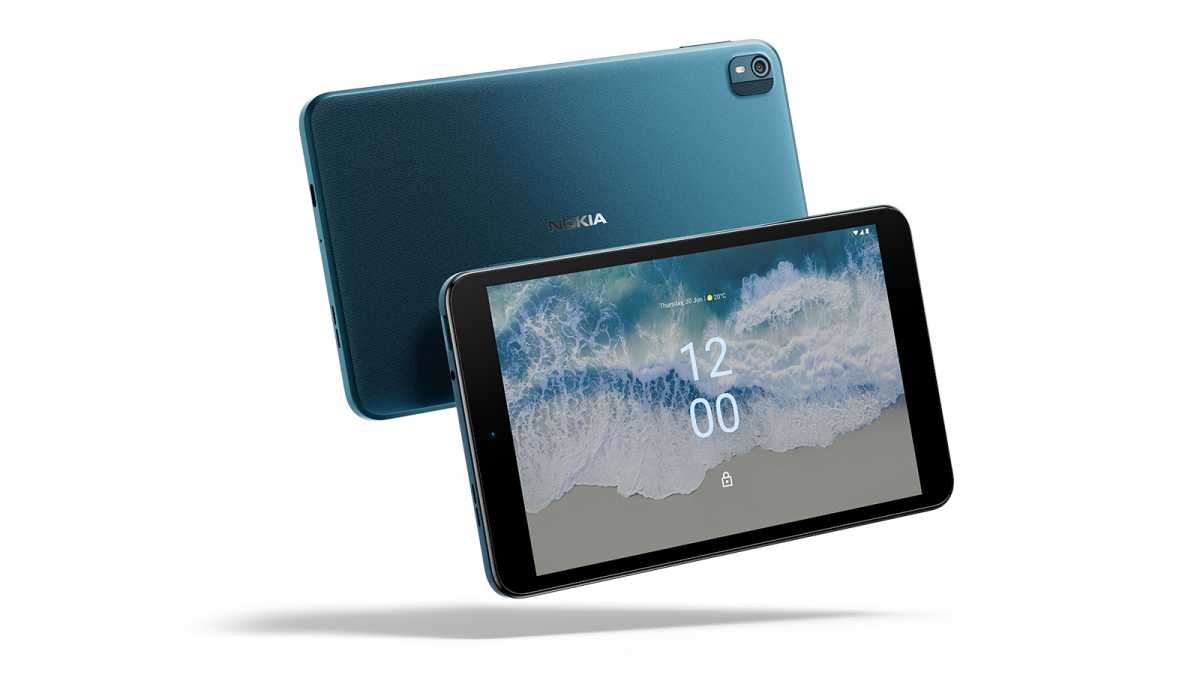 HMD Global