At a glance
Expert's Rating
Pros
Cost per page is very low
Good print speed
Excellent print quality
Cons
Pigment black isn't ideal for photos
Lack duplex copying
One year warranty
Our Verdict
A slightly higher purchase cost is traded against low cost per page printing. However, the ET-3850 is a little flimsy in places. And while it can duplex print, sadly, it can't duplex copy. Better than the ET-4700 in many respects, this is an ideal solution for those that want to reduce printing overheads dramatically.
Price When Reviewed
$399.99
Best Prices Today: Epson EcoTank ET-3850
Epson was one of the first printer makers to consider an alternative path, given the understandable public perception of cartridge-based ink printers. It's EcoTank concept front-loads the cost by making the printer marginally more expensive but reduces the overall cost of printing by using a refillable reservoir.
Unsurprisingly, these printers are highly desirable for those that print in significant numbers, especially in colour, as they provide more extended periods between replenishment while maintaining the high quality of the output.
Epson's latest design is the ET-3850, a compact four pigment EcoTank design with an inbuilt ADF (automatic document feeder) priced and specified for the home office user.
On paper, this model appears to be better in some respects than some of the more expensive models made exclusively for business users. Can the Epson EcoTank ET-3850 deliver the best combination of features for the cost to make it the Eco Tank design to rule them all in 2022?
Design & Build
Compact plastic chassis
Found ink tanks
ADF on top
As multifunction printers go, the ET-3850 is small at just 375 x 347 x 231 mm (Width x Depth x Height), with the printing direction being front to back, and the ADF document scanning is sideways.
Weighing only 6.7kg before ink or paper is added, most adults should be able to relocate this printer without assistance. It can connect directly to a computer using USB, via the network using Wi-Fi or Ethernet LAN, making few limitations about where the printer can be situated.
As Epson has progressed with its EcoTank designs, it's refined them successively, and the ET-3850 exhibits how it's honed the workflow around these high-volume machines.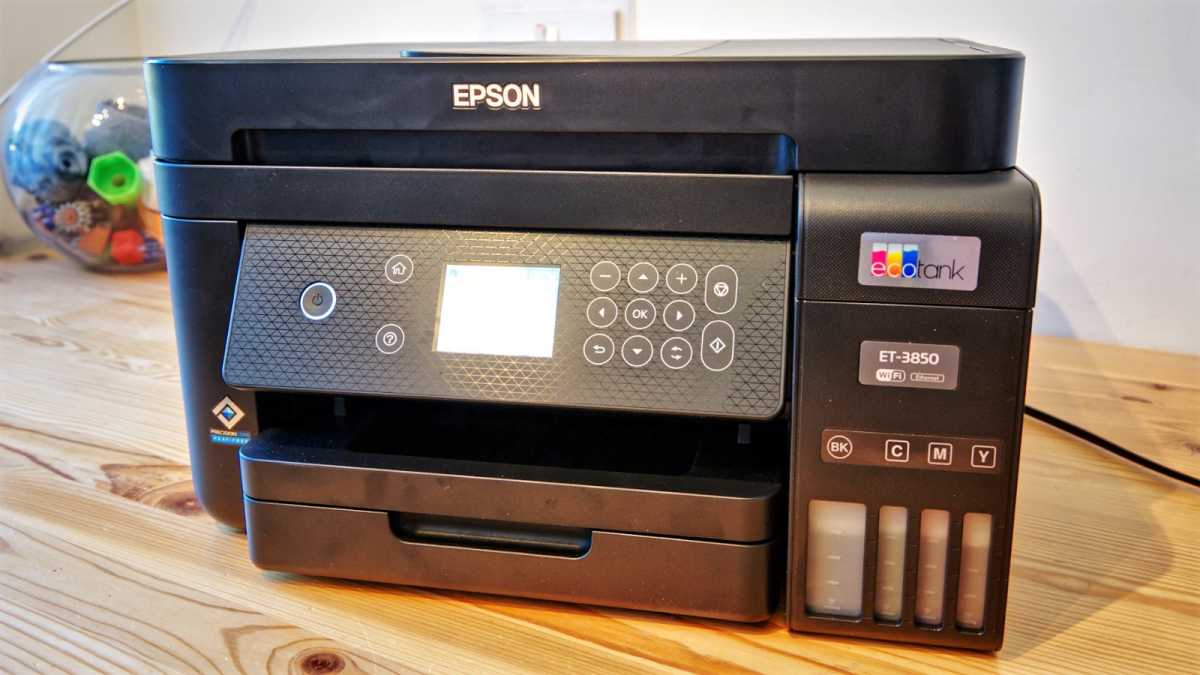 Mark Pickavance / Foundry
But it has also removed what might be considered extra complications in the way that the printer handles paper. As an example, all paper is placed in a 250-sheet tray at the very bottom because there is no manual feed. Epson does make more costly EcoTank designs with multiple 250-sheet trays and manual feeds, but they're more expensive.
All printing controls are on a tilt-adjustable front panel with a tiny 5×4 cm screen. At this scale, it was never going to be a touch panel, and all menu options are selected using a control cluster to the right of it.
The printer's top hosts the ADF (auto document feeder) for scanning or copying multiple sheets. It can accept 30 pages and scan 1200 x 2400dpi (Horizontal x Vertical) at roughly five pages per minute.
The Ink reservoirs are on the front right, with the levels of ink clearly visible from the outside. To add ink, the scanner cover must be raised, followed by another cover to reveal the filling point.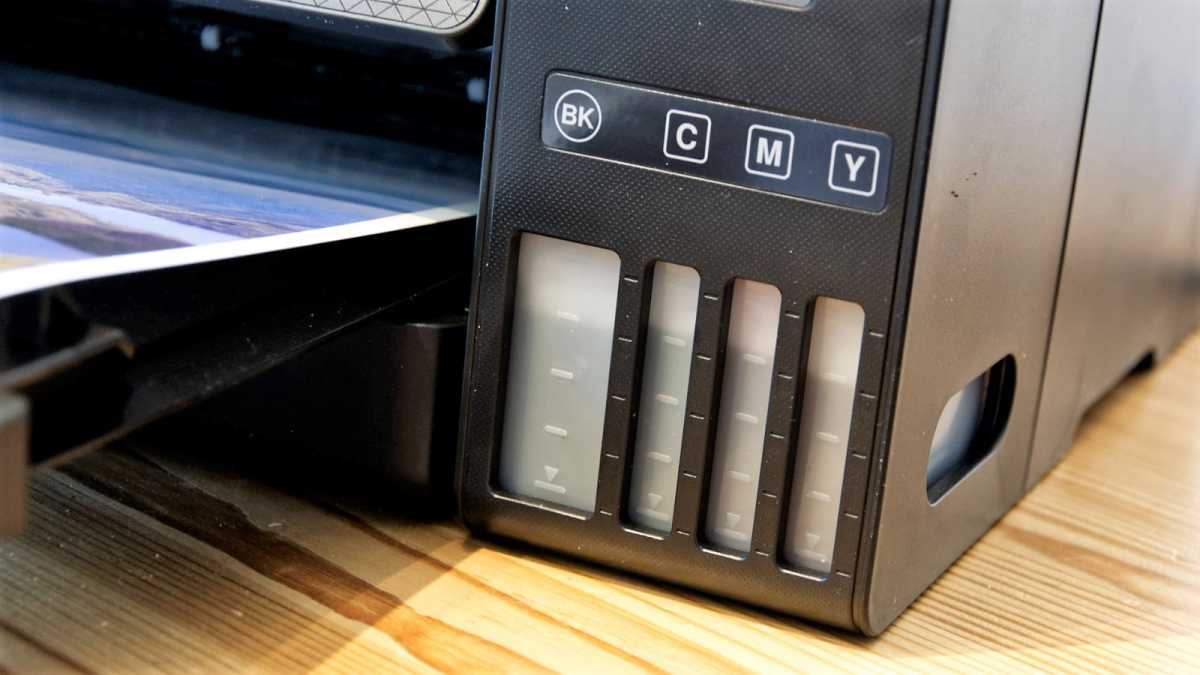 Mark Pickavance / Foundry
Overall, this is a simple but effective design that focuses on what most users will want from this printer, but it isn't the most robust construction I've experienced. Parts of the outside are made from remarkably thin plastic, and the ADF will even bend if even a relatively lightweight object is placed on it.
For home users, this shouldn't be an issue if the owner is careful, but the flimsy nature of this model probably makes it unsuitable for use in an office.
Set Up, Apps & Printing
Plenty of included ink
Epson Smart app
Wi-Fi, LAN and USB
It is possible to configure the ET-3850 directly using the small menu display, but the simplest approach is to connect a PC with a USB cable. It can also be accessed for printing or scanning via a computer over a network or the Epson Smart Panel application for Android or iOS devices. It also has a direct Wi-Fi functionality for mobile devices.
Included with the printer is a CD containing the Windows and Mac OS applications that enable printing, scanning and copying from a computer. These are worth installing if only to update the firmware on the ET-3850 to the latest release – if you have a CD drive anyway.
The one part of the set-up process that Epson is very particular about is the ink installation. With the first filling cycle, some of the ink needs to enter the printer's priming system. The ink held in the printer should never be exhausted, as air might cause the ink to dry in those internal pathways.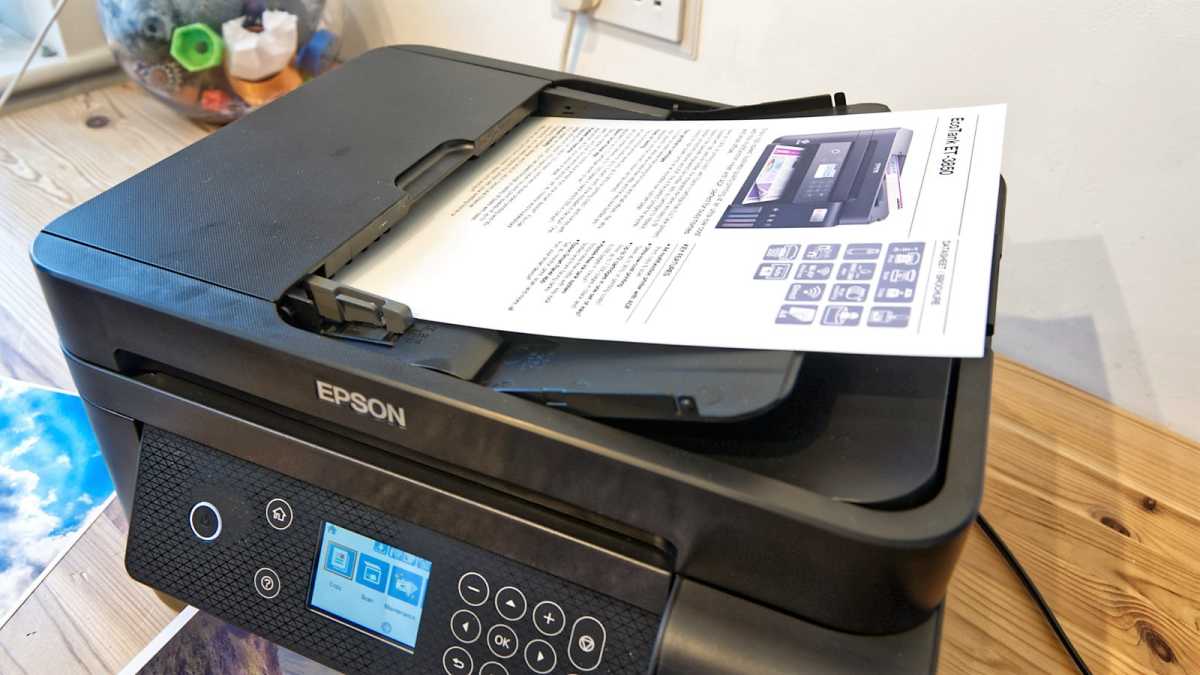 Mark Pickavance / Foundry
Epson deserves some credit for the ink bottles that come with the printer, in both their design and how much ink you get from the outset. Included with the ET-3850 are Epson 102 dye in Yellow, Cyan and Magenta, all in 70ml bottles, and there are also two black pigment bottles, each with 127 ml inside.
That's enough colour ink to fill all the tanks and another complete fill for the black pigment. That much ink represents 14,000 pages of black printing (assuming a 5% coverage) and 5,200 pages of colour output.
The era of half-filled carts and other customer-unfriendly decisions isn't part of the EcoTank generation. Epson replacement ink is also relatively inexpensive for the number of pages a bottle can generate.
For those wondering about spillage, the ink bottles come with specifically designed nozzles that don't release ink into its plugged into the printer, and keyed nozzles make it theoretically impossible to put the wrong ink into any tank.
Once the ink is fully loaded, the printer goes through a ten-minute process where it draws ink into the printer ready for use, and then it proceeds with a print alignment routine. Bear this in mind if you need to print something urgently.
Mark Pickavance / Foundry
The EcoTank ET-3850 uses the Epson PrecisionCore print head system familiar to many of the better Epson Eco Tank designs. With 400 nozzles for black and 128 for colour, it can generate output at an impressive 4800 x 1200dpi.
Epson describes this model as 'duplex', meaning it can print on both sides of a sheet of paper. But there is a caveat to this ability in respect of the scanner as what it can't do is take a piece of paper that has printing on both sides and copy that, as the ADF can only scan one side.
There are ways around this by either scanning and printing one side and sending the print job through again with the source reorganised. Or you could do two scanning sequences and then interleave the pages into one PDF and then print that in a single operation using the duplex mode.
Neither of these solutions is perfect, and if this is something you do regularly, then the ET-3850 probably isn't the printer for you.
Performance
Up to 15.5ppm
Up to 2400dpi scanning
Borderless printing has limits
The cheaper Epson EcoTank designs use a Micro Piezo print head that limits the speed of printing, but the PrecisionCore design used in the ET-3850 is superior and generally reserved for the more expensive machines.
The quoted speed under ISO/IEC 24734 is 15.5 pages a minute monochrome and 8.5 pages in colour, though using the draft mode, the product specifications claim up to 33 pages per minute in mono.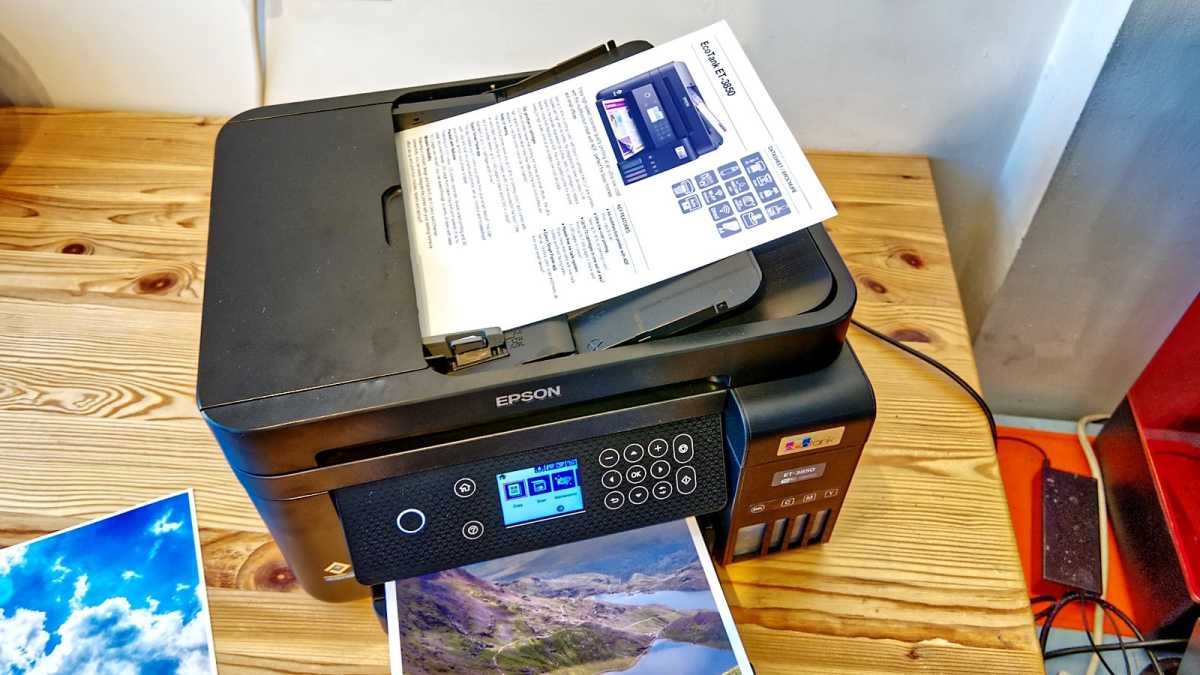 Mark Pickavance / Foundry
In my own tests, I sent five mono pages in good quality with 5% coverage, and the first one came out within seconds and the other four within 30 seconds, roughly. Over longer print runs, the printer edged up to around ten pages per minute, and in draft mode, it can achieve nearly double that.
Duplex printing is slow and uses slightly less intense colours, mostly to allow for the ink on the first side to be fully absorbed before it attacks the second, but this is a general issue with inkjets and nothing unexpected.
The quality of the prints is generally very good, although it could be better at reproducing photos if Epson didn't use the black pigment in those jobs, as it impacts the appearance of dark pictures. However, even with cheap photocopy stock, the documents and copies it outputs are very sharp and clean.
Overall, the print quality is high, and the speed is more than acceptable for general office use.
Running Costs
Amazingly cheap per page
3rd party ink available
No unlimited ink options
For those that have never experienced a tank printer, the way this works and the cost per print is something of a revelation.
For starters, the printer comes with enough pigment (black) and dye (colour) to print 14,000 and 5,200 pages of 5% coverage with no additional investment required. Once you've exhausted that, and some home users might struggle, individual colours and complete sets can be bought to refill the tanks.
To clarify, the ink that comes with the printer is the same as that sold for refilling. But some is used in the initial priming of the system, reducing what's available to print. With subsequent refills, this reserve doesn't play a factor, as the printer is already primed.
Mark Pickavance / Foundry
The official Epson EcoTank 102 Genuine Multipack Ink Bottles cost £37.99 in the UK. Those in America have a slightly different notation, as the ET-3850 sold there uses Epson 502 inks, priced at $47.29. Individual colours or blacks can be bought, a black being around $15, and each colour about $11.
At official ink prices, a set of both black and colour inks has the potential for a total of 7,500 pages of black and 6,000 of colour. That works out at 13,500 pages for £37.99 or $47.29, or a per page overhead of less than a third of one UK penny or 0.35 of a US cent.
If you compare that with typical cartridge printing princes of 5p a page or even more, Eco Tank output is substantially cheaper, and the starter pack is easily worth another £50 or $60 in consumable costs.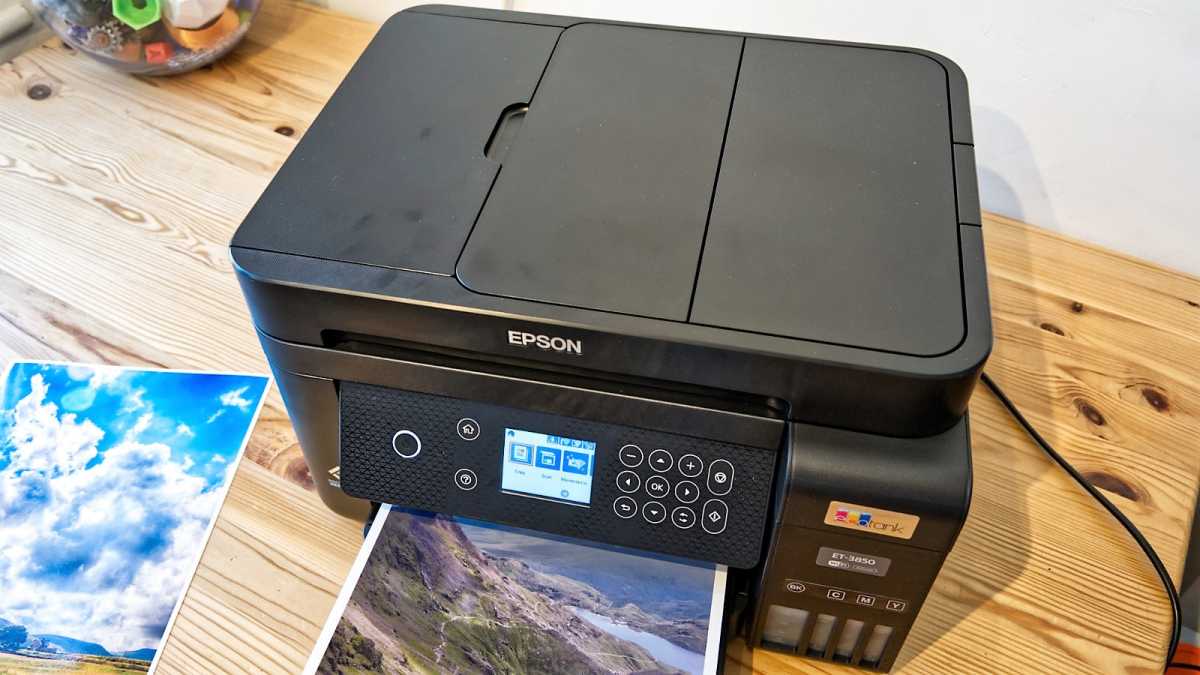 Mark Pickavance / Foundry
However, as no cartridge chip control is involved with these inks, there are plenty of third-party suppliers who will supply a set of supposedly compatible inks for as little as £13 in the UK and $21 in the US. The downside of these is that you don't know what you are getting in terms of quality, and getting the inks into the tanks usually requires fiddly syringes.
Those willing to chance it will reduce ink costs to a level where the true expense of printing is not the ink but the paper.
The only disappointment for official ink users is that Epson doesn't offer its Epson ReadyPrint option of unlimited ink supply for a monthly fee on this product, whereas the very similar EcoTank ET-4850 model can use ReadyPrint.
Price & Availability
As I've already mentioned, EcoTank printers come with plenty of ink, and the cost of use is low. To counterbalance this, Epson made the printer relatively expensive compared to a typical cartridge design of a similar specification.
The RRP in the UK has dropped quickly from £429.99 to £379.99, and you can easily find it for less. Buy it from Amazon, Argos, Very, Box, Currys, Ebuyer, AO and Laptops Direct.
The price in the USA is $449.99 and you can buy the printer from Epson, Amazon, Staples and BestBuy.
The direct competitor for the Epson EcoTank range is the Canon Pixma G Series machines, with the nearest priced product being the Canon Pixma G7020.
It offers the same print/scan/copy design, the same output resolution, and a similar ink tank concept for almost identical costs in the US. But it has a Fax, a larger capacity paper tray and a manual input path.
In the UK, the Canon is cheaper, at around £299, though the quoted print speed is well below that of the ET-3850 at just 13 pages per minute in mono and 6.8 pages in colour. Canon ink is marginally cheaper at around £12.50 for black and £9 for colour refills.
While the G7020 is a good bit heavier than the ET-3850, suggesting it has better build quality, it also only comes with a single-year warranty and 5,000 pages per month use cycle.
See our chart of the best printers to see more options.
Verdict
This printer is a slap in the face to anyone still using and paying for cartridge printing. It produces high-quality output at a reasonable speed for a fraction of a penny per page for normal coverage. And, even full page A4 colour printing isn't that expensive, at about 7p or $0.08 per page.
The downside is that the upfront cost of the printer is higher than normal, and Epson hasn't made the ET-3850 with long operational life in mind.
That it only offers a one-year warranty and/or 50,000 pages, strongly suggesting that if you use it heavily, you won't be getting through many ink refills before it has potential wear-and-tear issue.
For less demanding volumes, this may not be an issue. But those in business that want the low cost per page but over many years need to consider some of Epson's EcoTank designs that are exclusively for business use.
It's worth saying that all the EcoTank designs that are classed as being for home offices and businesses only have a single year of warranty, although the more expensive ones are under warranty up to 150,000 pages in that first year.
The other significant weaknesses of this design are that it is flimsy and doesn't offer duplex scanning alongside duplex printing. The duplex issue might have been solvable with software, but Epson prefers to sell WorkForce branded designs with that feature.
What's good about the ET-3850 is that it has an almost identical specification to the more expensive ET-4850, including the same print speed and PrecisionCore print head, and it's superior to the cheaper ET-4800 model in nearly every respect.
What it isn't ideal for is photo printing, but Epson has six colour EcoTank designs built for that job.
Overall, it would be nice if this printer had a better build quality and duplex scanning. But even without these things, it's a dramatic improvement in cost per page that elevates it above any inkjet that uses cartridges, and users can be less concerned about what the document they have will cost to print.
Ultimately, the ET-3850 might not be good news for trees, but it's a compelling story for those that buy cartridges on a regular basis.
Specs
Colour inkjet all-in-one printer, copier, scanner
Ink type: Pigment and Dye tank fill
Print resolution: 4800 x 1200dpi (colour and black)
Scan resolution: 1200 x 2400dpi
Maximum paper size: A4 (plain), 13 x 18 cm (glossy)
ADF: Yes (single sided)
Dimensions: 375 x 347 x 231 mm (W x D x H)
Weight: 6.7kg
Best Prices Today: Epson EcoTank ET-3850