ECOVACS is launching its latest robot vacuum, the Deebot T10+. It's packed with features that'll make your life easier. And if you buy it during the 7 Day Deal, you'll get a discount of £170.
Robot vacuums are designed to take over the chores you hate. But to do that, they need to be more than just a vacuum cleaner on wheels. They need great navigation, so they can get on with the cleaning, without bumping into everything in your home and getting stuck. They need to be able to identify different rooms and – ideally – different items of furniture in each one, so you can target cleaning where it's needed. And the very best will have self-emptying technology, so you can set and forget them.
The T10+ can do all of this. Simply put, it does more, so there's less for you to do. Here are some of the features that make this possible.
Self-emptying technology
If you need to empty your robot vacuum's bin every day, that's not really you doing less, is it? That's where the T10+'s self-emptying technology comes into play. When it finishes each day, it'll empty itself into its dock, ready for the next.
It's key to minimising the work that you'll have to put into cleaning. And it's much quieter than similar technology from competing brands. Thanks to the capacious, 3.2 litre dust bag, you can set up a cleaning schedule and let the T10+ get to work: it can give you up to 60 days of hands-free cleaning.
AIVI 3.0 object recognition and avoidance
One of the key issues with robot vacuums is the need to tidy up your home before it can get on with cleaning. But that's not always possible: sometimes you're running late, or your child has just emptied their toy basket all over the floor just before you go out. But the T10+ can help.
It has a new navigation system: upgraded AIVI 3.0, meaning that it uses artificial intelligence and visual interpretation technology to identify 18 types of common item around the home and give them a wide berth – without disrupting its ability to clean.
This means you don't need to tidy away every forgotten pair of slippers under the sofa or abandoned book by your bed before it can get to work. It'll also allow you to go out and leave it to get on with cleaning, knowing that it won't get beached.
PROMOTION
ECOVACS DEEBOT T10+
Was price: £899
Now Price: £729
Savings: £170 off
Hurry, ECOVACS is offering an astounding value deal for its flagship robot vacuum cleaner. Save £170 until 21 August. Don't miss out!
True Mapping 2.0 Navigation
The T10+'s mapping abilities will allow you to customise cleaning. Its mapping is ten times faster than a standard laser distance system (LDS).
Although the T10+ can avoid single objects – it's four times more accurate at identifying small objects – what if the mess is too big for for it to go around? Well, you can just go into the app and instantly add a virtual no-go zone to block off the area. So, if you're halfway through reorganising your wardrobe and your clothes are all over the floor, you can ensure that the T10+ skips your bedroom, or even just the area around your wardrobe, when it does its clean.
Its 3D map will make it easier to see your home's layout and choose areas for cleaning, or for the T10+ to avoid.
Mopping and vacuuming
It has all the basics covered as well. Thanks to its powerful 3000PA suction and its OZMO Pro 3.0 oscillating mopping system, the T10+ can take on all the cleaning jobs you need – and it'll do them effectively and efficiently. And, as it's quiet, it won't disturb you if you're home when it's at work.
It can vacuum for up to 260 minutes, or mop for 240 minutes on one charge alone – which is more than enough time to clean an entire floor of a house. And its battery life is superior to competing products. Still, if its battery does run low, it'll recharge and return to the spot where it left off to continue cleaning.
It even has an air freshener to keep your home smelling great.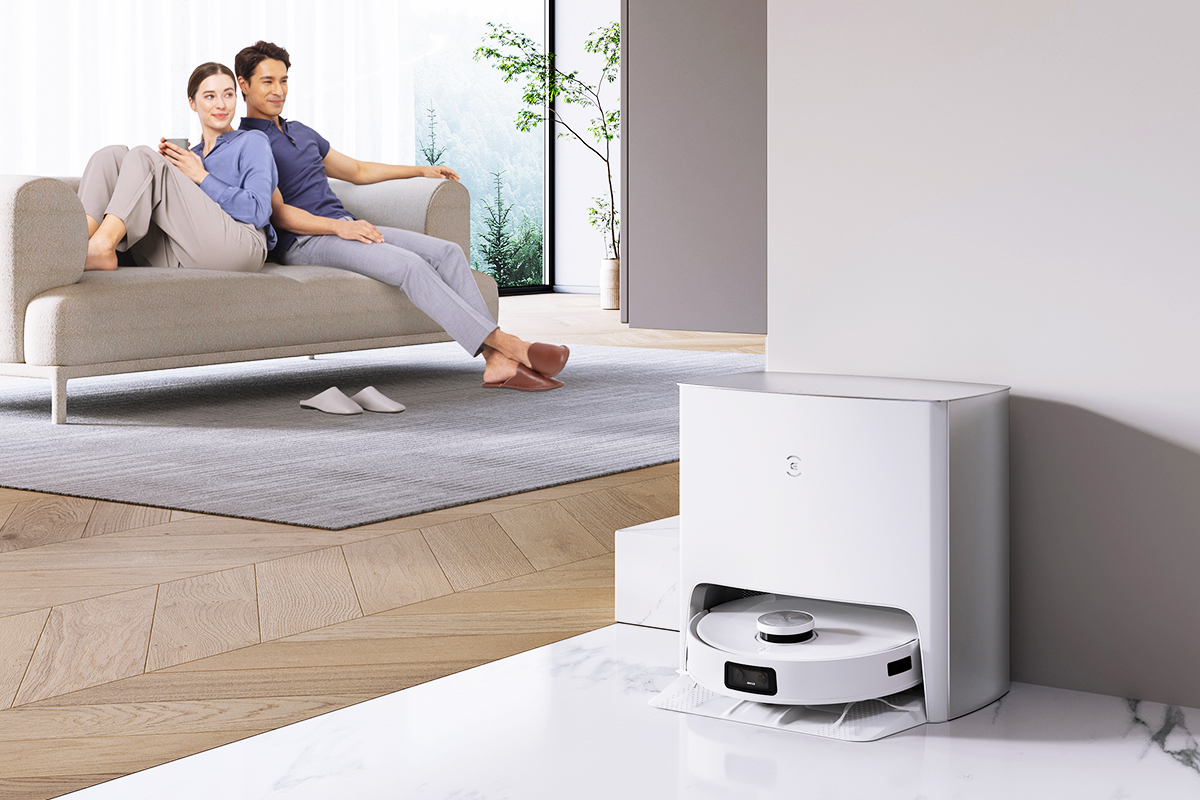 ECOVACS
Voice commands
Voice commands make cleaning even easier. The T10+ has a first-of-its-kind, inbuilt voice assistant, YIKO. Once your home is mapped and key items of furniture are identified, you can request spot cleaning for particular areas with a simple voice command. So you can ask it to do a quick clean around the kitchen table, if there's been a spill.
The T10+ is also Google Assistant and Alexa compatible, if you prefer to integrate it into your smart home setup.
Onboard camera
And there's a huge added benefit in the form of the T10+'s onboard camera. First off, it can give instant peace of mind if you're out. Just log in to the app and you can see that all is well at home. You can get alerts if it detects motion when you're away and you can even check in on your pets and say hello.
And, as you can drive the T10+ around remotely, you can chat to your partner or kids or even surprise them with a snack delivery. But there's no need to worry about security: all of your videos and images are safe thanks to inbuilt privacy protection. The T10+ is available to buy on Amazon and has an RRP of £899. Get one now.