Nothing, the company founded by former OnePlus co-founder Carl Pei, launched its first ever smartphone this year – and to say it looks different from just about every other phone on the market is an understatement.
Sporting the same semi-transparent design as the Nothing Ear (1) headphones launched last year, the Phone (1) looks just as intriguing, sporting a semi-transparent back with unique LEDs.
Read on to find out how to get the Phone (1) at the best price – or read our review of the phone to find out what we think so far.
The bad news? It's not launching at all in North America.
Still, for those of us in Europe and Asia there are plenty of ways to get your hands on the Phone (1). And while Black Friday deals may be over, the Phone (1) is still available at a discount in the UK if you're quick.
Best Nothing Phone (1) deal right now
If you're in the UK, the deal to get right now is from the Phone (1)'s exclusive network O2, which is offering £100 off the phone's upfront cost if you pick one up before 7 December.
The catch is that all of O2's default plans for the phone include only a £10 upfront cost anyway, so to maximise the discount pick the plan you want based on the included data and other goodies, then make sure to click 'Edit this plan'. Then you can increase the upfront cost to at least £100, in turn bringing down the monthly bill.
Then throw in the code 'NOTHING100' and the saving will kick in.
Sadly we tried and this won't work if you try to pick the phone up on a Pay As You Go plan, so the discount is only good if you're ready to commit to an O2 contract.
Where is the Phone (1) available?
The Nothing Phone (1) is available from across the UK, Europe, and Asia, but it isn't on sale in the US or Canada.
Nothing
Nothing confirmed to PCMag that it would only run a "closed beta program" with a "limited number of our private community investors in the U.S." Though with "unpredictable" service on T-Mobile, no VoLTE on AT&T and no service on Verizon at all, it's easy to see why it won't be available in the States and Canada.
How much does the Nothing Phone (1) cost?
The Nothing Phone (1) comes in three versions:
8GB + 128GB: £399/€469/₹33,999
8GB + 256GB: £449/€499/₹36,999
12GB + 256GB: £499/€549/₹39,999
That's a competitive price that puts the phone firmly in the territory of our mid-range phone ranking, up against rivals like the OnePlus Nord 2T and Samsung Galaxy A53 – though if you're in India, note that the price has jumped by ₹1,000 since launch because of "fluctuating currency exchange rates & rising component costs."
We're hoping we don't see further price increases. The Nothing Ear (1) earbuds went on sale at an entry-level $99/£99/€99/₹6,999 but have since risen in price by as much as 50% depending on where you live, so we're worried the Phone (1) may yet see similar.
That may have partly been to make room for the cheaper Ear (Stick) buds though, which have since launched at around the same price the Ear (1) debuted at – we're not expecting to see any similar cheaper phone arrive to supplant the Phone (1) any time soon.
Where can I buy the Nothing Phone (1) SIM-free?
Before launch, Nothing made a lot of fuss about having an invite-only pre-order system, with a waitlist and referral system in place. That's now closed, but the good news is that you can now simply… buy a phone. It's a radical reinvention of the purchasing system, we know.
The phone is available SIM-free direct from Nothing itself, from Amazon, or from Selfridges in the UK. You can also pick it up without a SIM from O2, both online and in-store.
It's a similar story outside of the UK, with availability from Flipkart in India and a range of carriers and electronics stores – including Amazon – across Europe.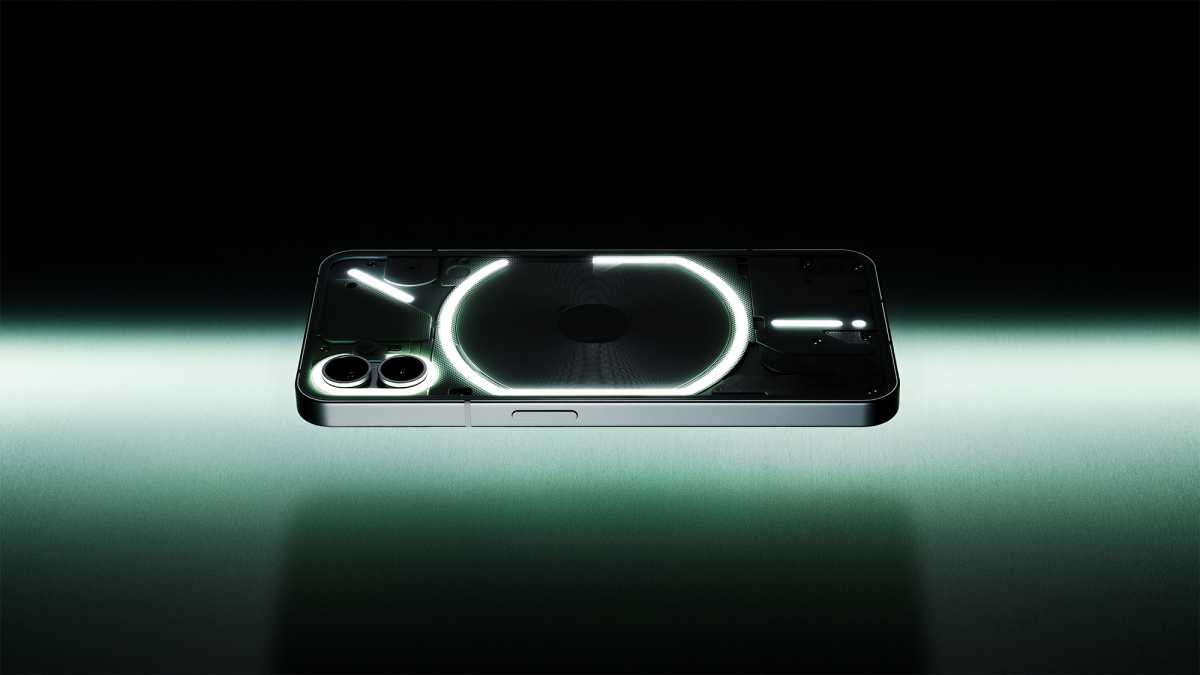 Nothing
The best Phone (1) contract deals in the UK
As mentioned above, the Phone (1) is a UK network exclusive for O2 in the UK, and they're offering it both online and in-store.
Here are the best contracts O2 has right now, broken down by the versions of the phone. These are all 3-year contracts with unlimited minutes and texts, and perks including free roaming in select countries and extra subscriptions to streaming services, and all cost just £10 upfront.
Remember that up until 7 December you can get £100 off the phone's upfront cost using the code 'NOTHING100'.
8GB RAM + 128GB storage:
£28.81 per month for 2GB of data
£31.81 per month for 5GB of data
£34.81 per month for 20GB of data
£37.80 per month for 30GB of data
£38.81 per month for 100GB of data
£41.80 per month for 150GB of data
£43.81 per month for unlimited data
8GB RAM + 256GB storage:
£30.20 per month for 2GB of data
£33.20 per month for 5GB of data
£36.20 per month for 20GB of data
£39.19 per month for 30GB of data
£40.20 per month for 100GB of data
£43.19 per month for 150GB of data
£45.20 per month for unlimited data
12GB RAM + 256GB storage:
£31.59 per month for 2GB of data
£34.59 per month for 5GB of data
£37.59 per month for 20GB of data
£40.58 per month for 30GB of data
£41.59 per month for 100GB of data
£44.58 per month for 150GB of data
£46.59 per month for unlimited data