The Oculus Quest 2 – officially the Meta Quest 2 now – is the most popular virtual reality headset in 2022. It's easy to see why, as it strikes a great balance between portability, power and price.
Because it's a standalone device you don't need an expensive gaming PC or state-of-the-art console to enjoy great VR experiences – it just works, wherever you want to dive into VR.
It's already a tempting buy at its regular $399/£399 price, but there are often deals to be had, especially on Amazon Prime Day. With the Quest Pro now official, look out for more discounts on this regular model.
What is Amazon Prime Day?
Prime Day is Amazon's own sales event, where the retailer offers deals that are exclusive to Prime members. It costs $139/£95 per year or $14.99/£8.99 per month to subscribe, but you can sign up for a free 30-day trial if you haven't paid for Prime before.
You may want to time this for the next Prime Day, though. It's not expected until June or July 2023, with a fixed date yet to be revealed. If you don't want to wait until then, we have a separate monthly round-up of best Oculus Quest 2 deals.
Best Oculus Quest Prime Day Deals
We're tracking the price of the Oculus Quest 2 headset on Amazon (and other retailers) in real-time below.
The best discount on Amazon US is on a renewed Quest 2 headset (128GB), which is $50 cheaper than the usual $399, and you can get the 256GB model for $67 off at $429.99. Both deals are what Amazon calls Renewed Premium. This gives means the headset will "work and look like new. With at least 90% battery capacity, it comes in deluxe Oculus packaging and with all original accessories. The product is supported with the same one-year limited manufacturer's warranty, just like a brand new Oculus product."
The BOBOVR M2 Pro Strap has 20% off, reducing the price to $49.99. It's an improved head strap with battery charging and a magnetic charging dock for the system – a great addition to the Quest 2 headset itself. There's also a $10 discount on the dual-battery BOBOVR M2 Plus for Prime members.
Without refurbished models available in the UK, the deals aren't quite as tempting for Brits. However, there is a £10 discount on a Meta Quest 2 + Dazed V2 Carry Case Bundle, bringing the cost down to £449.95 from £459.98 during the Prime Early Access Sale. However, there are no discounts on BOBOVR straps or any of the other best best Quest 2 accessories.
If you see a tempting deal below the $399/£399 (128GB) or $499/£499 (256GB) mark, you'd better act quickly as Oculus Quest deals tend to be extremely popular so stock doesn't hang around for long.
Oculus Quest 2 (128GB)
Is the Quest 2 better than the original Quest?
Simply put, the Quest 2 is a huge improvement on the original Quest, and even if you've got the original, you'll really notice the difference – but you can read our Quest 2 review to find out why.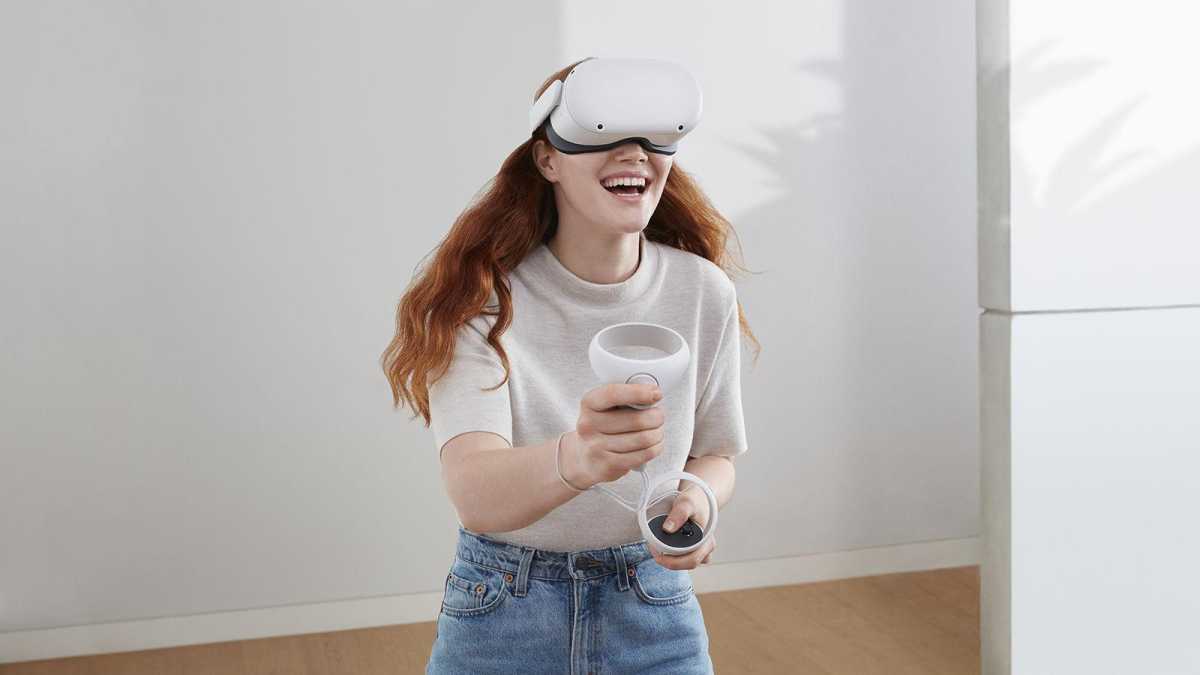 Meta
In a nutshell, the Quest 2 is lighter than its predecessor, which translates to a more comfortable experience, but the key upgrade is the display.
At 2K per eye, it has over 50% more pixels than the original Quest, making everything look sharper and more real. The display is bright, detailed and higher res than some PC VR headsets – and with Air Link, playing PC VR games wirelessly is a doddle. There's also a jump from 60Hz to 90Hz, with an experimental 120Hz mode also available. It's no wonder the Quest 2 sits at the top of our Best VR Headsets chart.
There is also a range of Quest accessories that further improve the Quest 2 experience, and there are plenty of amazing Quest games that only run on the second-gen headset.
If you do pick the headset up, be sure to take a look at our top Oculus Quest 2 tips and tricks to get the most out of your new standalone headset.
We also cover the best Oculus Quest 2 deals year-round, so you're always getting the best deal – not just during Prime Day.