Chipset colossus Arm has unveiled the new silicon that will power 2023's most powerful smartphones and tablets, headlined by its first ever hardware-enabled ray-tracing GPU.
Let's rewind. Arm designs the CPU and GPU cores that companies like Qualcomm and MediaTek then incorporate into the chipsets that power your phones, tablets, and other tech.
This time last year Arm unveiled the first chips on its Armv9 architecture, and while the company isn't ready to replace v9 yet, it isn't resting on its laurels.
Ready for ray-tracing
The biggest updates are to the GPU side. Arm has updated its existing Mali GPU series with two new chips, the Mali-G615 and Mali-G715, but has also added to that series with a new flagship: the Immortalis-G715.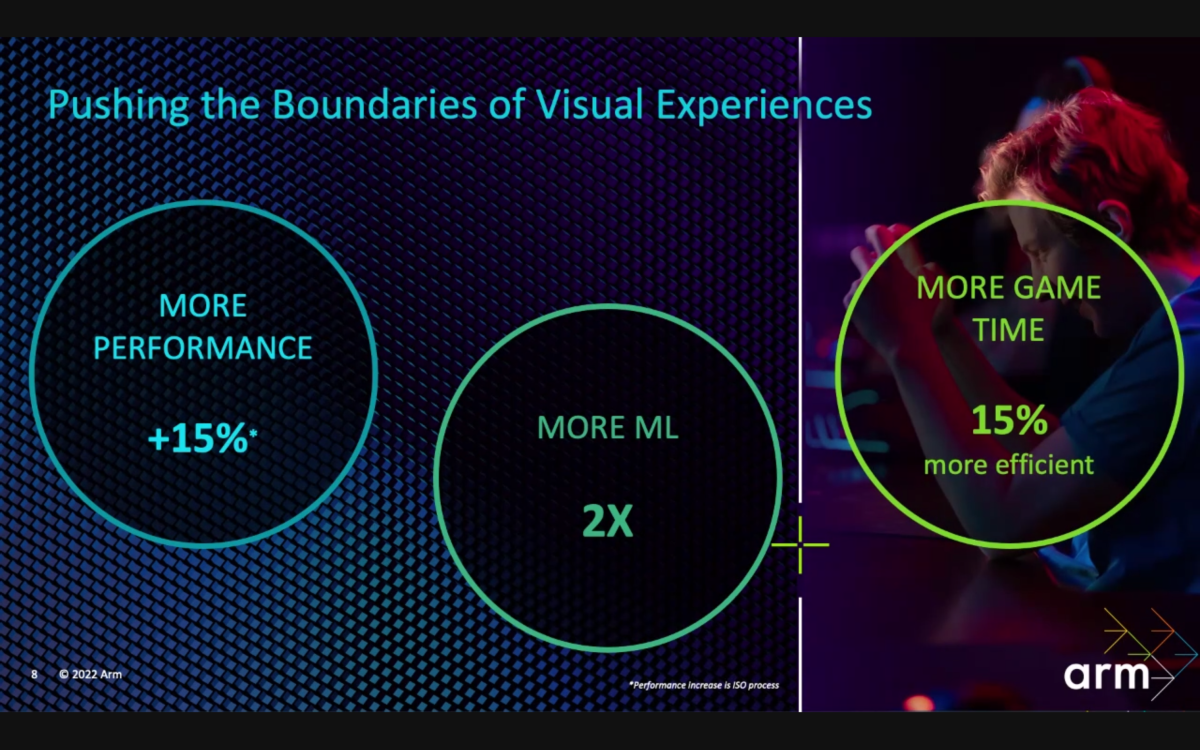 ARM
In addition to 15% improvements in performance and energy efficiency compared to last year's Mali-G710, and double the machine learning prowess, the Immortalis introduces something new for Arm: ray-tracing.
If you're not familiar, ray-tracing is a graphics technique that renders rays of light in real-time, producing better-looking lighting, reflections, and shadows in virtual environments. It can produce more realistic looking scenes, along with dynamic and vibrant settings that play with those reflective elements.
While previous generations have been able to deliver basic software-driven ray-tracing before, the Immortalis-G715 is Arm's first chip to enable the graphical tech at the hardware level. Arm says it delivers more than 300% performance improvement compared to pure software solutions, despite using less than 4% of the total area of the shader core.
This isn't the first mobile GPU to support ray-tracing – AMD supplied its RDNA 2 GPU tech to the Samsung's Exynos 2200 – but it'll be the first time it's available on non-Samsung chipsets.
For reference, the Adreno GPU within Qualcomm's Snapdragon 8+ Gen 1 doesn't feature the tech, though no doubt Qualcomm is working hard to introduce the tech in the 8 Gen 2.
64-bit CPUs
Arm has also updated its CPU portfolio. The biggest update is the new Cortex-X3 prime core, designed to be the key performance driver in phones that use it. Arm says the X3 has had a 25% increase in performance compared to last year's X2, along with improved power efficiency.
The X3 is backed up by the new Cortex-A715 medium core. There's a modest 5% performance boost here over the A-710, but more impressive 20% upgrade to power efficiency. Interestingly, Arm says it's at the same performance level as the Cortex-X1 – still used as the prime core in the Google Tensor SoC found on the Pixel 6 series.
Finally, there's a modest refresh to the Cortex-A510 small core, though not enough to earn it a new product name. It has had a 5% improvement to efficiency though.
Both the X3 and the A715 are 64-bit only, fulfilling Arm's promise to drop 32-bit this year. Technically the refreshed A510 does still support 32-bit, but it's designed for legacy and IoT use cases only, not its appearances in flagship phone chips.
What does this mean for 2023 phones?
Of course, what really matters is which chipsets the new Arm silicon will be used in – and in turn, which phones will be powered by those chipsets.
The Cortex-X3 CPU core is almost certain to appear in the next-generation Snapdragon 8 Gen 2, Samsung's Exynos 2300, and whatever the follow-up to the MediaTek Dimensity 9000 ends up being called. It's less likely to appear in the Pixel 7's Tensor 2, as the first Tensor was already one generation behind, and evidence so far suggests that the next Tensor will stick with the X1 again.
That means we can expect these new CPU upgrades to appear in phones including the Samsung Galaxy S23, Xiaomi 13, OnePlus 11, Oppo Find X6, and more, all likely to debut in early 2023 or perhaps right at the end of this year.
The situation is less clear when it comes to the Immortalis GPU. Both Qualcomm and Samsung design their own GPUs for their flagship chips, so are unlikely to change plans now. MediaTek does use Arm's Mali GPUs however, and it's likely the Immortalis-G715 will bring ray-tracing to the next Dimensity flagship.