Qualcomm has finally unveiled the latest version of its flagship Snapdragon chipset: the Snapdragon 8 Gen 2.
The name is no surprise, but a few of its features and design elements are a little different to last year's 8 Gen 1. So, what does the 8 Gen 2 bring to the table and when can you expect to see it in new phones?
Here's everything we know so far about the Snapdragon 8 Gen 2.
When will the first Snapdragon 8 Gen 2 phones launch?
Qualcomm unveiled the 8 Gen 2 at its Snapdragon Summit on 15 November, but the first phones aren't here just yet.
The company has promised that it will "be launched in commercial devices by the end of 2022," so there isn't long to wait – and in fact we have some reason to think that the first 8 Gen 2 phone might arrive as soon as this week.
The 8 Gen 2's chief Android flagship rival – the MediaTek Dimensity 9200 – has also been promised to arrive in phones before the end of 2022, so the race is on.
Which phones will use the 8 Gen 2?
At its launch event Qualcomm announced a total of 17 phone manufacturers that have already committed to using the Snapdragon 8 Gen 2 – and that's not even counting Samsung, which which Qualcomm recently signed a long-term deal to provide Snapdragon silicon.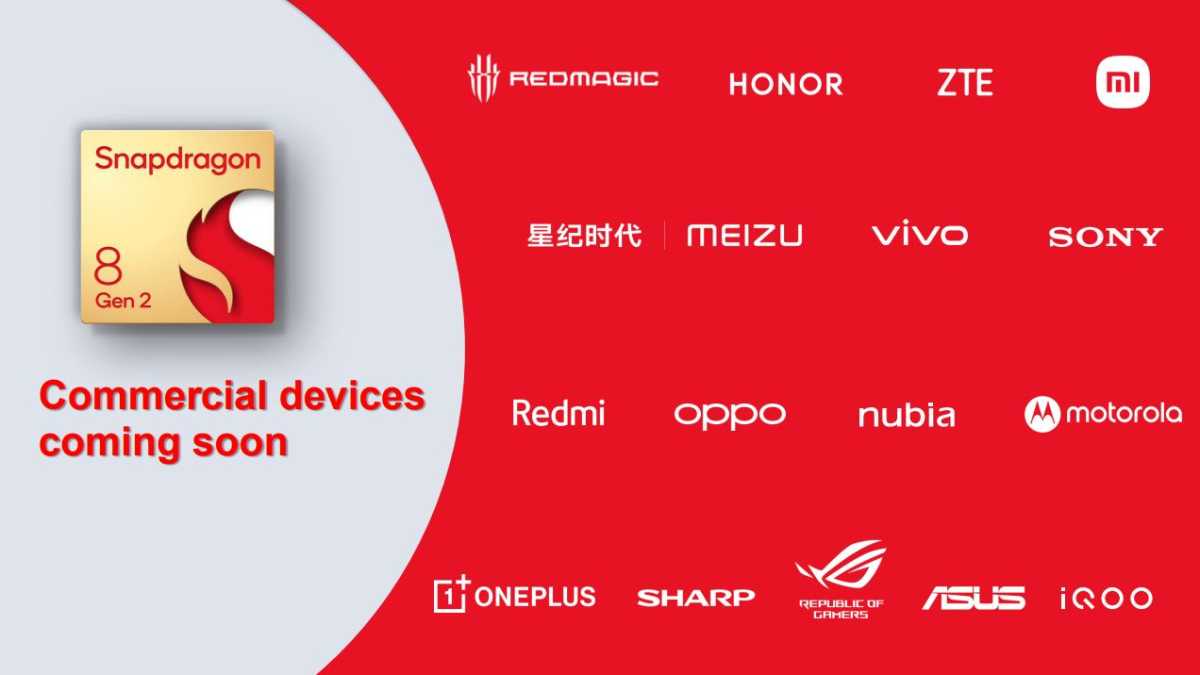 Qualcomm
Those are a few of the major brands involved, but which actual phones are likely to use the 8 Gen 2?
The first may be a phone in the Vivo X90 series, which is now confirmed to launch in China on 22 November. Vivo has separately committed to be the first to launch a Dimensity 9200 phone, but early leaks suggest that the X90 series may use both the Dimensity and Snapdragon chips across different models, so it could mark the debut of both pieces of silicon.
Next up is likely Xiaomi, which is almost always one of the first to launch the new Snapdragon silicon. It will almost certainly include the 8 Gen 2 in the Xiaomi 13 range, also expected to arrive before the end of the year.
Oppo has confirmed that we'll see it in the Oppo Find X6 series, which will launch early next year, and we're also expecting to see it in the OnePlus 11. Further down the line it should appear in phones like the Sony Xperia 1 V and Asus ROG Phone 7.
Then there's Samsung. While the company's logo doesn't appear on Qualcomm's presentation slide, the two companies have signed a deal through to 2030 to include Snapdragon chips in Samsung's hardware. More importantly, Qualcomm itself has announced that it has a "global share" of chip shipments for the Galaxy S23 flagships, likely to launch in February 2023.
Beyond those big names, it would be hard to see any premium hardware that debuts after December 2022 using anything but the latest silicon – though that could mean this, or the Dimensity 9200 from rival MediaTek. So, if you're thinking of buying a new high-end smartphone this year, you may just want to wait until the winter to see if something better comes along.
What are the Snapdragon 8 Gen 2 specs and features?
Let's break the 8 Gen 2 down into a few of its core parts to talk about what's new.
Kryo CPU
The heart of the chip is of course the Kryo CPU. This uses this year's updated Armv9 architecture, but arranged in a fairly novel configuration, and all crafted using TSMC's 4nm foundry.
The prime core is no surprise: a Cortex-X3 core clocked at 3.2GHz. What's more surprising is the rest of the chip, which uses a novel 1+4+3 configuration, instead of the typical 1+3+4.
What does that mean? Well, it means there are four performance cores instead of the typical three. Adding an extra core enables improved performance in demanding applications like gaming, where multiple big threads are needed – Qualcomm says it can deliver 35% faster performance than last year's 8 Gen 1.
There's more though, as these are a mix of cores: two Cortex-A715 cores and two Cortex-A710, all clocked at 2.8GHz. The split is because the A715 cores only support 64-bit, so the two A710 cores are there to ensure that legacy 32-bit apps aren't left behind and consigned to only run on the much slower efficiency cores.
Dominic Preston / Foundry
Speaking of which, there are now only three of those: all Cortex-A510 cores running at 2.0GHz. You might worry that having fewer efficiency cores would worsen battery life, but Qualcomm doesn't seem concerned, and in fact boasts that this chip has 40% improved power-efficiency compared to last year's. You might consider that a low bar given the frequent battery and overheating issues with 8 Gen 1 phones, but the company's numbers suggests this will actually be a further step up from the already improved 8+ Gen 1, which promised to be 30% more efficient and in practice delivered vastly superior battery life.
There's one older rumour to consider. Digital Chat Station reported before the announcement that the 8 Gen 2 may come in two versions, with a second version likely using the same silicon but tuned to higher clock speeds – as fast as 3.4-3.5GHz on the prime core, up from 3.2GHz in the standard model.
This sort of overclocking is exactly what Qualcomm normally does for its enhanced Plus models six months after launch, so it may be that Digital Chat Station got an early sniff of that chip's specs, though rival leaker Ice Universe thinks Qualcomm has another surprise up its sleeves: that this is a specially tuned version of the 8 Gen 2 specifically for the Galaxy S23 line, with higher clock speeds.
Adreno GPU
The CPU may deliver the core of the chip's performance, but for gamers the Adreno GPU is even more important.
Qualcomm again boasts big improvements here, with 25% faster graphical performance overall, but the big selling point is the introduction of hardware-enabled ray-tracing.
Qualcomm
This tech simulates individual rays of light to improve rendering of shadows, reflections, and light sources themselves. Now typical in PC and console gaming, ray-tracing has been available in some mobile games already, driven by software, but the hardware-based version here should be substantially more powerful and efficient.
As ever, the big question is adoption. Qualcomm is working together with major industry players including Tencent to push ray-tracing into the mainstream, and the fact that it's also included in the Dimensity 9200 via that chip's Immortalis-G715 GPU should help prompt more game developers and publishers to bake in support over the next year.
Cameras
You might not think of your phone's chipset driving photography, but in fact the image signal processor (ISP) is crucial to your camera.
The big jump in this year's Snapdragon chip is the inclusion of dedicated AI processing on the chip, making this a 'cognitive ISP'.
In practice, that means your phone's camera will be able to directly apply features like facial recognition, auto focus, and layering – picking out the individual foreground and background elements of a photo – in real-time.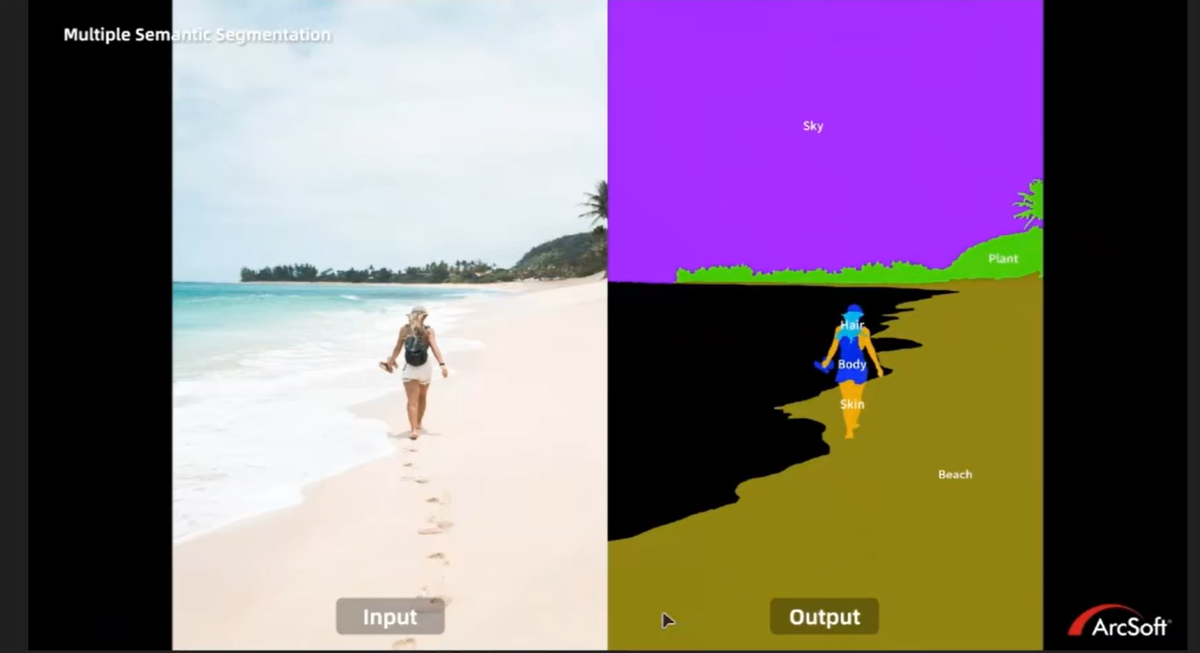 Qualcomm
That won't be too much of a game-changer for still photos, which have always done this using post-processing, but does mean you'll be able to see the results in real-time in the viewfinder, rather than waiting a few seconds after you take a photo to get the final version. It's an even bigger deal for video, where all those effects can now be applied to any video as it's recording.
Connectivity
As you'd expect, the 8 Gen 2 includes integrated 5G using both the mmWave and Sub-6 bandwidths, and Qualcomm has made a few tweaks to improve performance.
More important this year is the introduction of Wi-Fi 7 support. That's arguably a little premature, since the standard hasn't been officially certified, but in practice the tech is already nailed down.
Wi-Fi 7 builds on Wi-Fi 6E with support for the 6GHz band – in addition to 2.4GHz and 5GHz – but should be capable of hitting significantly faster speeds, up to 5.8Gbps in 8 Gen 2 phones. Of course it won't matter much until Wi-Fi 7 routers are more widely available, but at least your phone will be future-proofed.
The rest
There are plenty of smaller details to the chip that are still worth getting excited about.
8 Gen 2 phones will be able to drive spatial audio with dynamic head tracking, so that you can hear the sound shift as you move around slightly while listening to music, watching a movie, or playing a game. Support for Bluetooth 5.3, low energy audio, and lossless sound quality should keep the soundscape smooth across the board.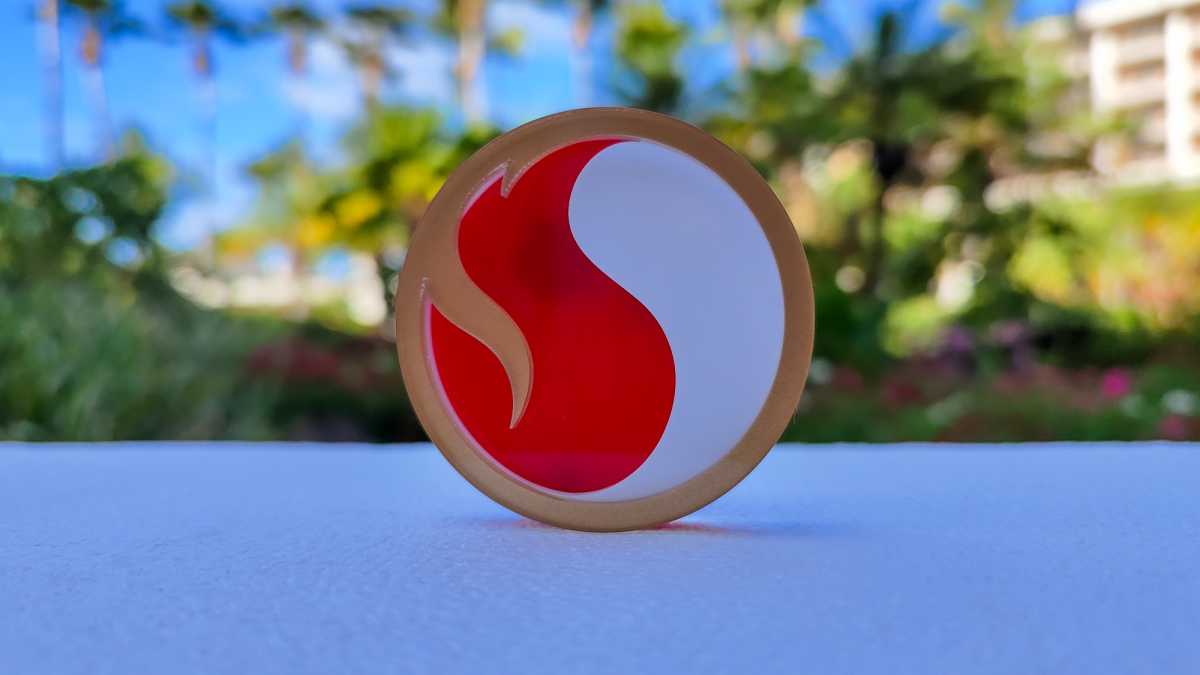 Dominic Preston / Foundry
AI and machine learning performance has been enhanced across the board thanks to enhancements both to the core Hexagon AI processor and to smaller AI systems elsewhere. Perhaps most interesting are the additions to the always-sensing camera, which can block notifications when it detects another face in front of the screen, recognise the orientation of your face to stop the phone switching between portrait and landscape when you don't want it to, and even scan QR codes without the need to wake the phone up first.
Anyone with concerns about long-term use of OLED displays should also be relieved by the introduction of OLED aging compensation tech, designed to prevent burn-in over time.
What about 8 Gen 2 benchmark results?
We've now had the chance to benchmark the 8 Gen 2 ourselves in one of Qualcomm's reference design handsets – generic phones that it builds to help manufacturers test, design, and prototype their own hardware.
First off, we ran the same benchmarks we use when we review phones: Geekbench 5's multi-core CPU test (which we run 3 times to get a mean), and the GFXBench graphical tests. The results are pretty stark: the 8 Gen 2 is head and shoulders above previous Snapdragon generations across the board, and also comfortably ahead of rival Dimensity 9200 in Geekbench.
The 35% jump in Geekbench performance from the 8 Gen 1-powered Xiaomi 12 is exactly in line with Qualcomm's claims, and it's also 20% faster than the 8+ Gen 1. The 14% jump on the Dimensity 9200 will be particularly good news for Qualcomm as it works to reassert its position at the top of the pecking order.
The 8 Gen 2 still lags slightly behind Apple's latest iPhones on the raw CPU power test, but the gap here is closer than it's ever been at just 7% – Qualcomm is gaining ground.
For the sake of completeness, we checked a few more things. First up, a score of 1,477 on the single-core Geekbench 5 test is impressive, but only just ahead of the 9200 with 1,424. That makes sense, as both use the same single prime core, and Qualcomm's edge in performance is mostly down to the new 1+4+3 core structure.
We also ran the popular AnTuTu benchmark, scoring 1.17 million. That's impressive in its own right – and ahead of any of the last generation's handsets – but is below the 1.26 million scored by the Dimensity. For its part, Qualcomm says it expects the 8 Gen 2 to hit 1.26-1.28 million in AnTuTu however, so our result might be slightly anomalous.
We still have a little while to wait before we can get our hands on the 8 Gen 2 in a final phone, of course. Be sure to read our roundup of the best phones and best phones coming in 2022 and 2023 to see what you can get your hands on right now.