As prices continue to rise and wages fail to keep up, buying new tech can be more of a challenge these days. One way to buy a decent tablet without having to sell a kidney in the process is by opting for a refurbished model.
These are often sold by big-name retailers, come with warranties, and cost a good chunk less than buying the same model brand new. But is it safe to go down this route? Our guide on buying a refurbished tablet explains all you need to know and where to buy one.
What is a refurbished tablet?
As the name suggests, these are devices that may have been originally sold to someone, then returned – either with a fault of some kind or because the customer used their right to change their mind after purchasing it online. Alternatively, they may have traded in a used tablet to get a discount on a new one.
Unfortunately, the word refurbished means different things, depending upon who you buy it from.
You might assume that a refurbished tablet has had parts replaced (such as a battery) and any problems fixed. But while some companies may put devices through an actual refurbishment process and make it exactly as good as a new model (or as close to it as makes no difference), others simply grade the devices according to their own standards.
Those standards – then – aren't comparable between different sellers, so a Grade B tablet might not be in the same condition as a Grade B from another. You'll have to read the precise description of what each category means in terms of condition from that particular retailer.
Is refurbished the same as used?
Refurbished devices can be exactly the same as used, or second-hand. That's because, as explained above, the devices may have been previously used and that means they vary in condition. Only a truly refurbished tablet will be indistinguishable from a brand new one, and this is why those tend to cost a bit more than 'graded' devices that have simply been checked, cleaned and any previous user data wiped.
However, there is a difference between a 'refurbished' device and used one that a private owner is selling. The main one is a warranty. All reputable sellers of refurbished devices provide one, and you should be extremely wary of buying a tablet from a seller that does not provide at least a few months' warranty.
If you buy a used tablet from a private seller via Gumtree, ebay, Craigslist or Facebook Marketplace, you do so at your own risk: there's little to no comeback if there's a problem later.
For more information on the differences, read our more in-depth refurbished vs second-hand comparison.
Is it safe to buy refurbished tablets?
Yes, so long as you buy from a reputable store and we've recommended some below. Several members of the Tech Advisor team have bought refurbished items over the years and haven't had any issues at all.
Unless you're buying directly from the manufacturer, such as Apple or Samsung which have 'true' refurbishment schemes, there's no guarantee that the refurbished tablet from another source will come with original, genuine parts. Some use them, some save money by opting for third-party components, which are cheaper.
The thing to look for when going down the refurbished route is the kind of warranty the seller offers, plus the descriptions of how it classifies a refurbished item, so you know what condition the tablet is in.
Not all warranties are the same though, so be sure to check how long the seller is offering before you buy. Many these days come with 12-month coverage, but we have seen shorter ones, so read up first to avoid any disappointment later if things don't do to plan.
Is buying refurbished tech eco-friendly?
It most certainly is. Ensuring that existing devices get a longer lifespan rather than being dumped in a landfill means less e-waste and lower volumes of newer devices needing to be built. Save money and the planet. Not a bad combination.
Where to buy a refurbished tablet
There are many places that sell refurbished tablets. Here are some of the best.
Apple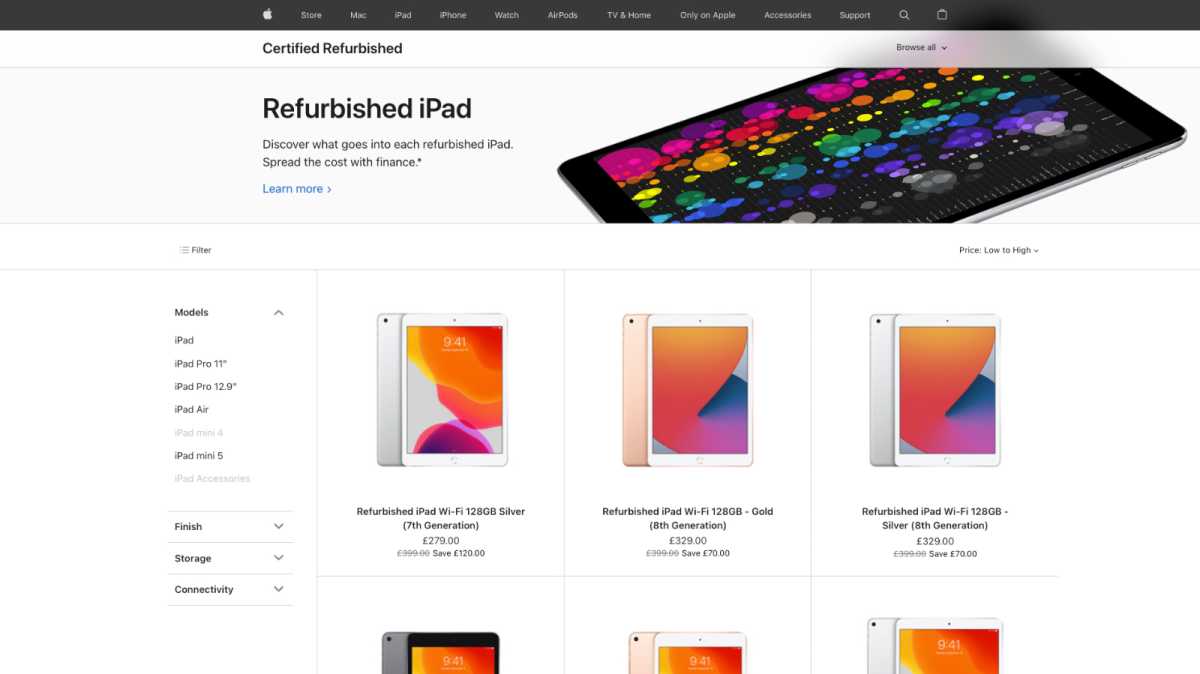 Apple
With the iPad being the best-selling tablet out there, this is the best place to start. Apple has a Refurbished and Clearance section on its online store, in which you'll usually find a good selection of its tablets on offer, as well as iPhones, Macs, Apple Watches and other devices.
The drawback is that refurbished models are only around 15% cheaper than the equivalent new iPad, but you get the same one-year warranty as when buying a brand-new device. One thing to note, Apple tends to offer only last-generation devices on the refurbished store, so it's unusual to find anything from its current range.
Visit the Apple Refurbished store
Amazon
Amazon
Amazon is another good choice for refurbished tablets. You'll find them in the Amazon Renewed section, which encompasses both refurbished and second-hand items.
Amazon rates the condition of the device as Excellent, Good or Acceptable, with the first option being in like-new condition, with a battery capacity of at least 80% of what it was when brand new. You get a one-year warranty where the company will refund of replace the device if it doesn't work as expected.
There's a good range of tablets on offer including iPad and Android tablets. As always with Amazon, prices are attractive.
Visit Amazon Renewed store
eBay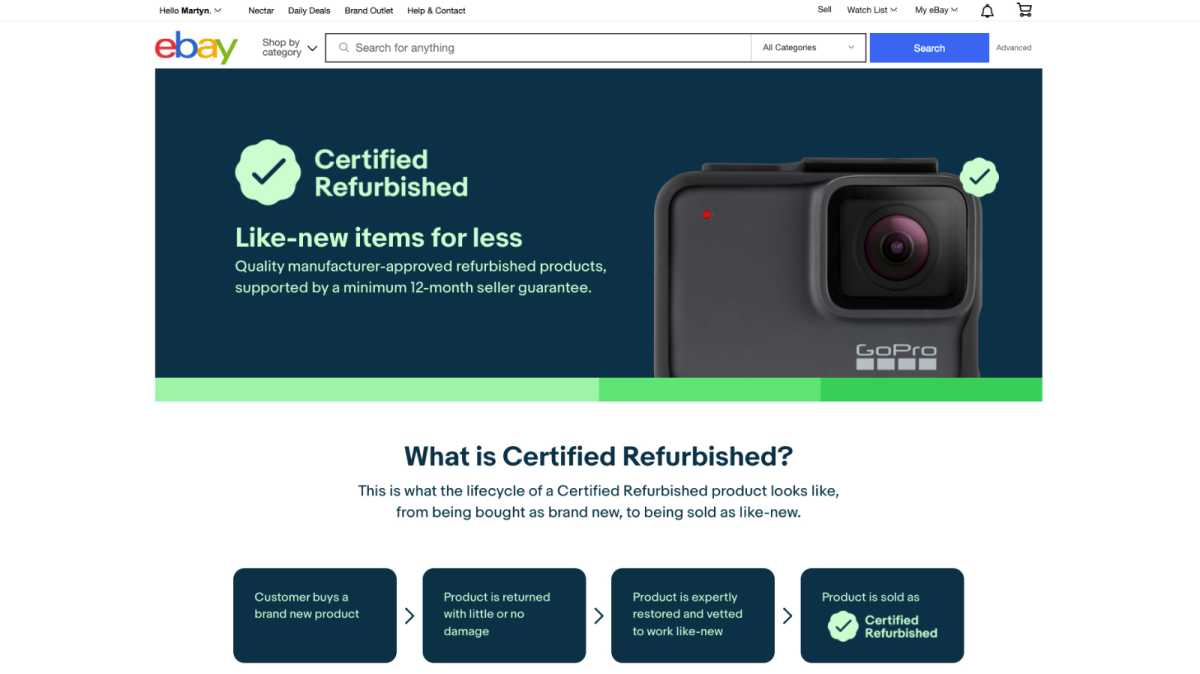 eBay
eBay now has its own Certified Refurbished section of its site, where you can pick up tablets, as well as a whole range of electronic goods, for some decent savings. You can expect discounts of up to 30% compared to buying the same tablet brand new, and all covered with a 12-month guarantee from the seller.
eBay describes its offerings as follows: 'Certified Refurbished items are in a pristine, like-new condition and are inspected, cleaned and refurbished by the manufacturer or a manufacturer-approved vendor.' They are also covered by eBay's 30-day money back guarantee if you're not happy with the device.
Visit eBay Certified Refurbished store
musicMagpie / Decluttr
musicMagpie
Depending in which region you live, musicMagpie (Europe) or Decluttr (North America) is another great option if you want to pick up a refurbished tablet.
The company states that all devices have to pass over 90 different tests to be eligible for its Certified Refurbished program, which is accompanied by a one-year warranty and 14-day money back guarantee if you're not satisfied with the product.
Just note that this is, at its heart, a grading process and the company doesn't replace batteries or components.
Decluttr/musicMagpie has three condition grades for devices, so you know exactly what you're getting. These are Pristine, Very Good and Good. If you want a like-new product, go for Pristine, but if you don't mind a few minor marks or scratches (which could most likely be covered up by a case) then you can save more money on the Very Good or Good tiers.
Visit musicMagpie / Decluttr store.
Back Market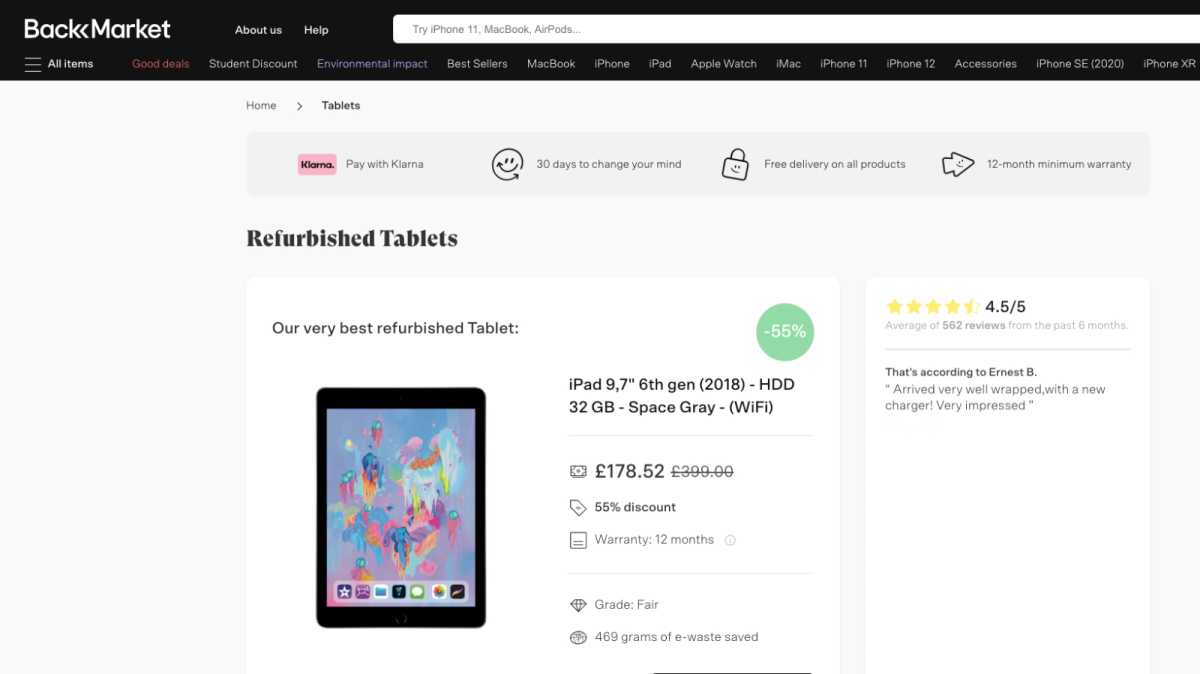 Back Market
One of the newest companies to join the refurbished revolution is Back Market. Like others on this list, it takes older and used devices and has them restored and then thoroughly tested so you can get a great tablet for less than the standard price of a new one. This is done by hosting products from other resellers which have returned products to their former glory.
It employs something called a Black Label mark that potential refurbishers have to attain before being able to sell products through the Back Market site. This denotes they have reached the quality of workmanship acceptable to Back Market. The site says that it constantly monitors the products offered by refurbishers, even going as far as anonymously purchasing ones from the site to ensure that standards are not dropping.
Like with musicMagpie/Decluttr, there are three condition grades which represent the aesthetic and technical state of the product on offer, each comes with a one-year guarantee and you have 30 days to change your mind and return the item for a full refund.
Visit Back Market store
To see which devices are the ones to look for, read our best tablets roundup.